North Stradbroke Island, or Straddie as the locals call it is the second-largest sand island in the world. It is located right off the coast of Brisbane and a real hidden gem. North Stradbroke Island has vast wildlife, an incredible landscape and a very picturesque coast. If you are looking for a relaxing and fun day trip Straddie should be on your list! I find Straddie to be one of the most beautiful places in Queensland and perfect for a day trip. During winter you have great chances to spot whales! A day trip to North Stradbroke Island is easy and on a budget, so get your swimmers ready and make your way to paradise. Keep reading if you want to know how to get there, how to get around and what to do on North Stradbroke Island.
Quick Tips North Stradbroke Island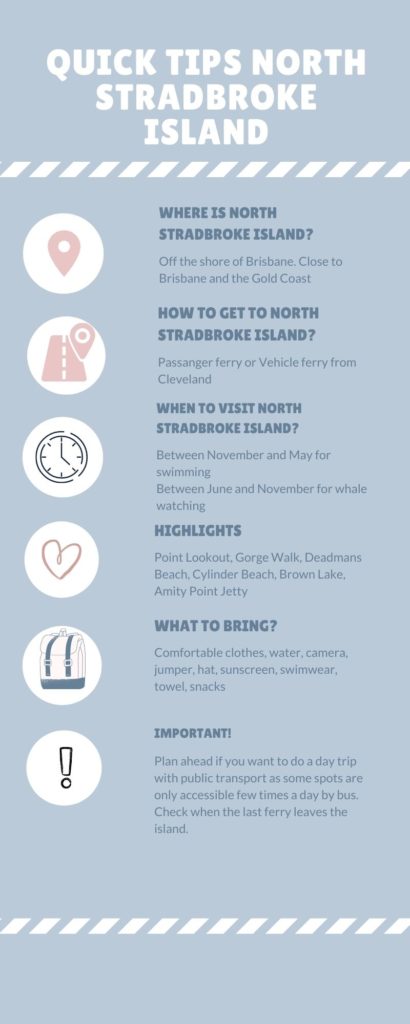 How to get to North Stradbroke Island
North Stradbroke Island is accessible via ferry. The ferry departs at Cleveland which is part of the Bay area. It's possible to travel to the ferry wharf by public transport or car.
Public Transport
The Cleveland line train takes about 1 hour from Brisbane Central. Stations include Central, Roma Street and South Bank. To see all stations and the train timetable click here. To get the cheapest fare, you can get a go card which you need to tap on and off. You can purchase it at train stations and read more about it here.
After arriving at Cleveland Station, you need to change to bus 258 which goes once per hour. It will bring you right to the ferry terminal and matches the ferry times. It allows you about 15 minutes bo purchase your ticket at the terminal.
Car
The ferry terminal is a 30-minute drive from Brisbane and has parking available. There is also some free parking on surrounding streets. If you drive, you also have the option to bring your vehicle to the island. While this makes your day trip to North Stradbroke Island more easy and flexible, it costs about 80 dollars per vehicle (the price changes depending on the time). Don't worry if you only want to drive to the ferry terminal though, there is a bus company on North Stradbroke Island driving to major tourist spots.
Ferry
There are two different ferries – the passenger ferry and the vehicle ferry. the water taxi is a passenger ferry and takes 25 minutes to get to North Stradbroke Island. The Stradbroke Flyer ferry is the passenger ferry. You can get tickets at the ticket office at the terminal. They are 20 AUD return for adults. You can find the timetable here.
The vehicle ferry takes you to North Stradbroke Island in 45 minutes and can be pre-booked for about 80 AUD per vehicle. You can find the timetable here.
How to get around on a day trip to North Stradbroke Island
North Stradbroke Island has its own bus company that offers day tickets for 10 AUD. Make sure to bring cash for the bus, The bus meets the ferry schedule and picks passengers up from the ferry terminal. Buses go to Point Lookout and Amity Point and stop at some stops in between. To return to the ferry terminal, the bus also meets the return ferry. Busses on major routes go every hour. Some buses only go a few times a day. You can find the bus timetable here. It is very important to plan ahead for a day trip as you need to plan when you need to be at the bus stops.
If you bring your car, you have more freedom and you can visit some places that are only accessible via car, such as Brown Lake. There is also the option to 4wd on North Stradbroke Island.
If you don't want to bring a car but you want to be more flexible with times, you can also book a taxi service on the island. You can also pre-arrange a pick-up. Contact info can be found here.
What to do on a day trip to North Stradbroke Island
A day trip to North Stradbroke island brings you to so many incredible places, beaches and offers a day full of stunning experiences. If you are travelling by public transport I would suggest heading to Point Lookout and skip the rest of the island if you don't want to get a taxi. The area offers a lot of pretty beaches and heaps to see. If you want to get to Amenity Point, you really have to plan ahead and catch the right bus at the right time.
I personally was too scared to miss the last bus and I rather wanted to spend more time exploring Point Lookout. The best way to spend your day on North Stradbroke Island is to catch the bus to Point Lookout and go from there. If you have enough time left, you can book a taxi after and go to Brown Lake or Amity Point.
Point Lookout
Point Lookout is a great place to start your Day Trip. There are cute cafes, shops, the North Gorge Walk, whale watching and stunning beaches that you can visit from there. Point Lookout is located above Main Beach and Frenchman's Beach and a great place to stop for lunch or a little break.
The North Gorge Walk is the highlight at Point Lookout and an absolute must-do on your visit to North Stradbroke Island. You'll get stunning views from Point Lookout of long sandy beaches and beautiful rocky landscapes. Point Lookout is definitely one of the most instagrammable places around Brisbane, if not the whole of Queensland.
Main Beach
Main Beach is more than 30 km long and a popular swimming and surf beach. It is patrolled and offers campsites. You can drive at the beach with your four-wheel drive after getting a vehicle access permit. The bus will drop you off really close to Main Beach. You just have to walk a few minutes and you'll see the long sandy stretch that reaches to the south of the island. Main Beach is on one side of the Gorge and visible from the beginning of the North Gorge Walk. I would recommend not to spend too much time there if you visit North Stradbroke island just for the day, as there are so many beautiful things on the walk.
North Gorge Walk
The North Gorge Walk was my favourite thing on the island and is probably one of the most beautiful things to do in the Brisbane area. It's a 1.5 km walk going past beautiful beaches, rocky cliffs of the Gorge, beautiful coastal views and wildlife. Allow enough time to really enjoy the walk, to do some stops and to take photos! If you're lucky you might spot whales, dolphins or sea turtles on your walk.
At the cliffs, you can see the waves crash against the cliffs and you can spot some blowholes. It's incredible scenery and there are many viewing platforms from where you can observe this spectacle.
It was an extremely windy day, so the water was wild. Usually, the water has a stunning colour and the most beautiful shades of blue.
The picture below shows the place where you can spot whales. You'll probably see many people looking through their binoculars to spot the beautiful creatures. However, you can definitely see them without. We were lucky and got the chance to see a whale (Yaaay!).
Frenchmans Bay
The North Gorge Walk is a circular trail and brings you back to Point Lookout. There is a little grass area where you can sit and enjoy the views of Frenchmans Bay.
Frenchmans Beach is another long golden beach that got its name from four French-speaking men who landed on this beach and settled. Some descendants still live on the island! Frenchmans Baech is not suitable for swimming as its hazardous and rip-dominated. However, it's a really pretty beach and worth a visit. Moreover, you can start a stunning walk to Cylinder Bay from there. To access Frenchmans Beach, facing the ocean, you need to walk to the left along the main road (where the shops and the grass area are) of Point Lookout for a bit. On the right, you can see a signed steep walking track. Just follow that and you'll get down to Frenchmans Bay.
At the end of Frenchmans Beach and in between Frenchmans and Deadmans Beach there is a really pretty rocky landscape. You can walk along the beach to get to Deadmans Beach. However, you have to walk over the rocks which is a little hard.
Deadmans Beach
Deadmans Beach is a 600m long, beautiful beach. You can either walk along the rocks or access it via a walking track from the car park on Cylinder Head. This is not a patrolled beach, so be extra cautious if you go into the water! On Deadmans Beach you can also find stunning rockpools, they are located in between Frenchmans and Deadmans Beach.

Cylinder Beach
Cylinder Beach is the most popular swimming beach on Stradbroke island and shouldn't be missed on a day trip to North Stradbroke Island. You can either access it by walking along the beach from Deadmans Beach or from the car park. If you don't want to walk along the beach or you travel Stradbroke Island via public transport you can walk from the Gorge Walk straight to Cylinder Beach in about 40 minutes or just take the bus. Cylinder Beach is a patrolled beach and has safe swimming conditions. If you want to stay longer on Stradbroke Island, there is also a camping area at Cylinder Beach.
Amity Point Jetty
I didn't get the chance to visit Amity Point but if you plan your day trip really well or you have a car, you can visit Amity Point during a day trip to North Stradbroke Island. At Amity Point Jetty you can see wild dolphins almost every day during sunset or at night. It is never guaranteed but you might be lucky and spot the beautiful animals playing right at the jetty. Please don't feed the dolphins as it's not good for their lifestyle and health.
Brown Lake
Another famous spot that you can visit on a day trip to North Stradbroke Island is Brown Lake. Unfortunately, it's not accessible via public transport. If you want to visit Brown Lake, you need a car or prebook a taxi that will pick you up at a certain time. Brown Lake is a natural freshwater lake that has its colour from tea trees. It's a popular swimming spot and offers picnic facilities.
This is my guide for a day trip to North Stradbroke Island. Have you been there? Let me know if you liked it or if you have any questions in the comments!
Pin it!