This post contains unpaid advertisement
The island of Corfu Greece belongs to the Ionian Islands and is really close to the Greek mainland and Albania. It's a real gem and quite different to many other Greek Islands. With a lot of rainfall, Corfu is the greenest island in Greece and has abundant flora. The mountains make this island special for its many beautiful views and the rich heritage offers a variety of architecture and cultural influences. A beautiful coastline leaves you jaw-dropping with its crystal clear water, stunning cliffs, beautiful caves and secluded beaches. No wonder that Corfu is famous amongst travellers! Putting together this Corfu Greece travel guide brought me back reminiscing about my awesome time in Corfu and I can't wait to share my best tips with you.
Make Greece a bucketlist experience
Corfu has never been on my bucket list but my friend and I were looking for an affordable summer destination. We came across Corfu and the beautiful beaches, the Greek food and the amazing views we found on pictures left us dreaming of our summer in Greece. In this Corfu Greece travel guide, I will share with you all the best tips for the island. You can find everything you need to know to plan your trip and the best things to do in Corfu, Greece.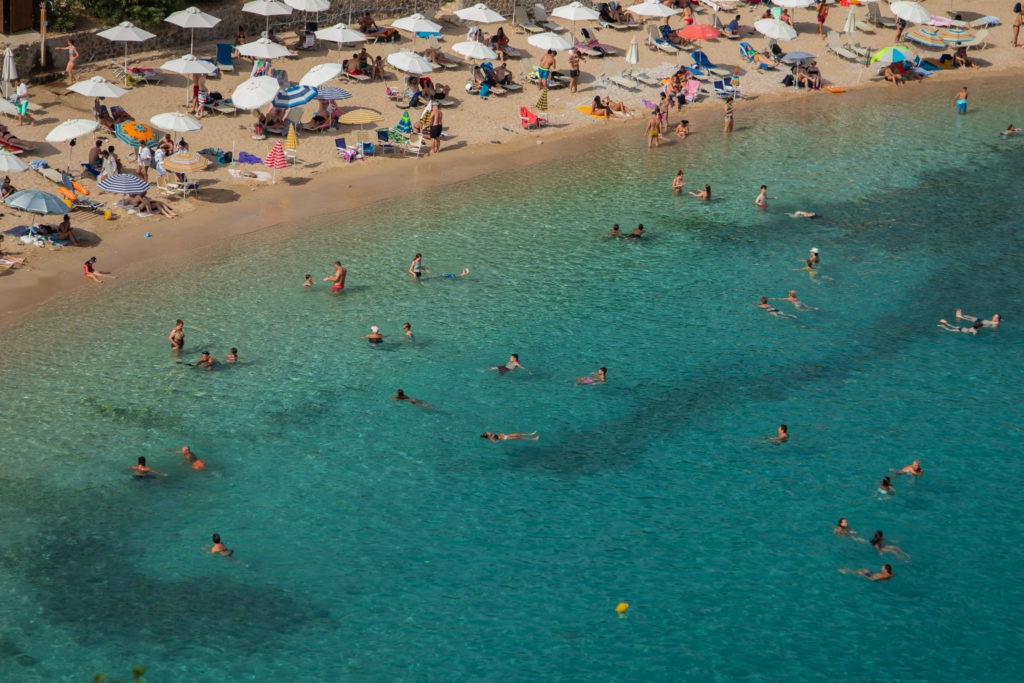 From my own island hopping experience in the greek islands, I would recommend including Corfu in an island-hopping trip if you can. It's such a great way to travel in Greece and definitely a bucket-list experience. There are so many beautiful Ionian Islands which you can visit. Here you can find my island hopping guide to the Cyclades. Obviously, this won't help you with an itinerary for the Ionian Islands but it might give you some inspiration for island hopping. Maybe you'll even want to visit the Cyclades (they have a special place in my heart).
Quick Tips Corfu Greece
Corfu Greece Travel Guide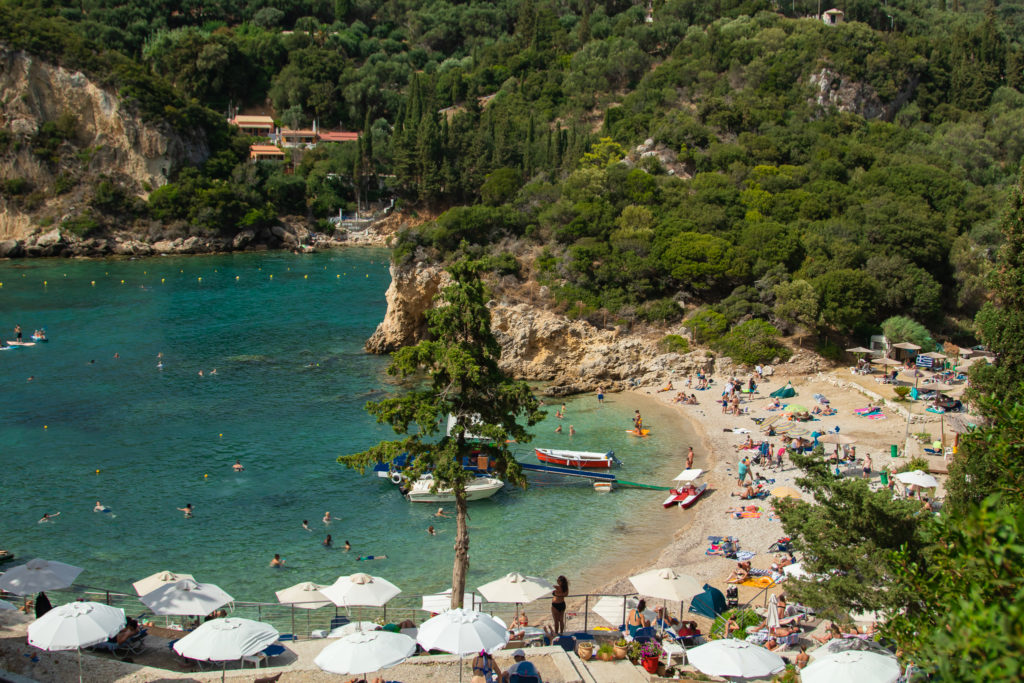 How to get to Corfu Greece
Corfu is quite big in comparison to other Greek Islands and has its own airport. From most European cities you'll find direct flights to Corfu. If you're flying internationally, you'll probably have to change flights somewhere in Europe. A great option is flying to Athens and catching a connecting flight from there. You can even spend some time in the city to explore.
I love how easy and convenient the ferry network is in Greece. Unfortunately, Athens is a far away, so taking a ferry isn't as easy. You could even take a flight to Saranda in Albania and catch a ferry from there. I would have loved to visit Albania but due to Covid, there were very limited ferry connections.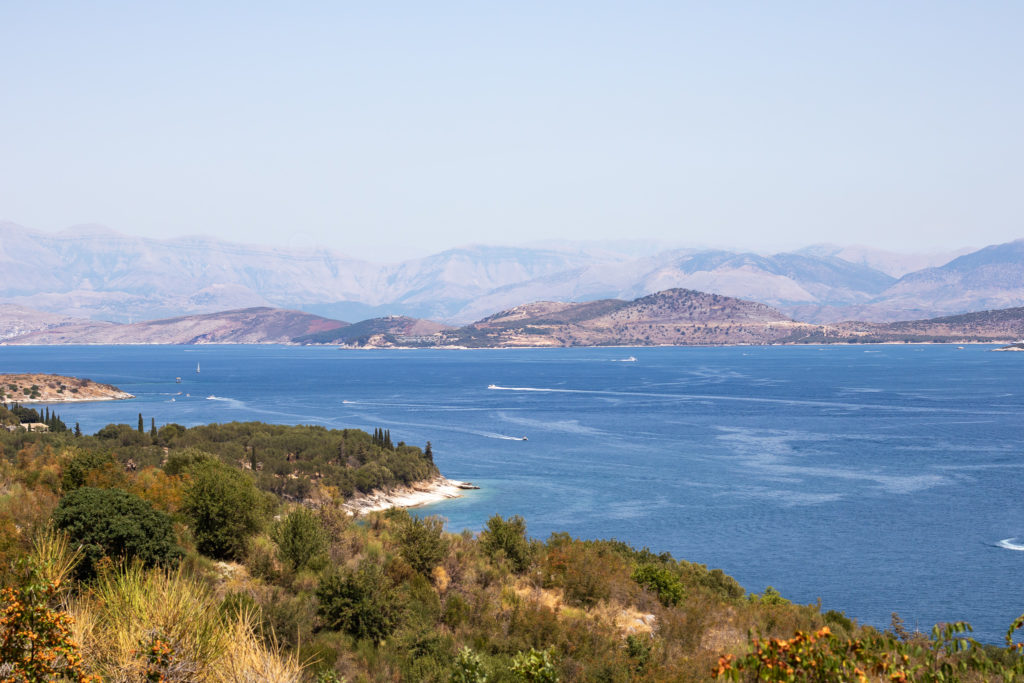 How to get around in Corfu Greece
Corfu is a lot bigger than we expected and you actually need a lot of time to travel between places. To be honest, I wouldn't recommend relying on public transport. Buses only run a few times per day and you definitely won't be able to see as much of the island. We rented a car and were so late that we almost didn't get one. It was really expensive, so I recommend booking a car as early as possible.
Renting a car
Usually, renting a car as a young driver is more expensive. We mostly searched through local companies and they usually wanted a drivers license for one or two years and a minimum age of 23 or 24 for the best full coverage insurance. You can still rent a car if you're younger but you might not be able to book the premium insurance or you have to pay a young driver fee.
Road safety in Corfu
The roads in Corfu are really bad and sometimes it was so scary and dangerous to drive. They are narrow and in bad condition but we got used to it. We wouldn't have been able to see most places in this Corfu Greece travel guide without a car, so I'm super happy we were brave enough to drive. There are also taxis, transfer services and boat tours, so you can enjoy the island without a car.
Especially for the steep and narrow roads, Quads can be good and you can drive closer to beaches when the roads get too bad for cars. However, it looked quite dangerous and I personally felt safe in a car 😀
Make sure to look up the road rules in Greece as they may differ from your own country. In Greece, traffic on a roundabout gives way to traffic entering the roundabout, which is different to what we know. In reality, people didn't always do that, so drive careful and watch the other drivers!
Travel by bus
There are two bus companies – the city bus and the Green bus. The Green bus is what you would use the most as they connect the different towns on the island. On the websites, you can find timetables and fares. For the Green bus, you usually have to purchase a ticket before you board the bus. In Corfu, you can buy them at the station and in Agios Gordios we bought them at a shop next to the station. If you are using the bus you should plan ahead as there might be only one bus in the morning and one in the evening.
Where to stay in Corfu Greece
There are a few famous towns with lots of hotels and resorts in Corfu. The best place to stay depends on what you are looking for.
Corfu Town is definitely the best place if you want to use the bus. There are also a lot of restaurants, bars, shopping and you are close to the port and the airport.
We stayed in Agios Gordios, located on the west coast. Our choice was the Pink Palace Hostel which is a huge resort with multiple buildings from the beach to the top of the village. It's more of a party hostel but we were in a private room and didn't see or hear any party, so I guess there is space for every type of traveller. The bus connection isn't great but there is a beach, lots of restaurants, convenience stores and a real holiday vibe.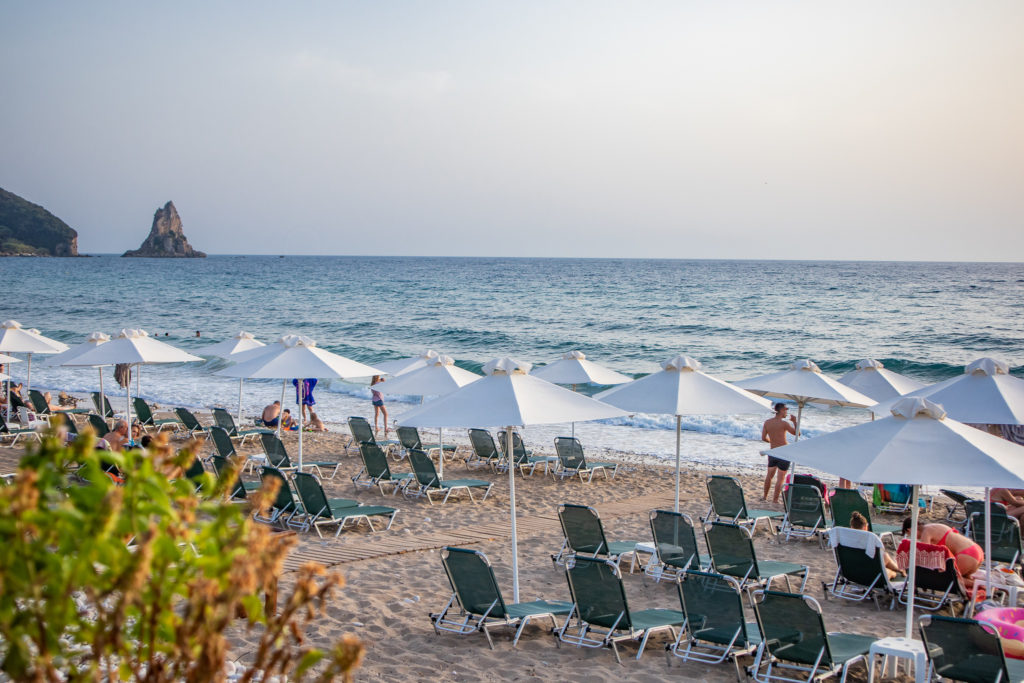 Sidari is located in the north and is super touristy. You can find nightlife, restaurants and lots of souvenir shops. It's also at the beach and the famous Canal d'Amour is located in Sidari. A lot of the best things to do in Corfu are located in the north. However, it's quite far away from everything else on the island. The drive from town is over one hour and to me, it's a bit too touristy.
In the south, there isn't as much to do, so I would recommend staying closer to the north.
When to visit Corfu Greece
In Greece, summers are hot and dry while winters are mild and rainy. The peak season is over the summer months which are the hottest and sunniest. However, Corfu gets super crowded and very hot during the months of July and August. If you can, I would avoid these months.
The best month is September, as it's still quite dry but the water is still warm and the temperature more bearable. May to June is also great, as this is before the peak season while temperatures are already very nice and the weather is sunny. However, the water will be a bit colder than in September or October. We travelled in August and it was very hot. This was great for swimming but everything else was exhausting and we couldn't go hiking which we would have loved. I think a lot of the best things to do in Corfu would be even better with fewer crowds. Last time in Greece I went at the beginning of October and it was just perfect. Just be aware that towards the end of the year some ferry services, bus services, as well as tourist accommodation, restaurants and attractions start to close for winter.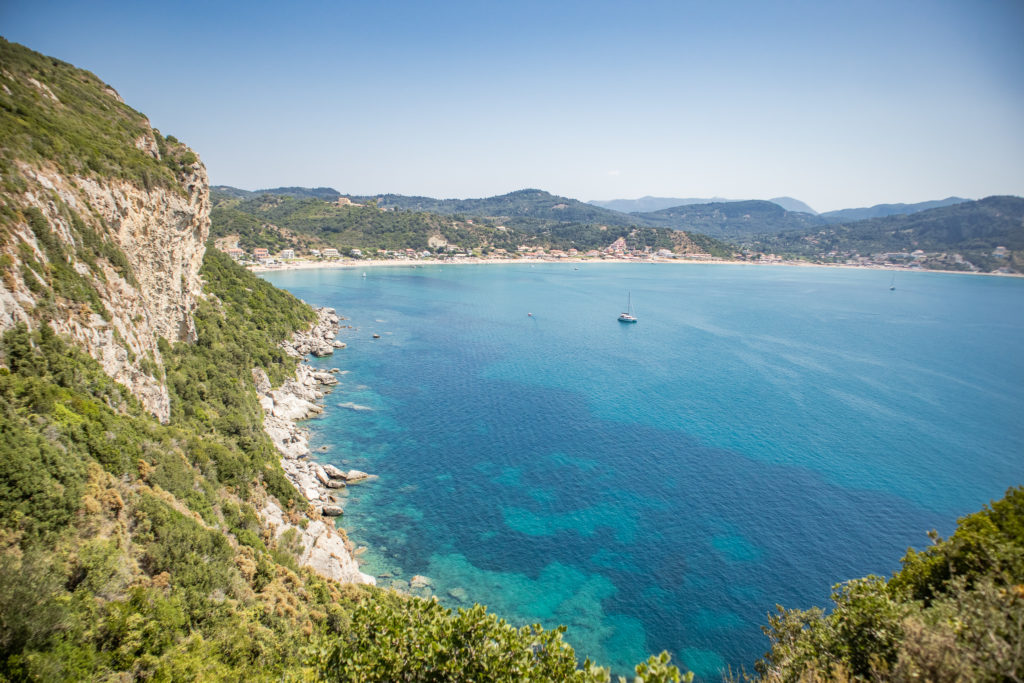 How long to stay in Corfu Greece
Corfu is a large island and there is a lot to see. We spent 10 days on the island and this was a good amount of time to see everything and chill a bit. I think you should plan one week if you don't want to explore the whole day. To see the highlights on the island, you should plan at least 5 days but I think the more the better as there are lots of hidden bays and cool spots to discover.
Travel cost in Corfu Greece and how to save money
Corfu can get quite expensive in high season when it comes to car rentals and accommodation. In this Corfu Greece travel guide, I will show you how much money I spent on my Corfu trip and how you can save money travelling Greece.
I spent approx. 800 Euro without flights for a 10 day Corfu trip. We didn't splurge every day but you can easily make it a lot cheaper. The rental car was 450 Euro for 6 days because we booked so last minute, there weren't any cars left! Fuel is expensive (about 1.80/liter) but we only needed to get fuel once. Accommodation was 400 Euro for 10 days which was one of the cheapest options on the island. Some days we only ate Pita while on other days we had a nice dinner and cocktails. Most of the best things to do in Corfu are free, so you don't have to spend a fortune on activities. I think the best tip I can give you is to travel outside of high season!
I put together this infographic with the best tips to save money on a Corfu Greece trip.
The best things to do in Corfu Greece
These are my favourite places and things to do on the island of Corfu Greece. There is so much to do and you should definitely bring as many swimmers as you can because there is a lot of beach time coming!
Porto Timoni Beach
Porto Timoni Beach is probably the best-known photo spot on the island. After a short 20 minute hike, you'll be rewarded with two coves, one on either side of a small strip of land. I couldn't stop being amazed seeing the beaches from above, surrounded by crystal clear, blue water. Coming early will help to secure a parking spot and to have a more private experience. We arrived at midday and the beaches were full of people. It was an amazing experience though! As these beaches are secluded, you cannot buy anything there. I recommend bringing lots of water, an umbrella, a hat and proper shoes. You really want to bring sun protection as there is no shade.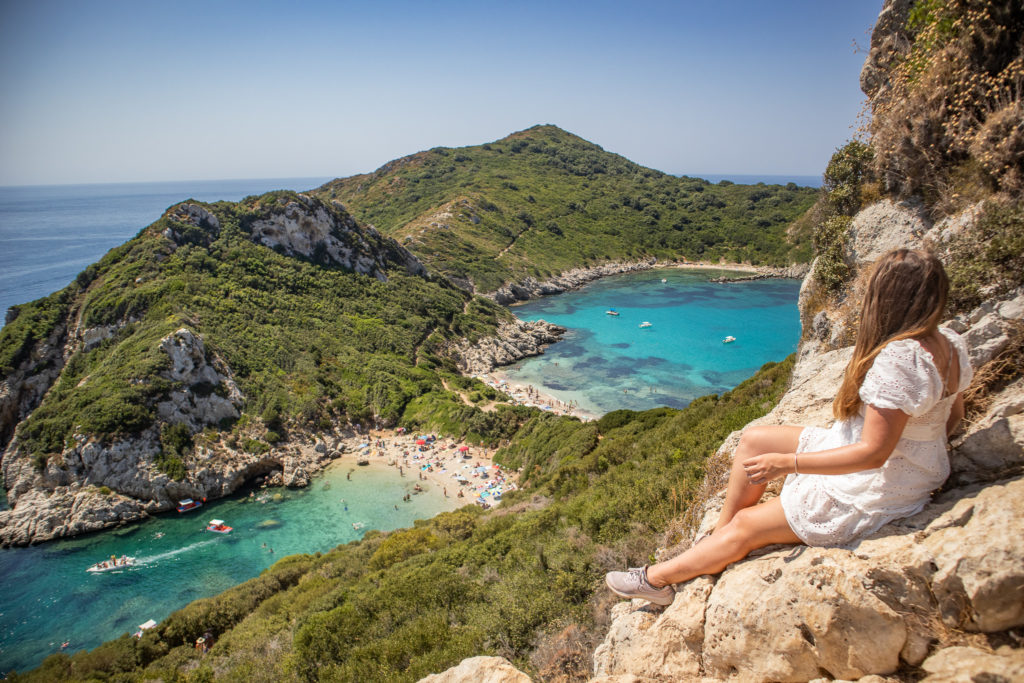 Don't underestimate the way back up which is really steep and quite hard in the heat. Going early might also help to beat the heat. Make sure to also visit the viewpoint for some stunning views. This is probably the most instagrammable spot and one of the best things to do in Corfu that you shouldn't miss.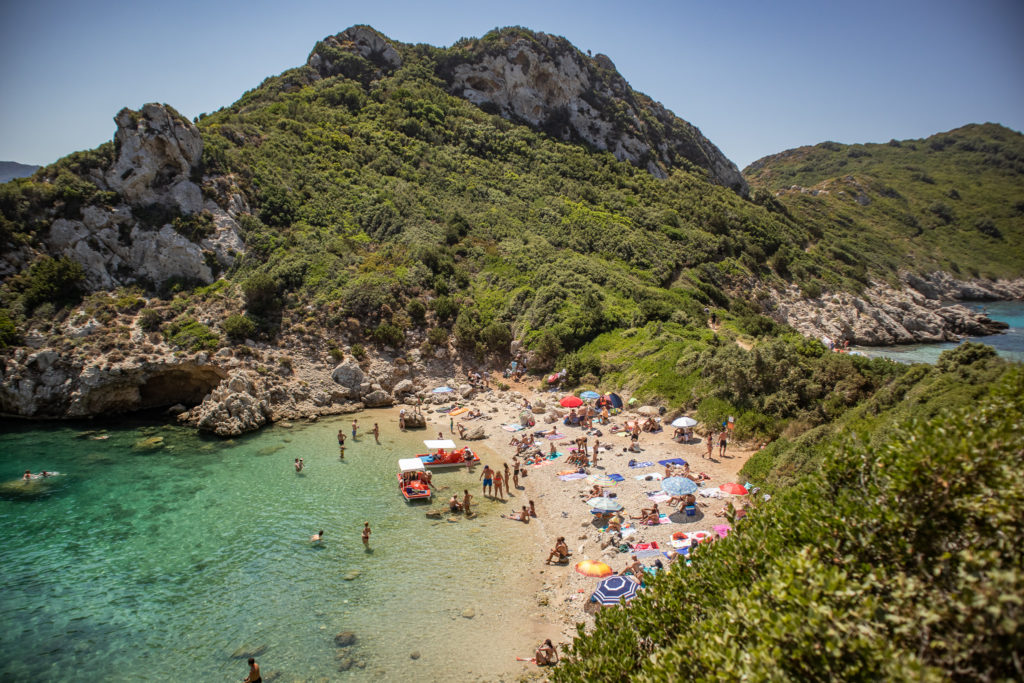 Scenic views at Cape Drastis
Cape Drastis is famous for its cliff formations and absolutely incredible views. From this viewpoint, you can see some sandy beaches and coves only accessible by boat. There is a car park close to the viewpoint and it's very accessible. We didn't have time to do a boat trip but it looked really cool from above. You can find this cliff in the north of Corfu which is close to Canal d'Amour.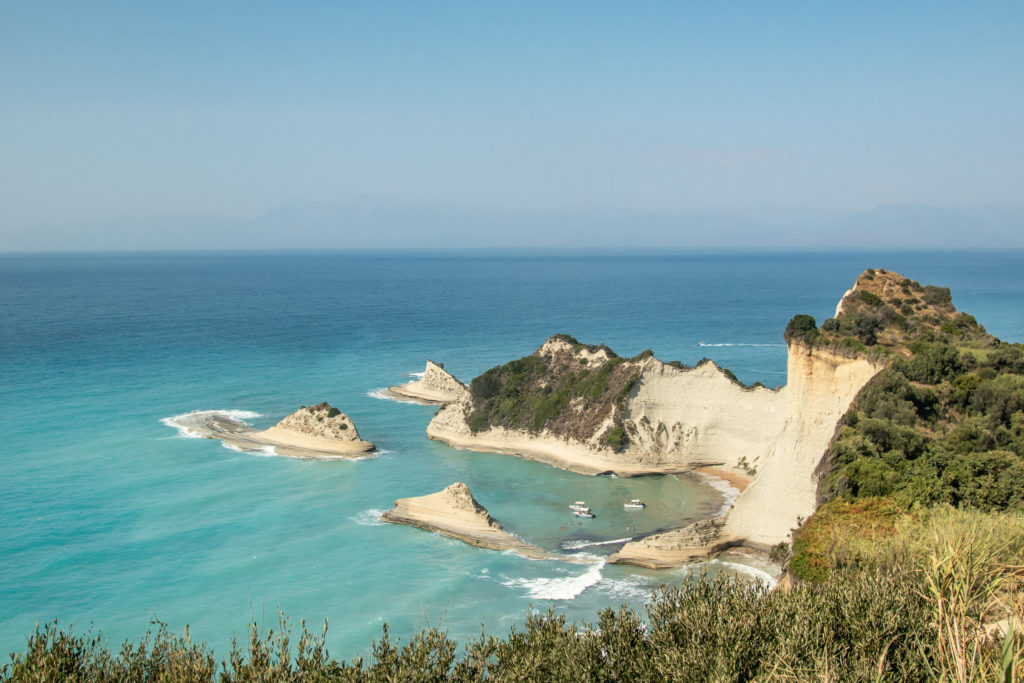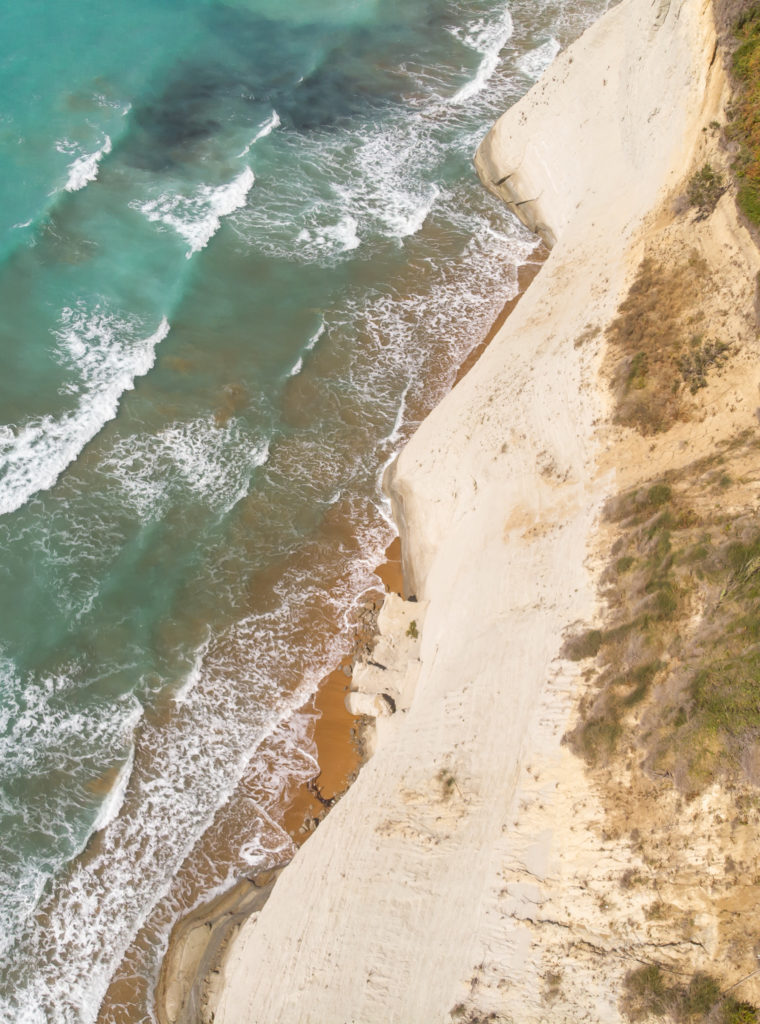 Find love in Canal d'Amour
Canal d'Amour is a famous beach in Sidari with a few canals and opportunities to cliff jump. The water there looks stunning but the beach gets crowded quickly. Sandstone cliffs form a natural canal well known for an old legend. It says that lovers swimming the length of the canal will stay together forever and people swimming to the tip will meet the love of their life. I haven't tried, so unfortunately I cannot tell if this is true or not haha 😀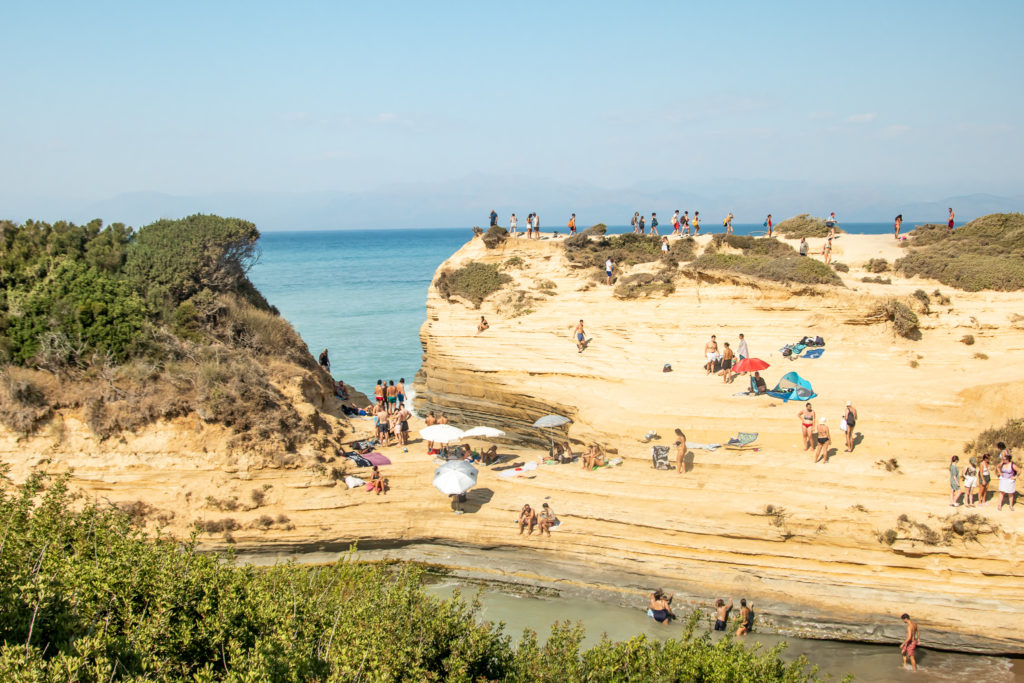 Make sure to visit Calypso Bar in Sidari. They have a beautiful outdoor dining area and nice food. We loved the vibe!
Swim in the blue waters of Kassiopi
Kassiopi is a little coastal town in the northeast of Corfu. We were totally surprised by the beauty of the beaches. The beaches were some of the most beautiful we came across on our trip and they definitely deserve a spot in this Corfu Greece travel guide. My favourite beach was Bataria Beach, followed by Pipitos and Kanoni beach.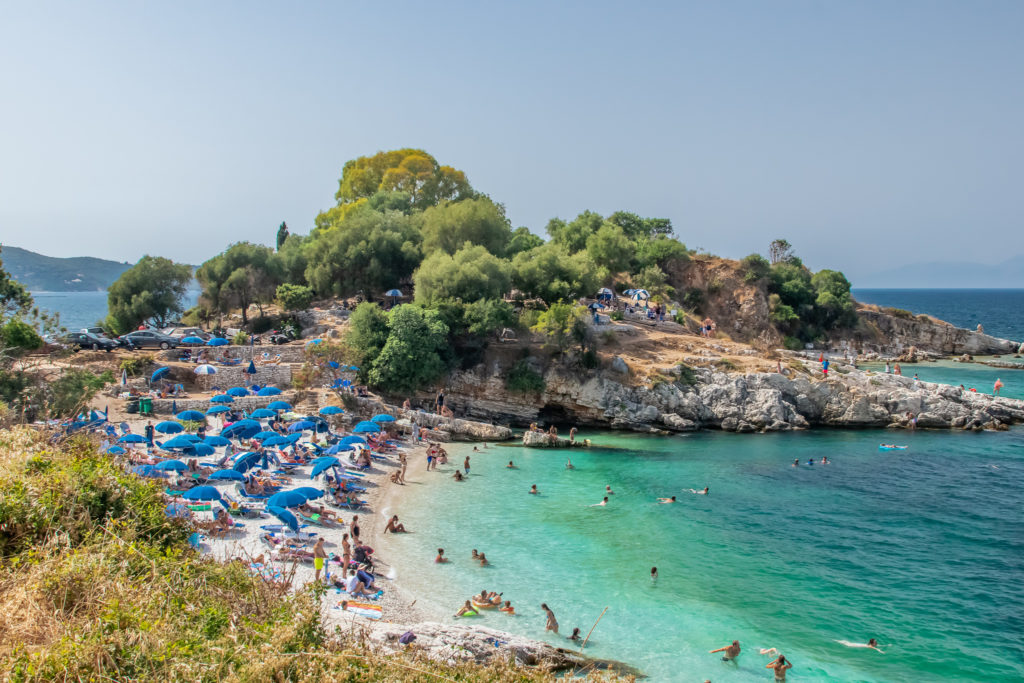 They are all located really close to each other and only accessible by foot. Absolutely stunning water awaits you there!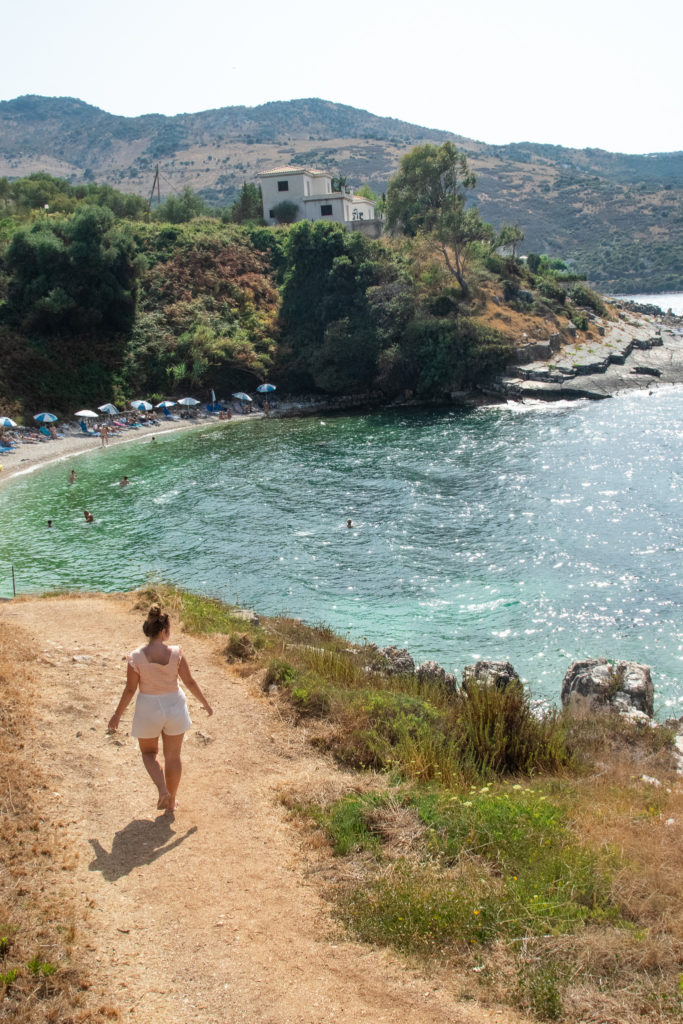 Where to eat:
Thraka Greek BBQ has typical Greek food, like Souvlaki, Gyros Pita and meat platter. It was very yummy and affordable. I had a Greek Salad and a Souvlaki Pita and paid only about 10 Euro.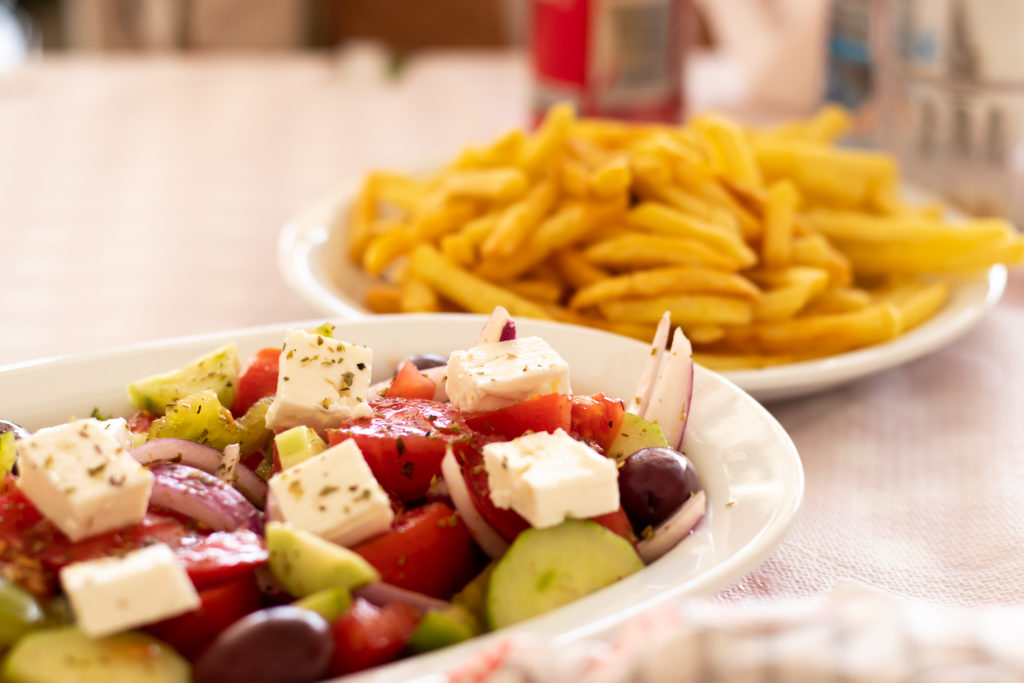 Visit the secluded beaches of Erimitis
This unspoilt paradise is really close to Kassiopi and offers some incredible beaches only accessible by boat or by foot. You can reach them via small adventurous paths. I love to discover places like this and include some spots off the beaten path in this Corfu Greece travel guide. This was one of my favourite things to do in Corfu and if we would have had more time, this would have been the first place to return to. White pebble beaches with crystal clear water in all shades of blue are waiting for you.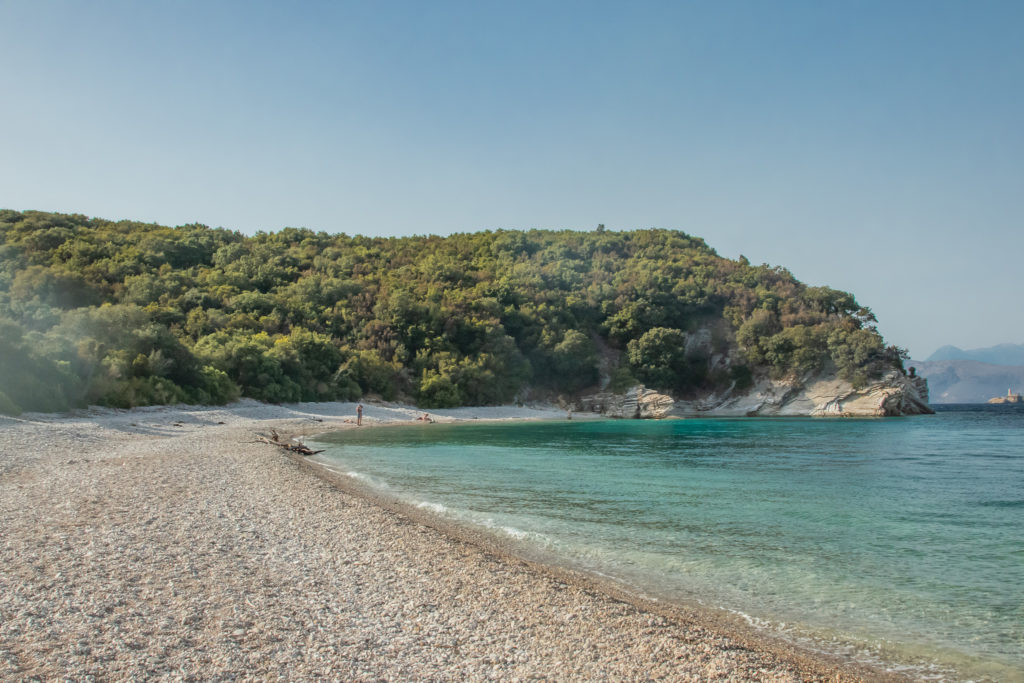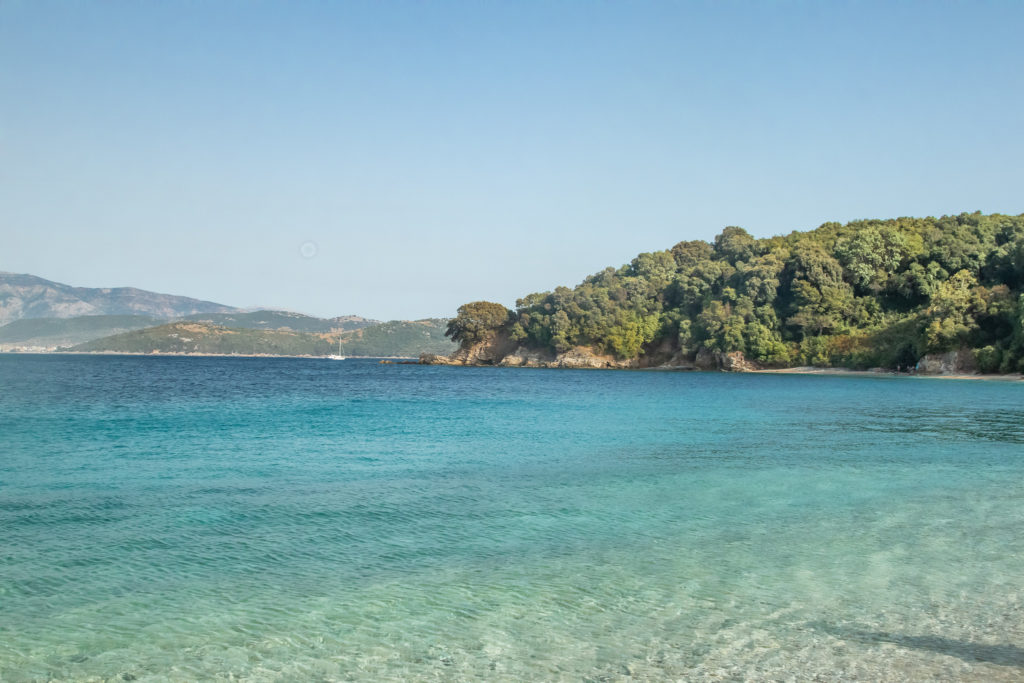 We visited Akoli beach which is also known for the lake right at the beach. In the evening it is less crowded because there are some tourist boats during the day. The parking space looks like an olive grove and the walk to the beach is about 20 minutes. Make sure to bring some proper shoes and if you are scared of spiders I would recommend not to look into the trees 😜.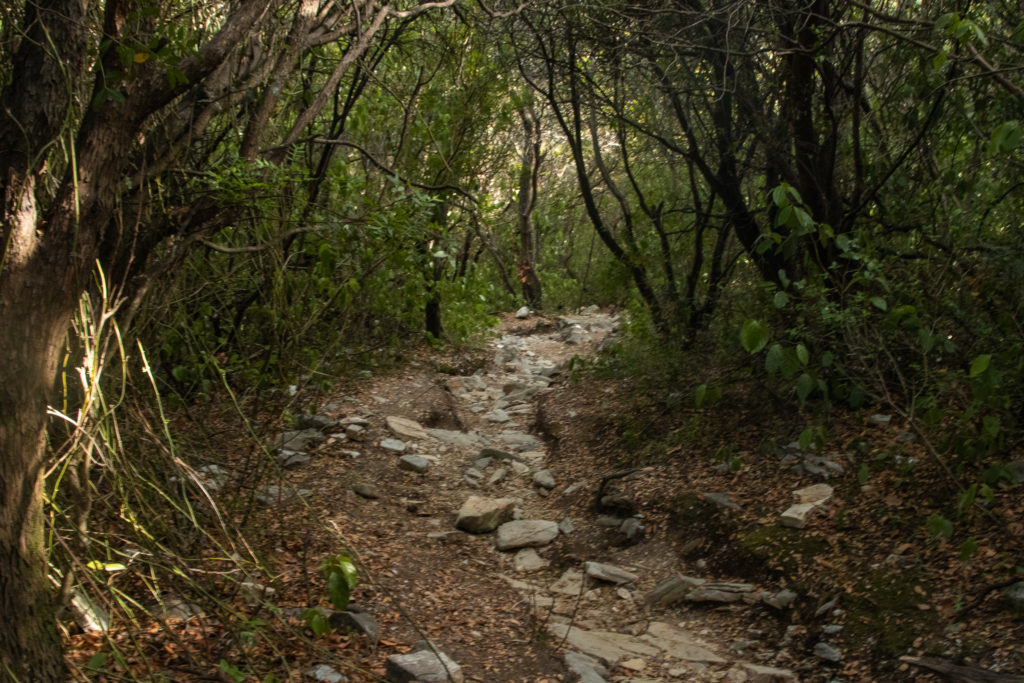 Not far from Akoli beach you can also find Avlaki Beach and Arias Beach.
Visit the holiday Paradise Paleokastritsa
Paleokastritsa has so much to offer, I don't even know where to start. Famous for the beautiful beach and the many hidden coves, this is a beach lovers paradise. The main beach Agios Spiridon is super crowded but for a good reason! You can rent sunbeds there and enjoy the sand, the turquoise water and the lush greenery surrounding the water. There are shops along the road and lots of boat rentals.
Explore the Paleokastritsa coast by boat and discover secluded beaches
Traditional wooden boats leaving from the beach, bring you to some secluded beaches and to La Grotta, an insta-famous bar. If you want to visit Paradise Beach, you should ask the staff from the boats. Unfortunately, the day we visited, they didn't go to Paradise Beach. On the way, they take you into some caves which are super cool! The return trip to La Grotta was 20 Euro each, the same price for paradise Beach or a tour to some other secluded beaches.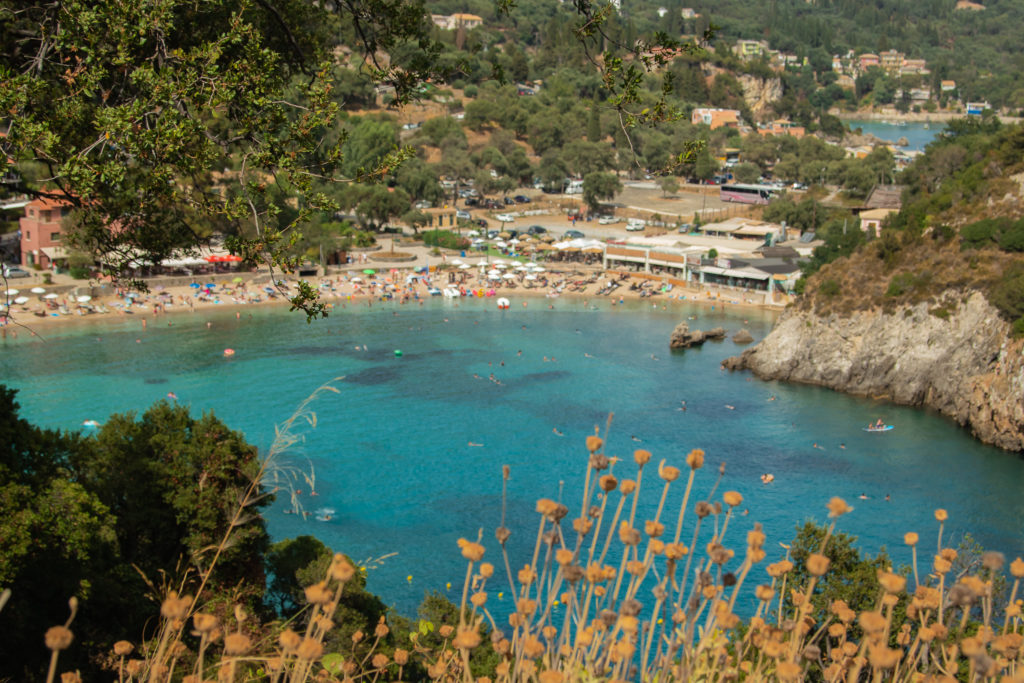 Visit a bar built into a cliff
La Grotta is a famous bar built into a cliff with a cool diving board. We liked it but thought it was a bit overhyped. It's still worth a visit if you're in the area. I would recommend being there as early as possible as it gets a bit crowded during the day. You don't have to take the boat there as you can access over stairs from the road but there were no parking places so we had to drive to the public car park at Agios Spiridon Beach.
Soak up the views on the way to the Paleokastritsa Monastery
On top of a hill, you can find a monastery with an incredibly beautiful garden! I definitely recommend walking up and visiting the monastery while soaking in the amazing views.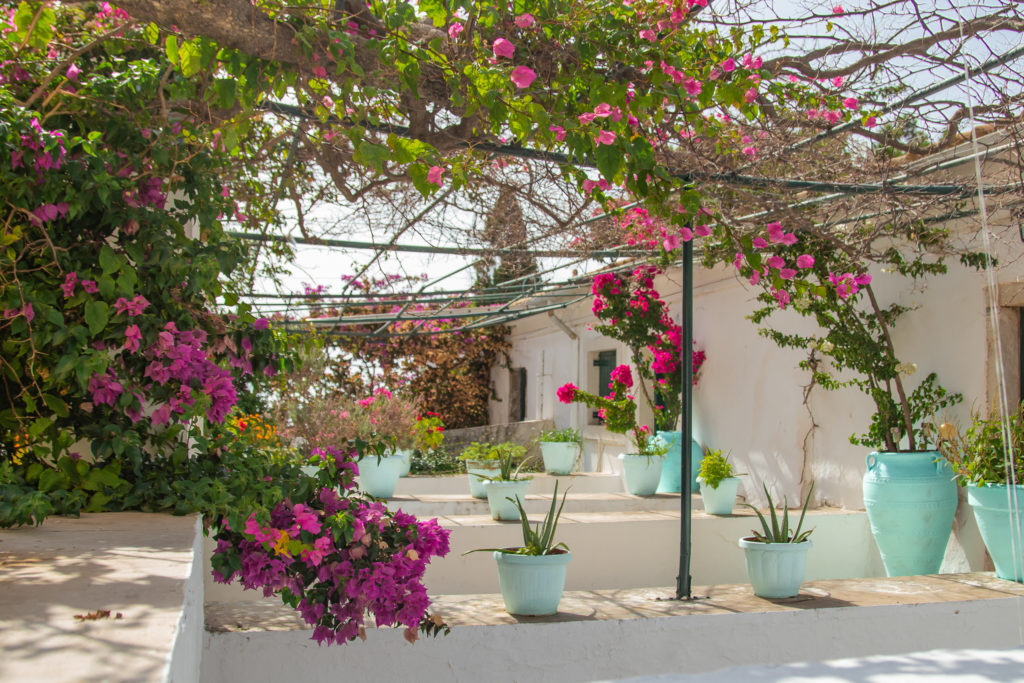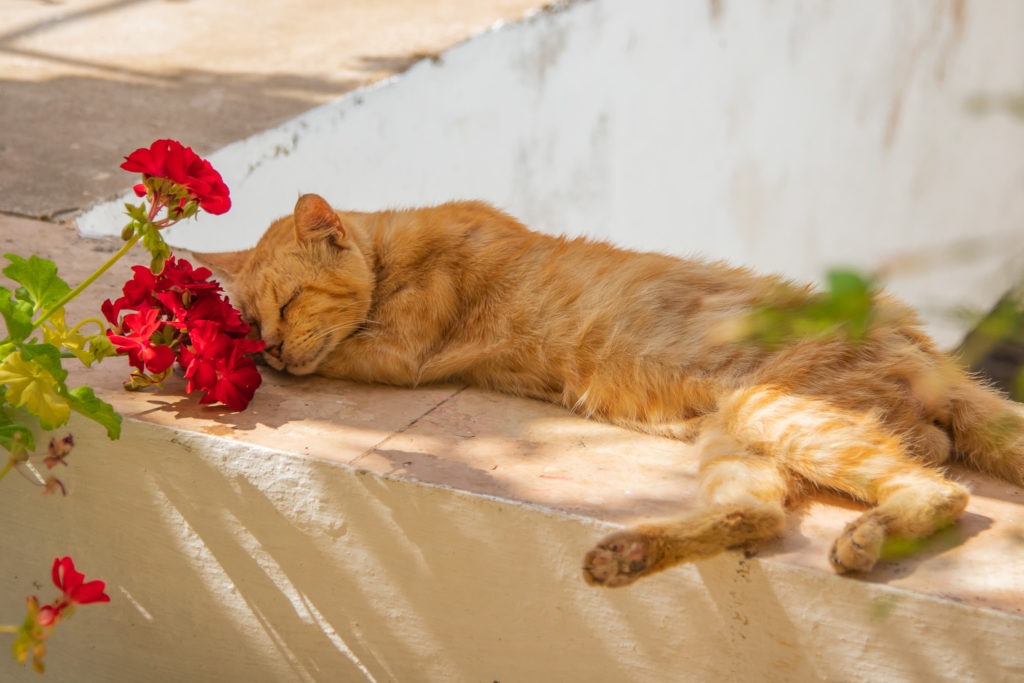 There will be a separate blog post about Paleokastritsa as there are just too many things to do to cover it here 🙂
Stroll through Corfu Old Town
The old town of Corfu Greece has something special. It's charming and very different to what you might expect from greek towns. Unlike the whitewashed houses, you find venetian style buildings and fortresses in the city. The town is a UNESCO world heritage site due to its rich history and building, such as the old fortress.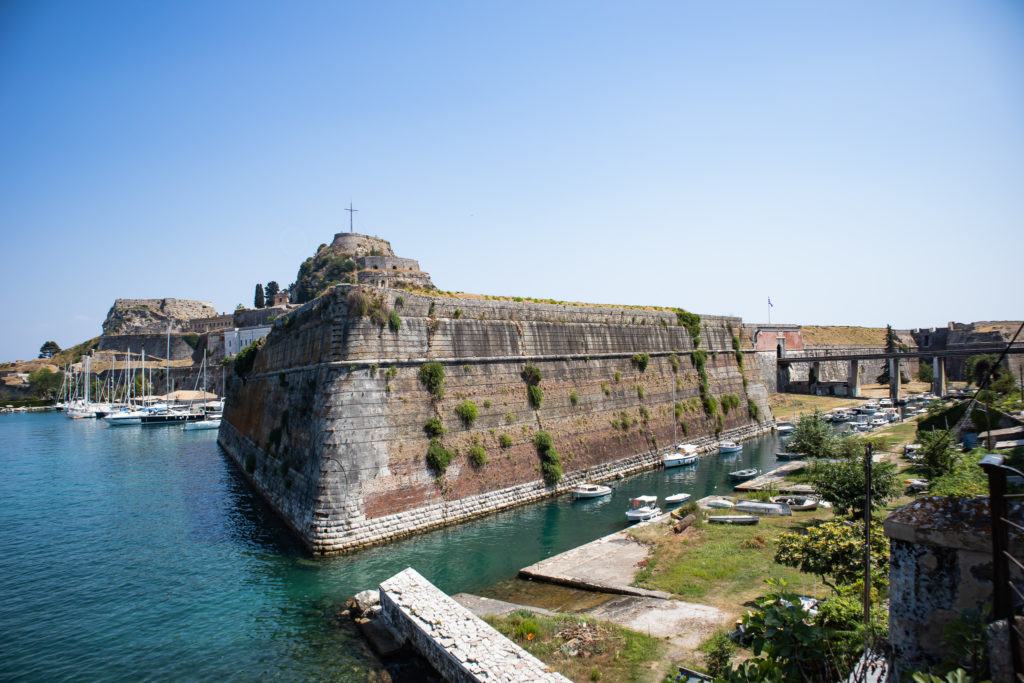 Corfu town is amazing to stroll around and do some shopping or to find cute cafes. Definitely try a freddo Cappuccino while in Corfu! Walk through the narrow alleys and the picturesque Esplanade. Central to Corfu Town is the Asian Art Museum located in a beautiful palace.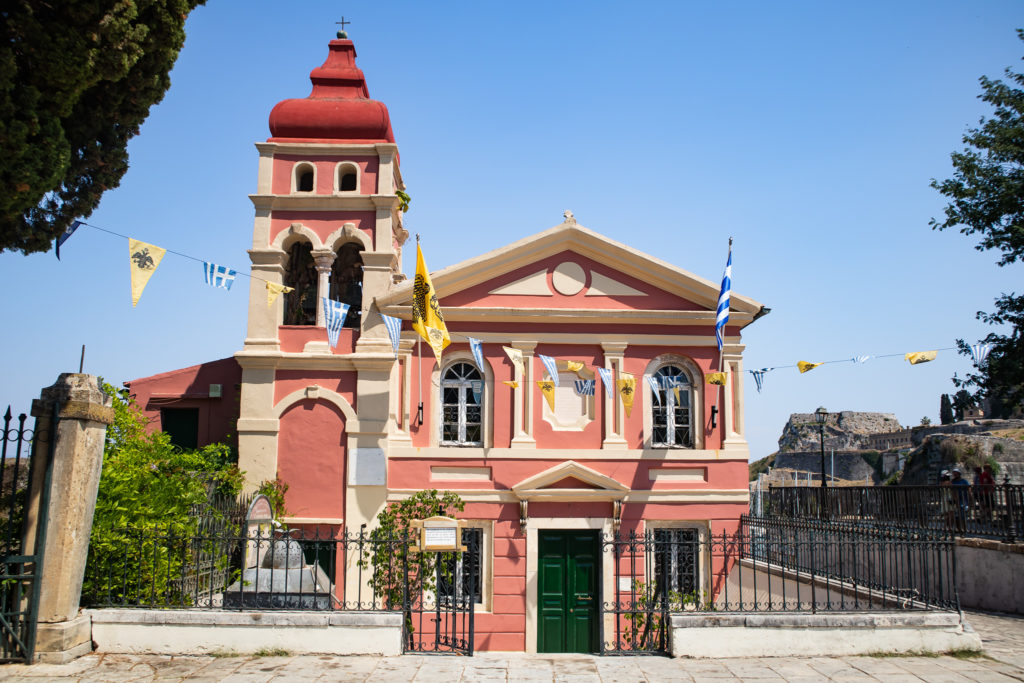 Not far from there, you'll find the entrance to the Venetian fortress.
Don't miss the food and drinks in Corfu Town!
When you see stalls selling feta spinach pies, give them a try. The same goes for frozen yoghurt and ice cream. I loved the one from Mona Lisa l'Atelier del Gelato. But our absolute favourite place in Corfu Town was Imabari. The bar is right at the water, you can chill in the sunbeds and go for a swim between cocktails. We actually went twice because we loved it so much. The tropical beach bar vibes really give you the holiday feels and make the perfect spot for a lazy afternoon.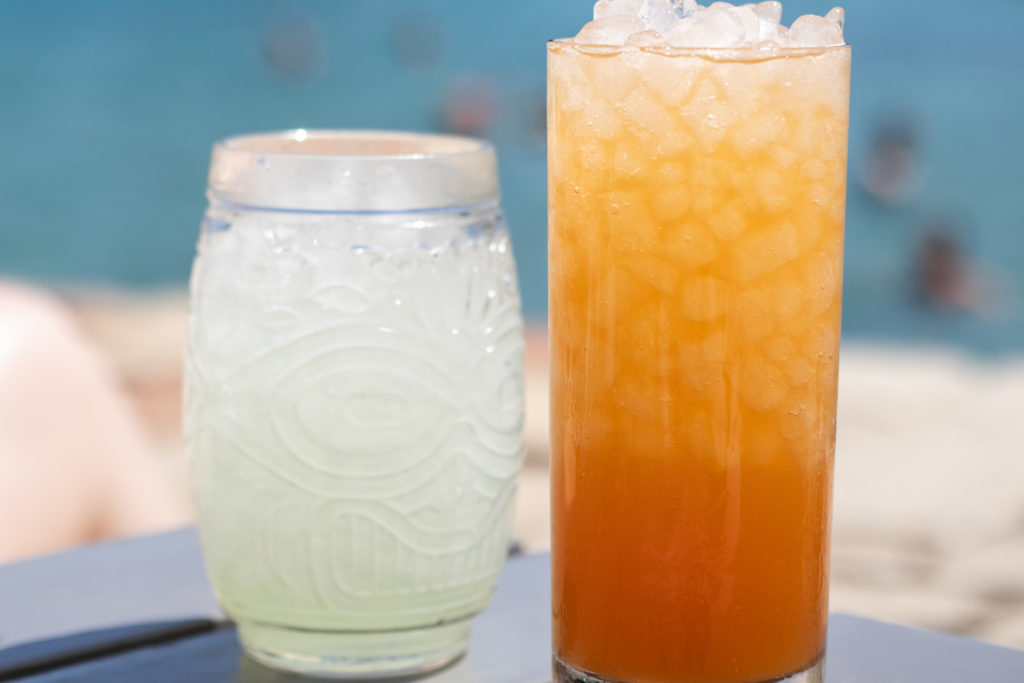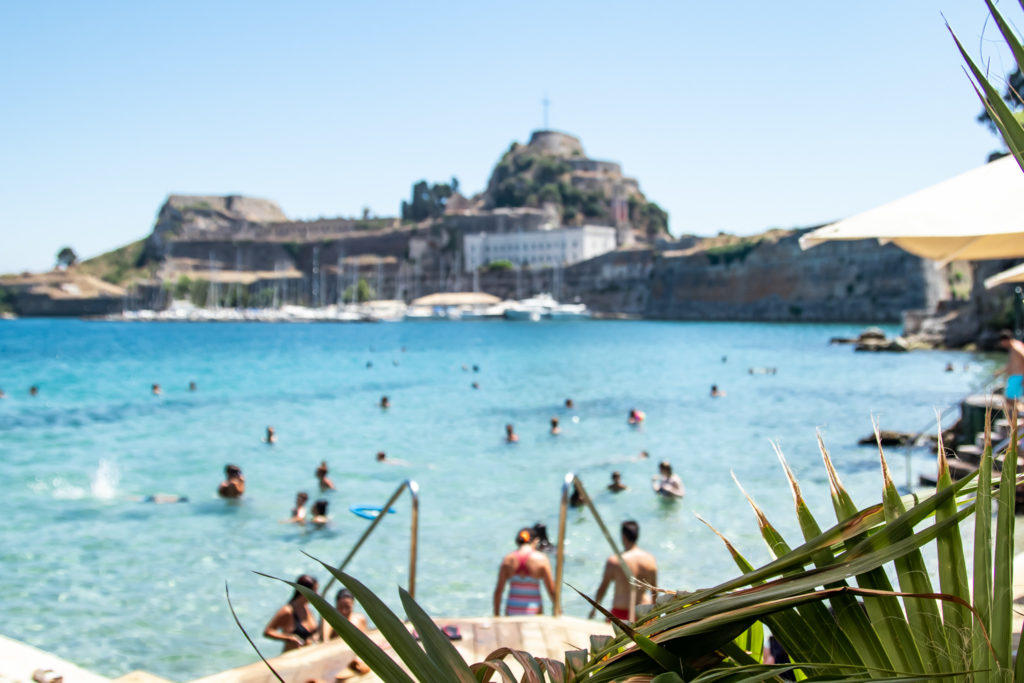 Not far from Imabari, you can swim at Faliraki Beach, a stretch along the Old Town walls with beautiful water.
Explore Rovinia Beach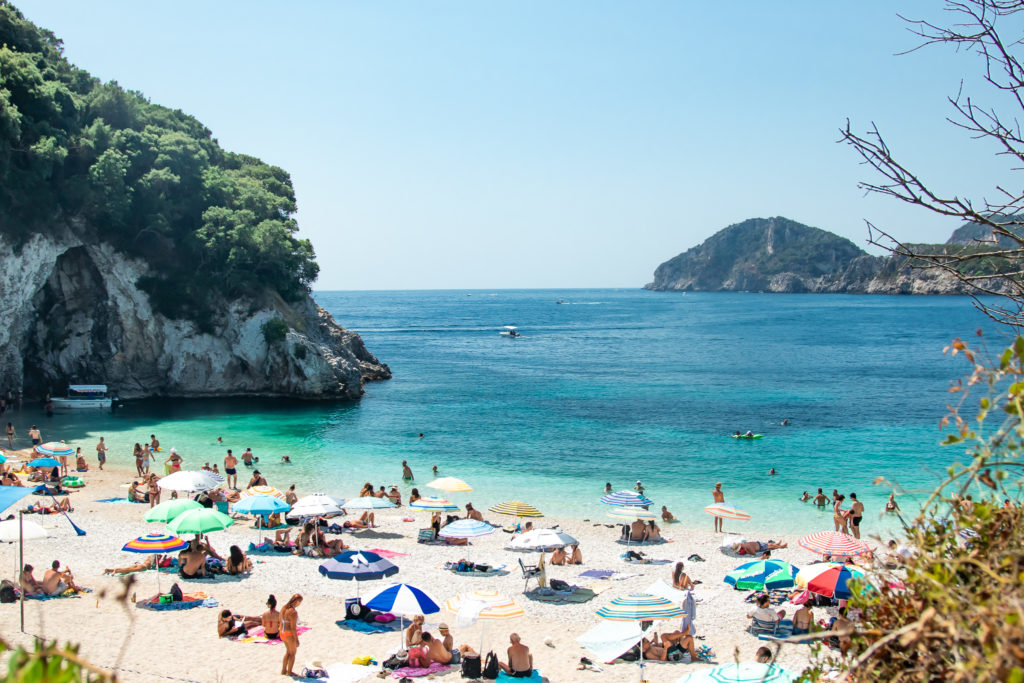 Rovinia Beach is located close to Paleokastritsa but deserves an extra spot here. This secluded bay is absolutely gorgeous and was one of our favourite beaches. Even though it's not a secret anymore, the white sand and turquoise water is so inviting. The cliffs offer some shade which is rare on the Corfu beaches. I was amazed by the beauty of this place.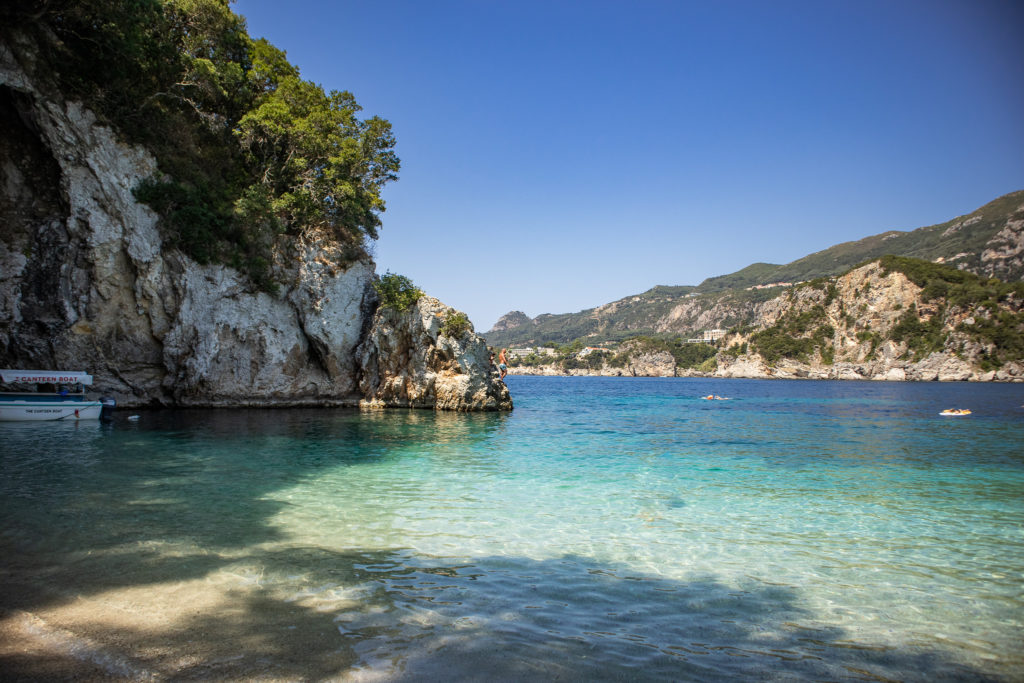 From the parking spot you have to walk about 15 minutes to get there. I would recommend to park along the road in town and not drive to the parking spots close to the beach as the road is really bad. Bring an umberella, water, sunscreen and everything you need for a beach day. There are no shops but in summer there's a cafeteria boat coming a few times a day to sell drinks and snacks.
Do an Olive Oil tasting
Corfu Greece is full of olive groves everywhere you look. These trees are of great importance in agriculture and beautiful for tourists to look at. They have been important in Greece mythology and life for centuries. Olive oil is said to have health benefits but you can learn more about the process and these benefits at an olive oil tour and tasting.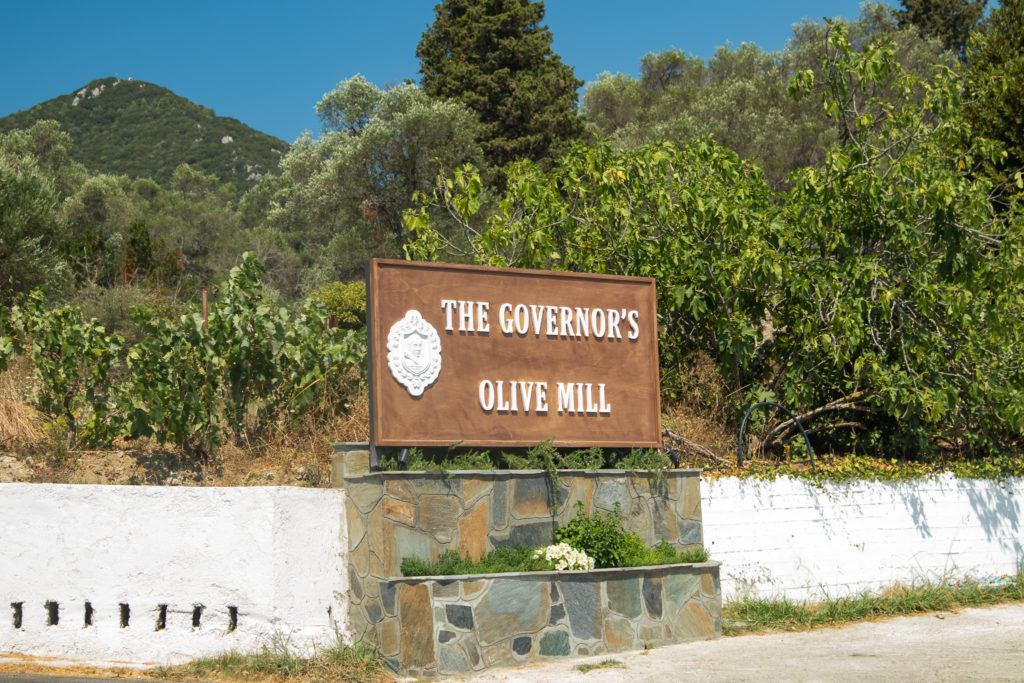 We found The Governers Olive Mill on Google Maps and booked a tour of the factory. It was so interesting and fun and the tasting was amazing. I learned a lot of new things about olives and the oil production and would highly recommend a visit at the olive oil mill. The family owning the mill is so cute and funny, it was such an authentic experience. The tour was only 15 Euro and really worth it. They also have a bigger tour in which you get a tour of the groves.
Visit Lake Korission
Lake Korission is located in the south west of Corfu and only separated from the ocean by small strip of sand. It's over 5 km long and has a variety of birds. If you're lucky you might even see flamingos!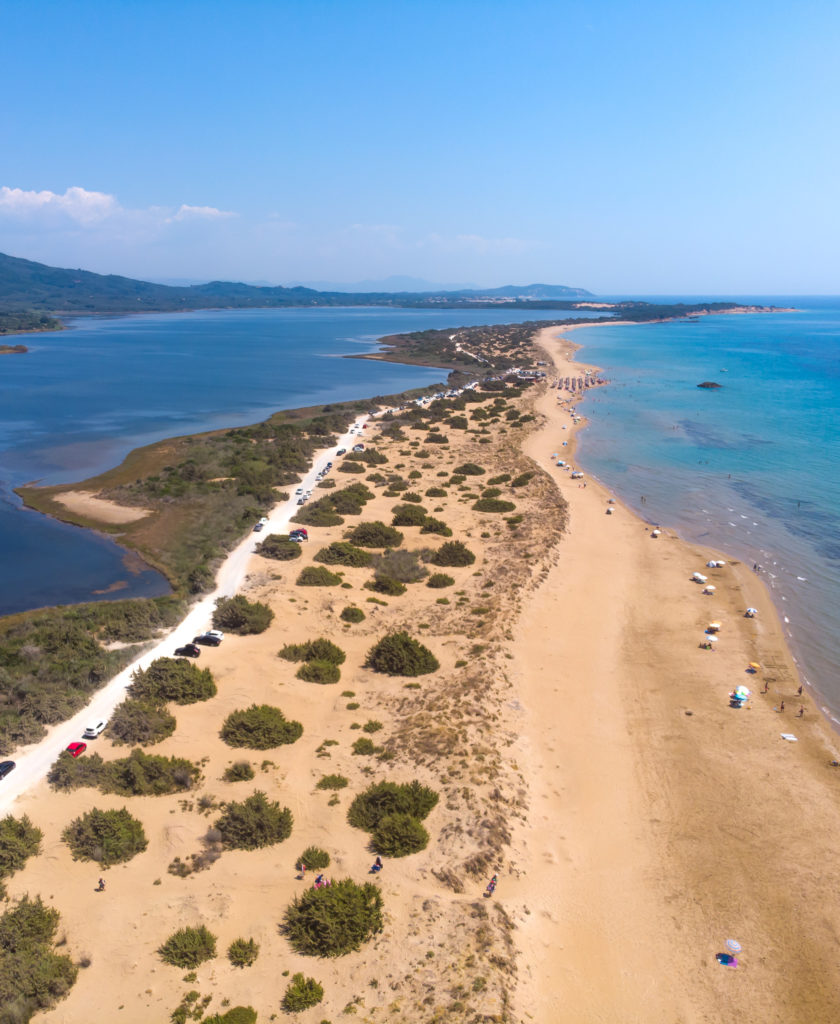 Right next to the lake you can find Halikounas Beach which is super flat and great for swimming. There are also some beach kiosks where you can buy drinks and snacks. You can park along the road but I would recommend to park as soon as you get on the dirt road. There's lots of sand on the road and you might get stuck if you drive too far.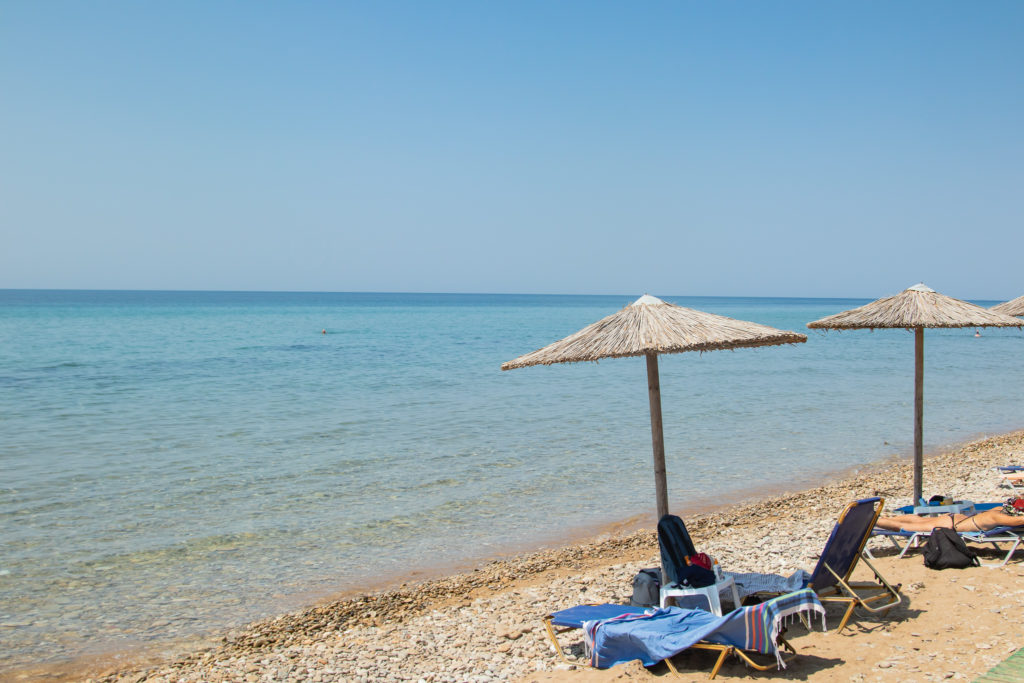 Boat Trip to Paxos and Antipaxos
An absolute favourite was a boat trip to Paxos and Antipaxos. This trip is famous, so you should book in advance in high season. You can choose between more private, expensive trips and more touristy and cheaper trips. We chose a more touristy boat from Ionian Cruises but were really happy with it. The boat made a 2 hour stop in Paxos and a swimming stop at the coast of Antipaxos with the bluest water ever! It was seriously stunning and I felt transported to the Carribean. There will be a more detailed guide about boat trips soon!
Visit the Achilleion – A palace built for Princess Sissy
At the end of the 19th century, the Empress of Austria, also known as Princess Sissy, wanted a palace built in Corfu. The palace is inspired by Greek mythology and especially Achilles whose sculpture can be found in the garden.
It really surprised us and was much more beautiful and interesting as we thought. You can see some personal belongings as well as original furniture. The entrance fee is 10 Euro for adults and 8 for students, so make sure to bring your student ID.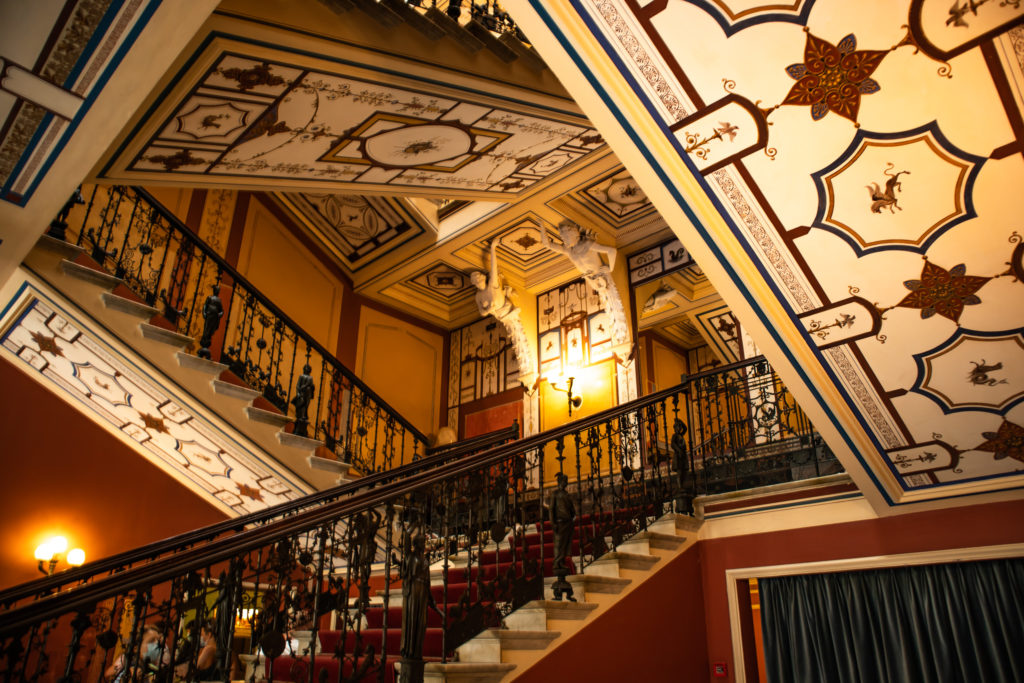 Get stunning views from Angelokastro
Angelokastro is not far from Paleokastritsa, at the northwest tip of Corfu Greece. It's a Byzantine castle built on the highest peak of the island's coastline. The fortified complex served as vantage point to control the region and helped to protect the island. Nowadays it's a famous tourist spot. We didn't have the time to go on the top as it got too late but there is a great viewpoint not far from the castle.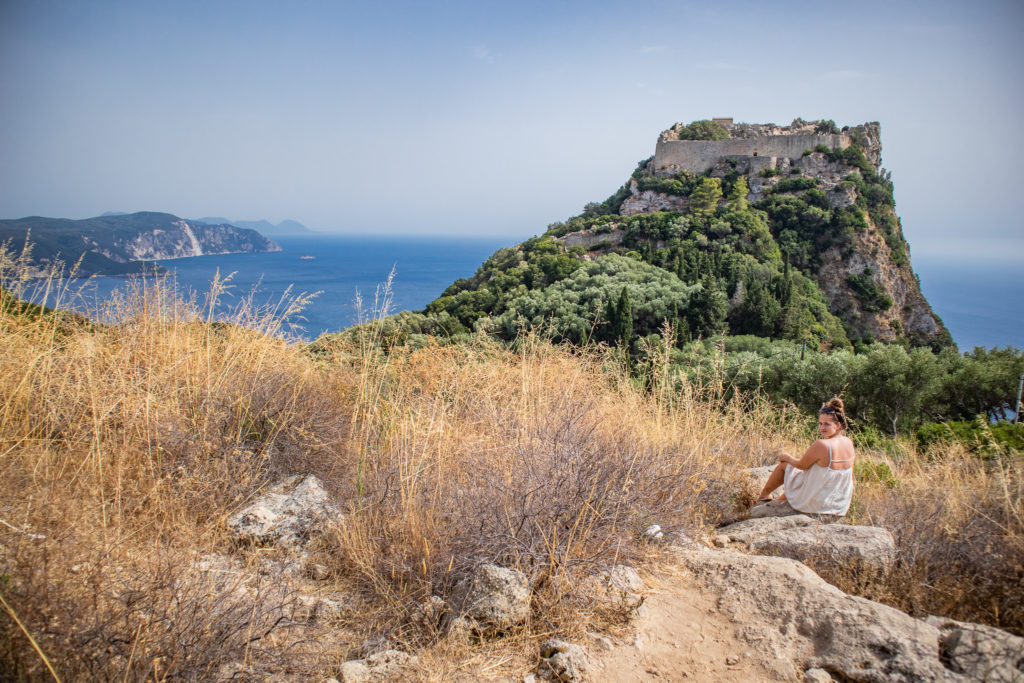 The entrance is 3 Euro and you can park for free. We were a little scared driving there as roads are really narrow. Opening times are from 10 am to 5.30 pm from Wednesday to Monday. To get on the top you need to climb a lot of stairs, so it's best to avoid the midday sun.
Discover the villages in which time stood still
Afionas
The most beautiful village is Afionas. This charming village is the start to the hike to Porto Timoni. I suggest you take some time to walk through the beautiful alleys covered in flowers. You can find some beautiful cafes and restaurants there, as well as some small shops selling hand made products.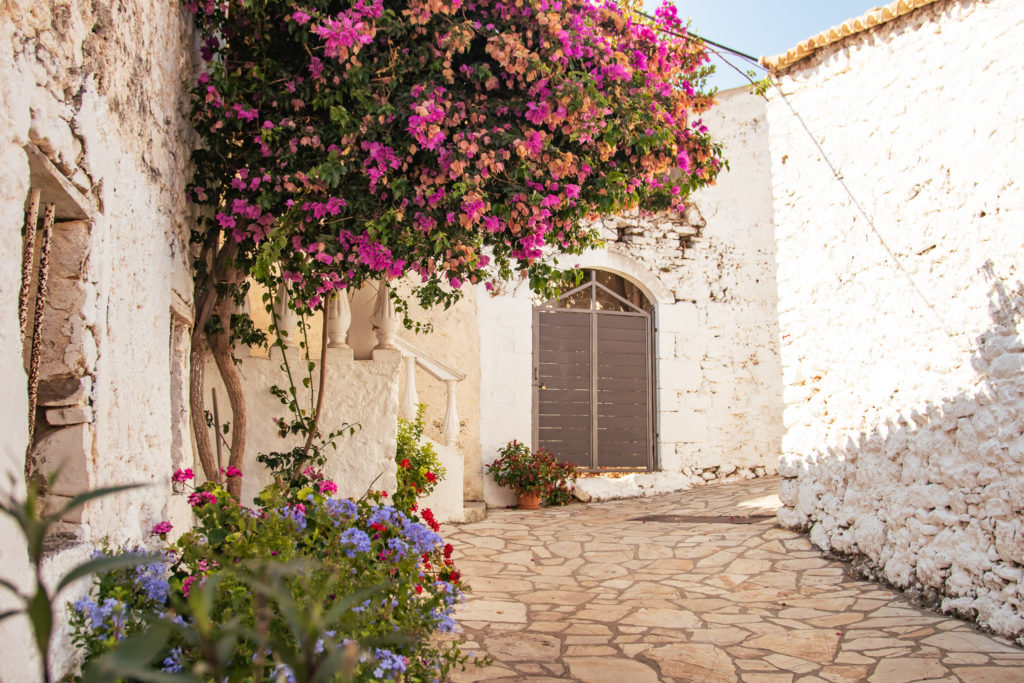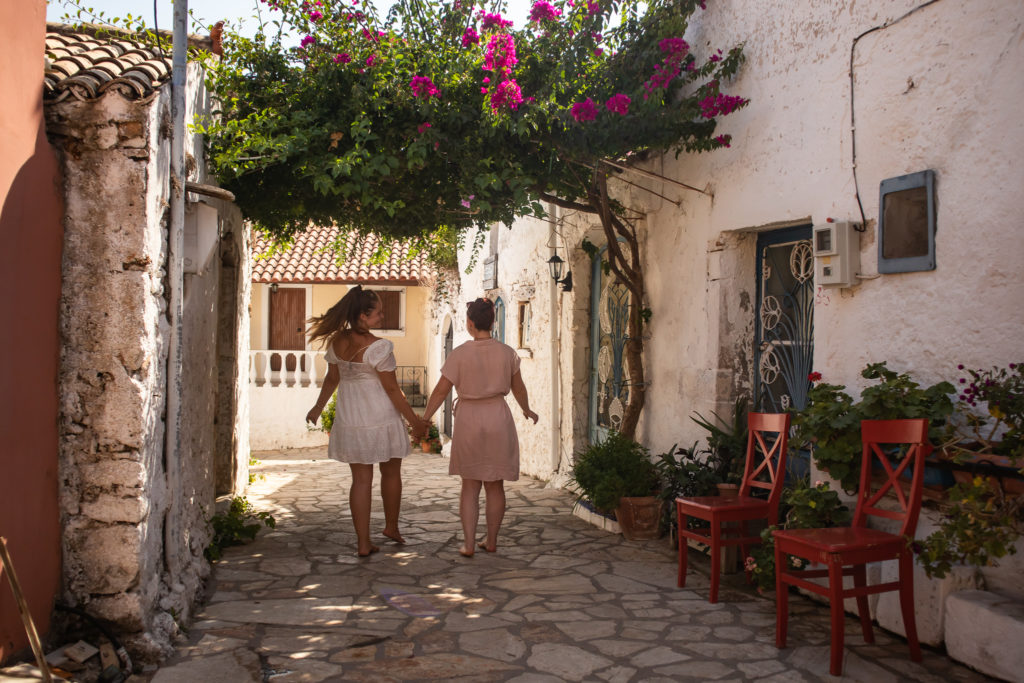 Lakones
On the way to Angelokastro you can find Lakones, a very cute village that shouldn't be missed. It's very small but offers great views of Paleokastritsa. This is also where you'll find the best Italian food and the best Spritz, as well as the cutest cafe on the whole island.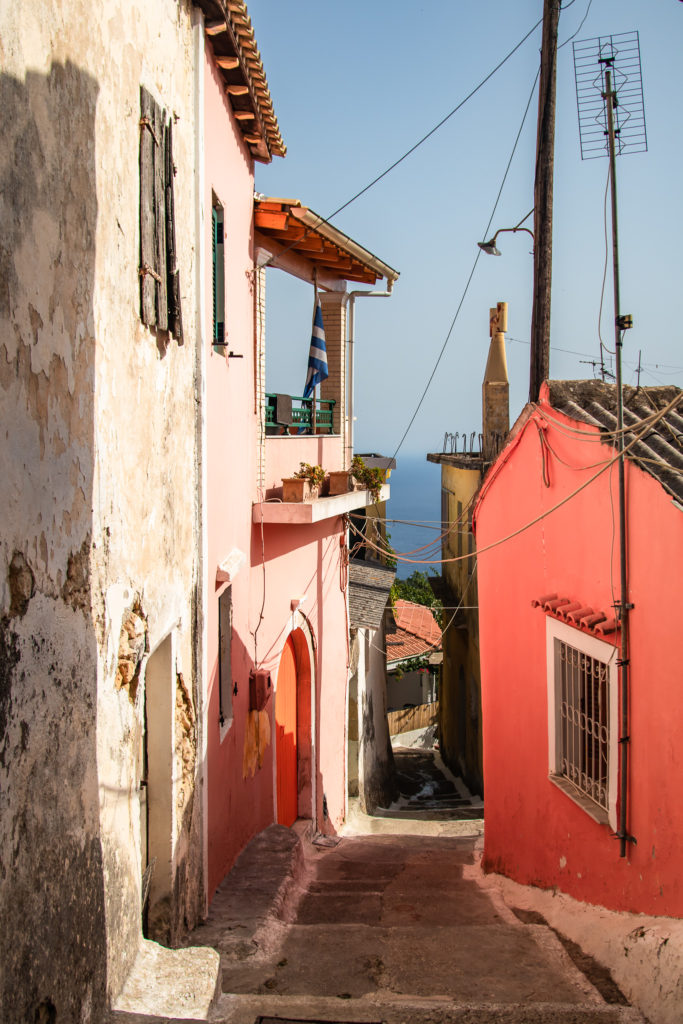 Where to eat:
Il pozzu Corfu – This was genuinely the best Italian food I've ever had, even better than in Italy. They first served delicious bread with oil. Don't expect Pizza but rather delicious more unusual Pasta dishes and mains. On top of that it just looks beautiful and you have an amazing view.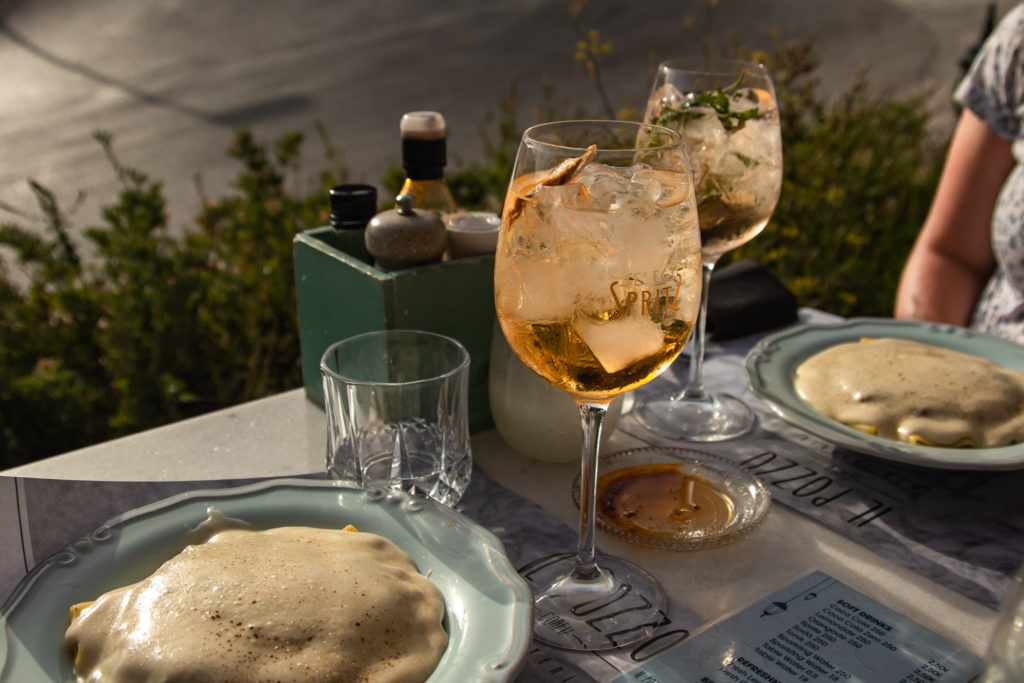 Bakalokafenio – This cute cafe is right at the entrance to Lakones and they have homemade sweets and biscuits. From the balcony you get a great view of Paleokastritsa and you can enjoy the authentic charme of this bakery. Unfortunately the cakes were gone by the time we got there but they all sounded so great, so make sure to come early and have some treats!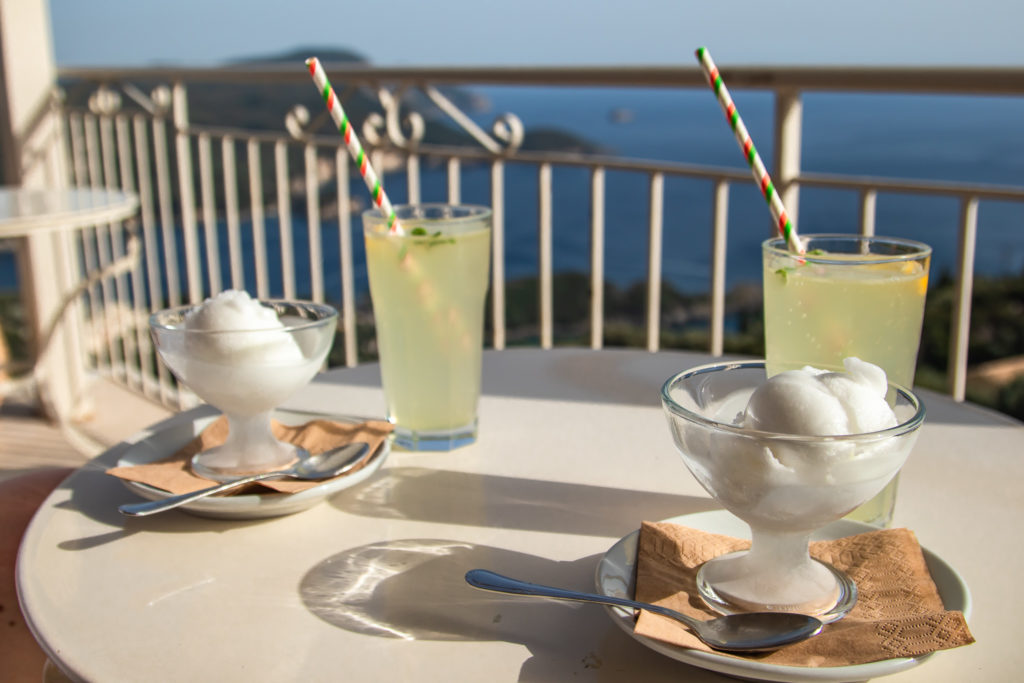 Doukades
Another super cute village is Doukades. This one has a very beautiful village square. You can stroll through the streets and see the old traditional houses. At the village square you'll find some cute restaurants and a small cafe and convenience store. I would recommend coming in the morning to try their warm chocolate filled brioche. It was so cheap and so much! The brioche is sweet, soft and warm with melted chocolate inside. In the morning there were some old men meeting for coffee and it felt so authentic, such a contrast to the touristy and crowded beach towns.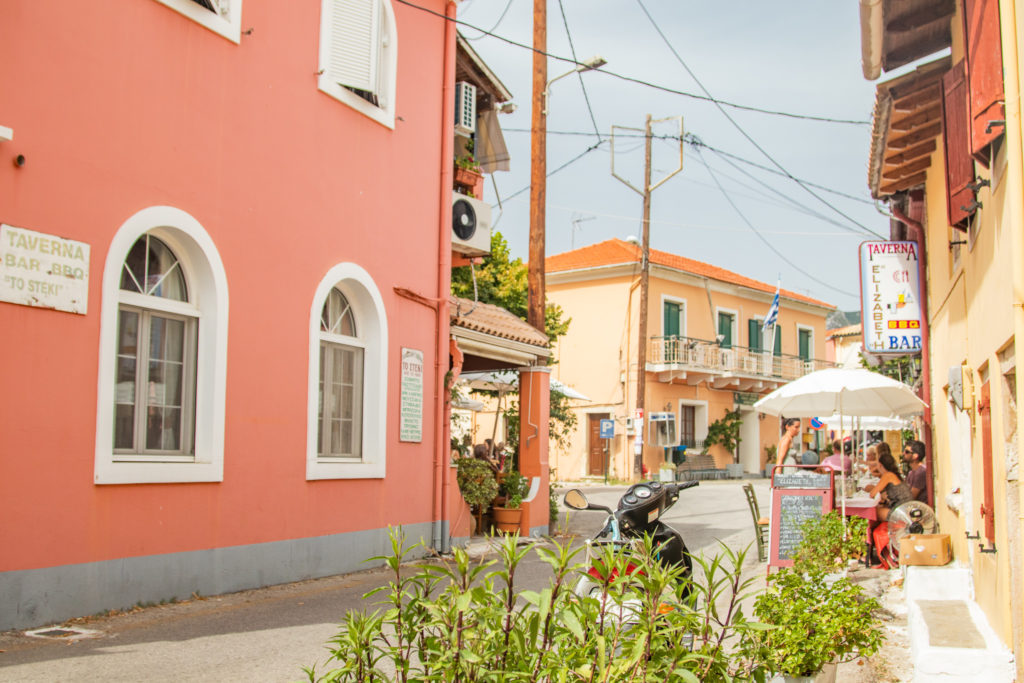 Spot airplanes at Vlacherna Monastery
Vlacherna Manastery is very close to the airport with planes flying right above it. This makes it a really cool Instagram spot. The monastery is super cute and pretty and definitely worth a visit. It's one of the most photographed sights in Corfu and you can enjoy the view of the monastery surrounded by tranquil water from the cafe at the car park.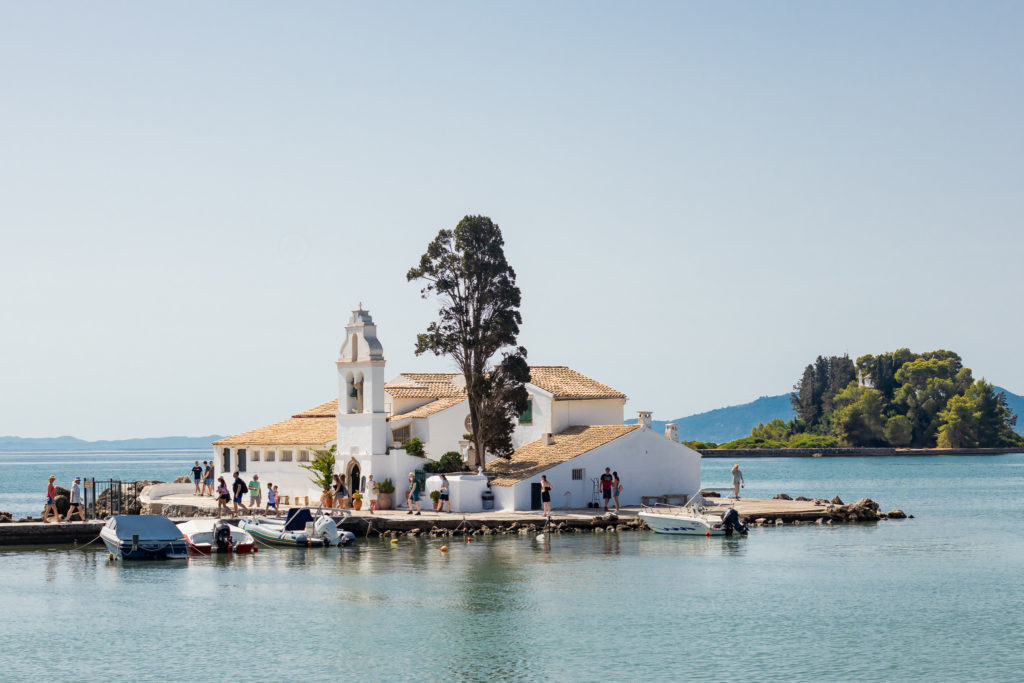 You can also walk up a hill to see the view from above. Vlacherna monastery is built on a little island and from the jetty you can take a boat to another small island called mouse island (Pontikonisi) for 2.50 Euro. We weren't expecting the planes to fly over the island so frequently but it was very impressive to watch the planes land while sipping on our freddo Cappucinos.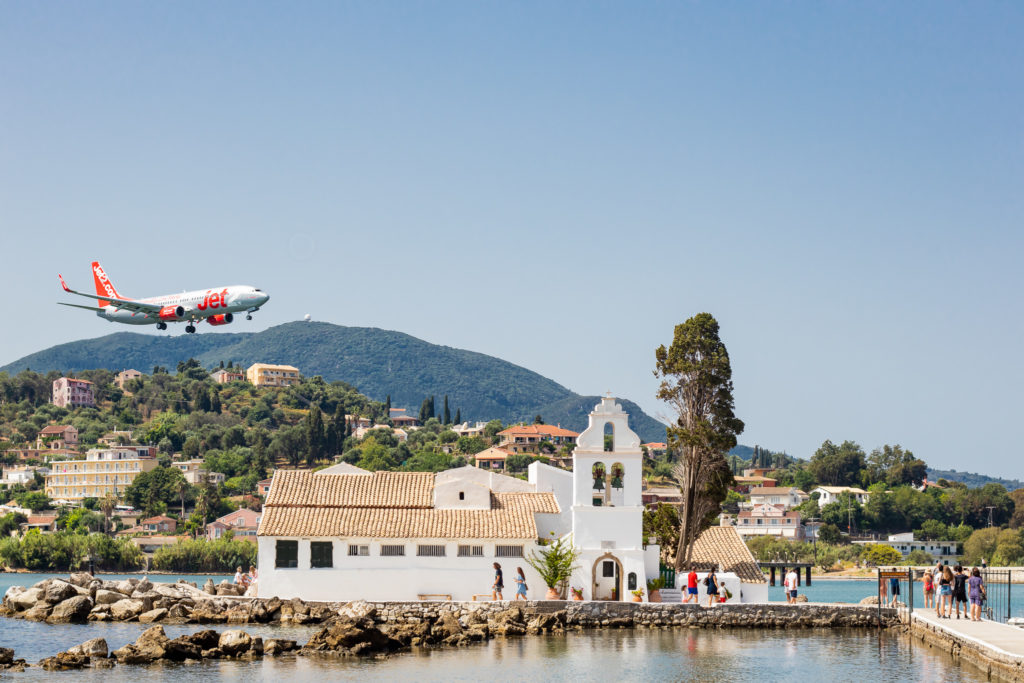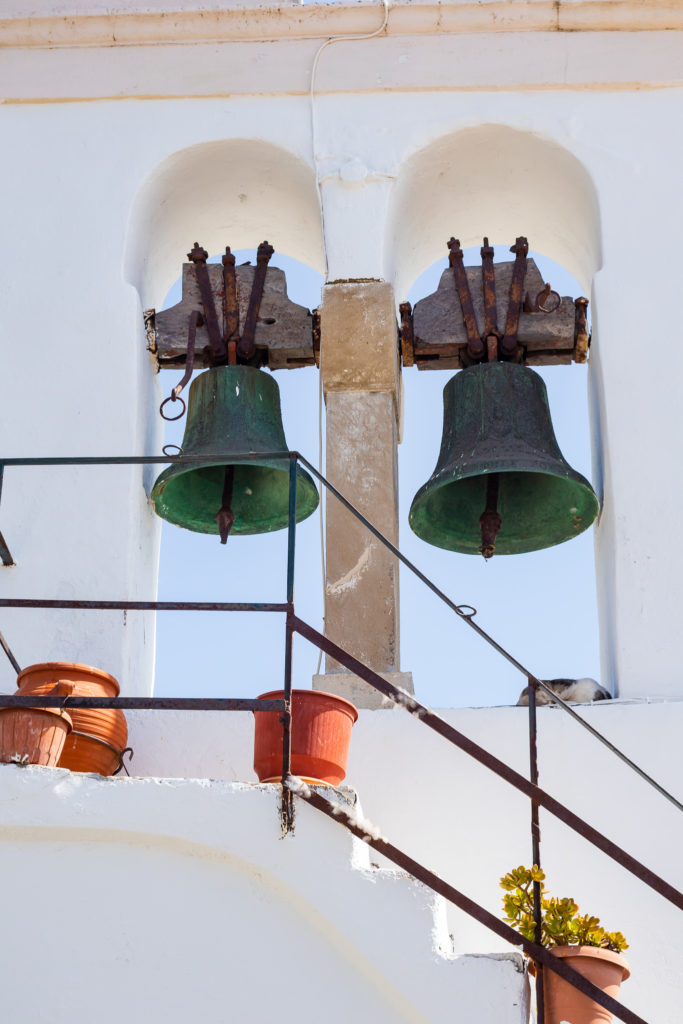 Watch the sunset at the shipwreck of Agios Gordios
I might be a bit biased as this is the place we stayed at but on the west coast you get some pretty amazing sunset views. You find the shipwreck when walking along the beach and climbing over some rocks in the south of Agios Gordios. The shipwreck isn't big but it's really worth the visit as the rocky shore is very beautiful. We sat on the rocks by the ocean and just watched the sun go down before going to Black Rocks Bar for a cocktail.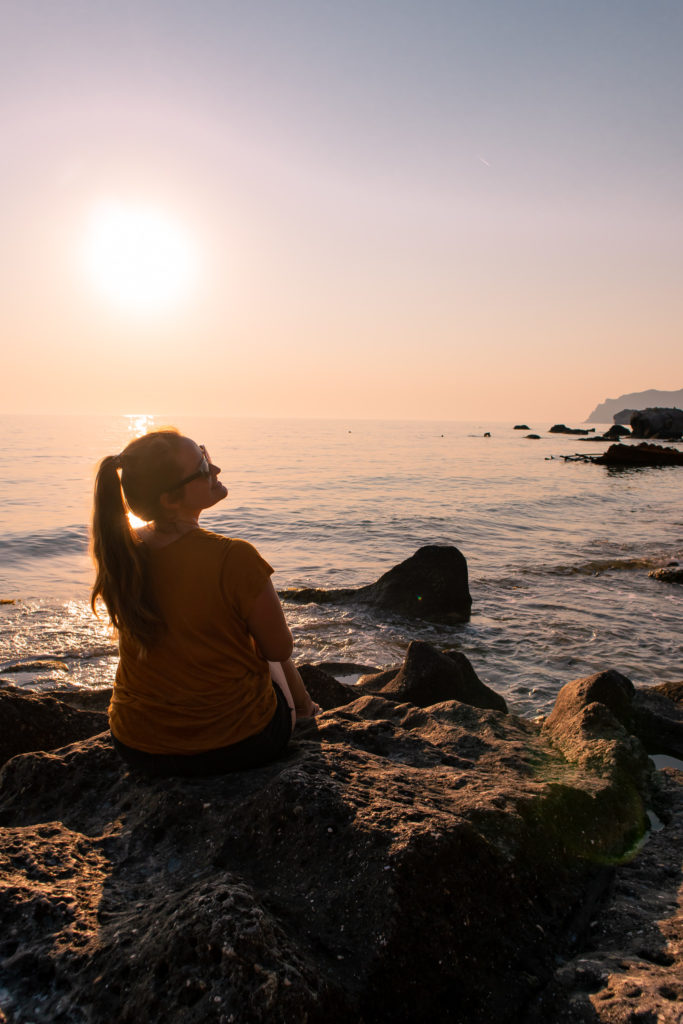 Where to eat:
Black Rocks – for cocktails and food by the water.
Posidonio – This is a nice place for dinner. You can sit very beautifully right by the beach. We had the Moussaka and it was so good! It was surprisingly affordable for the location and the great food.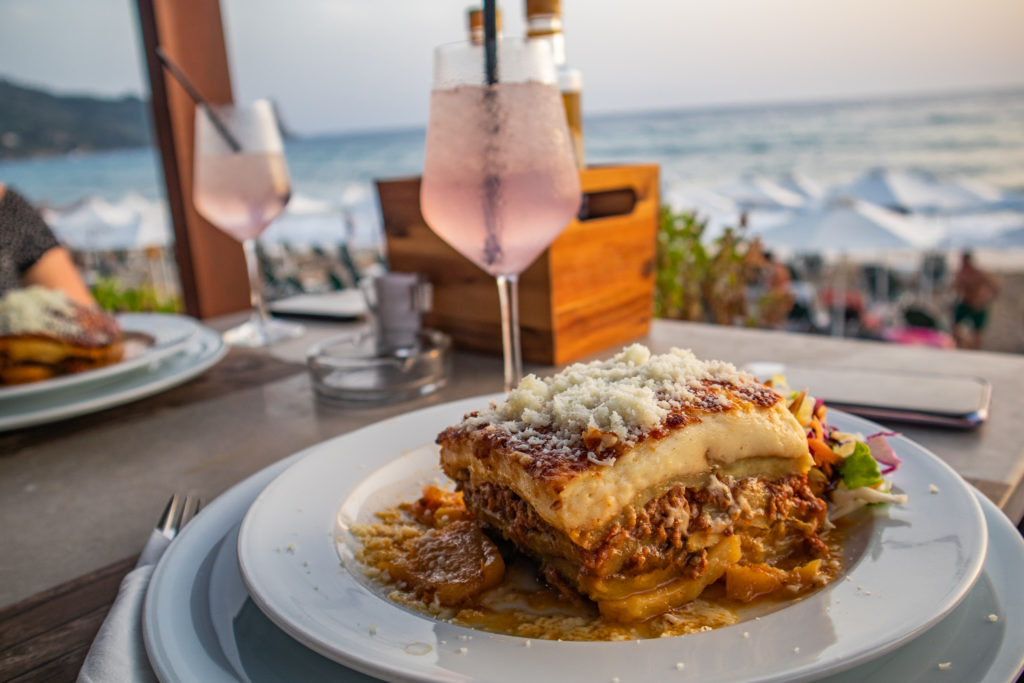 Massa Creperie – This was our go to place, we ate there almost every day. The food is good and very affordable and the staff is so nice. They have typical Greek fast food, such as Pita but they also have salads and platters. I loved their Crepes and waffles and always got one as a dessert 😀
What to pack for a trip to Corfu Greece
Corfu is a great destination to travel only with hand-luggage as you won't need many heavy clothes. This list is for a one week trip.
1 long pants
2 shorts
1 skirt
3 dresses
5 tops/t-shirts
1 long-sleeve top
1 jumper or cardigan
1 beach dress
2-3 swimsuits
7 undies
2 bras
4 pairs of socks
1 pair of flip flops
1 pair of sneakers
1 beach towel
1 towel (depending if you get one in your accommodation)
hat
sunglasses
sunscreen
toothbrush
toothpaste
shampoo
conditioner
razor
deodorant
body lotion
zip-lock bag for flight
hand sanitizer
hairbrush
make-up
hair ties
feminine hygiene products
Travel map to Corfu Greece
I hope this Corfu Greece travel guide was helpful! If you have any questions about the best things to do in Corfu, places to eat or any trip planning questions, let me know in the comments 🙂 Have a great trip to the island of Corfu ❤️
Pin it!
to remember this Corfu Greece travel guide with all the best thing to do in Corfu
Want to read more about Greece?