*This post may contain unpaid advertisement
Cinque Terre has been on my list for a really long time. I've never been to Italy and I always knew that Cinque Terre would be on the itinerary for my first trip. In June time had come and I was finally able to visit this Insta-famous, picturesque, pastel-coloured towns built into the cliffs of the Italian Riviera. I was able to experience one day in Cinque Terre and find the best things to do.
What is Cinque Terre?
Cinque Terre means 5 lands and has its name from the 5 neighbouring villages along the coast, namely Riomaggiore, Manarola, Corniglia, Vernazza and Monterosso al Mare. It's a UNESCO heritage site for its scenic and cultural value. On a day trip to Cinque Terre, you can visit all of the beautiful towns, each with its own beauty. Not always do I come along a place that blows my mind and lives up to my expectations but Cinque Terre absolutely did! I was not disappointed and found this to be one of the most magical places in Europe. As Italy has just opened its borders after Covid and the holiday season hadn't come, it was a lot less busy than usual. Even if Cinque Terre is busy during summer, I think it's crowded for a reason and still worth a visit!
We were on our way back home from Tuscany and stopped in La Spezia which is close to Cinque Terre and a good place to stay. As we only had one day, we needed to squeeze everything in. While it is possible to explore Cinque Terre in one day, you'll be able to have a more relaxed visit if you stay two or three days.
If you want to know more about it, how to get there, when to visit and the best things to do in Cinque Terre keep reading!
Quick Tips Cinque Terre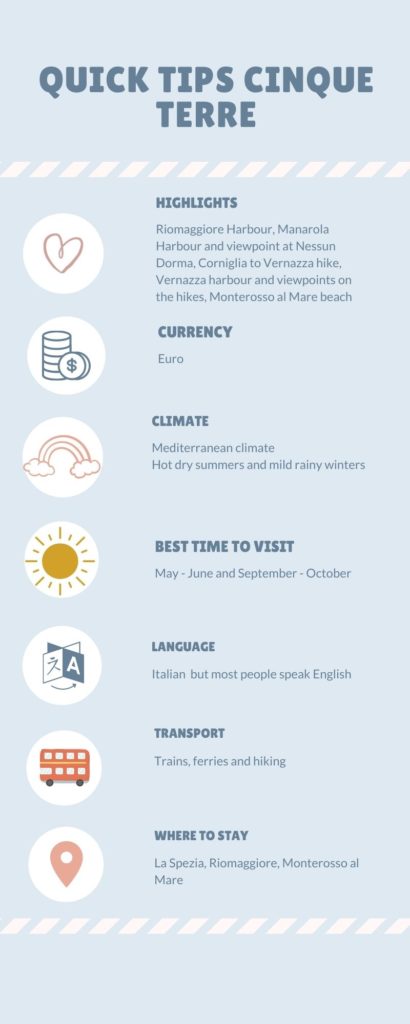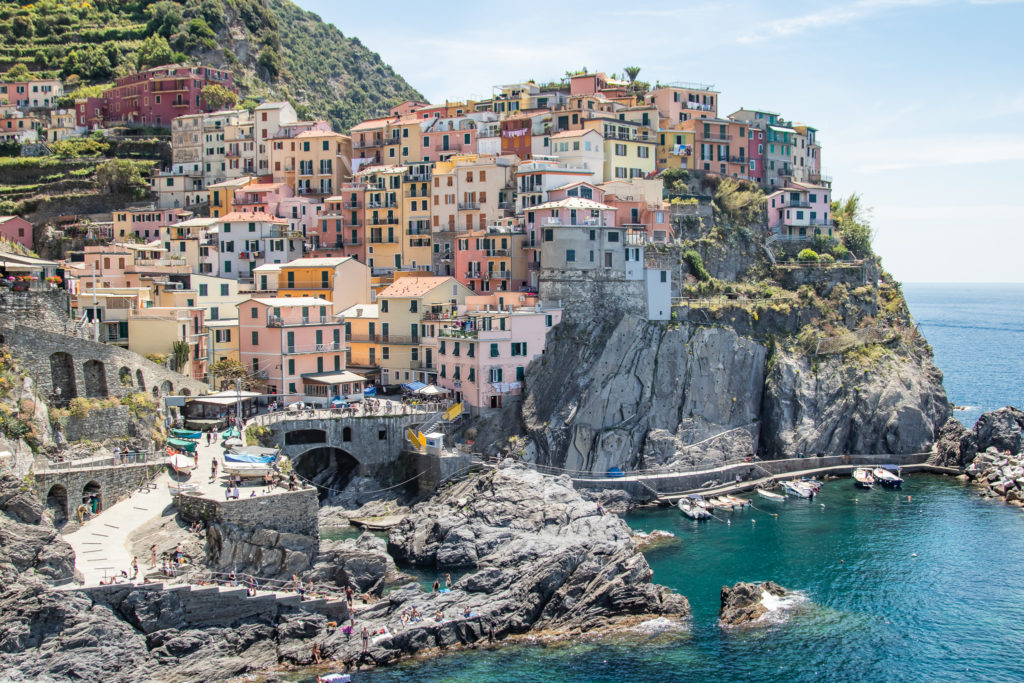 How to get to Cinque Terre Italy
Cinque Terre is located in Liguria. The closest city is La Spezia which connects Cinque Terre with a quick and easy train ride.
The easiest way to get to Cinque Terre is by train from Pisa. If you are arriving by plane, try to book a flight to Pisa and hop on the train to La Spezia.
If you travel from another major city in Italy, like Florence or Rome you can easily reach La Spezia by train. A trip from Pisa takes 45 minutes, from Florence 90 minutes and Rome about 3.5 hours.
If you are travelling by car, leave it in La Spezia, as you won't need it in Cinque Terre. It's not possible to drive between the villages and the train ride in Cinque Terre is so easy and fast that you should really not try to take your car there.
How to get around in Cinque Terre Italy
Explore Cinque Terre by train
We stayed in la Spezia and therefore took the train from there. The Cinque Terre Express connects La Spezia with the towns of Cinque Terre and Levanto. It runs every 20 minutes and is the most popular and fastest way to explore Cinque Terre Italy. It only takes a few minutes to travel between the villages.
In La Spezia and every train station of Cinque Terre, you can buy the Cinque Terre Card, a day ticket for the train, the buses, and the hiking trails. You can pay for each train ride and each hike separately but especially for a day trip you are so flexible with the Cinque Terre Card and will most definitely save money. The card costs 16 Euros for an adult and considering that it also includes the hiking trails which are usually 7.50 per day it's really affordable. To purchase your ticket you need a photo ID, as they put your name on it. You can also purchase it online here.
One thing to keep in mind is that the train can get really busy. Even when we visited (still really quiet from Covid), it was quite busy on the platform.
Explore Cinque Terre by ferry
The ferry is another great option to see Cinque Terre from the sea. I personally didn't use them but there is the option to travel by ferry, even though it's more expensive than the train. You also can't get to Corniglia by ferry. They are also less frequent than trains, so if you are short on time, I think trains are the better option.
Explore Cinque Terre by hiking
Another great way to explore Cinque Terre are the hiking trails between the villages. Unfortunately, most of the easier main trails are closed for a while and there isn't much official information about the current condition of the trails. When we visited one of the tourist points at the train station, there was a map on which all trails besides Corniglia to Vernazza were closed. There are optional trails but they are much longer and you wouldn't be able to see much on a day trip if you tried to hike those. I would definitely recommend the Corniglia to Vernazza trail which takes about 90 minutes. It's a great way to explore Cinque Terre and you can still see all towns if you travel the rest by train.
When to visit Cinque Terre Italy
Cinque Terre is located on the Italian Riviera, a very very popular destination. It gets super crowded in the summer months. The region has a Mediterranean climate and therefore hot, dry summers and mild winters. The hottest months are July and August and these are also the busiest as it's the holiday season in Europe. Try to avoid these times if you can because of the crowds, heat, and prices. In May and June, temperatures are warm and it's a lot less crowded. This also goes for September and October. I always recommend shoulder seasons (May-June and September-October) for countries with a Mediterranean climate.
Things to do on your day trip to Cinque Terre Italy
What to do in Riomaggiore
Riomaggiore is the first of the five villages if you come from la Spezia. It's also one of the biggest and offers stunning views, a colourful old town and the panorama trail via dell' Amore. One of the most important things to remember is to head to Cinque Terre as early as possible to avoid crowds and to make sure to see all of Cinque Terre in one day. I recommend starting the day in Riomaggiore and heading right to the harbour. Some stairs lead to the water and you can take beautiful photos from there.
If you keep following the path, you can walk along the ocean and come to a small pebble beach.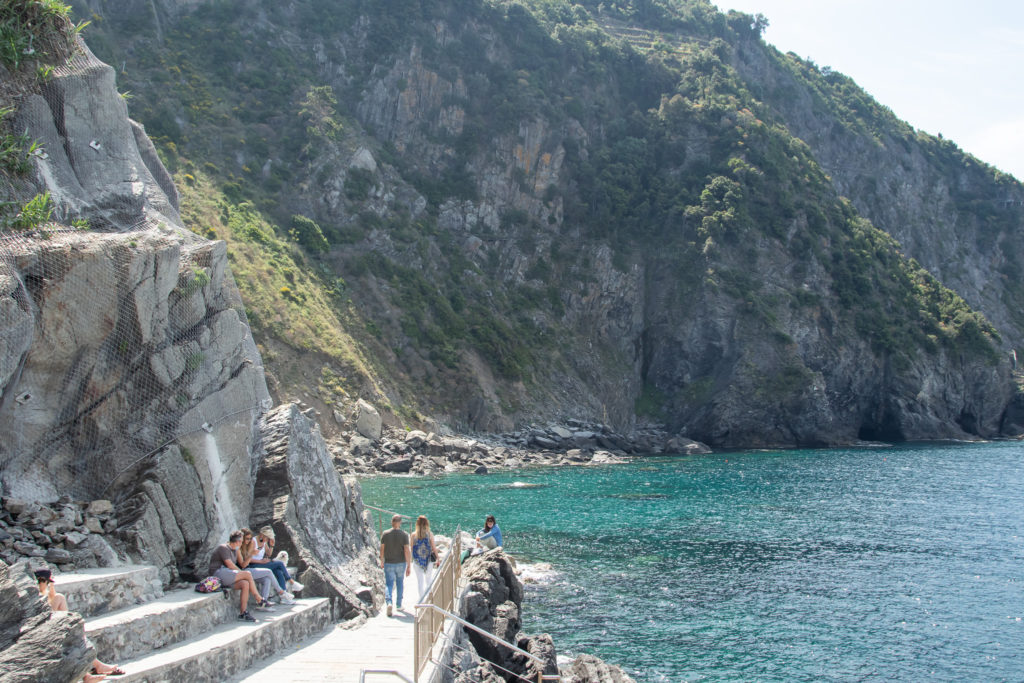 Another beautiful viewpoint is situated above the rocks at the harbour. If you walk on the path to the pebble beach, there are stairs to your left leading up to a viewpoint.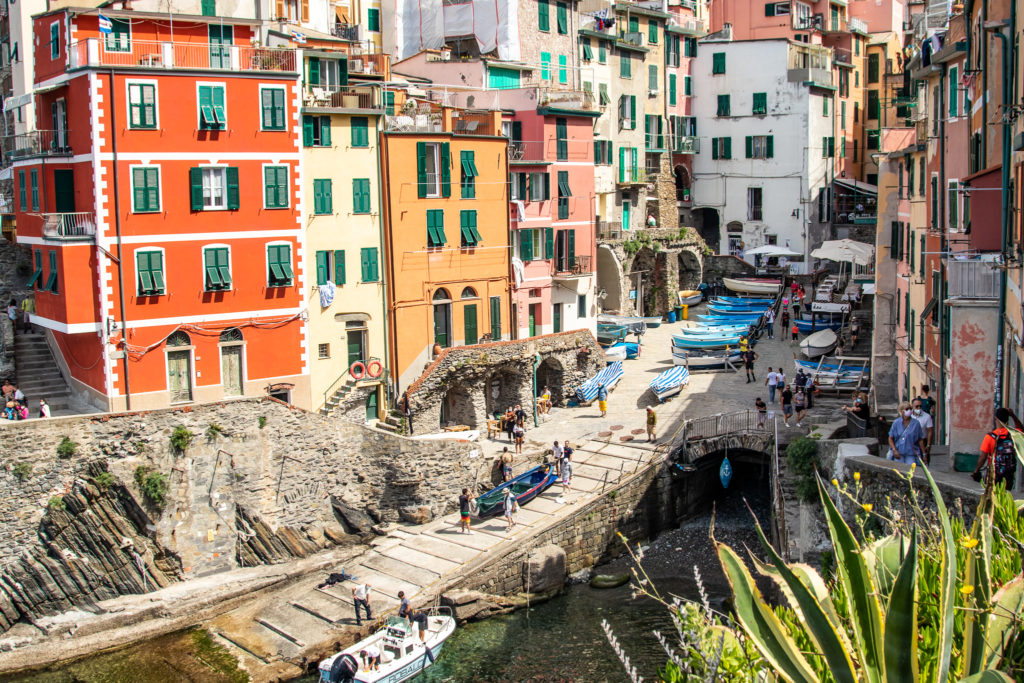 From the harbour, you can walk into the town where you find colourful houses, cute alleys and some amazing seafood shops and gelato places. You can stroll through the streets and visit the cute shops that sell specialties.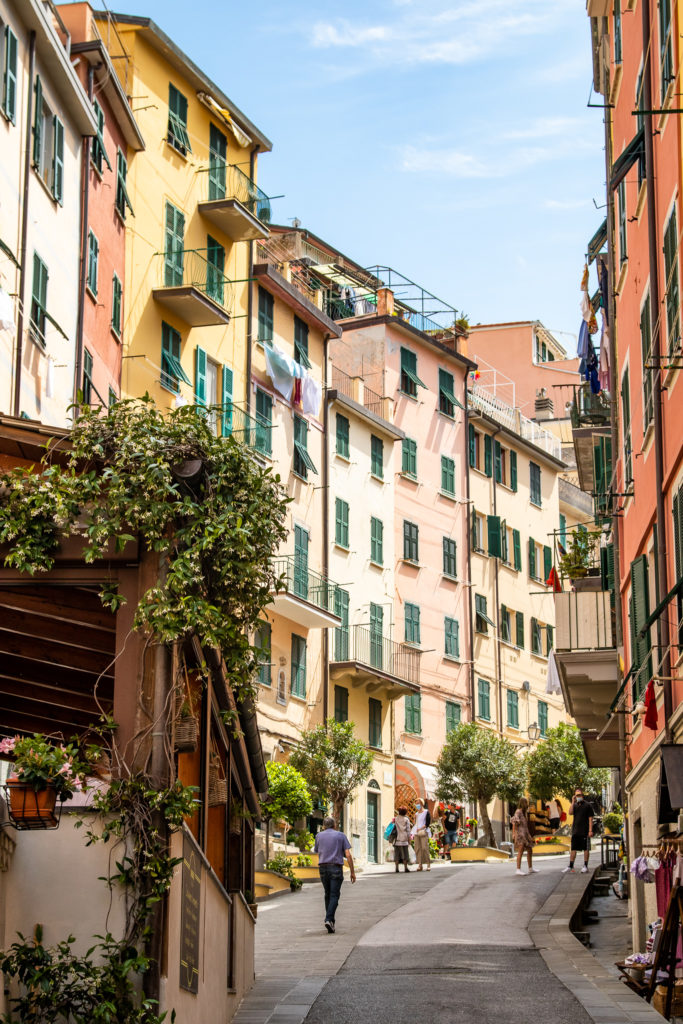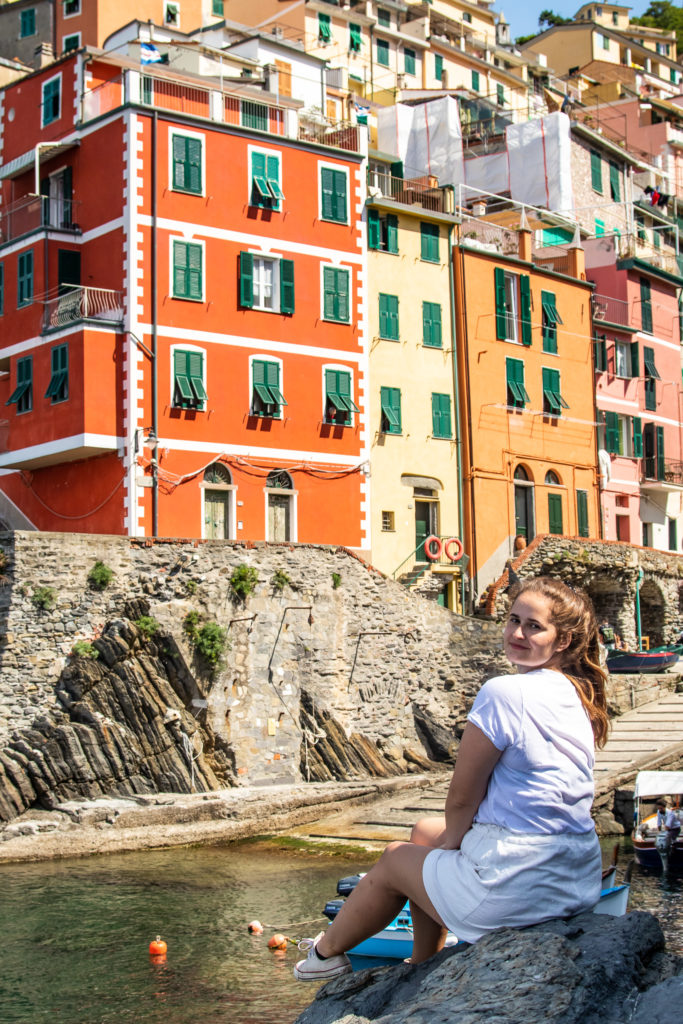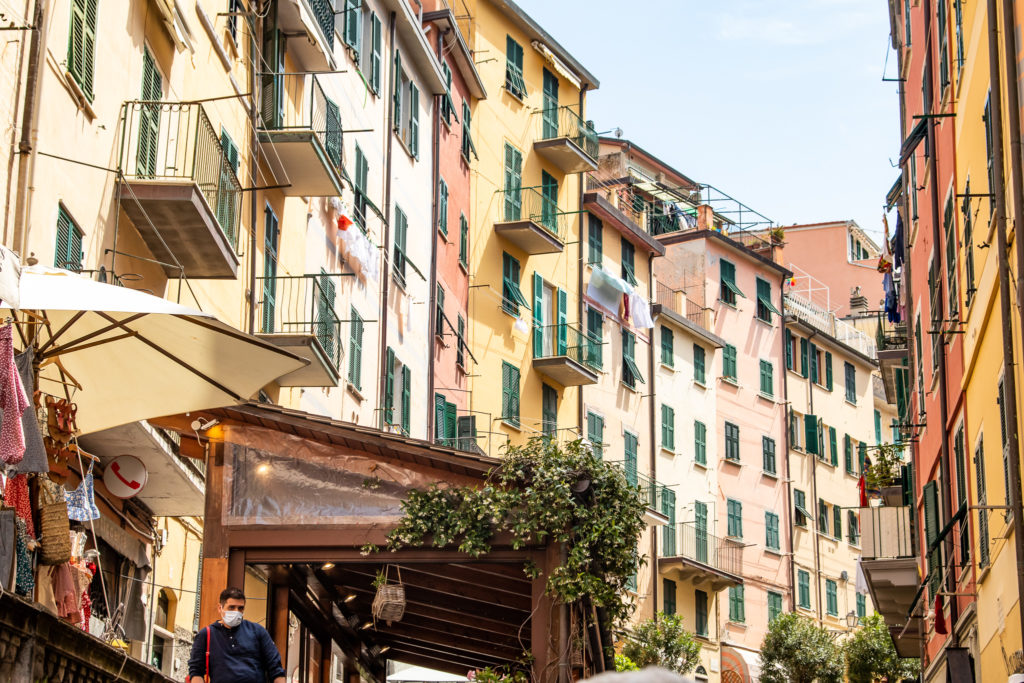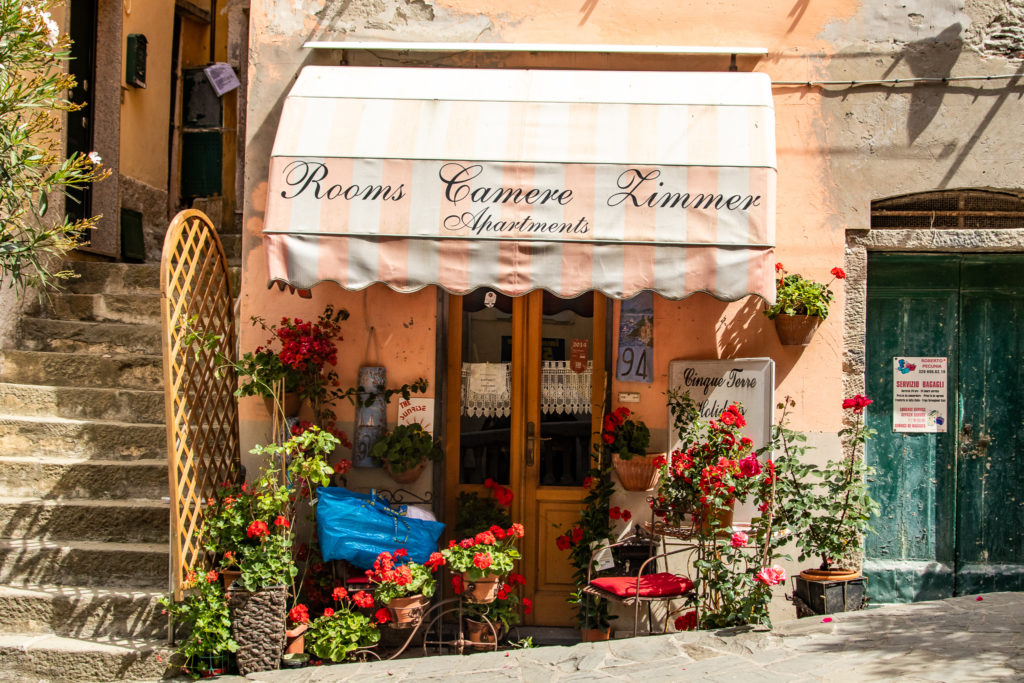 In the old town, you will see a big church, the church of San Giovanni Battista. Right next to it, there is an elevator that brings you to a panoramic road. We only discovered the elevator by chance but I'm sure you could also walk up there! The road you wanna go to is the Via De Gaspari that leads you to the Castello de Riomaggiore.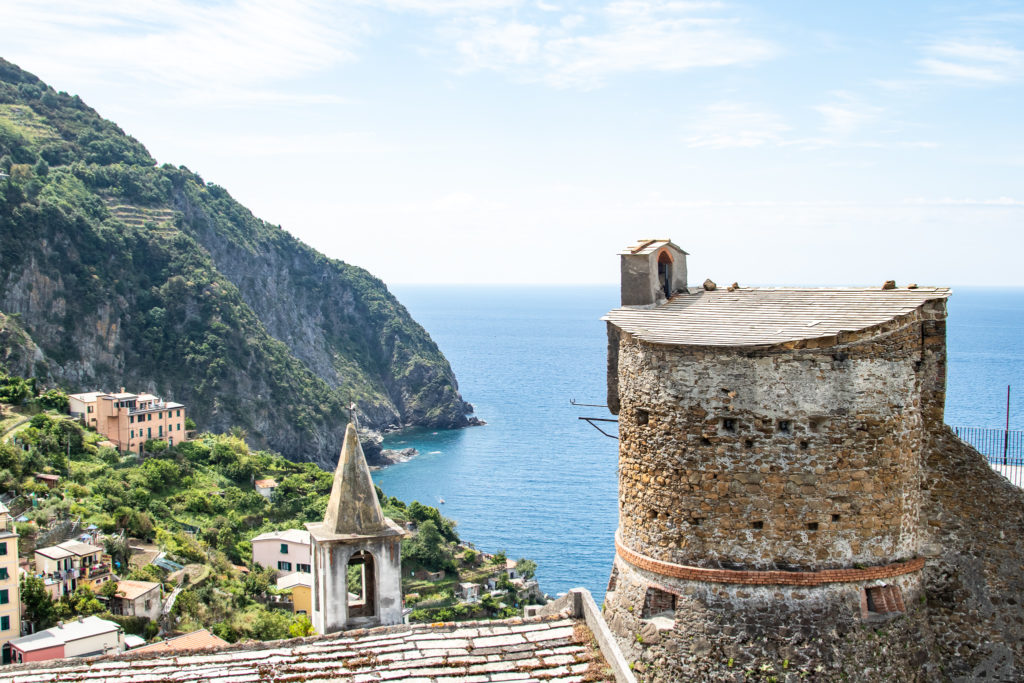 From up there you have an amazing view of the town and the ocean!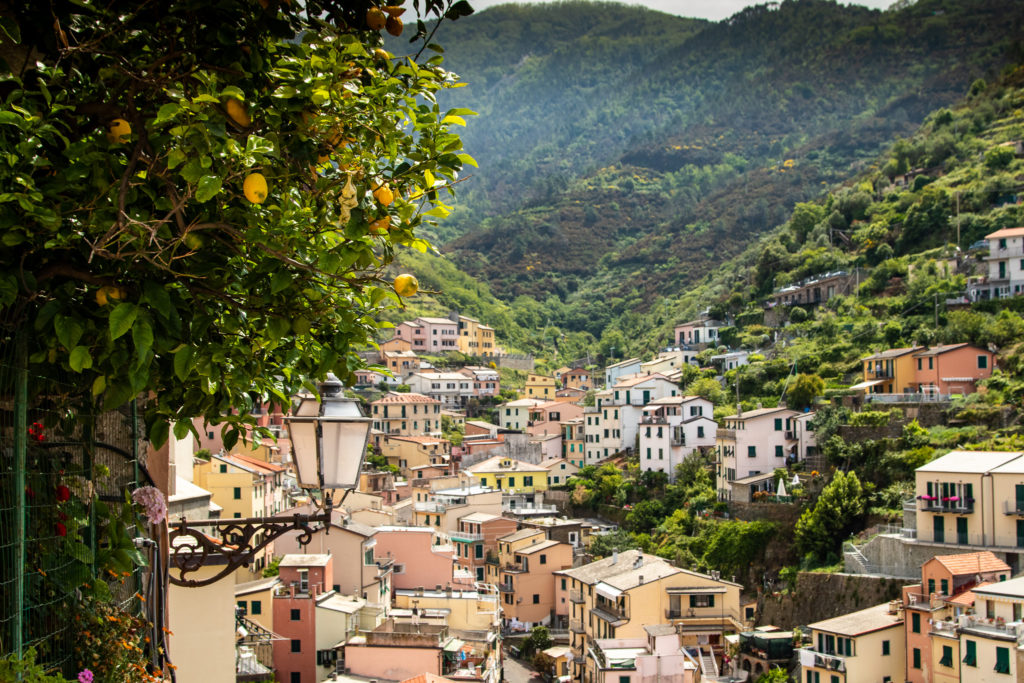 You can then walk back to the train station and you can access the Via dell' Amore. However, I think there is only a part open and you can't walk the whole trail.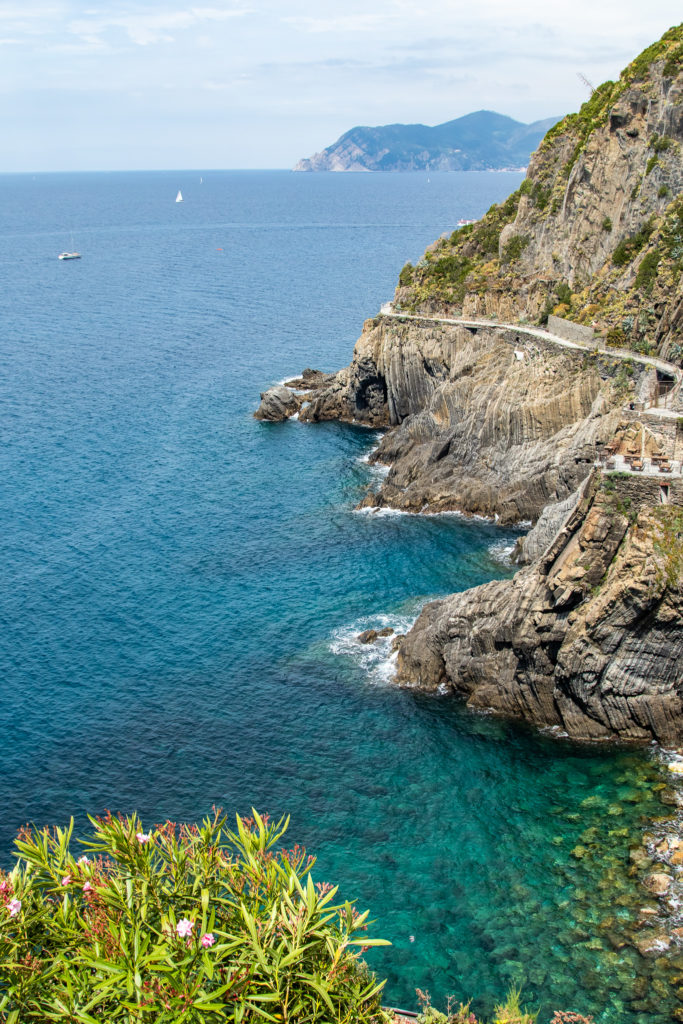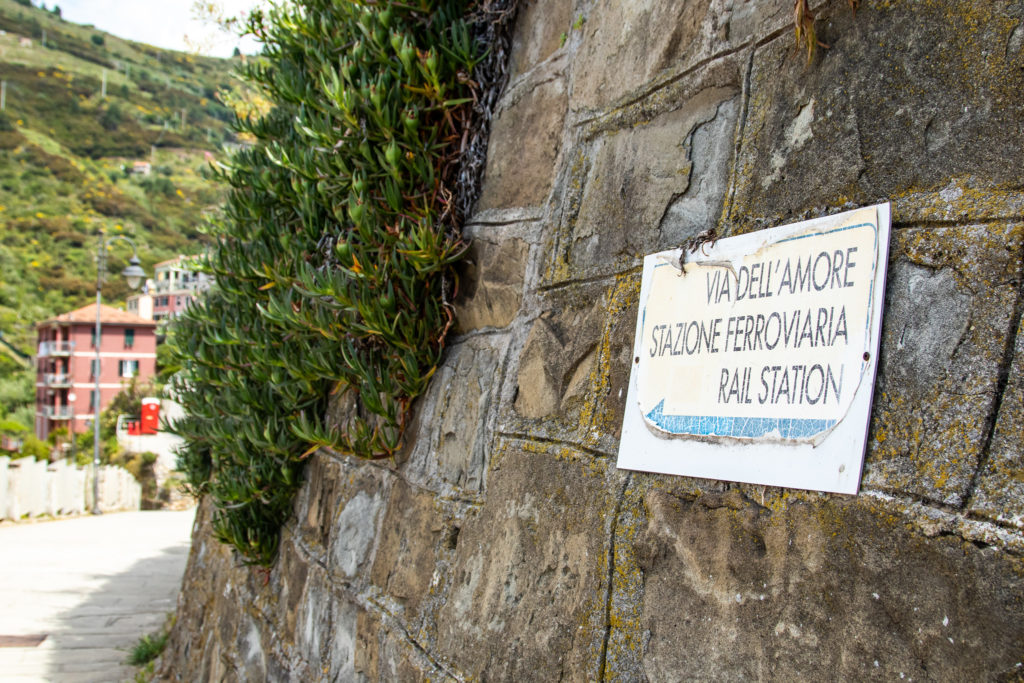 Here is the route we walked, on which you get spectacular views and see most of Riomaggiore.
Back at the train station, you can hop on a train to Manarola which is the next stop on your day trip to Cinque Terre.
What to do in Manarola
Manarola is another super cute village on the coast. A highlight is definitely the harbour and the views. Head right to the harbour and you'll find beautiful clear water and people relaxing on the rocks. Sometimes you can even see people jump from the rocks. To your right, there is a trail that heads upwards. Follow this trail and you'll get the most amazing views of Manarola and the ocean cliffs. This was one of my favourite spots of the day.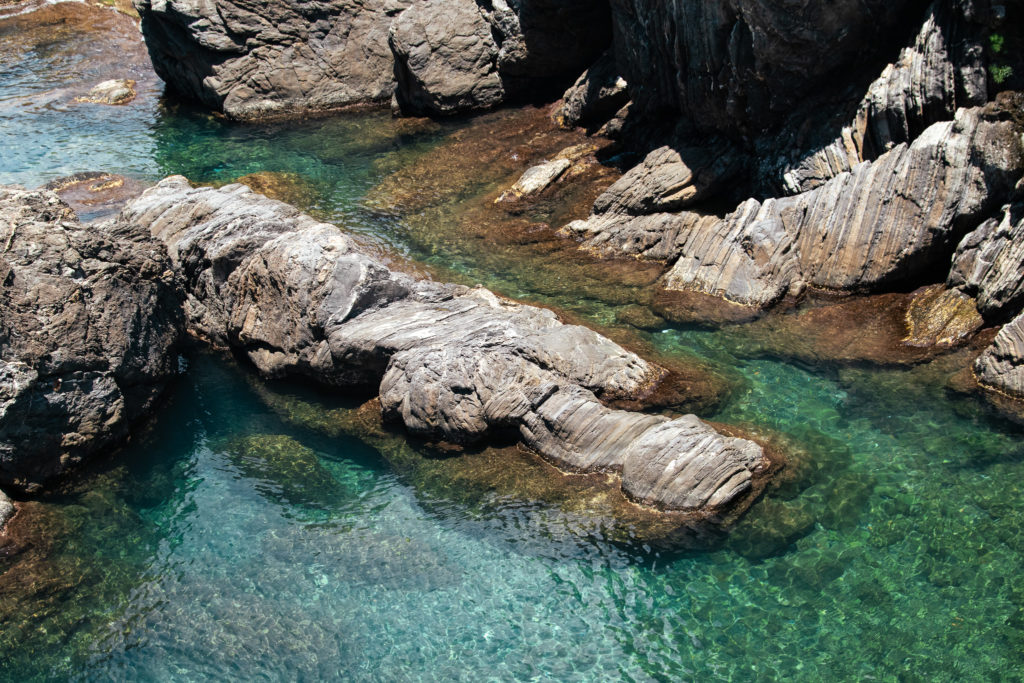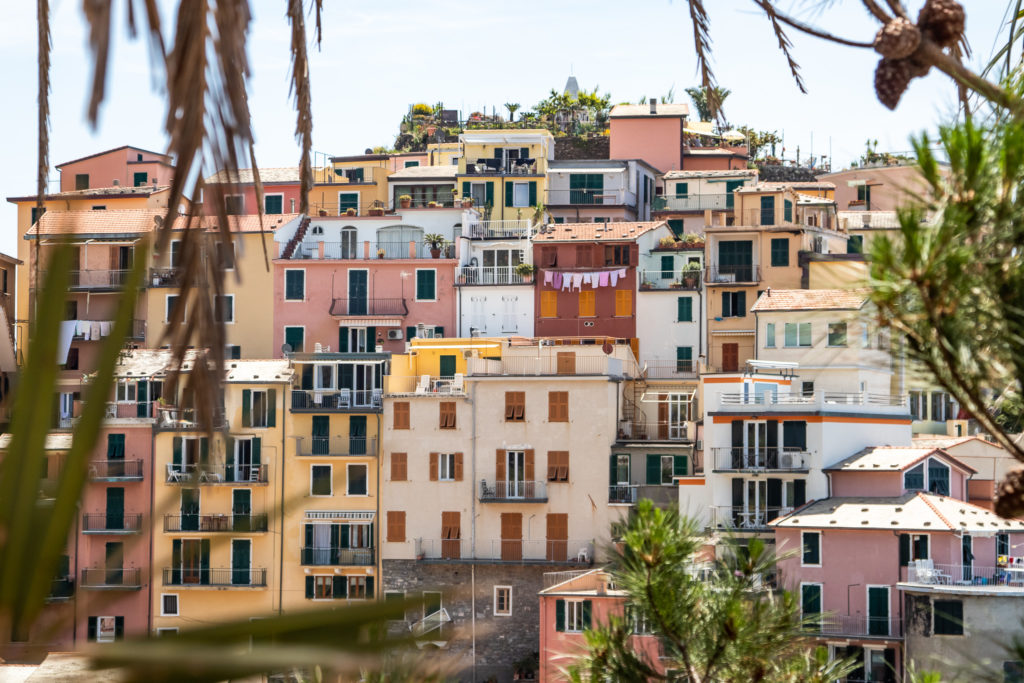 You get similar views from the restaurant Nessun Dorma. This is a popular spot for people to have a drink while taking in these stunning views of Manarola. It's not a secret and you might have to wait in line though as I've heard they are not taking reservations.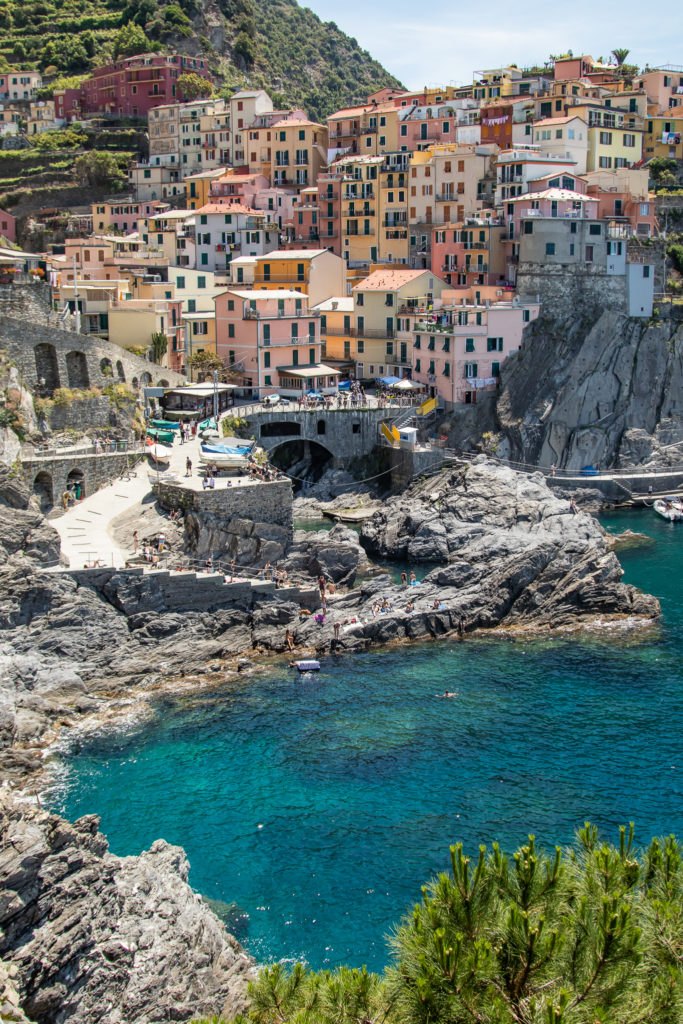 Back in the old town grab a smoothie, granita or slushie to cool down. I had a lemon slushie and I swear it was the best lemony, most refreshing slushie I ever had 😀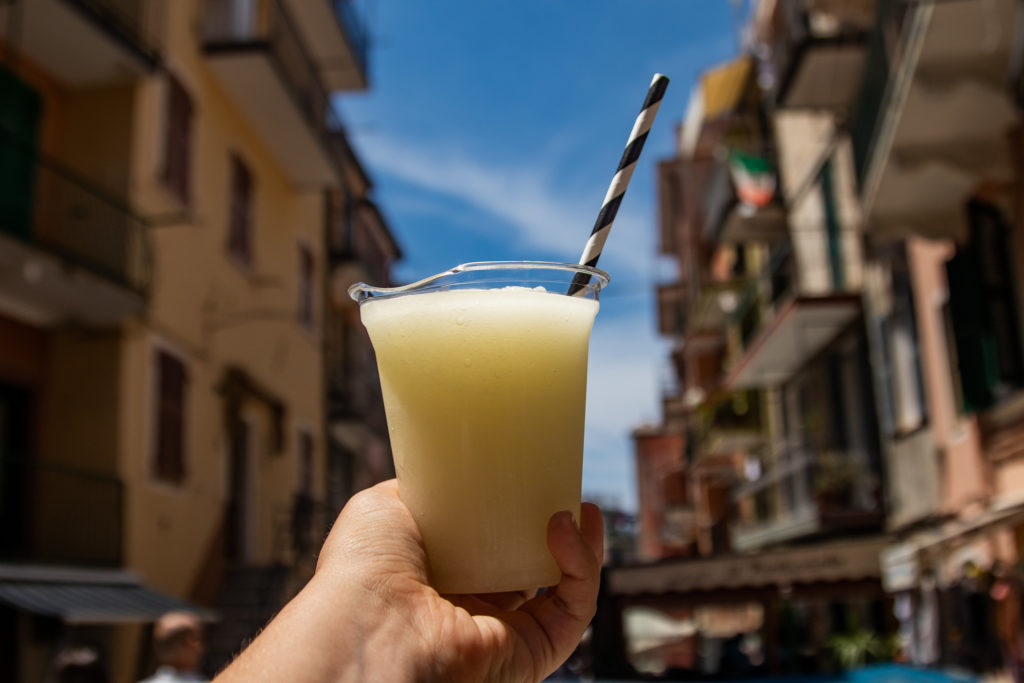 The streets are colourful, just like in Riomaggiore and there are many opportunities for some shopping.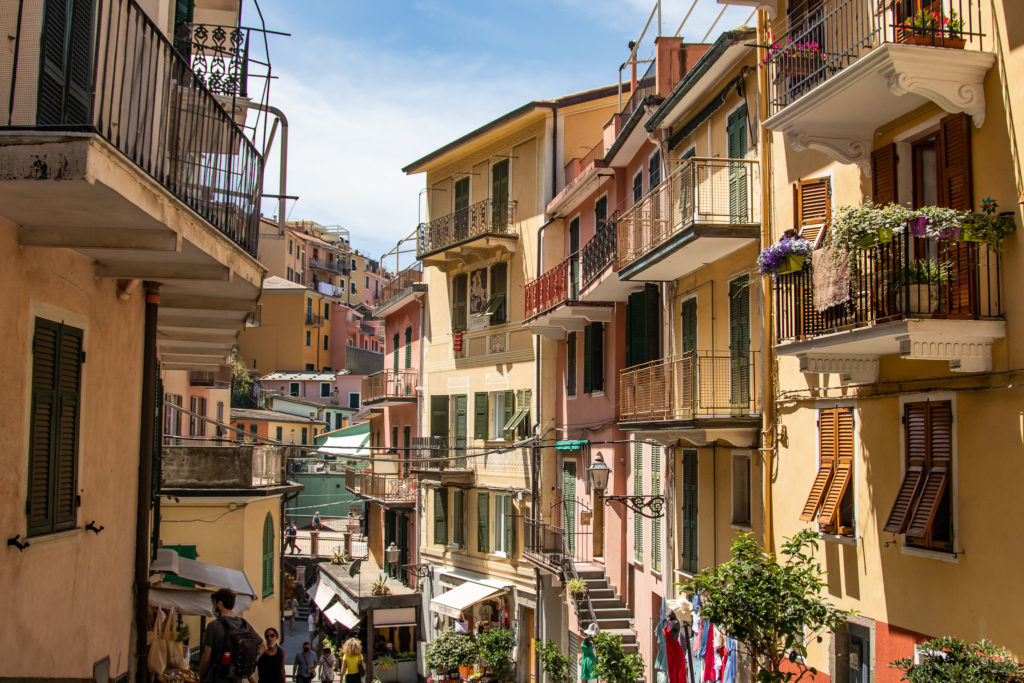 What to do in Corniglia
After your trip to Manarola, I recommend heading to Corniglia. Corniglia is best reached by train and unlike the other villages, it's not situated right by the ocean. After arriving at the train station you have to walk up a few hundred steps to get to the town. It is a bit hard but I think there is also a bus shuttle.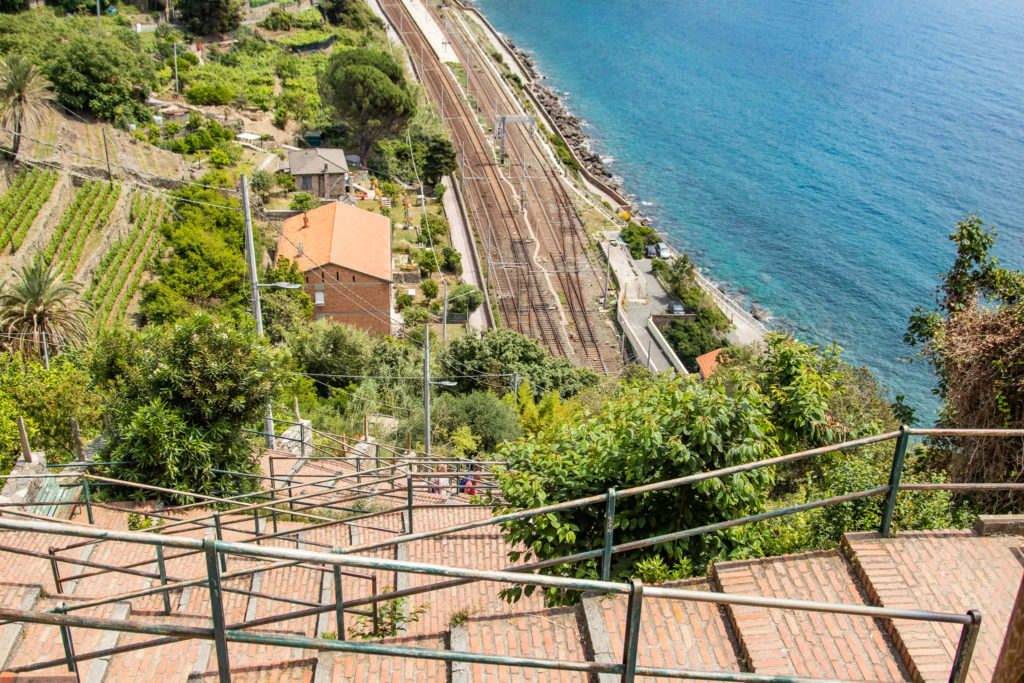 Corniglia is very small but different to the other towns. The streets are more narrow but it has its own charm. Think medieval town on the Mediterranean coast. The best thing to do in Corniglia is to wander around and explore the little shops and cafes. There are also some gelato places. We had one at Alberto and it tasted divine. Walk to the ocean-facing end of the village and you'll get stunning views.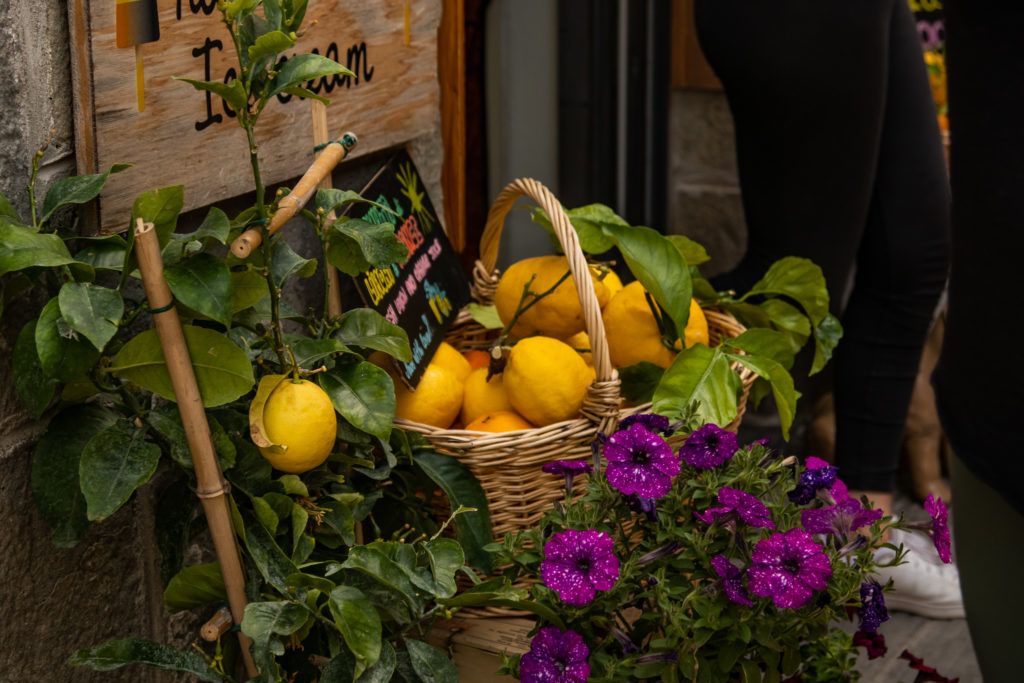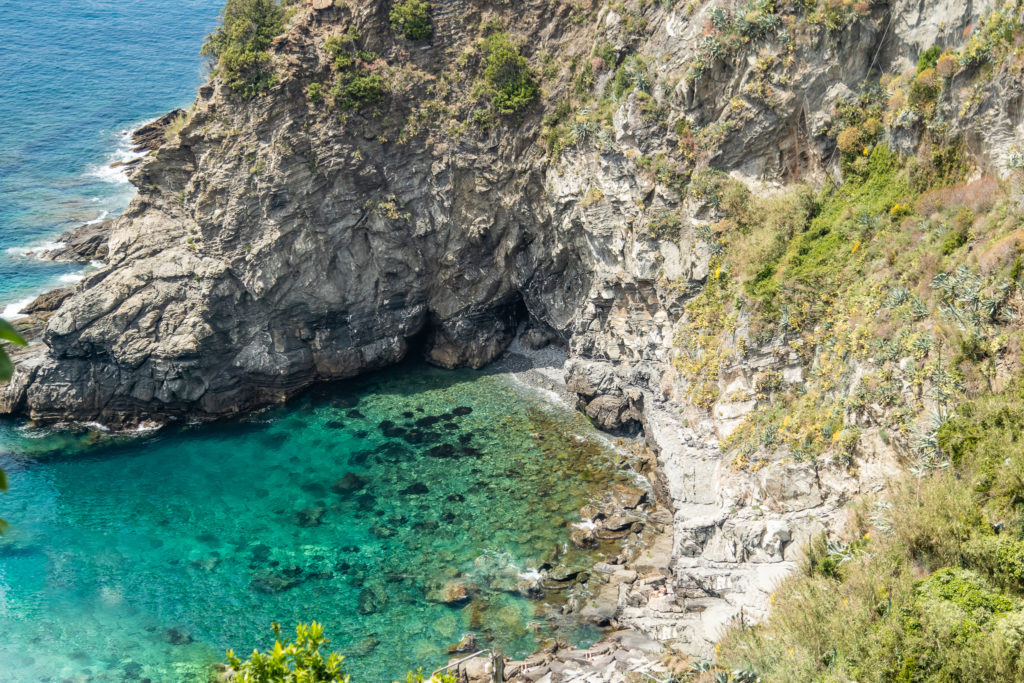 Corniglia is really small so you won't need much time there. After exploring the alleys of Corniglia walk towards the other side of the village to the hiking trail to Vernazza. You'll get a really pretty view of the colourful houses of Corniglia on the hill.
Hiking from Corniglia to Vernazza
This was the only hiking trail opened and we wanted to do at least one hike on the trip. We were already tired and it was hot and sunny but I was able to convince my sister and her boyfriend and I think we were all glad we did the hike. The trail offers stunning ocean views and it's absolutely worth the sweat.
From Corniglia, you have to walk along the road until you get to a little hut where someone checks your Cinque Terre Card or hiking ticket. There are signs to Vernazza along the road, so you can't miss it. Definitely make sure to wear proper shoes, the trail is uneven and it's not allowed to hike with flip flops.
On the hike, you come along some fairytale spots, olive trees, forest and clifftop views.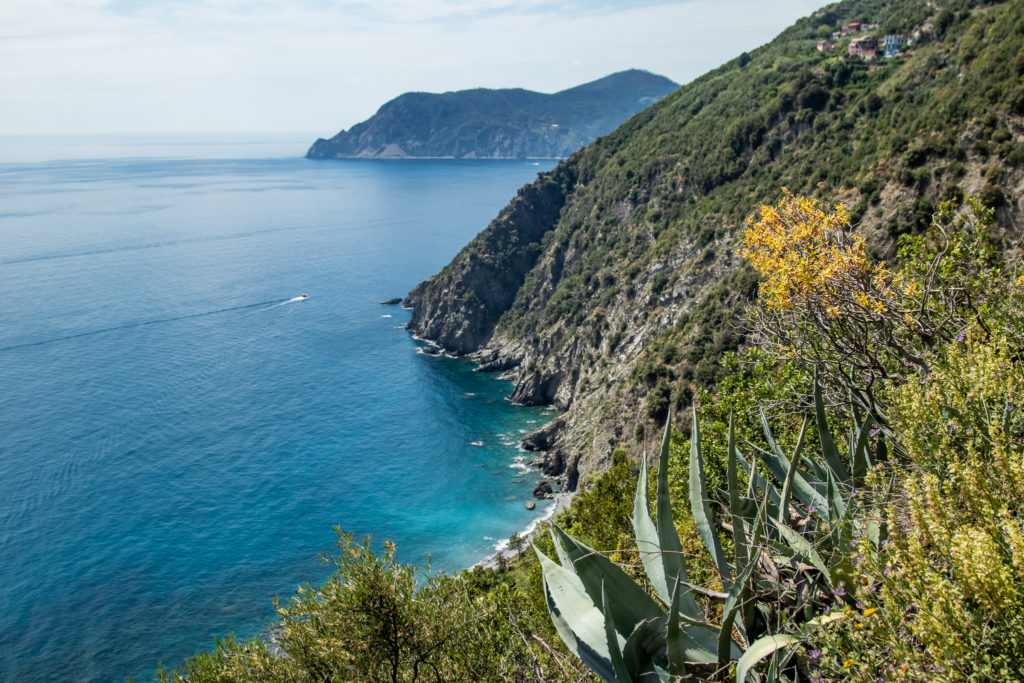 The Corniglia to Vernazza hike takes about 90 minutes and is moderate. At the beginning, you have to hike upwards for a while. This requires a certain level of fitness but it gets more even after a while. Towards the end, close to Vernazza, you have to walk down which gets really hard for your knees. I think that hiking from Corniglia to Vernazza is easier as I had the feeling that there were a lot more steps.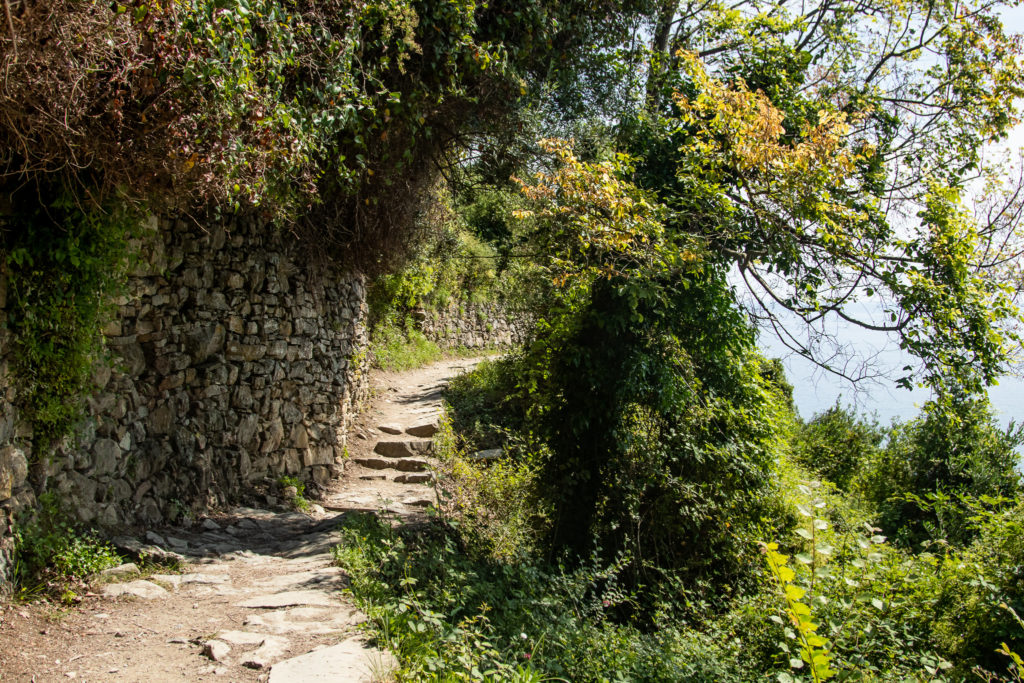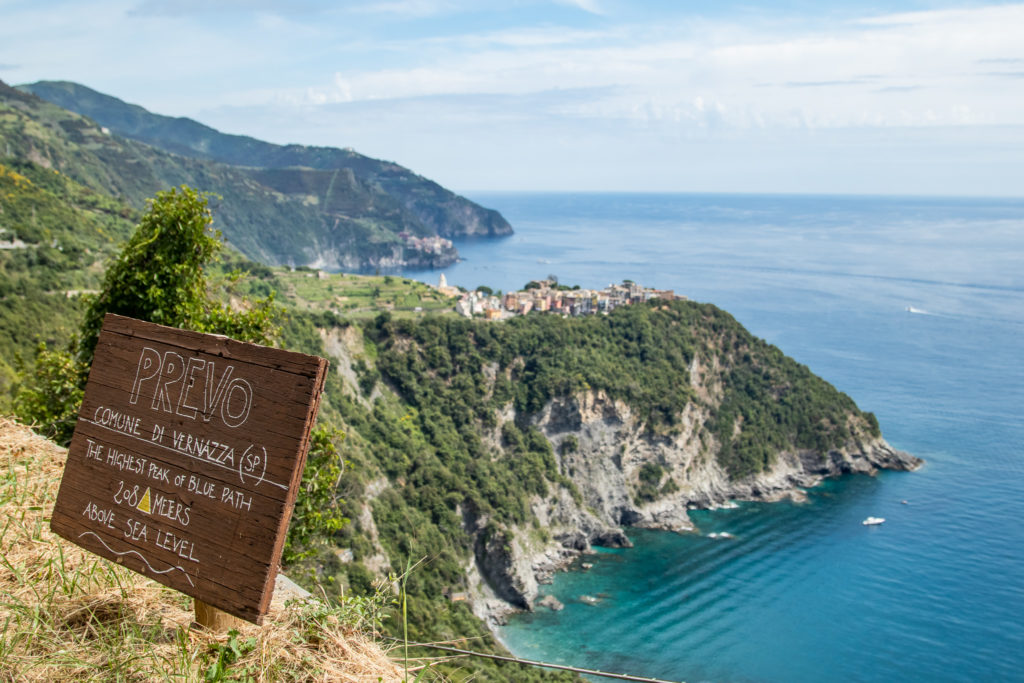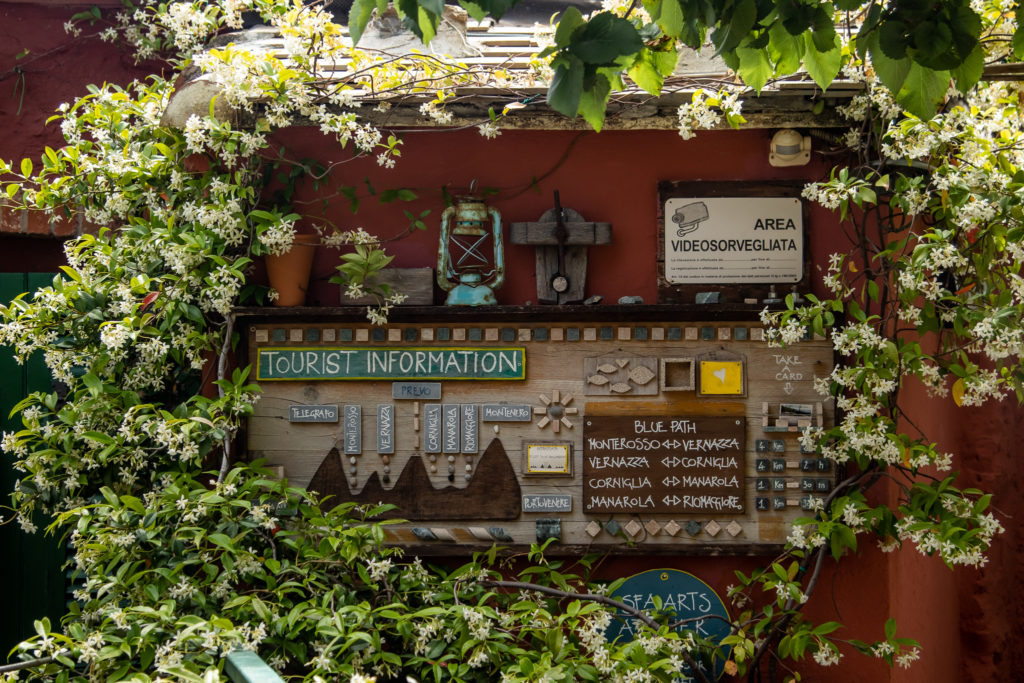 We walked around a corner and it instantly smelled like lemons and oranges. When we saw this bar, we knew why. They had boxes of freshly squeezed lemon and orange peels in front of their door and it was exactly the smell I imagine when thinking of the Italian Riviera. Visit the bar for a break and a refreshing drink, you'll need it by now 😀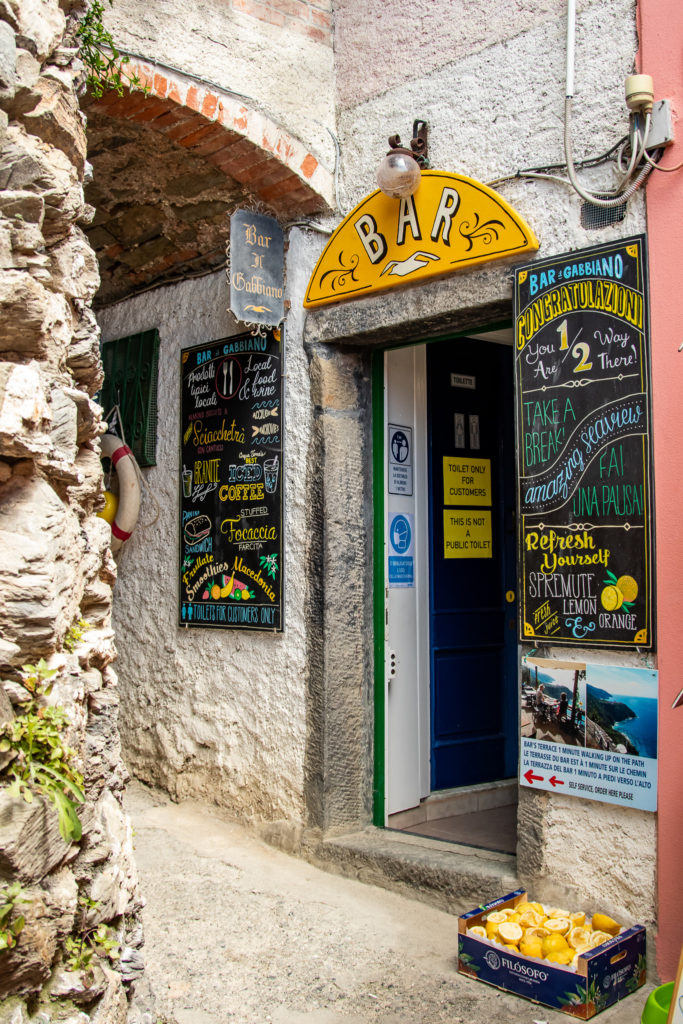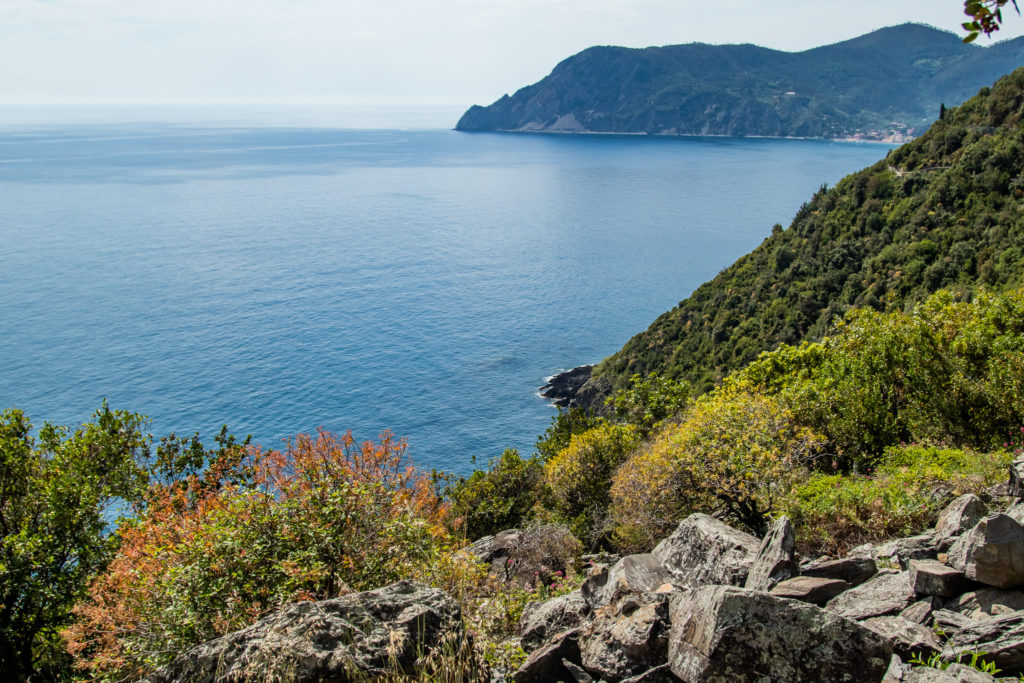 Another highlight on the trail is the view of Vernazza when you come closer to the town. If you're not hiking and arrive by train, I would still recommend going up this part of the trail to get the view.
What to do in Vernazza
You'll find one of the best viewpoints before you even get to Vernazza. As I mentioned before, you get a great view of the hiking trail.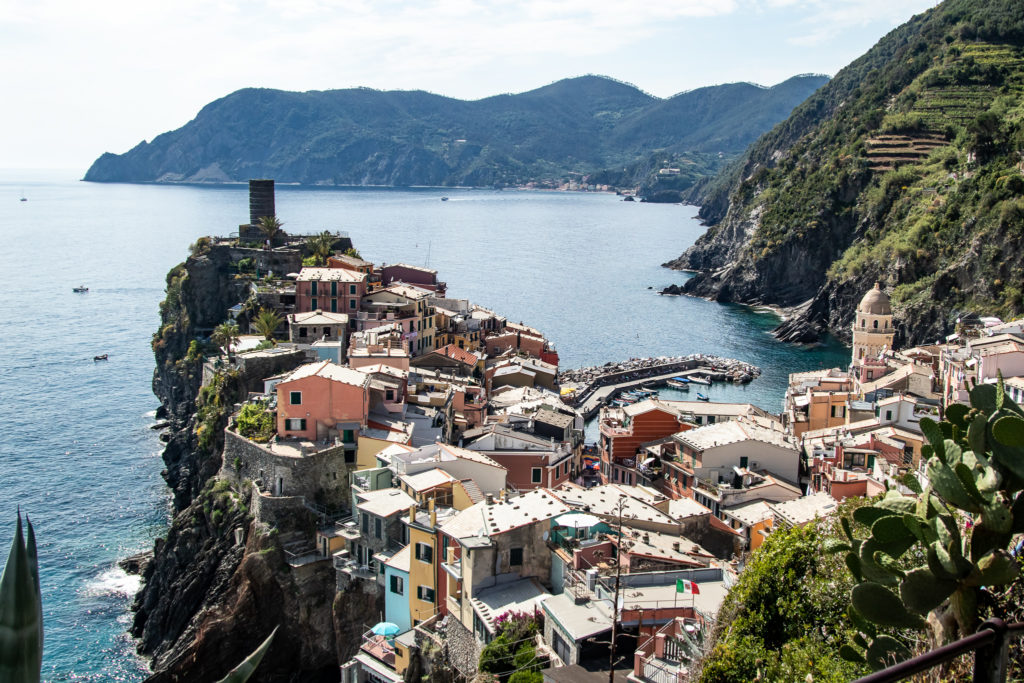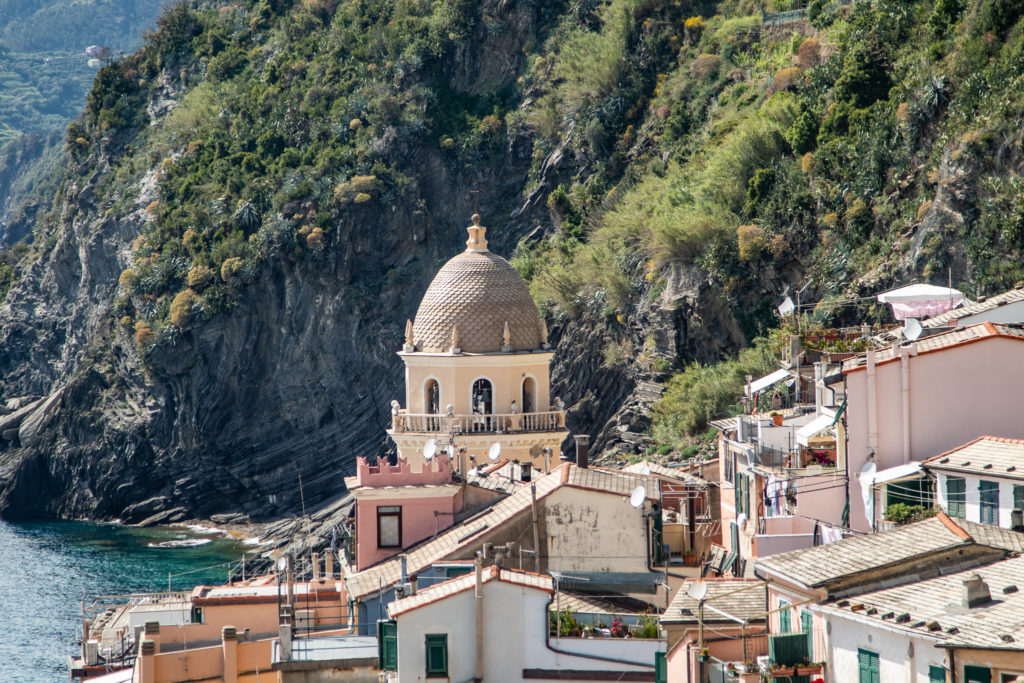 In this map, you can see my two favourite photo spots and viewpoints in Vernazza. Both are situated on the hiking trails, one right before you enter Vernazza and the other one on the trail to Monterosso that is officially closed. When we got there, there was a part of the trail from Vernazza to Monterosso al Mare that was open. You need to hike up 15 minutes to get to the second viewpoint but it is absolutely worth it!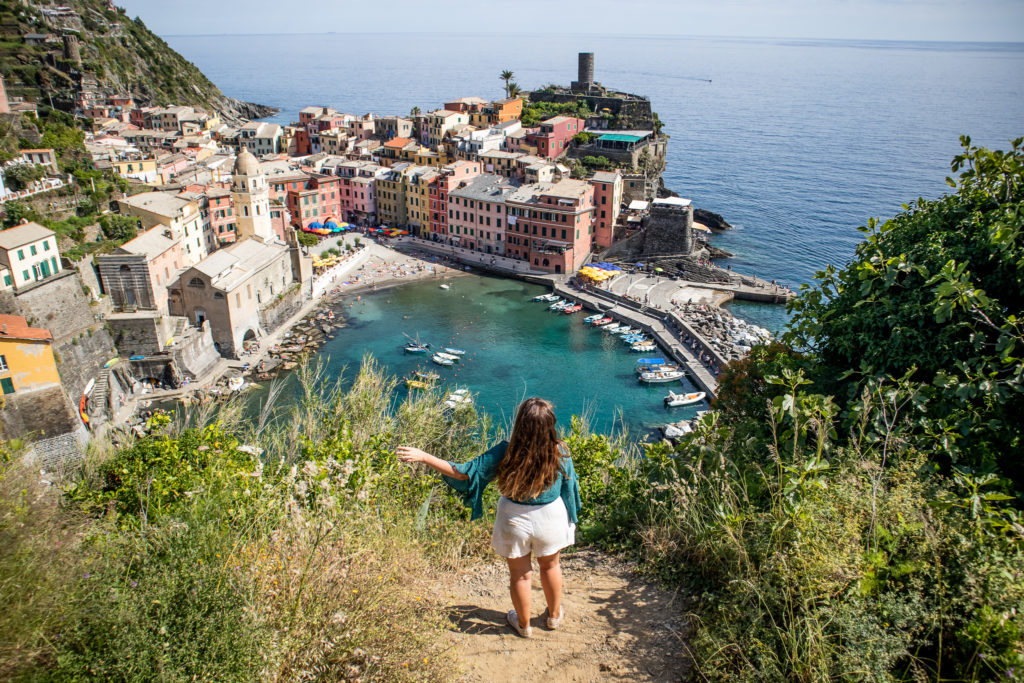 Vernazza also has a beach at the harbour where a lot of people sunbathe. Bring your swimmers for your day trip to Cinque Terre and you can cool down in the water.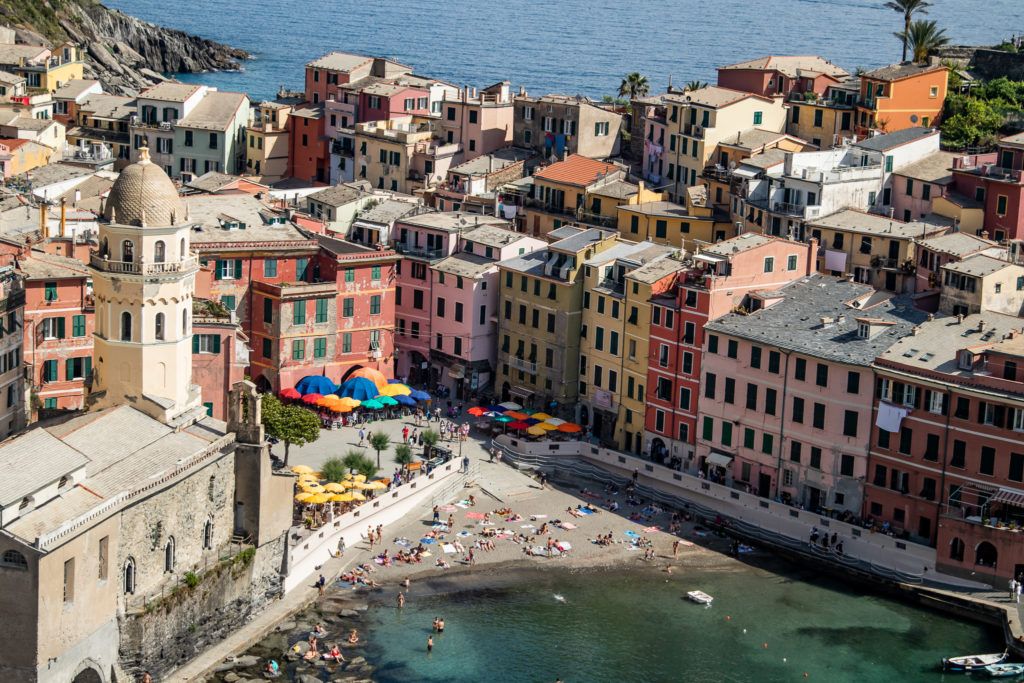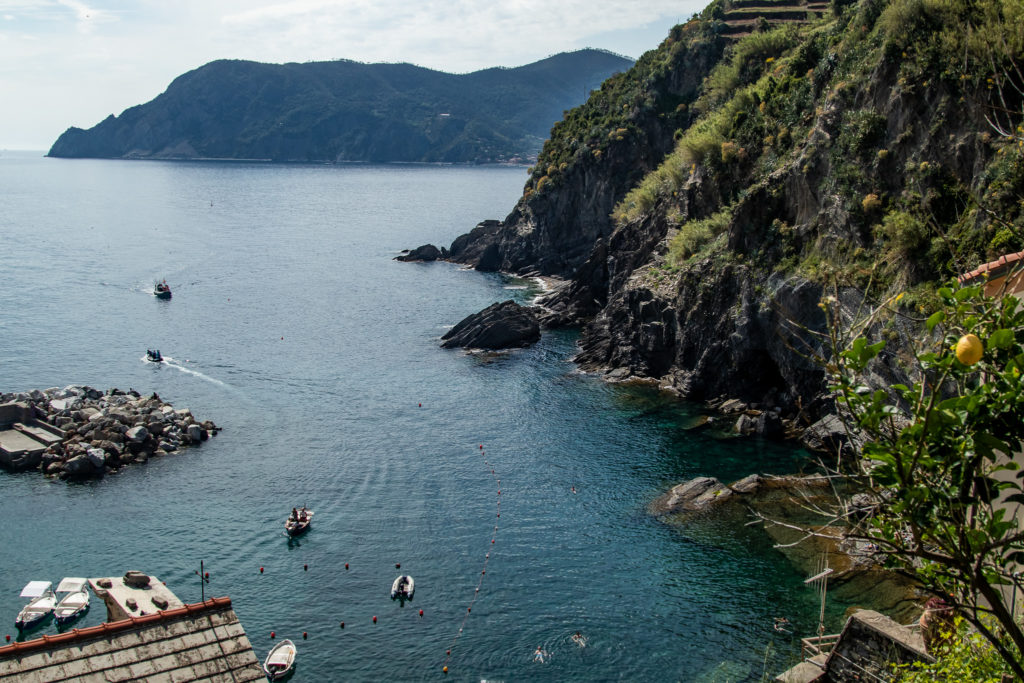 In my opinion, Vernazza is the most picturesque town and has lots of charming spots and alleys.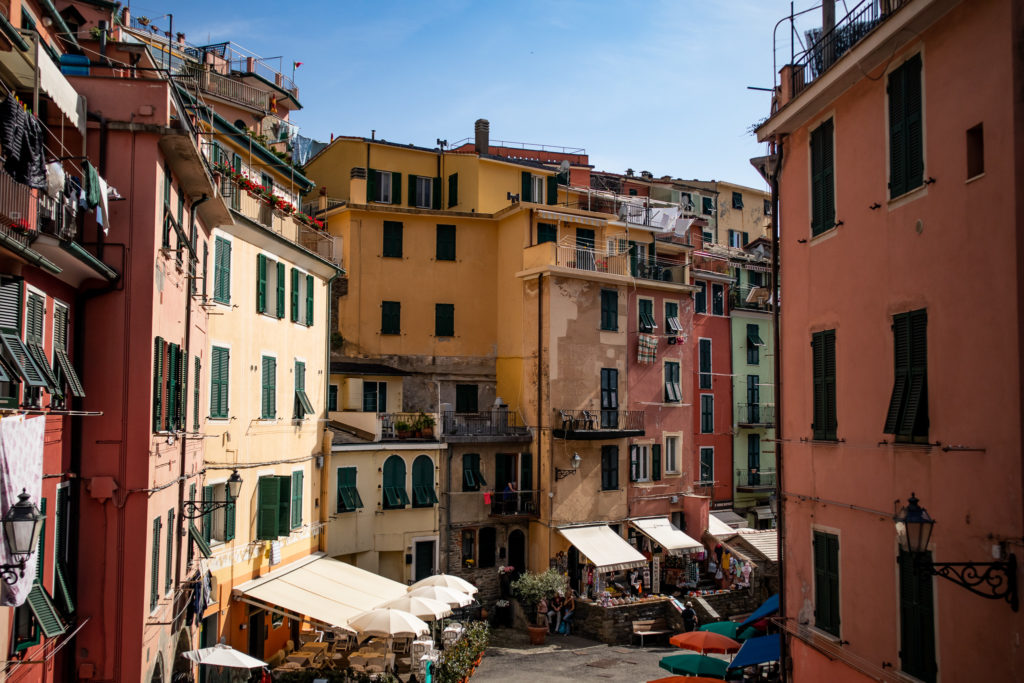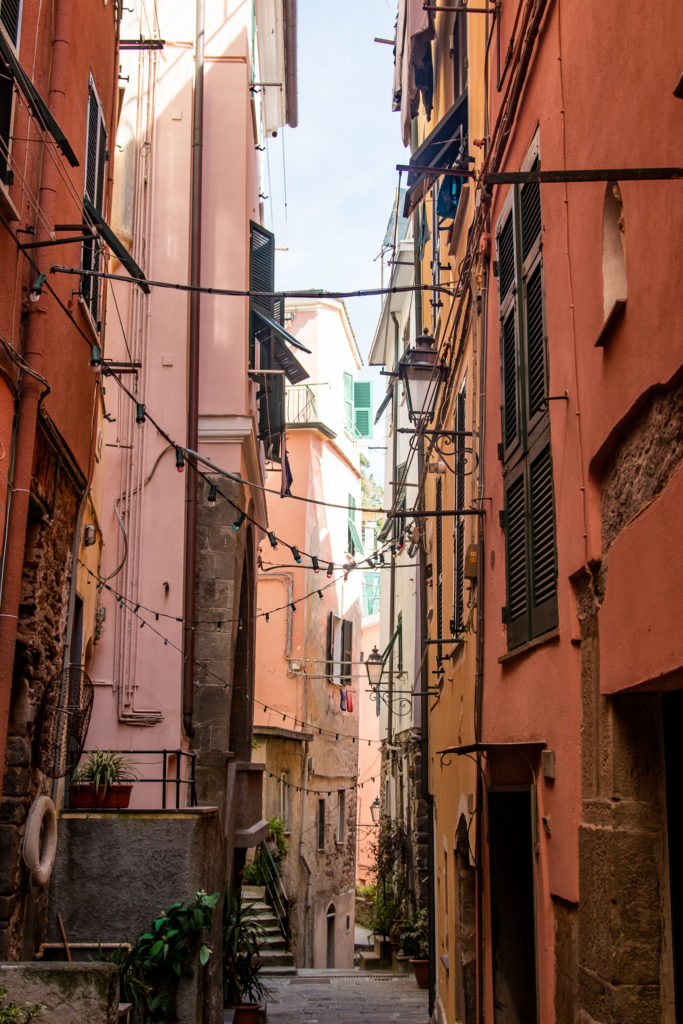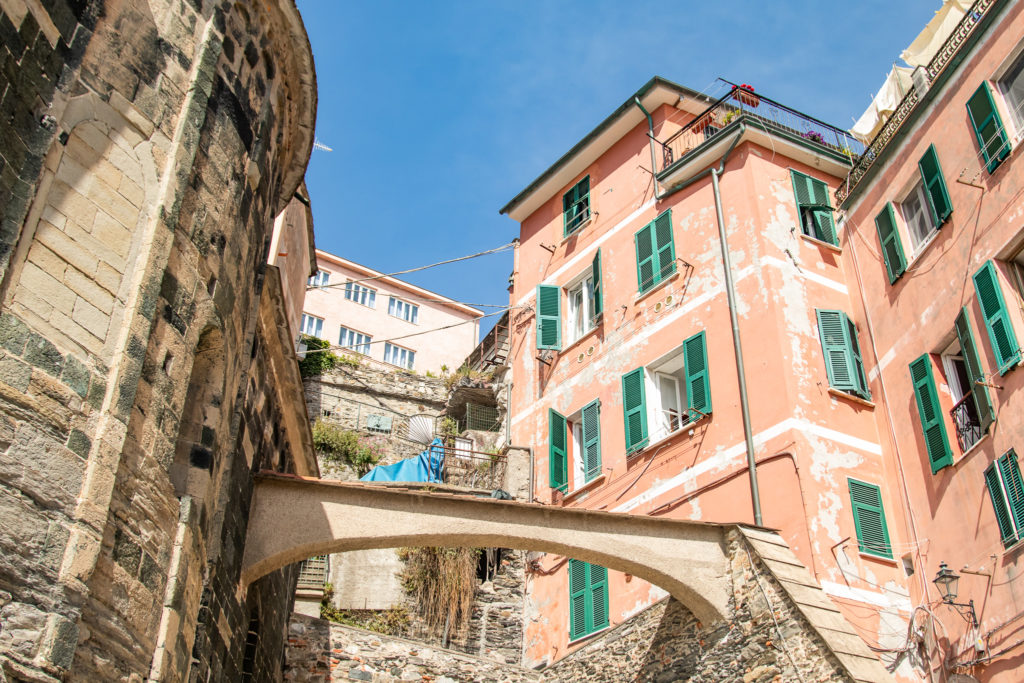 Just like in the other towns you can do some shopping and stroll around to buy some Italian specialties. Don't miss the cafes and restaurants, there are plenty to try!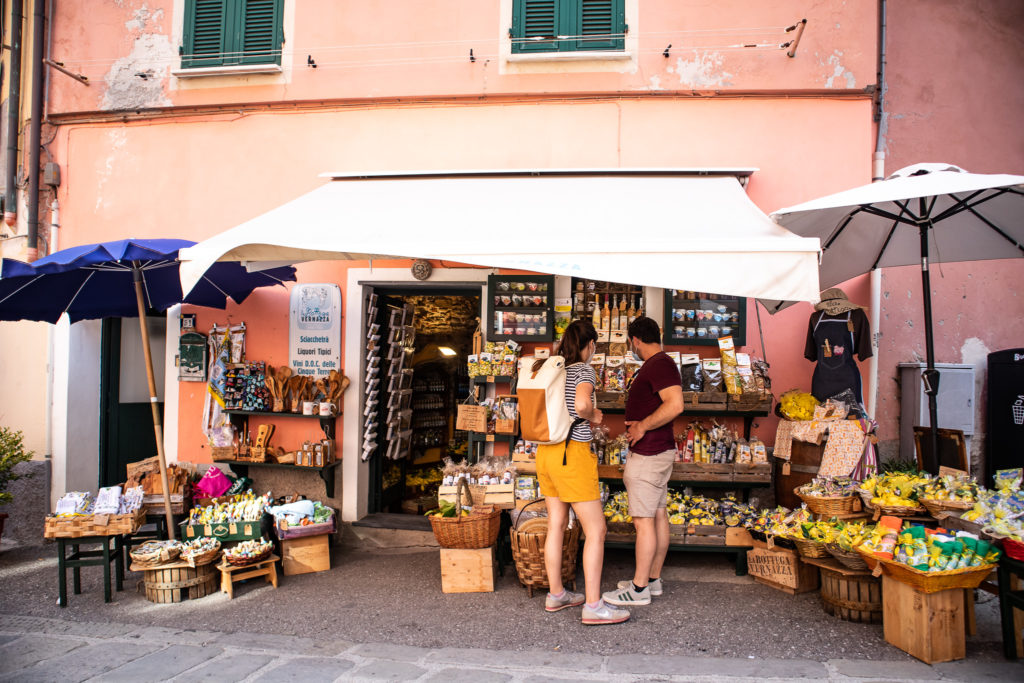 What to do in Monterosso al Mare
The next and last stop for your day in Cinque Terre is Monterosso al Mare. In this town, we spent the least time but it is the one with a proper beach. Monterosso al mare is also a good place to stay if you want to have your accommodation right in Cinque Terre. Take a stroll along the boardwalk and take in the beautiful ocean views. Walking along the stalls and restaurants brings up the holiday feeling.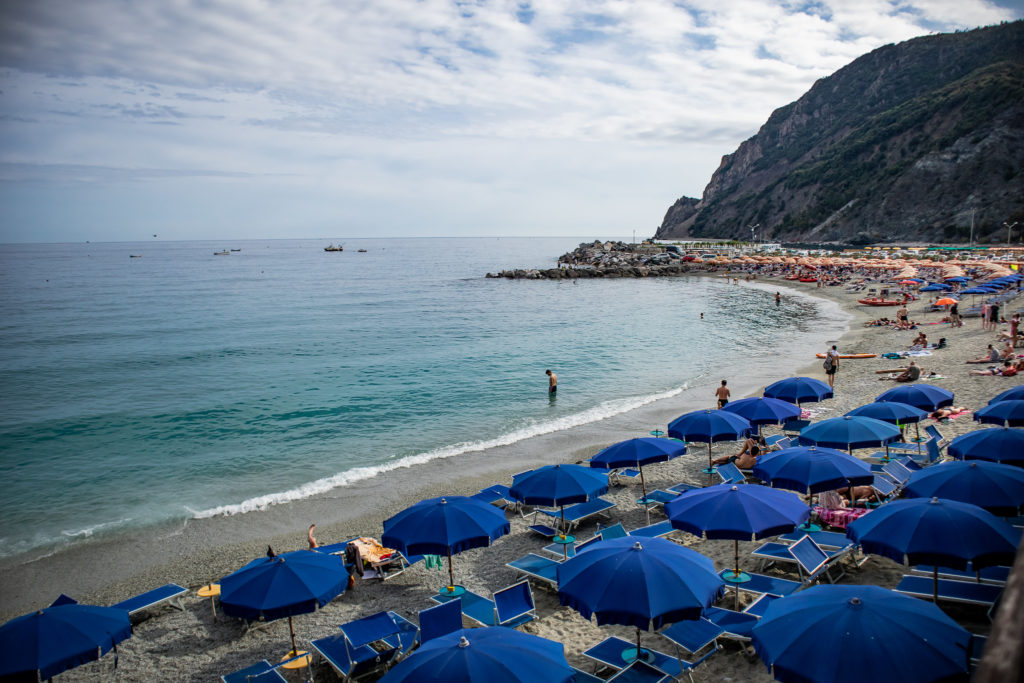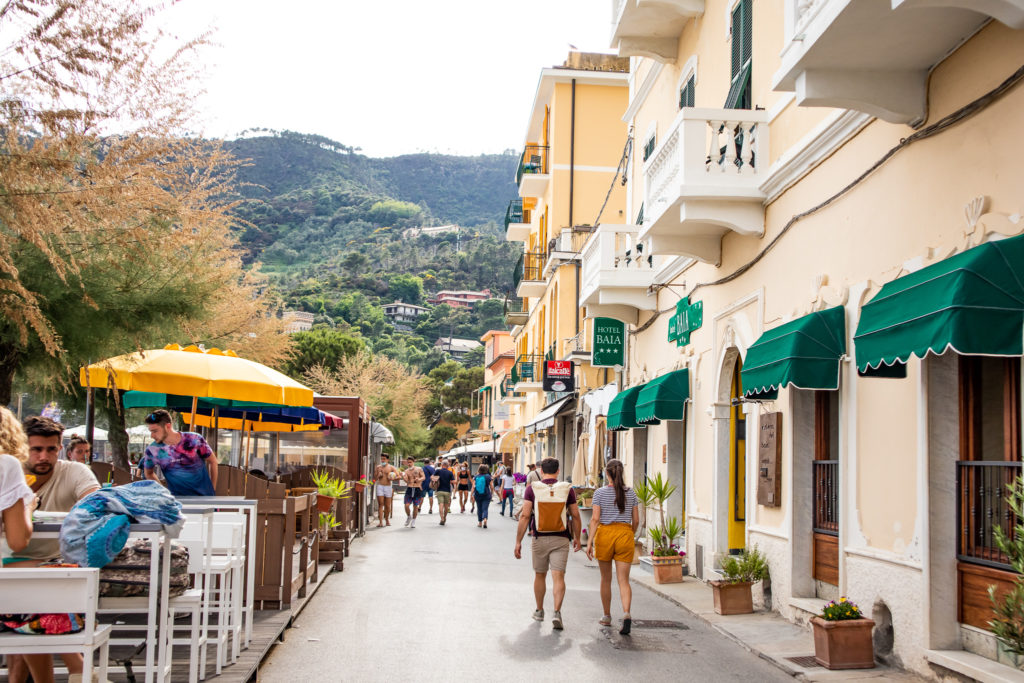 I hope these tips for one day in Cinque Terre Italy help you to have an amazing time in this beautiful area. If you are planning to travel to Cinque Terre and have any questions or if you have any suggestions for things to do in Cinque Terre, please leave a comment 🙂
Pin it!
Want to read more about Italy?