this post may contain unpaid advertisement
Lanzarote is known as a travel destination for families and Seniors with touristy beaches but there's so much more to it! This Canary Island offers stunning views, volcanic landscapes, unique wine cultivation, rough natural beaches and art.
Lanzarote is located around 90 km from Africa while it is a part of Spain. It's warm all year round and therefore a great destination in Europe, even for the winter months.
While it is a touristy destination, there is also an adventurous side to Lanzarote and in my opinion, Lanzarote offers so much beauty and fun activities.
Soak in the view from Mirador del Rio
Mirador del Rio is a viewpoint created by Cesar Manrique, an architect whose unique creations can be found all over the island. The viewpoint is situated at an altitude of almost 400 m and offers incredible views of La Graciosa and the Chinijo Archipelago National Park. This is honestly one of the best things to do in Lanzarote, you won't be disappointed by the views. The price for the viewing platform is 5 Euro and you can purchase a ticket online on this website. You can also buy tickets for multiple attractions and save money. However, I recommend walking to the left when you arrive at the parking and walking along the cliffs. The views are stunning and you get them for free 🙂
---
Visit El Lago Verde
El Lago Verde, also called Charco de los Clicos is a real natural wonder and totally deserves a spot amongst the 20 best things to do in Lanzarote. It's located in the southwest of the island on a black sand beach right by the ocean. The lake has a green colour due to phytoplankton and microorganisms. In the last few years, the lake has become smaller and needs to be protected. This is why you can't swim or even get close to the lake. Please be respectful and keep out of the closed area. The lake with its surrounding is a magical landscape though and absolutely worth a visit.
Getting to El Lago Verde is fairly easy. There is a parking area from which you can walk to the lake within a few minutes.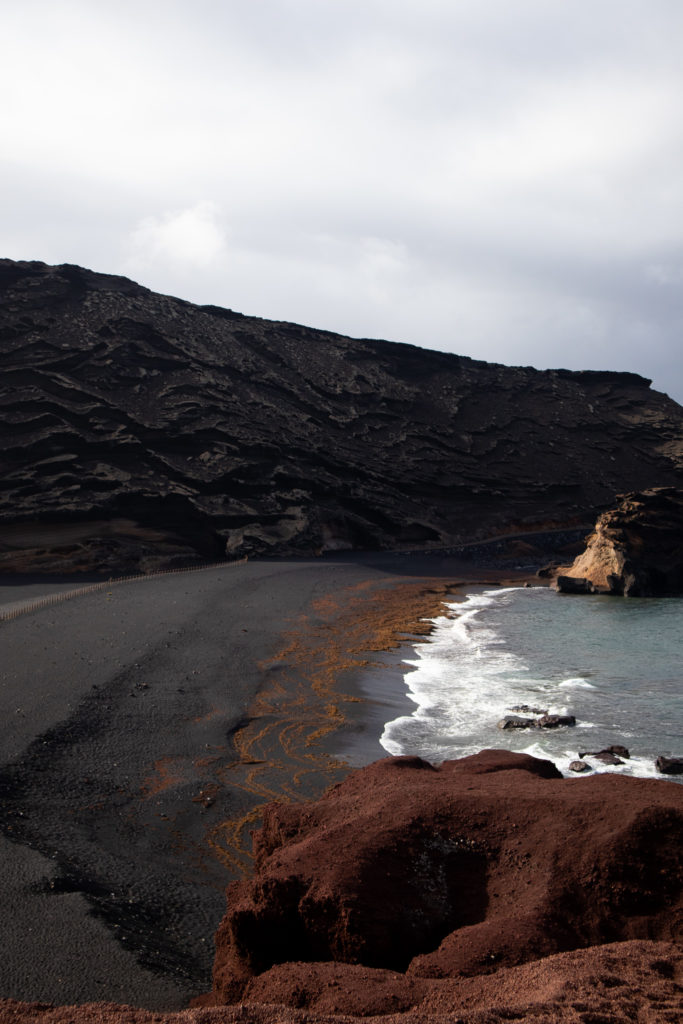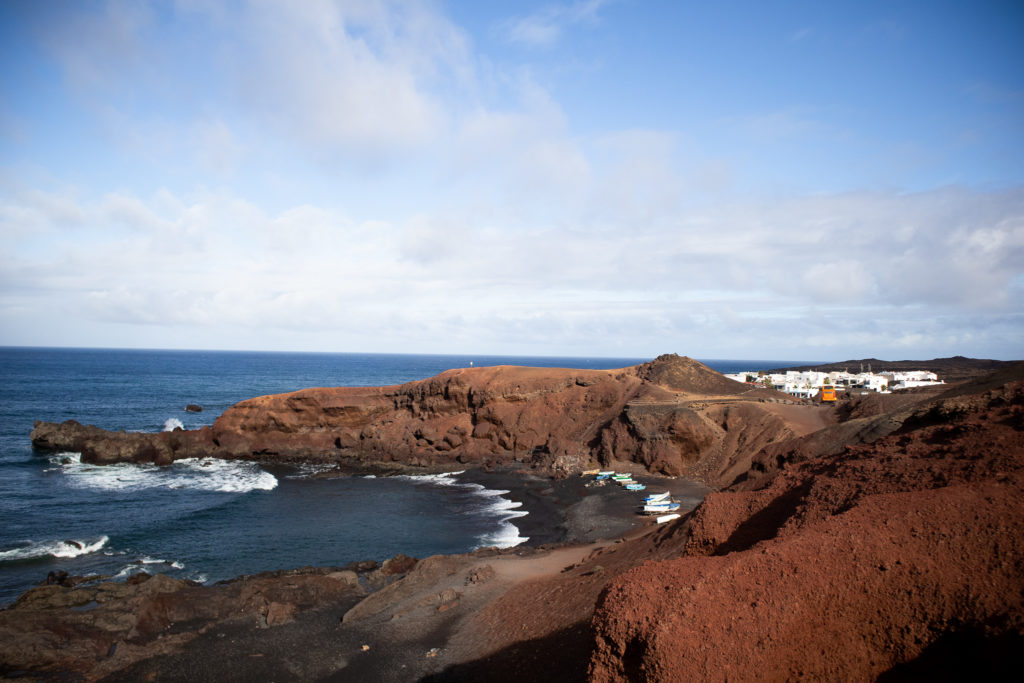 ---
Try surfing at Caleta de Famara
Playa de Famara is one of the most famous beaches in Lanzarote. Its beautiful cliffs make it a perfect spot for photographers and sunset-watching. If you're planning to take surf lessons in Lanzarote, this is a great place! There are a few surf schools and the waves are good. However, if you are looking for sunbathing, you might wanna go somewhere else, as it gets very windy at Famara.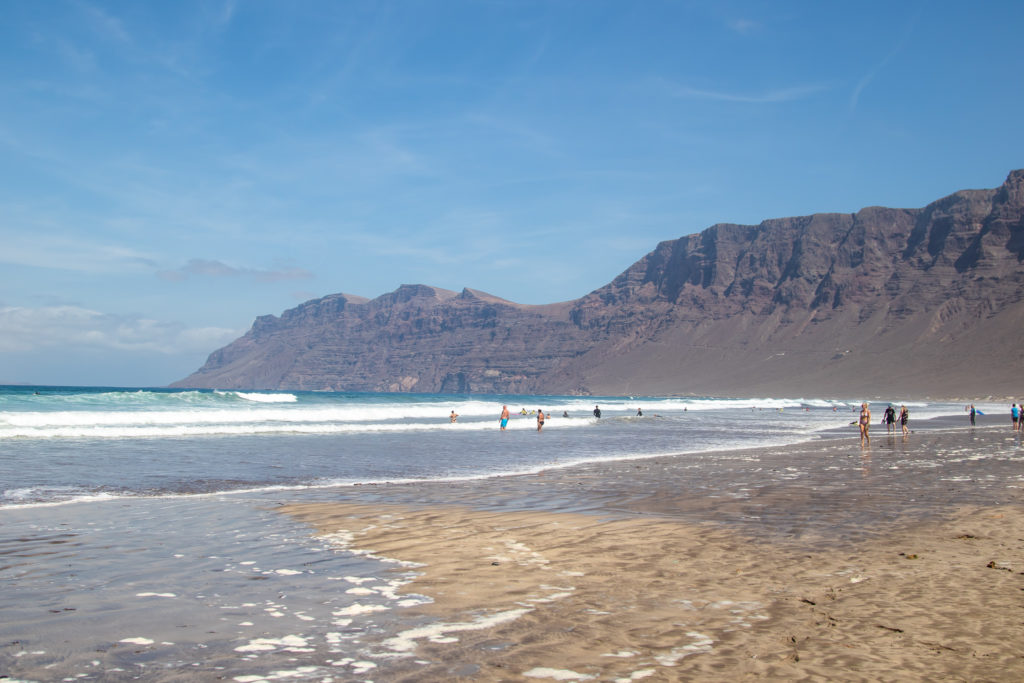 There are also lots of restaurants close to the beach where you can eat delicious Paella.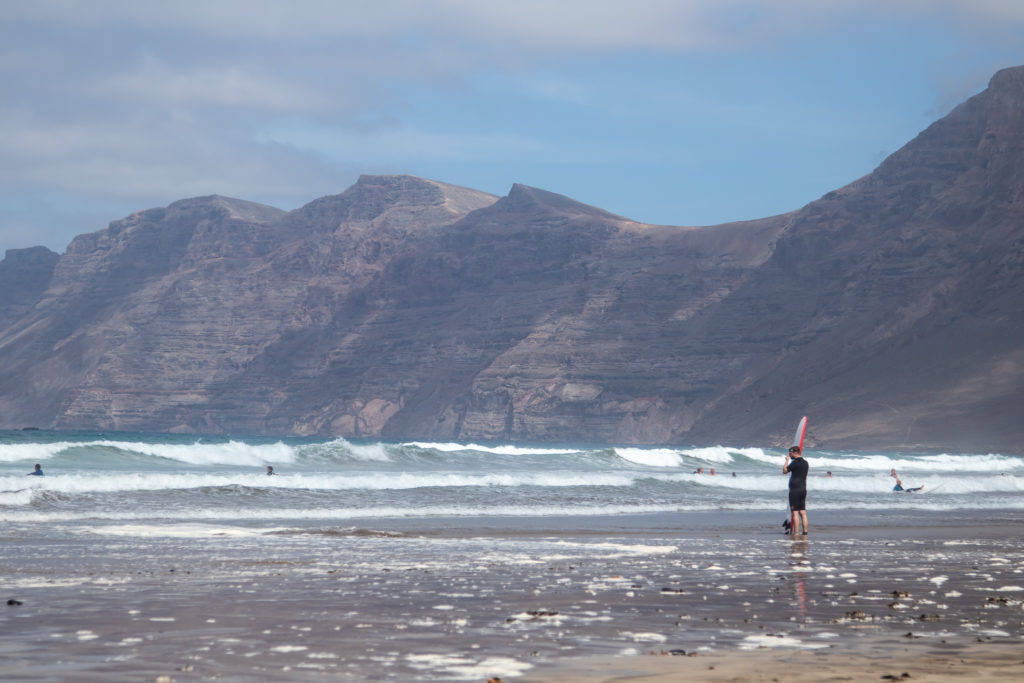 ---
Eat fresh fish in Arietta
Arietta is a small local fishing village and the perfect place to eat fresh fish. If you're up for a swim you can visit the local beach or go surfing. At the restaurant Amanacer you can eat great fish with papas arrugadas and mojo sauce for a reasonable price. The food is so good, it's honestly the best fish I've ever had!
---
Visit La Graciosa Island
La Graciosa, the island you can see from Mirador del Rio is a natural and quiet paradise. There are no asphalt roads on the island, you can get around with a bicycle and sunbathe on empty golden beaches. At the harbour of Orzola, you can catch a ferry to La Graciosa. The ride takes about 25 minutes. You can purchase tickets on ferry hopper for 28 euros.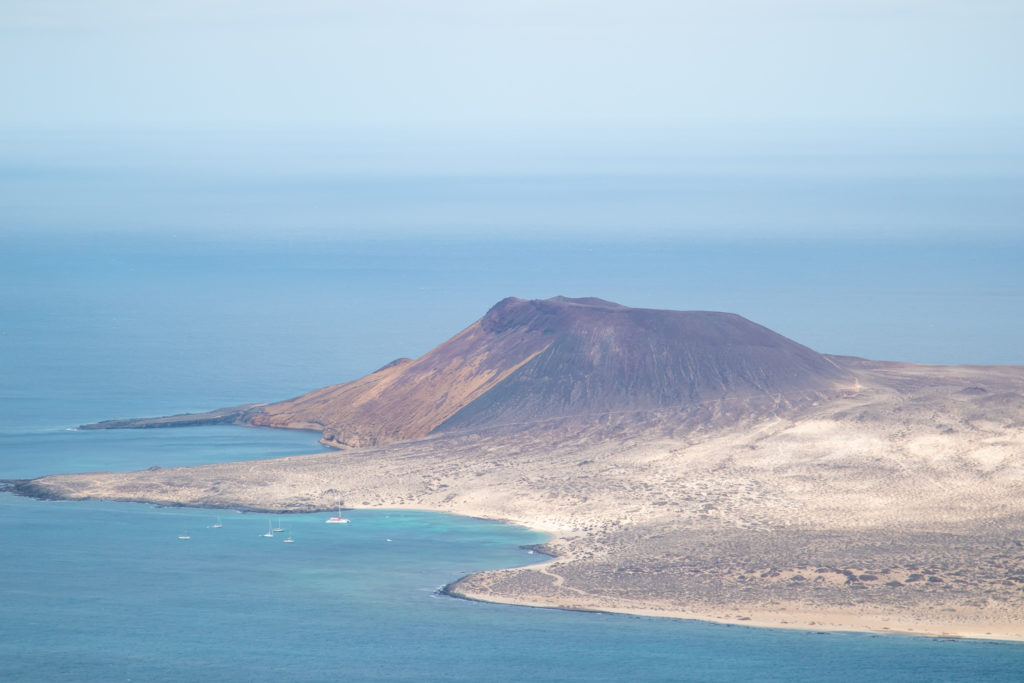 ---
Take a tour through lava tunnels at Cueva de los Verdes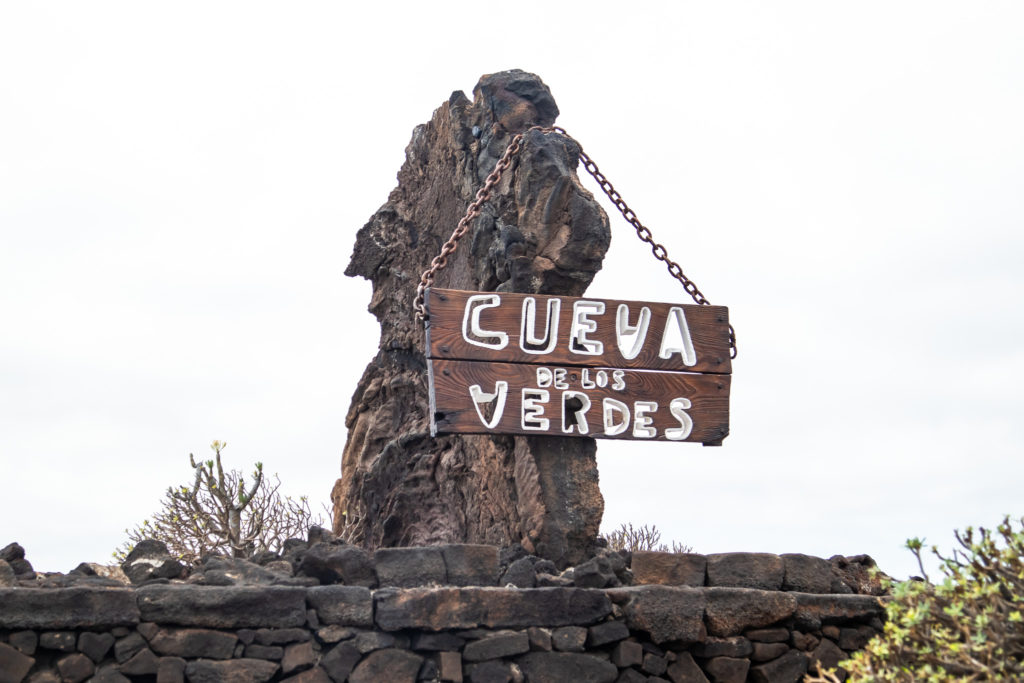 The lava tunnel Cueva de los Verdes was created from an eruption of the La Corona volcano. During the 16th and 17th centuries, people used it to hide from pirate attacks. Afterwards, it became a popular spot for scientists and travellers. The famous architect Manrique and the artist Jesus Soto created a mystical, artistic place for tourists by playing with light and shadow. You can do a 45-minute tour through the lava tunnel exploring the illuminated rock formations in the cave. Sometimes, they do concerts in the cave, so if you're in Lanzarote during a concert, make sure to visit! You can purchase the tickets online or at the ticket office. They are 10 euros but if you visit other tourist centres, you can save money by buying multi-center vouchers.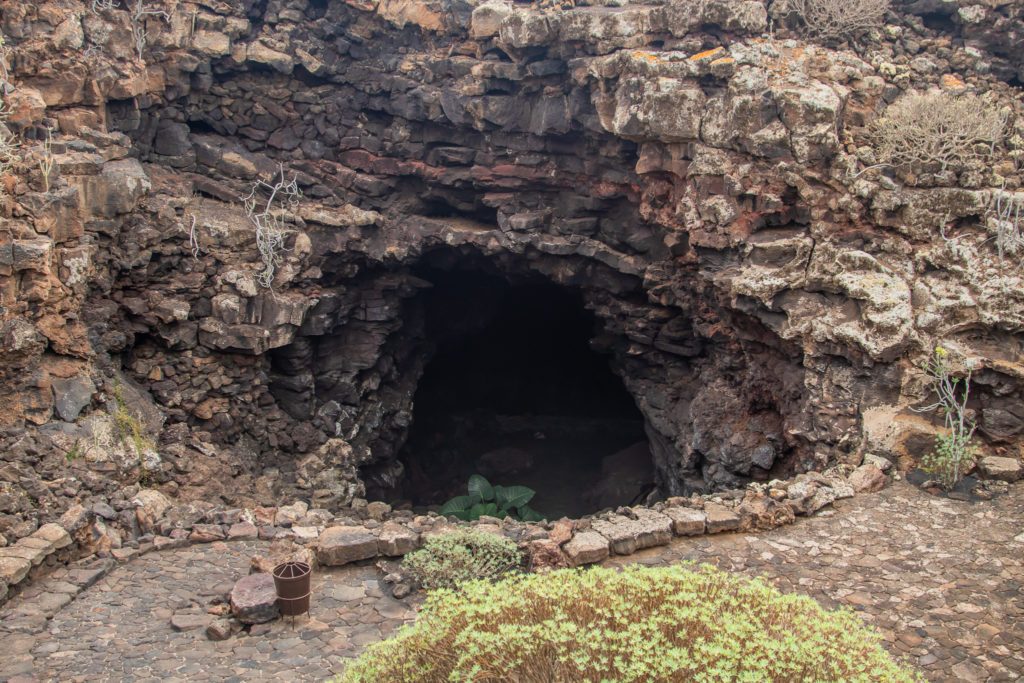 ---
Visit the wine region La Geria
La Geria is a wine region in Lanzarote where you'll see a unique cultivation method you probably haven't seen before. The wine grows in volcanic soil in so-called gerias. These are circular hollows in the soil with the vine in the center and a semicircular stonewall to protect the vine from wind. The streets are scenic and it's fun to drive through the area marvelling at the many gerias with volcanos in the background. La Geria is definitely amongst the 20 best things to do in Lanzarote as there is so much to do. You can do a wine tasting, visit some volcanoes, even walk to the top and visit a cute cafe/bar to eat a crepe with cactus-jam.
When we drove through La Geria, we also made a stop at a bar which my friends recommended. They had already been there, so they made me climb up a volcano right next to it and promised me a cactus-jam crepe afterwards. The climb was short but hard, the heat made 2 of us almost pass out but the views didn't disappoint.
Unfortunately, I couldn't find the name of the volcano on google maps but if you're on the parking of El Chupadero, you have to walk towards a palm tree and just walk towards the peak of the mountain, it's pretty straight forward.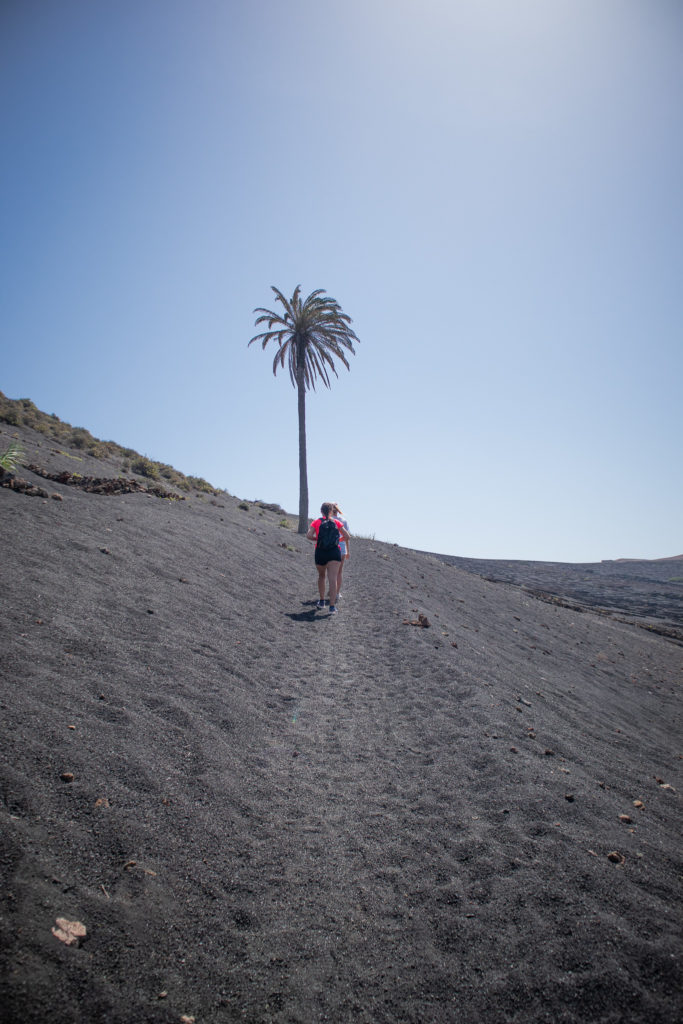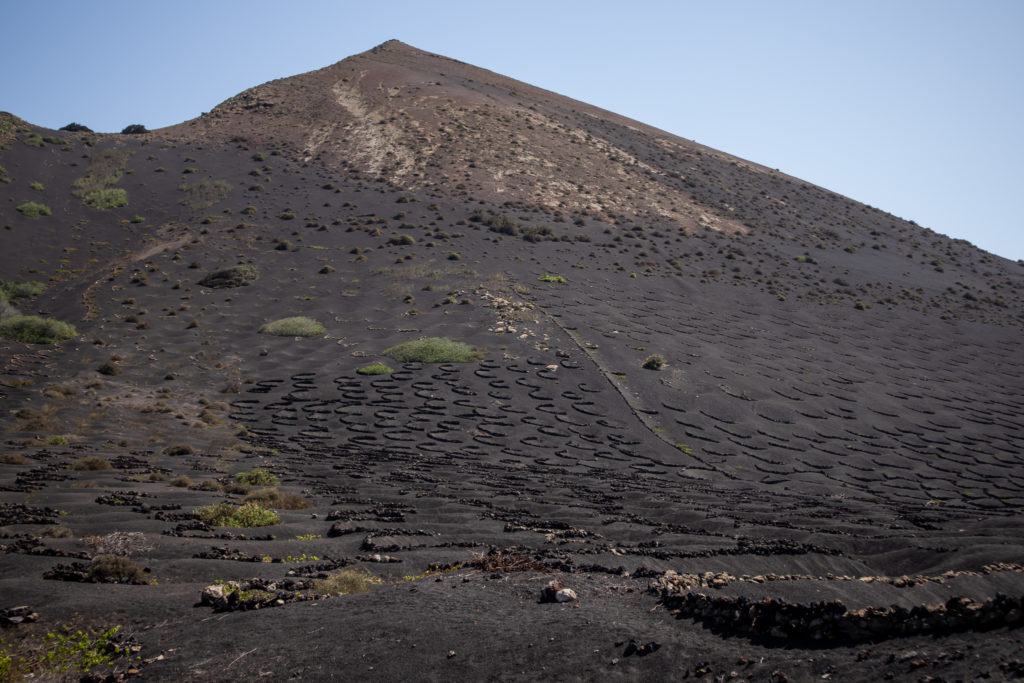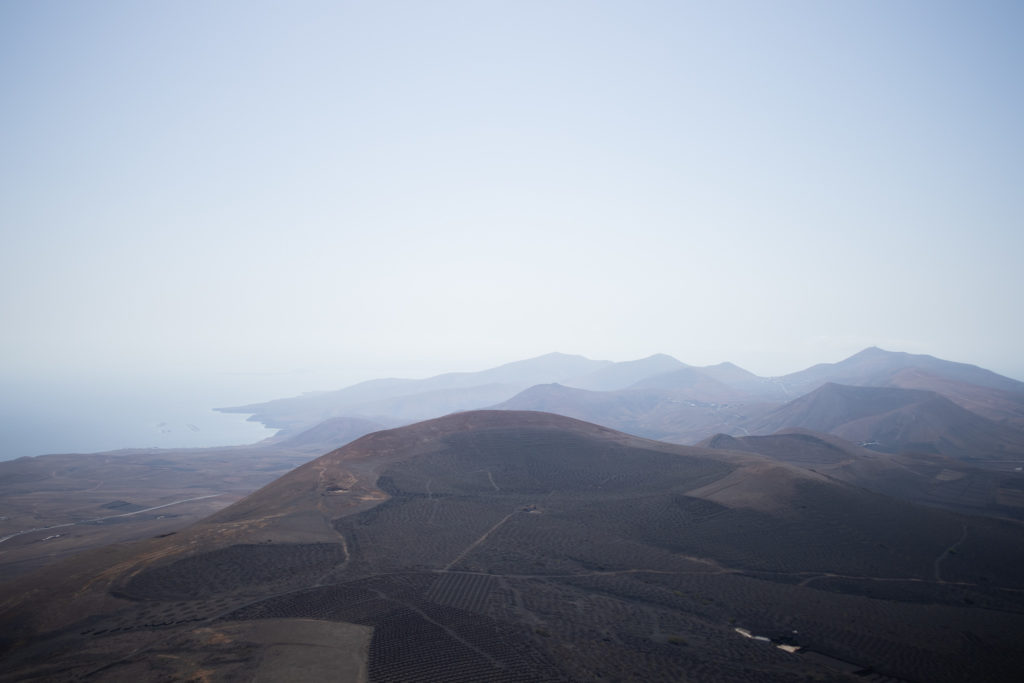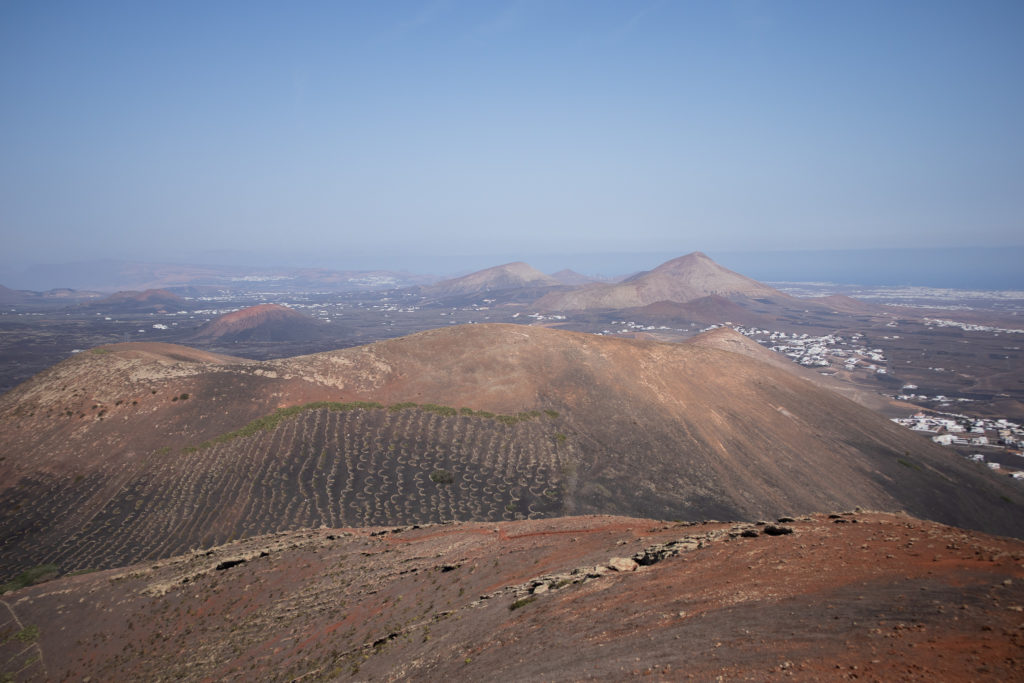 After the hike, make sure to try the crepe and the cheese platter at El Chupadero!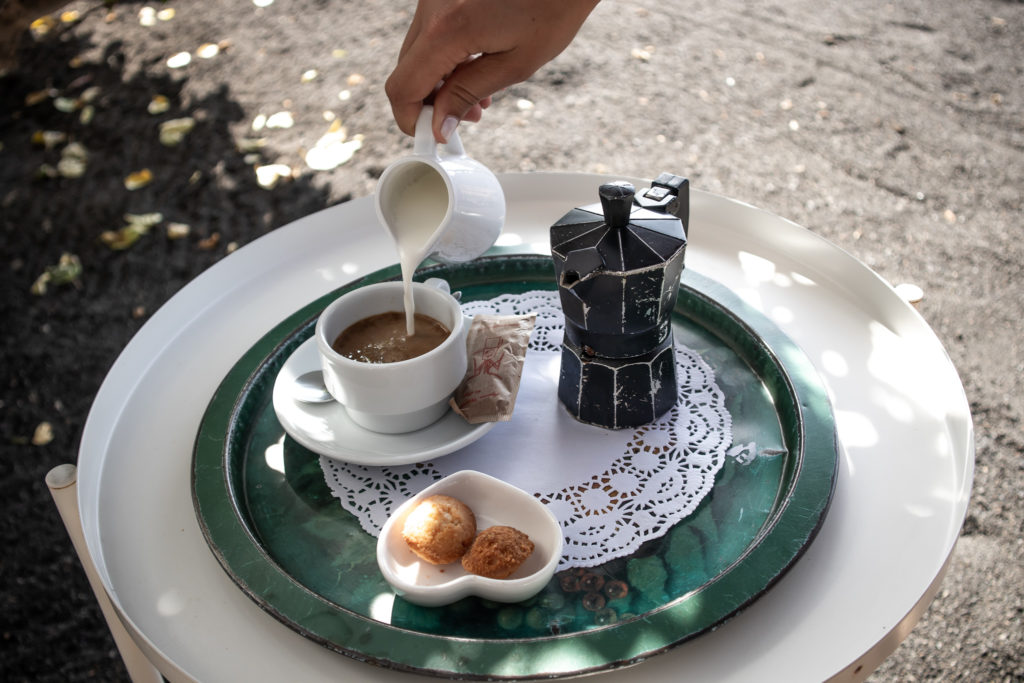 ---
Stroll over the market at Teguise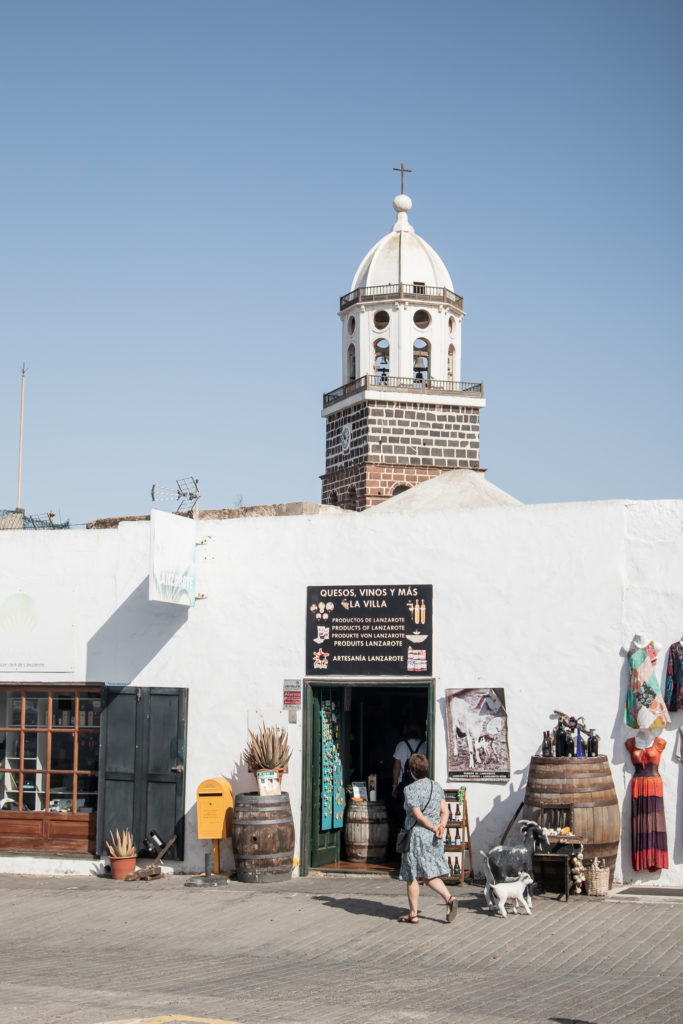 Teguise was once the capital of Lanzarote until it lost its power to Arrecife. The town has charming vibes and lots of artsy shops and cafes. I love the white houses and the cute streets. If you're visiting on a Sunday, you can stroll over the market from 9 am to 2 pm and try street food or buy souvenirs.
---
Visit Jameos del Agua
Jameos del Agua is a volcanic tunnel, part of the same system as the tunnel of Cueva de los Verdes created by the eruption of Montaña La Corona. The famous architect Cesar Manrique changed this tunnel into the tourist attraction it is now with the beautiful contrasts of the black volcanic rocks and the white and blue of his architecture. He is famous for using nature in his creations. The attraction consists of different caves and areas including a cafe, a lake inhabited by white crabs, a pool in the most beautiful blue surrounded by the white floor. It's a very picturesque area, however, you can't swim in the pool. There's also an auditorium for live music and a museum. I haven't been on my recent trip and the last time I visited Jameos del Agua has been a while, so unfortunately I don't have photos. Just like for the other attractions, you can purchase the ticket online. If you're planning to visit multiple places, it'll be cheaper to buy combined tickets.
---
Explore Timanfaya National Park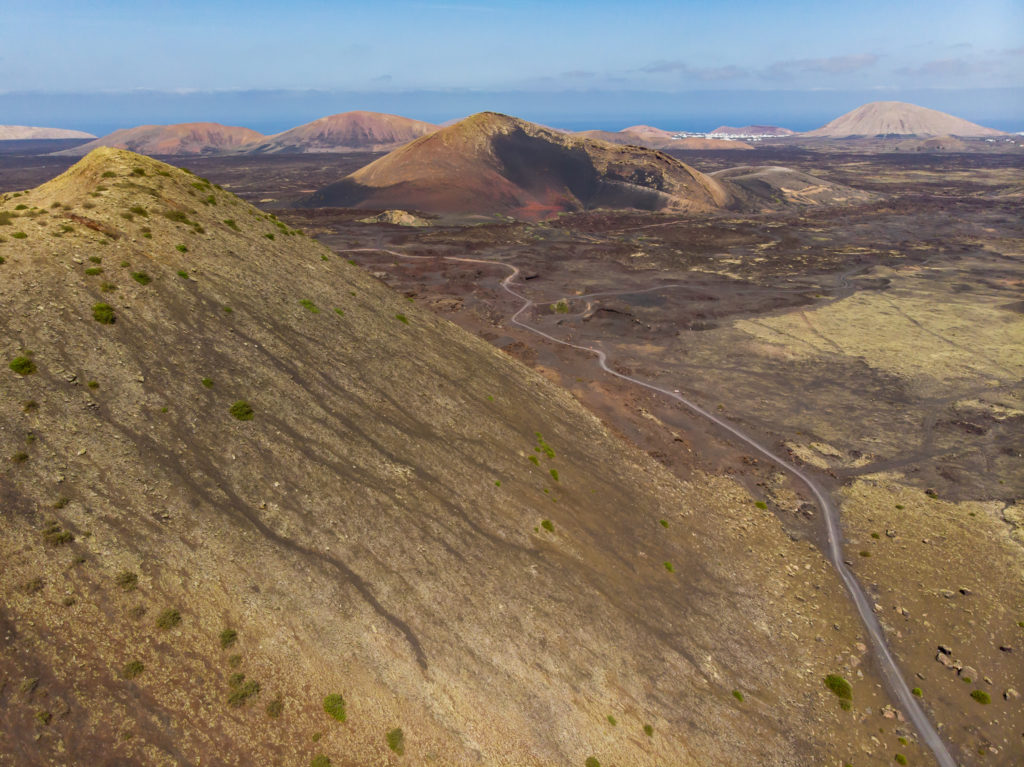 Timanfaya National Park is the most well known attraction in Lanzarote and shouldn't be missed. The volcanic landscape makes you feel like on Mars and you won't stop marvelling at the impressive surrounding. The national park was formed from eruptions from 1730 to 1736 and is located in the south west of the island. You can't drive through the entire park yourself, at El Diabolo you have to park your car and get on a guided bus tour. At El Diabolo you can also see a steam geyser. The price for the park is 12 Euro including the bus. You can pay the fee at a ticket booth when you turn off from route LZ-67.
---
Hike on Volcanoes in Los Volcanes Natural Park
In the Los Volcanes Natural Park you find lots of different hiking trails around or to the top of volcanos. The landscape is beautiful but vegetation is scarce and the only thing you'll see are lichen and a few bushes every now and then. We hiked around Montaña Colorada and it was a beautiful, short and easy hike. You basically walk around the base of the volcano. It is red due to iron oxide and very beautiful on photos. When you reach the back of the mountain you can spot a volcanic bomb which is massive and a cool photo spot.
Besides Montaña Colorada, there are countless other hikes that you can explore. Famous ones are Caldera de los Cuervos, which is right across the street from Montaña Colorada, and Caldera Blanca.
---
Visit Jardin de Cactus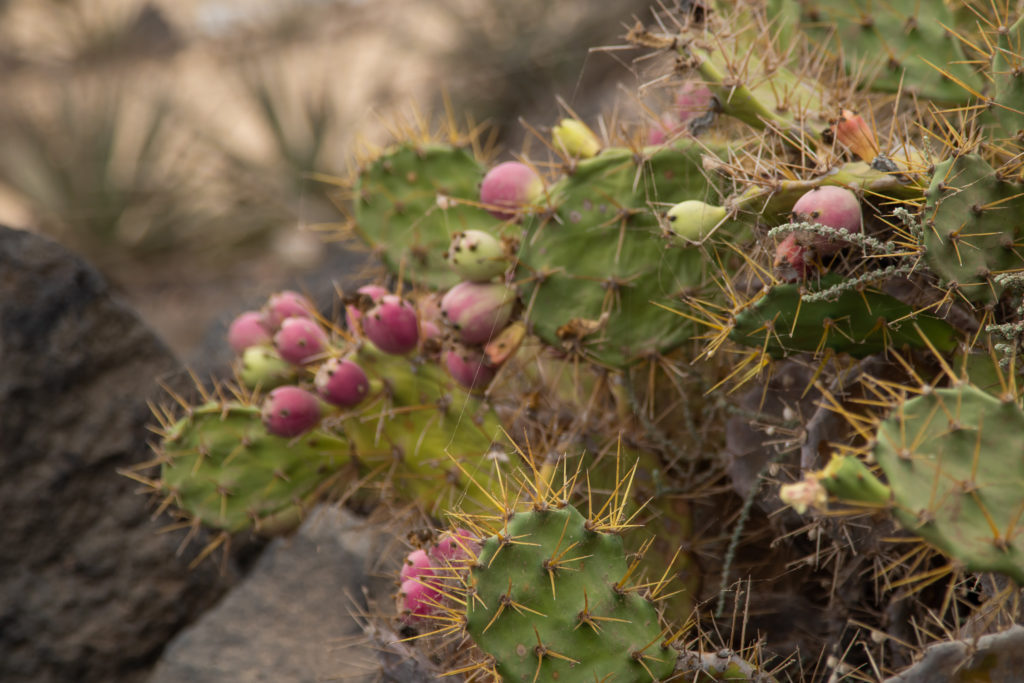 Jardin de Cactus is another stunning place created by César Manrique. It's not only a garden full of cacti from all over the world but is also arranged in a way that creates a piece of art. The garden is a great photo spot and really worth a visit. There are 4500 cacti in the garden from more than 450 species. While wandering the paths you'll discover small streams, cascades and some stone faces made from volcanic rocks. One of the highlights is the original windmill on top of the terraces. The tickets are 6.50 euros and are part of the combined ticket system, so you can either buy a single ticket or visit other centers, such as Jameos del Agua or Mirador del Rio.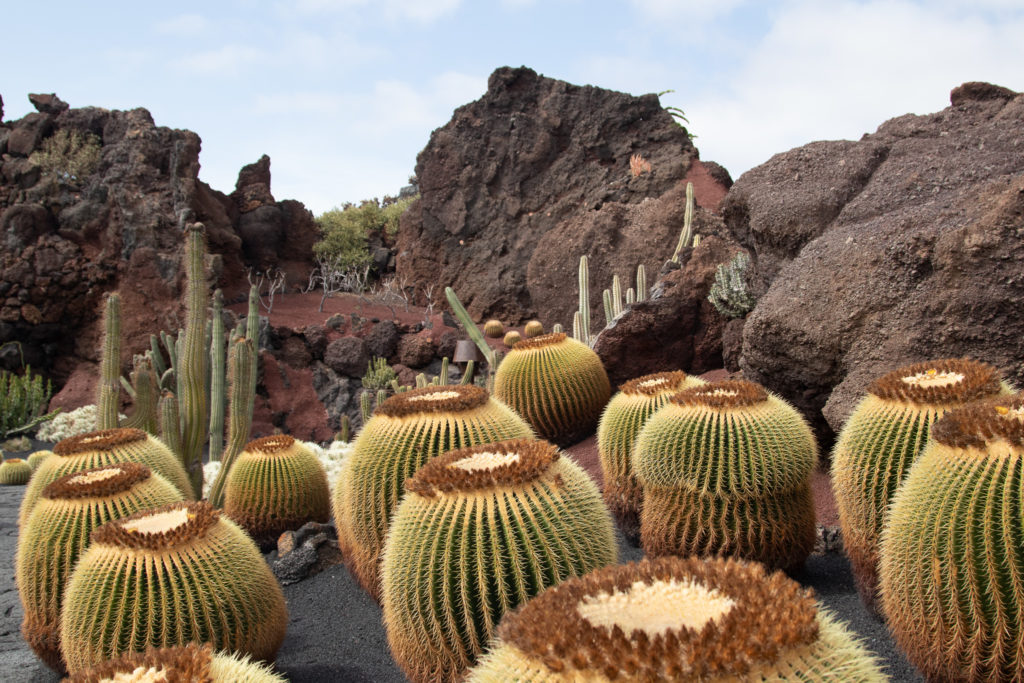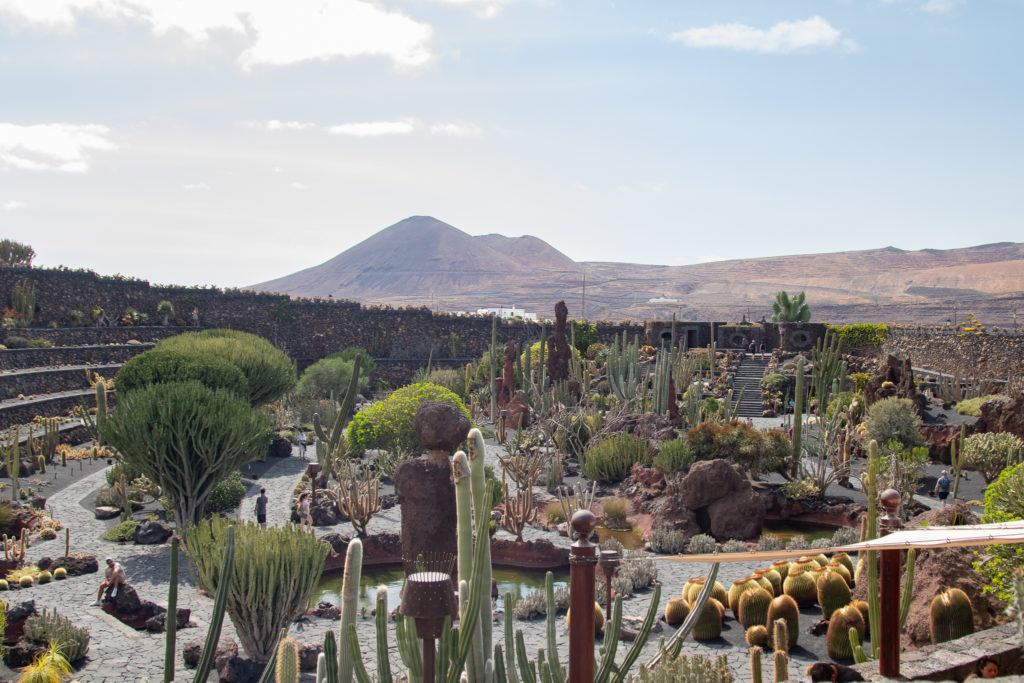 ---
Go Swimming at Playa de Papagayo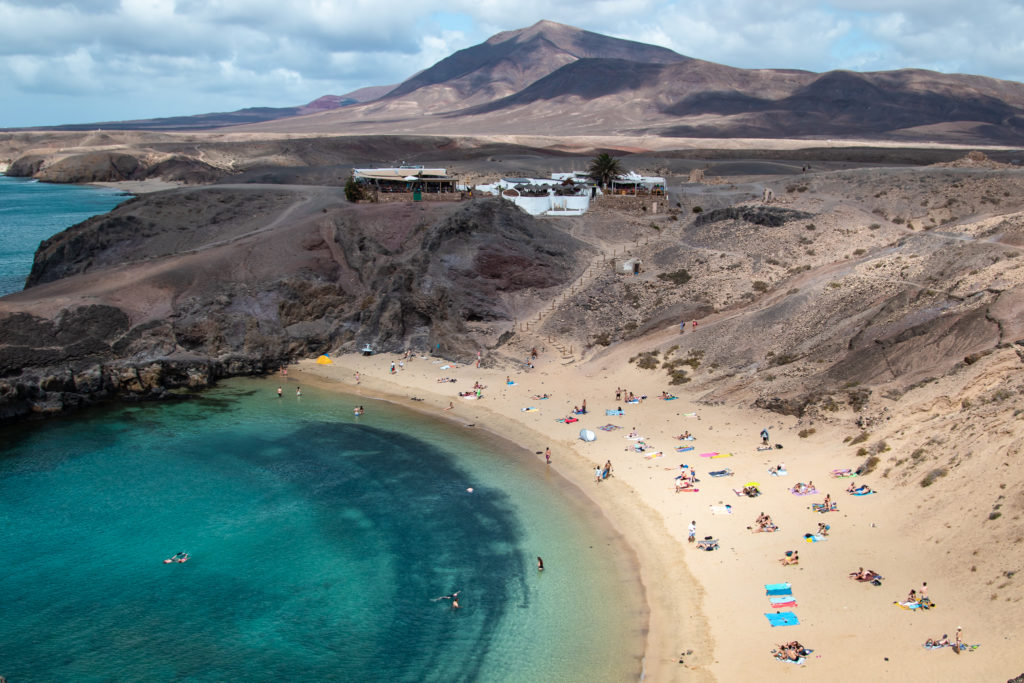 Playa de Papagayo is one of the most famous and most beautiful beaches in Lanzarote. In my opinion, it's a must and definitely one of the best things to do in Lanzarote. Playa de Papagayo is located in a protected area in the south of the island. You have to pay 3 euros per car to get into the area. There are multiple beaches, so it's absolutely worth it to take a look at the other beaches as well. Over an unpaved road, you get to a parking spot from which you can walk down to the beach. The views from above are great and you can marvel at the beautiful clear water shimmering in all shades of blue. It can be windy but as the beach is located in a bay, the water is very calm and it's great for swimming.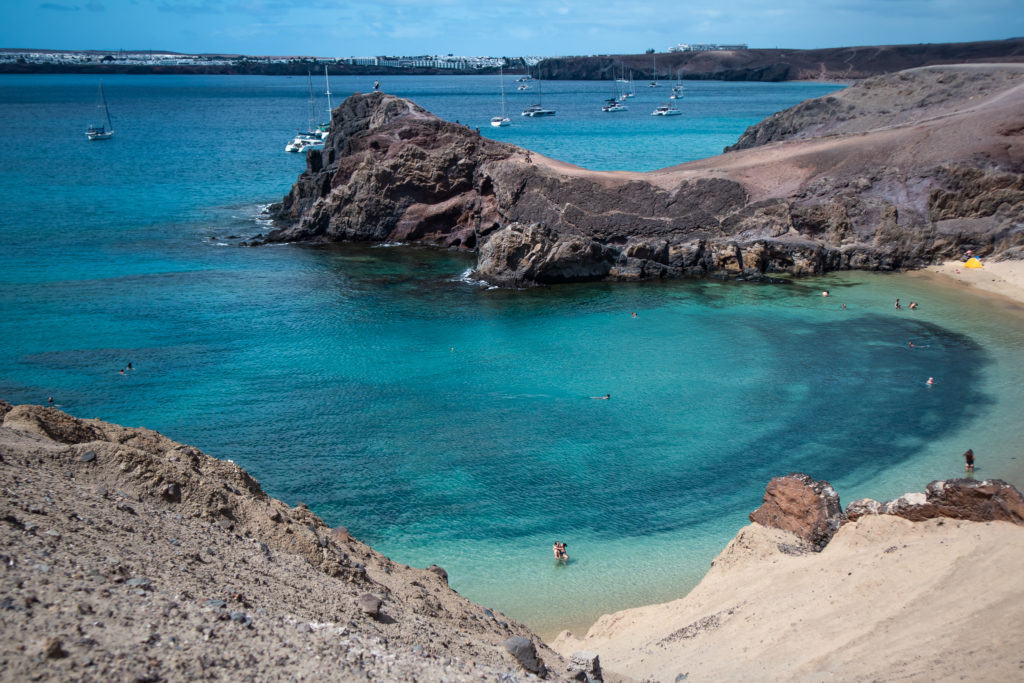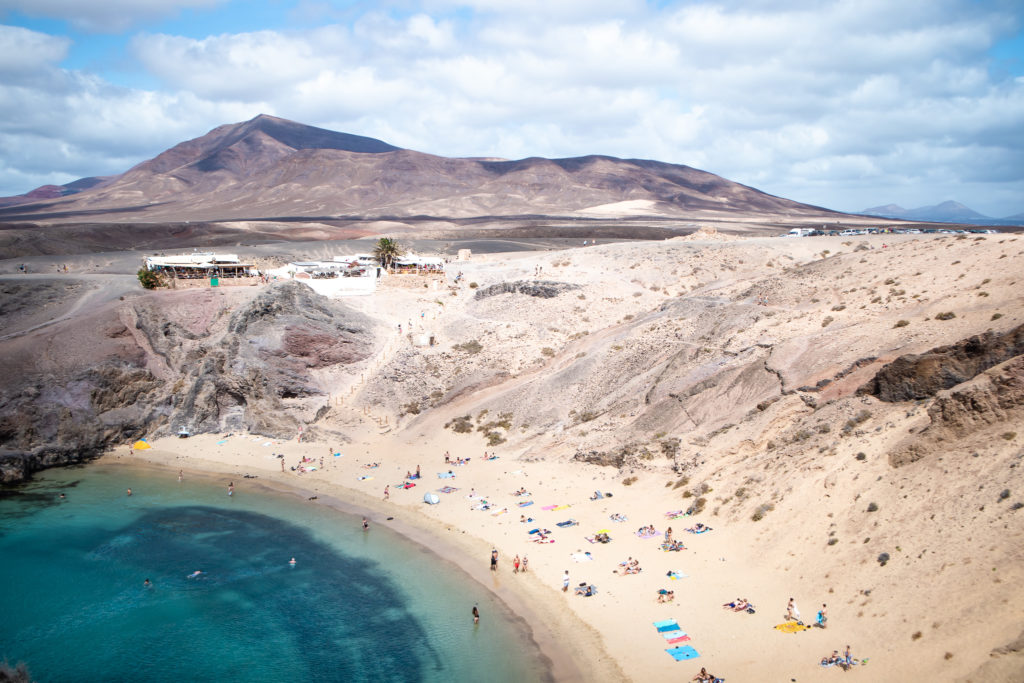 ---
Take a Pic at the insta-famous palm tree
This palm tree is located in La Geria and right next to a volcano in the Los Volcanos Natural Park. I discovered it on Instagram and you can find it even on google maps. It's that popular that you have to wait in line to take a photo, at least when we were there. This is the perfect photo spot and I think the background with the volcanos and the blue sky makes it look so cool. If you're visiting the volcanos, make sure to stop by the palm tree which you can find on maps with the name Palmera inclinada. There is a path leading to the tree from the road. You can't drive along the path but right at the street, at the beginning of the path, you can park your car.
Be careful when climbing the tree, it's a little slippery and you need to keep the balance.
---
Stroll along the promenade in Playa Blanca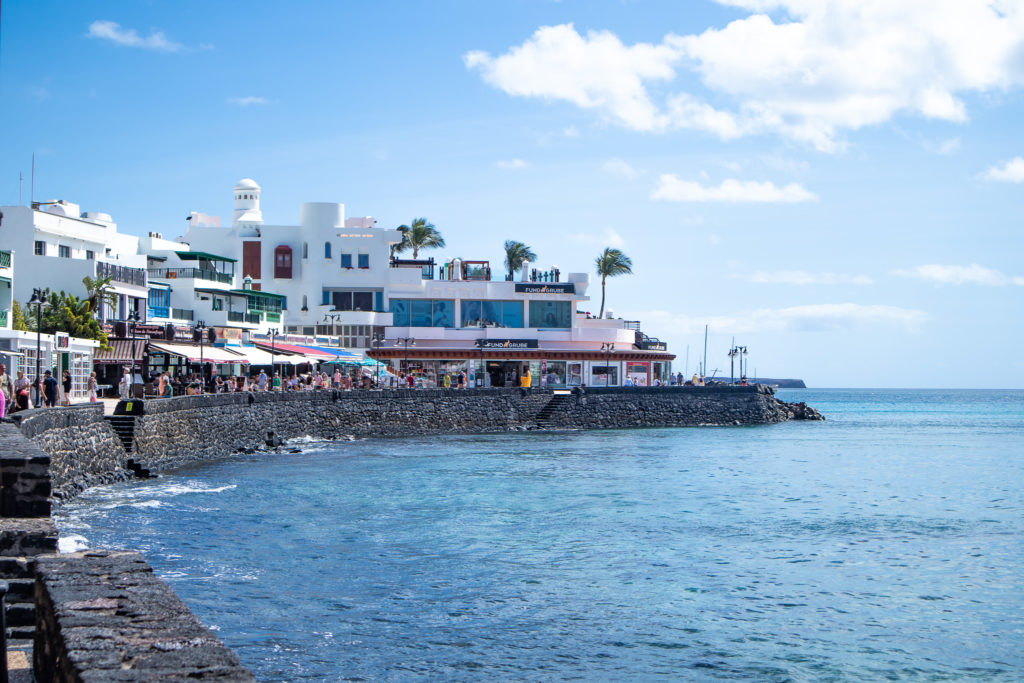 Playa Blanca is a famous place for tourists. There are white beaches with calm water, a promenade with restaurants and shops and hotels. Playa Flamingo and Playa Dorada are the most beautiful beaches but there is also a small beach right in town. If you walk along the promenade, you find different beaches and some nice restaurants or bars for a drink.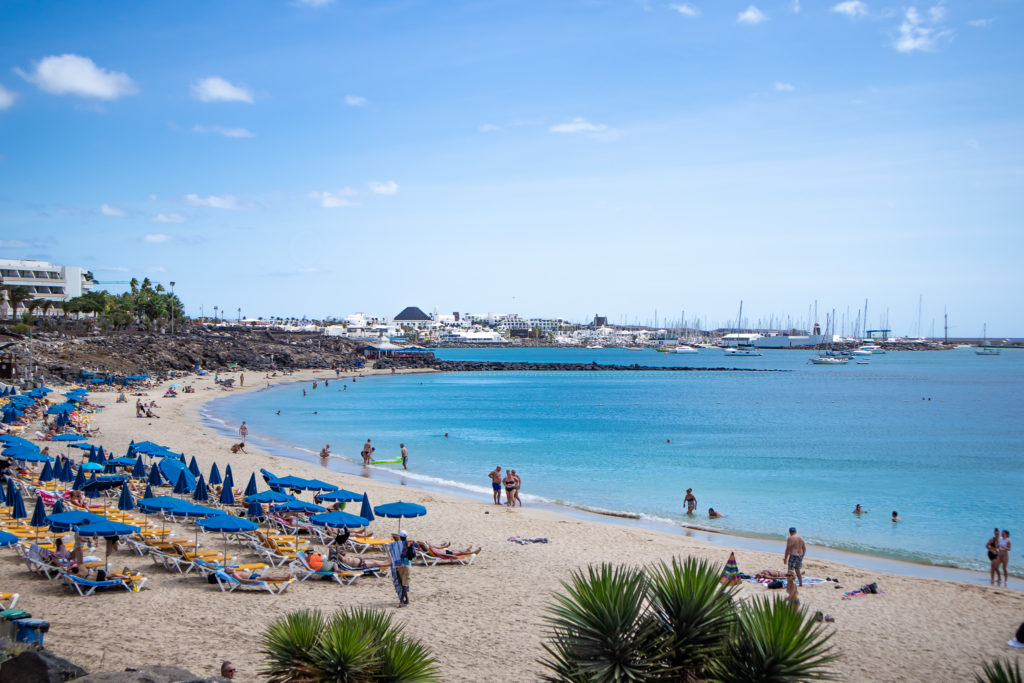 ---
Visit the black beach Playa de Montaña Bermeja
Playa de Montaña Bermeja is a black beach which I haven't seen often. Black sand beaches have this very special kind of wild and natural vibe. The beach isn't great for swimming but it's very beautiful and the surroundings are stunning. The road right next to the beach makes a great photo spot as well, however, be aware of the cars! The beach is not far far from Los Hervideros, a beautiful cliff lookout. It's also close to El Lago Verde and the Salinas de Janubio, so it's great to explore the area on a day trip.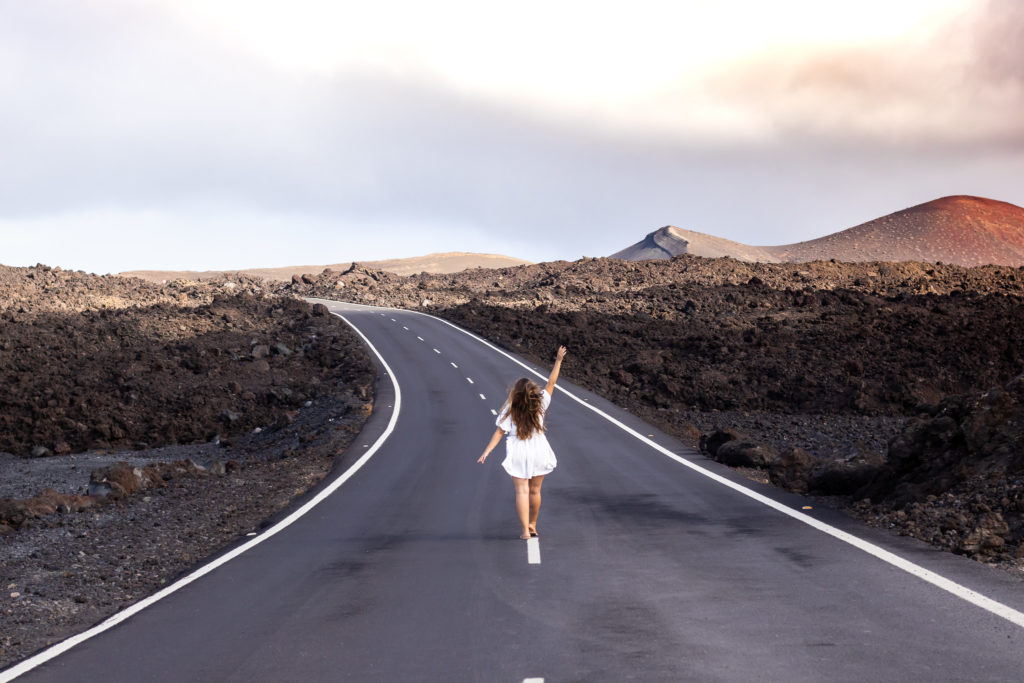 ---
Visit the valley of 1000 palms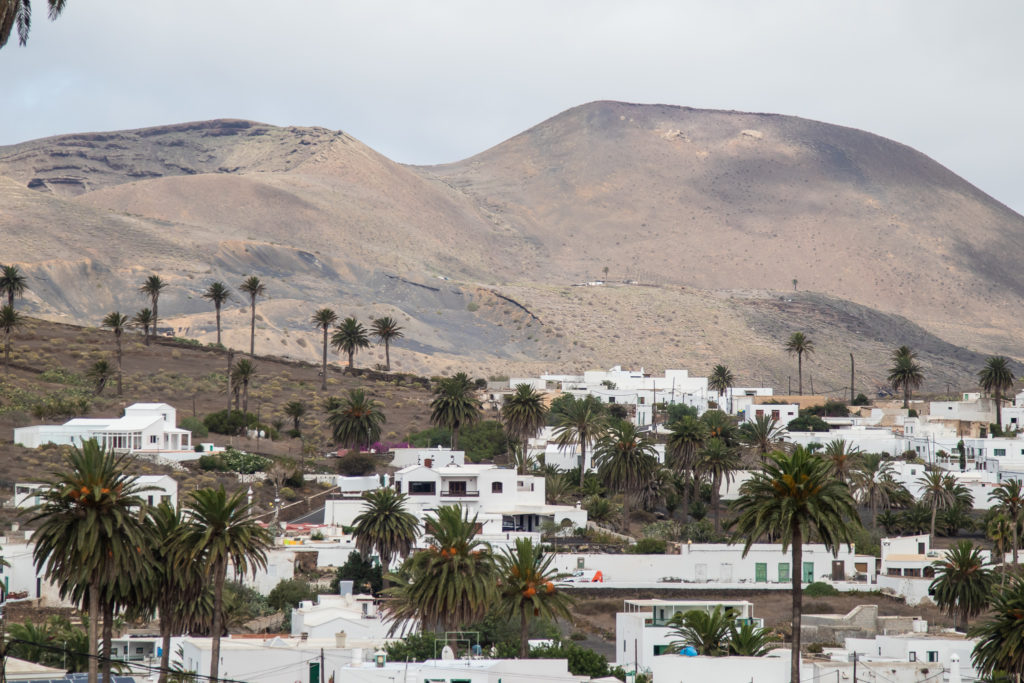 The valley of 1000 palms is actually called Haria village and is located in the North of Lanzarote. It's a tranquil village with traditional white houses, narrow streets and lots of palm trees. You also find many artists working there. In contrast to the rest of the island, the valley is quite green due to the surrounding mountain range which influences the condensation.
The palm trees have a long tradition, as a tree was planted with every baby that was born in the 17th and 18th centuries.
---
Go for English breakfast and drinks in Puerto del Carmen
Puerto del Carmen is the best place to party and to have a hangover English breakfast. As my friends requested after having done it during their last visit, we spent a day in Puerto del Carmen drinking large beers for 1,50 Euro and had English breakfast. You definitely meet lots of British people in this town! There are many happy hour offers for cocktails, sangria and beers and if you are up for some fun, this is a great place!
---
Walk the Puerto Calero to Puerto del Carmen cliff-walk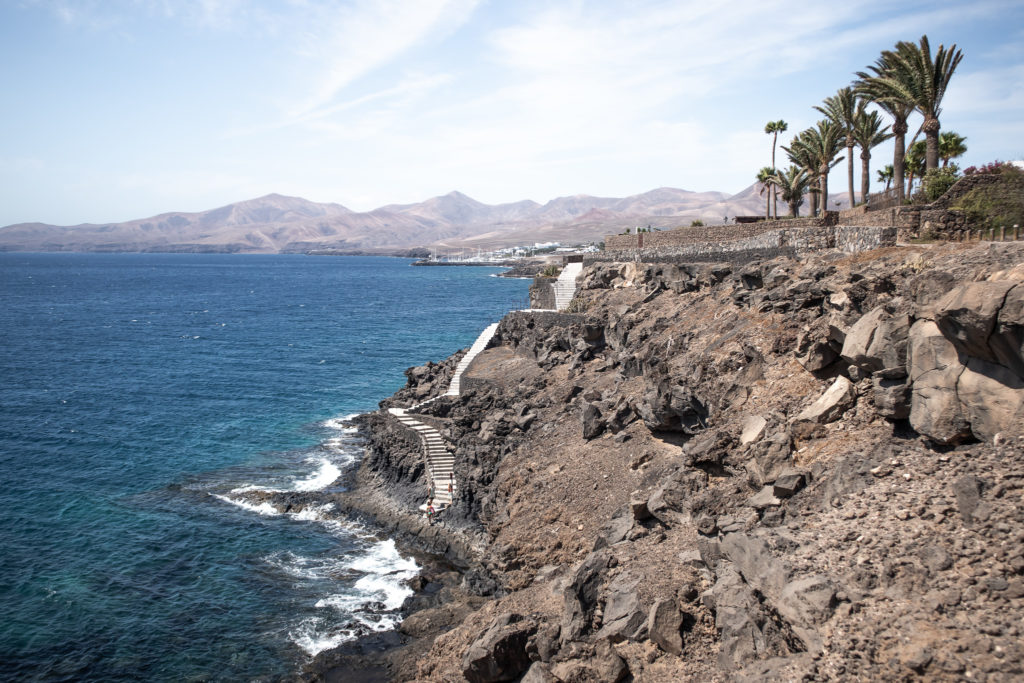 The Puerto Calero to Puerto del Carmen cliff walk definitely deserves a spot amongst the 20 best things to do in Lanzarote. It's a coastal walk with beautiful viewpoints. It takes about 60 minutes one way and you can start at the old harbour of Puerto del Carmen. There are some steps at the beginning but the rest of the path is easy. However, I would recommend doing the walk in the morning before the sun gets too strong.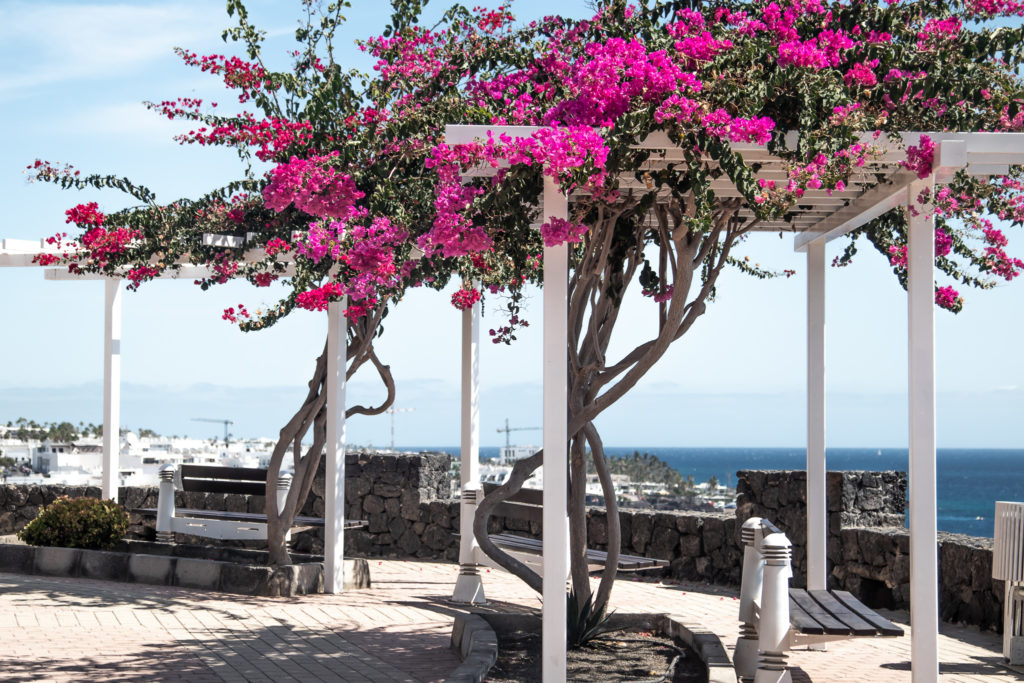 ---
Learn something about the white gold at Salinas de Janubio
These picturesque salt pans are located in the west of Lanzarote and are the largest salt pans in the Canary Islands. You can visit the production facilities and do a guided tour for 12 euros to learn everything about salt production. The Salinas de Janubio can be combined with a visit to Playa de Montaña Bermeja and El Lago Verde, as they are quite close to each other.
I hope this list of the 20 best things to do in Lanzarote was helpful! If you have any questions about the things to do, places to eat or any trip planning questions, let me know in the comments 🙂 Have a great trip to Lanzarote ❤️
Pin it!
to remember the best things to do in Lanzarote