This is a list of my favourite Amsterdam Foods and where to find them. These are typical Dutch foods and mostly streetfood.
Like it? Pin it!
*contains unpaid advertisement/enthält unbezahlte Werbung
I love to try Streetfood wherever I am, as it really belongs to a countries culture and my travel experience. As I have a sweet tooth, most of the foods I tried are sweet and they are not healthy at all but extremely tasty. Just thinking of it makes my mouth water. Amsterdam foods are everywhere, there are a lot of beautiful cafés, restaurants, beergardens and food stalls and you will definitely not be starving when visiting the city. Every corner smells like food, of course mixed with the smell from coffeshops…
I could eat the foods all day…non stop, they are really that good. What I love most about it is that you get them on markets and authentic places where all the locals eat too.
List of my favourite Amsterdam Foods:
1. Pannekoeken
This is what most people think is a pancake but it is very different. It´s way thinner and I like it better. There are many different variations, from sweet to savoury with fruits, chocolate, cream, cheese, vegetables, you name it. They have a really nice texture and taste so delicious, that i couldn´t believe it. I know these kind of pancakes from home but I still think these are the best pancakes I ever had!
My choice was a pancake with apples in it, cinnamon, sugar and butter. I loved it but it was hard to decide which one to get as there were so many options to choose from. In Amsterdam you find a lot of places to eat pancakes. This is a place, I wanted to include in my Amsterdam food list: De Carrousel. A very pretty place and looks like an old carousel. You find it close to the Rijksmuseum.
I fell in love with the interior and the athmosphere of the restaurant. Here is the link to the website, where you also find a menu: http://www.decarrouselpannenkoeken.nl/
They also have other foods, but mostly sweet stuff. A pancake is 6-12 euro but in my opinion it´s really worth it.
2. Frites
This is how Dutch people call fries. They came from Belgium where fries were born, so they are not really Dutch but as there are so many shops, it counts to the typical Amsterdam Foods. You can basically find them everywhere in the city. There are many many shops that sell fries with different kind of sauces, a dutch variety is satay sauce and diced onions. I don´t eat fries a lot but i just had to try them in the Netherlands. The Dutch cut the fries thick and use , which makes them crispy on the outside and tender soft in the inside. W went to VleminckX Sausmeesters and as the name says, they are known for their variety of sauces. http://vleminckxdesausmeester.nl/de/
In Amsterdam you always get your fries served in a paperbag, which I love.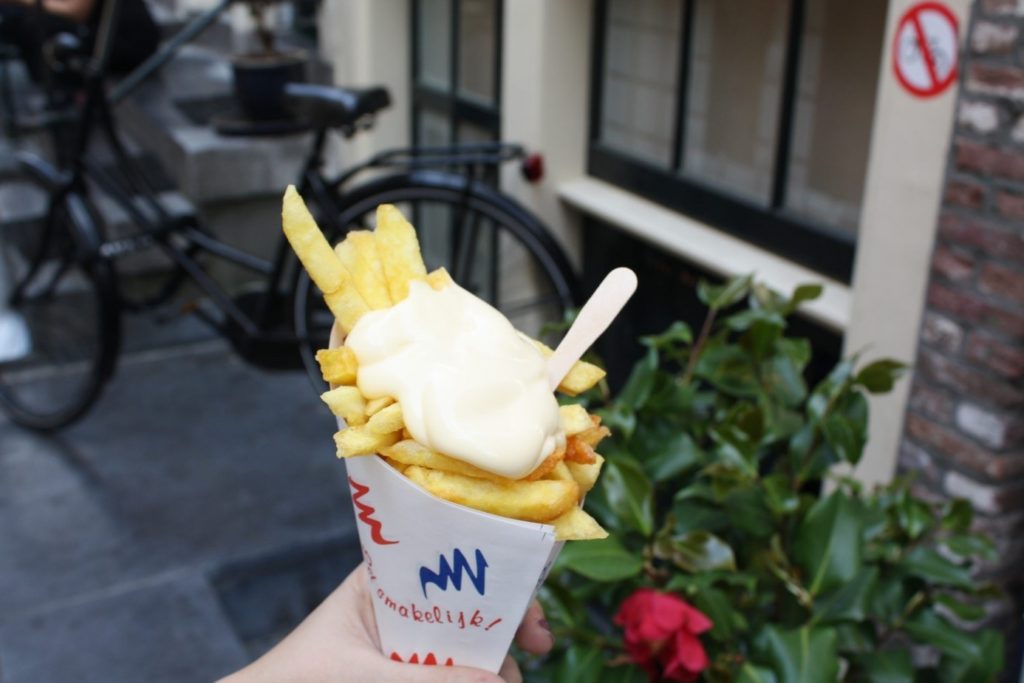 3. Poffertjes
Poffertjes is a Dutch speciality, it is small pancakes, which taste amazing and look really cute. This is something you find at the Albert Cupy market. (More about the market and things to do in Amsterdam here) The market is in a cool district where restaurants and bars are located, so if streetfood is not your thing, there are other options. But make sure you first try Pofferrtjes! It is really interesting to see how they make it and you can choose different sauces and toppings. I just chose the basic option with icing sugar and loved it. This Amsterdam food is really sweet, so for everyone who has a sweet tooth, just as me, there you go! Soft, tasty, awesome Amsterdam foods.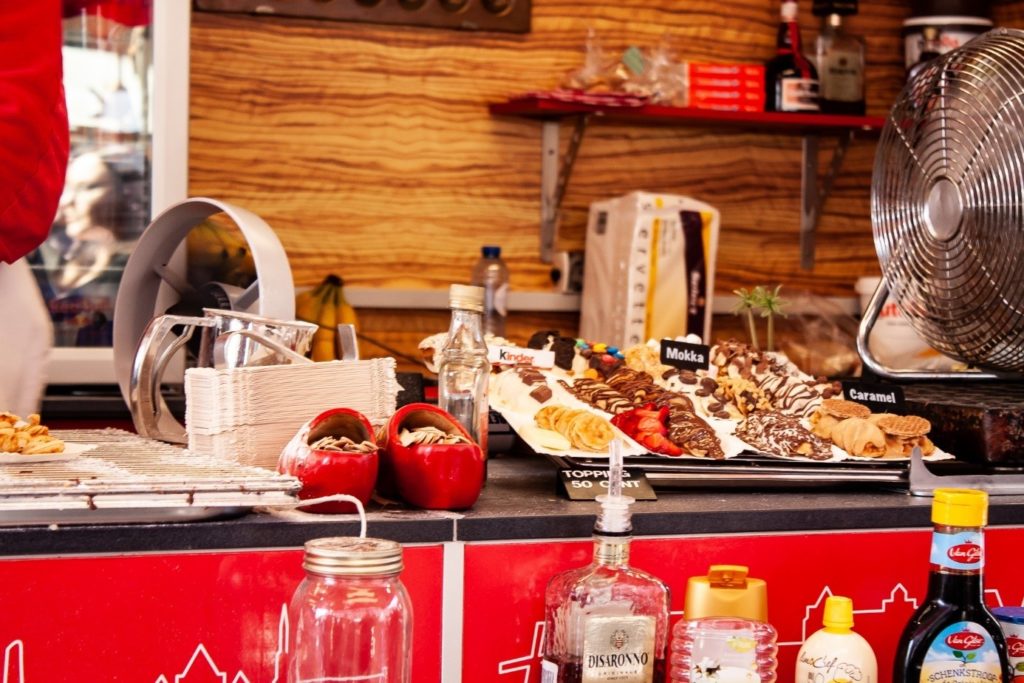 4. Stroopwafels
Stropwafels are a well known Amsterdam foods. I know them from the supermarket and liked them but this is not the same at all. Seriously, this tastes so good…It´s a kind of caramel filling which is very sweet and a thin waffle which is served warm. Not like a belgium waffle but more like a crispy and chewy treat with a buttery flavour. Eat it when it´s still warm and the filling is soft and the waffle not fully crispy. Again, you get this at the Albert Cupy market. You obviously get this at a lot of other places too but it is way cheaper at the merket (1,50 euro) and you can watch the people do it.
Stroopwafels are famous on Instagram, often seen on pictures with waffels from van Wonderen,which is an old, very pretty shop in the city. They have cool toppings and the waffels look nice but i went there and i didn´t want to spend almost 10 euro for a Stroopwafel to be honest. I was totally happy with mine from the Albert Cupy market and some stalls also have chocolate and toppings. Just walk around and you find lots of Stroopwafels.
5. Haring broodje
This is the last Amsterdam Foods. Honestly, I wasn´t sure if I´d like it. Fish is okay but I never know how it tastes like and I expected a totally different flavour. It really surprised me and I am glad I tried. Like the other things you also find this at the Albert Cupy market and it is a typical Amsterdam Streetfood. It is served on a soft bread roll with onions and pickles and the fish is raw and really rich. Actually, there wasn´t the typical fishy flavour you would expect from sushi or other fish, it had more like a creamy texture and was a little salty. If you are in Amsterdam, don´t miss out on this!
So this was my Amsterdam Foods list and I hope you will try some, or even better all of these things on your next stay in Amsterdam 🙂 If you have any other Amsterdam foods that are worth trying and should not to be missed, let us know in the comments!