Do you want the authentic Greece experience? Charming little towns with white washed houses and cobblestone streets, beachfront restaurants and bars, beautiful beaches with crystal clear blue water? Then Paros is the place for you! Located just a stone's throw from Mykonos, Paros Greece is located in the Cyclades and a great destination for your island hopping in Greece. You can find it in my Greek Island hopping itinerary here. However, the charming island is still quite unknown and therefore a lot quieter. But if you ask me, it shouldn't miss on any bucketlist! There are so many things you can see and do in Paros and this travel guide will help you to find the best spots and make the most of your time in Paros Greece.
*this post contains unpaid advertisement
Even though Paros has gained popularity, it is till quite unknown compared to Santorini and Mykonos. They are both beautiful indeed but Paros is a little gem not to be missed. Imagine the whitewashed streets with Bougainvillea flowers and cute cafes of Mykonos, the beautiful beaches of Milos, the amazing sunsets of Santorini and the best Greek food you could dream of all in one! In the towns you get the feeling of being in Mykonos, the boutiques, the flowers, the houses…it looks so alike. From all the Greek Islands I have visited, I would say Paros is the most picturesque and the place where I could easily spend 2 weeks. Its relaxing vibes and friendly locals make it a place you won't want to leave.
Keep reading to find out everything you need to know to visit Paros: What to do in Paros Greece, when to go, where to stay and how to get around.
Quick Tips Paros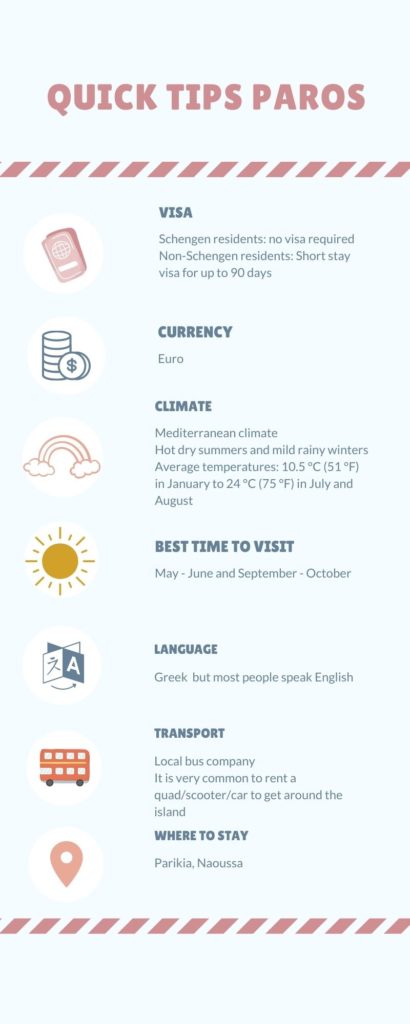 How to get to Paros Greece:
Paros is located in the Cyclades and easily accessible via ferry from Athens or most other Greek islands. The island is not far from Mykonos, so you could take a flight there and then get a ferry to Paros. Santorini is another island not too far from Paros, so if you want to visit Santorini first you can easily take a ferry from there. Alternatively you can catch a ferry from Athens which takes about 5 hours and costs approx. 25 euro.
Finding the right ferry or flight
There is also an airport in Paros that connects to Athens. Usually there are daily flights from Athens to Paros, so if you land in Athens, you can decide if you rather want to catch a ferry or take a plane.
You can find cheap flight on Skyscanner and search for ferries on Ferryhopper. Just play around with options to see if it's best to come from Athens or another island. If you take the ferry and you get seasick, make sure you take some medication with you. There are also different ferry companies, some with faster and some with slower ferries. Usually, the fast option is a smaller ferry which means it is a lot easier to get sick. They are also more expensive. That's why I would recommend to choose the bigger and slower ferry, they usually have multiple levels and you can walk around and buy something to eat or drink.
Where to stay in Paros Greece:
The best place to stay in Paros is probably Naoussa, simply because it is beautiful. It is a little harbour town with great restaurants, beautiful views, picturesque streets and a good bus connection. It is not far from the ferry port and there is a number of accommodations. Generally, there are no resorts in Paros, the hotels are all family owned and there are many places that are like holiday apartments. Compared to the more popular Greek island, Paros is very affordable. In Naoussa you would find some boutique hotels and nice bars. It is a very romantic place, but a bit busier and more expensive than Parikia.
Another great place to stay is Parikia, the main town of Paros Greece. That's where we stayed because it is the port town and the bus hub of the island. It was very convenient to be able to walk to our accommodation from the ferry and to catch a bus to the rest of the island. If you want to rent a car (what I strongly recommend), it doesn't matter as much where you stay. Parikia also has beautiful streets, little boutiques and many restaurants.
To find your accommodation I recommend booking.com, it's my favourite hotel platform.
Here are some suggestions for places:
$$$
Naoussa:
Bohemian Luxury Boutique Hotel, Adults Only has a great location, a pool with bar, beautiful views and beautiful rooms. They serve a buffet style breakfast and some rooms have an outdoor tub.
Parikia:
White Blossom looks really beautiful with a garden, seating areas, and beautiful rooms with pool views.
$$
Naoussa:
Mr. and Mrs. White Paros – Small Luxury Hotels of the World features stylish rooms, two pools, a pool bar and a restaurant. There is free parking and breakfast is served in a buffet style. Free parking is available as well. It is a few hundred metres away from the town centre.
Katerina Mare offers sea-facing apartments. There is air conditioning in all rooms, it's located very central and breakfast is served. It seems like very good value for money.
Parikia:
Akrotiri Hotel has an outdoor pool, a garden, parking and sea views. Each room has a balcony and the accommodation is only 2km from the port and 1 km from the town center of Parikia.
$
Naoussa:
Vounali Rooms looks beautiful, the rooms have air-conditioning and a balcony or terrace. The accommodation is located in the town center and the rooms look super cute.
Hotel Stella is located in the heart of Naoussa close to restaurants, shops and the bus station. The rooms have balconies, breakfast is offered and it's super affordable!
Parikia:
Rooms Mike is the most affordable accommodation, it is located right at the port and has studios with kitchenettes. There is a terrace and the owner seems to be very nice. Shops, restaurants and cafes are very close by.
Diplos Studios has self-catered studios with a balcony, a rooftop garden overlooking the sea, it is only 20m from the closest beach, there are BBQ facilities and it's just a short stroll from the town center. Additionally, it is super affordable.
How to get around in Paros Greece:
Paros has a local bus company that will take you around the island to most towns and many beaches. If you are travelling on a budget, this is an awesome way to get around the island. The ticket is just 1.80 euro and it's very convenient. Here you can find a timetable. We took the bus to all areas where it was possible to get without a car and then rented a car for one day. That way you can save money as you don't need to rent a car for your whole stay.
As I love to explore and find undiscovered spots away from the masses, a car was necessary to get to some of the more secluded beaches. There are car rental companies all along the promenade in Parikia. However, a lot of places don't offer a full insurance, that's why (if you are scared like me) I would recommend to book via a booking website that offers an additional insurance. We payed about 25 euros for a day.
Remember that you need an international drivers license to be able to drive in Greece!
When to go to Paros Greece:
Greece has hot dry summers and mild rainy winters. The peak season is over the summer months which are the hottest and sunniest as this is the European holiday season. However, it can get a bit more crowded and very hot during the months of July and August. As Paros isn't that touristy, it is not that big of a problem compared to Mykonos and Santorini. If you can though, maybe try to avoid these times.
I would suggest visiting Paros from May to June, as this is before the peak season but temperatures are already very nice and the weather is sunny. Likewise, September and October are good times to travel as the peak season is over, it's less crowded and the temperatures are a lot more bearable. Moreover, the ocean is warmer than in May and June which makes it great for swimming. When I went to Paros at the end of September, there were not a lot of visitors, so I think it was the perfect time of the year. Just be aware that towards the end of the year ferry services, bus services, as well as tourist accommodation, restaurants and attractions start to decline over winter.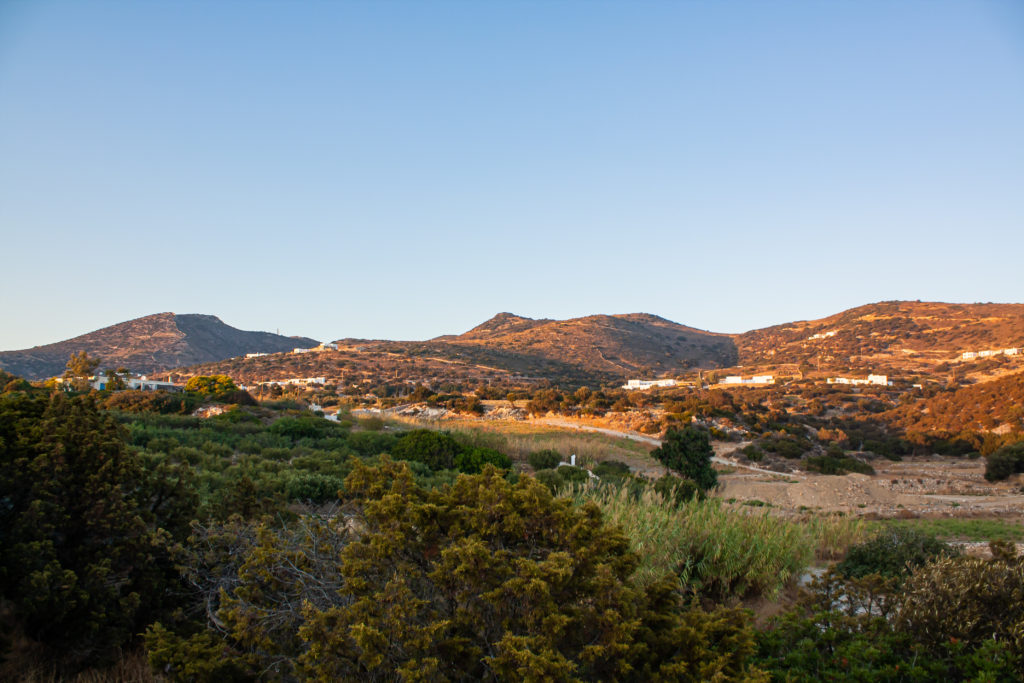 Things to do in Paros Greece:
Explore Naoussa
Naoussa is a charming little fishing town where you can wander around and explore all the narrow streets, cafes, restaurants and bars. The town reminds of Mykonos without the crowds and much more idyllic and relaxed. There are so many beautiful corners and alleys everywhere that it's hard not to get lost. Naoussa is a very trendy place with lots of boutiques selling clothes and accessories. There isn't much to do in particular but you can spend days just wandering around and enjoying the Greek food and a (or a lot) Freddo Cappuccino! Naoussa also has a lovely harbour front with cute boats and nice restaurants. Walk along the marina and you can watch fishers and restaurants getting ready and drying fresh Octopus for the busy evenings.
At the port of Naoussa you can also catch a boat taxi to some beaches, such as Kolymbithres, or to Paros Park.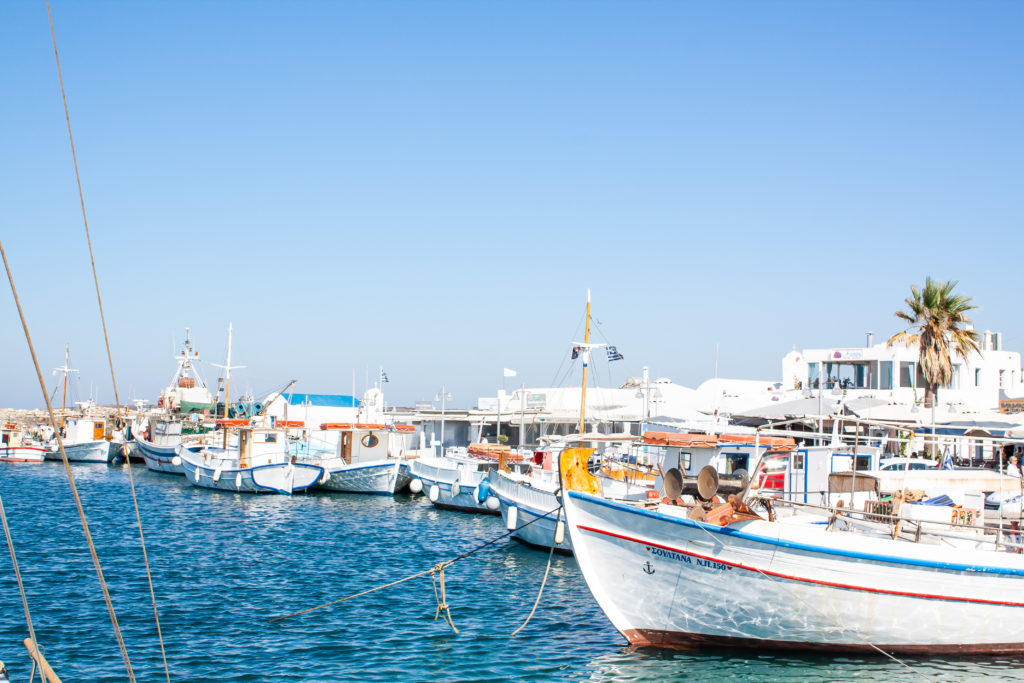 Parikia
Parikia is the main and port town of the Island and therefore has a lot of shops, services like car rentals and restaurants. I think Parikia is sometimes underrated compared to Naoussa even though it is much quieter and has the same beautiful narrow streets with bougainvillea flowers in its center. It has a very relaxed vibe and nice boutiques to go shopping. At the promenade, as well as in the center there are some amazing restaurants.
My favourite restaurant in Parikia was Hellas, a Taverna that offers typical Greek food and great Greek Tapas! Try the Greek mix dip… Yum.
Mountain villages
The small historical villages hidden between the mountains of Paros are a MUST DO on the island. It seems as if time has stopped and as if someone has left one day and it was never touched again. Walking in the narrow streets of the villages, we barely saw anyone else. Every now and then behind a corner there would be someone sweeping the street or a delicious smell of Greek food would come out of one of the cute houses. It was so quiet and idyllic that it seemed unreal.
The best news is that you can visit those villages by bus which is very convenient. The oldest trail on Paros, the Byzantine Road also starts in Lefkes, one of the villages and brings you to Prodmoros.
Lefkes
Lefkes is a mall village and quite a contrast to the bustling Naoussa. It looks like a typical cycladic village, white washed houses, cobblestone streets and of course lots of bougainvillea flowers. It is the most famous and also the biggest of the mountain villages. You can find restaurants, cafes and shops and there is a big Byzantine church, the Church of Agia Triada. There is also a number of other churches in the center that are very beautiful with the typical blue roof.
To get there you can take the bus or a car. However, it is not possible to drive into the center, so you have to park outside, close to the bus stop. If you are planning not to rent a car for every day, save the money and don't get one for that day. Please also make sure that you have cash with you, you need it for the bus as well as for some cafes and places that don't take credit cards.
Prodmoros
Prodmoros is one of the most picturesque places I've ever been to. Its beautiful streets (I know I have mentioned it a thousand times but they are beautiful), pretty churches, flowers, colourful houses and the idyllic authentic atmosphere make Prodmoros so special. It is even less frequented than Lefkes and while we were visiting, there were almost no other people. As it connects with Lefkes through the Byzantine path you can walk through the olive trees and vineyards and make your way from either end to the other.
Paros Park
Paros Park was my absolute highlight on the island. It was stunning, the views, the hikes, the beaches… just beautiful. Paros Park is located west of Naoussa and accessible via car or boat. We took a water taxi from the port in Naoussa. It's really fast and convenient, however only operating in the summer months until September or October. Arriving at the park, you can choose from 3 trails to walk that all lead you to different places. We walked Route 3 twice because there are some stunning beaches and views on the way. You can easily spend the whole day there and explore. On the other hikes you also come along some beaches and a lighthouse. The best about Paros park is that it's not really crowded so you can find your own little private beach which we did. The clearest water I've ever seen!
On Route 3, right at the jetty there is a really pretty rocky beach. Just after that you will reach Perikoptera beach.
After about 20 minutes (from the water taxi jetty) on your left, just before the way splits (I think to the Russian Naval Base), there is a beautiful white pebble beach on your left, you can't miss it. Just look out for something that looks like on the pictures below. You can walk down over the rocks, on the left are the white pebbles, on the right orange rocks. The pebble beach is amazing for a swim and the water is beautiful.
Moreover, at the start of Route 1, there is a very pretty church, built in the rocks. The views from there are amazing and there are areas where you can access the water from the rocks.
Do a beach tour
This should be the day on which you rent a car. Tour the island and find some remote beaches. Obviously Paros Park should be on the list here, as you can discover so many beautiful secluded beaches there. Another very pretty beach is Kolymbithres which due to its popularity gets quite crowded. If you come in the morning you can have it for yourself though. There are also a lot of beaches that are more accessible such as Santa Maria or Livadia. I will soon write a beach guide about Paros – so stay tuned!
Daytrip to another island
Paros is located very close to many other islands in the Cyclades, such as Mykonos, Naxos, Antiparos or Santorini.
A ferry to Antiparos s only 10 minutes which makes it great for a daytrip. Ideally you rent a car for that day. Santorini is about 2 hours one way which makes it a quite long trip. If you have more time I would recommend to stay there overnight, if you only have one day it is still worth it to explore a different island for a few hours.
There are day tours to other islands that you can book on GetYourGuide so you don't have to plan anything. However, if you would like to plan your own trip you can just book a ferry and plan a few things you want to see.
Boat Trips
Instead of exploring another island you can also explore Paros by boat. There are many tours, for example to the Blue lagoon that you can book here.
And this is my ultimate travel guide to Paros Greece with all the tips you need to have a great time, the best things to do, places to stay and much more! If you would like to know more about Greece, make sure to check out the other travel guides on Island hopping in Greece here and Mykonos here!
If you have any questions or tips please let me know in the comments 🙂
Here is a map with all the important places:
Pin it!
Want to read more about Greece?