Just three hour north of Sydney, this little gem is a great destination for a weekend, or even a day trip. If you are on an east-coat road trip make sure not to miss Port Stephens and experience the best of NSW. This little Paradise has some of the most beautiful beaches and lookouts I've ever seen and not to forget the relaxing beach vibe. It's a holiday paradise that you'll never wanna leave. There are a few little beach towns in Port Stephens where you can visit and stay.
It's not only beaches. Port Stephens offers some of the best activities. From sandboarding, to camel riding, a koala sanctuary, and hiking there is something for everyone. As we didn't have a car it was quite adventurous but it's possible. I would encourage you to get a car though as you are much more flexible. If you would like to know the best things to do in Port Stephens, keep reading this Port Stephens travel guide where you'll find all the information you need.
Here are some quick tips that will help you plan your stay.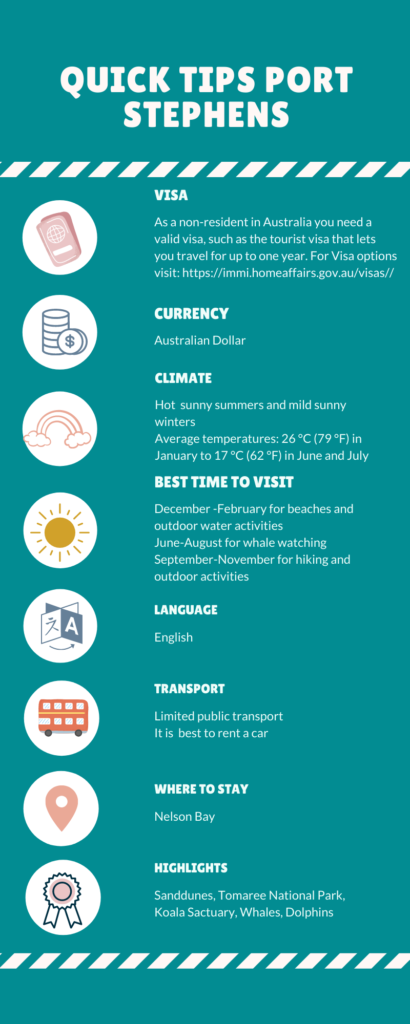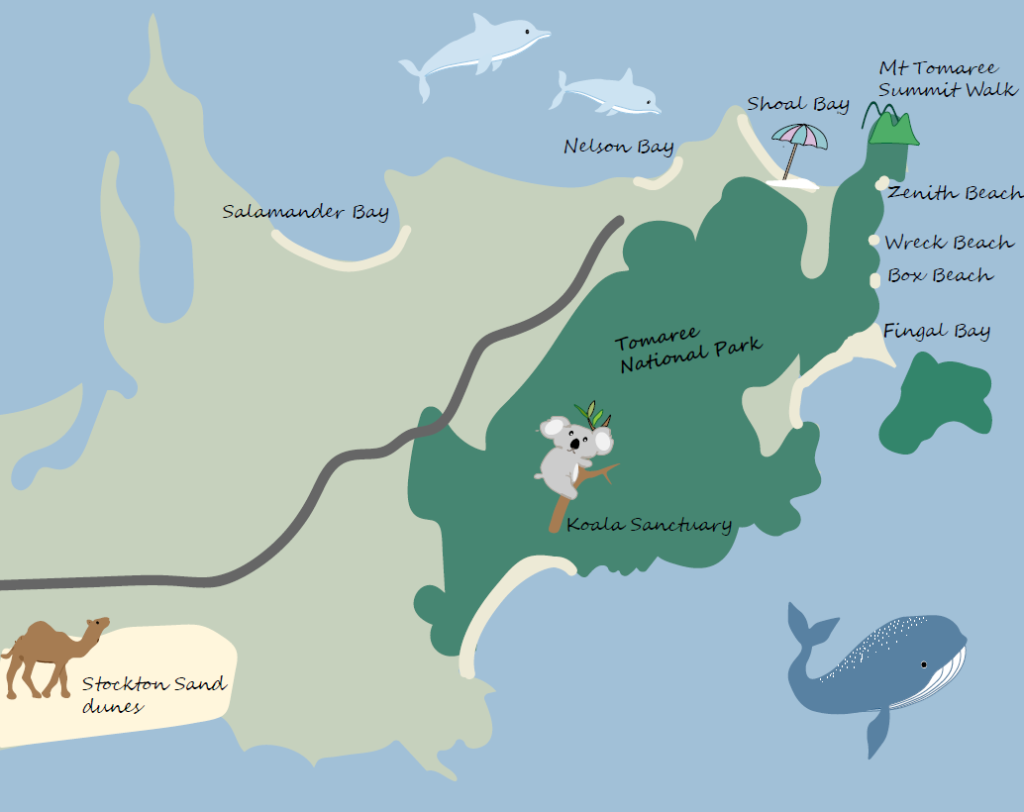 How to get to Port Stephens
By Car
Port Stephens is accessible via car, train and coach and therefore the perfect location for every traveller. The easiest and most convenient way is by car. From Sydney you will need about 2 and a half hours. Follow the M1 Motorway and merge onto the New England Highway after a while before you turn left onto the Pacific Highway at Tomago. Turn right onto Tomago Road and follow to Nelson Bay Road and the signs will lead you to Port Stephens.
By Train and Bus
If you arrive by train, take the Central Coast and Newcastle line to Newcastle Interchange. From there you can catch the bus line 130 to Fingal Bay. It stops in all the little towns, such as Anna Bay, Nelson Bay and Shoal Bay. The train goes every hour and every second in the evening. However it stops around 7pm, so make sure to check the timetable first. The journey takes you about 5 hours, so if you want to take public transport you should stay overnight. Another option is to stay in Newcastle for a night and catch the bus from there. You can look up train and bus timetables here. With an opal card or a contactless credit card you'll get the cheapest fares..
By Coach
There are also coach services that take you to Port Stephens. If you want an easier option but don't have access to a car, you can book the bus service from Sydney to Port Stephens with Port Stephens Coaches. A return ticket is between 50 and 63 AUD.
How to Get Around in Port Stephens
The best way to get around is by car. There is parking at most places and things are not far away from each other. However, there isn't a lot of public transport. If you need to take public transport, bus line 130 goes to most beaches and major towns. However, it doesn't go often, so make sure to plan ahead. Look for bus timetables here.
The best Time to Visit Port Stephens
Port Stephens is a great destination all year round. Every season has its ups and downs and there are always so many things to do in Port Stephens. Overall, as it is a beach destination, I would say the warmer months are better than the colder months. However, from May to November whales migrate. They give birth to their calves in the warmer waters and then return with them to Antarctica. Usually they migrate up north from June to August and back south with their calves. The temperature is also nice to go hiking but until October the temperature isn't great for swimming.
From November to March, it's usually very hot and perfect for outdoor beach activities. If you want to go hiking you should do it in the morning before the sun gets too strong.
I would recommend October and November the most, as the weather should be perfect for outdoor activities, the beach and the chance to spot whales.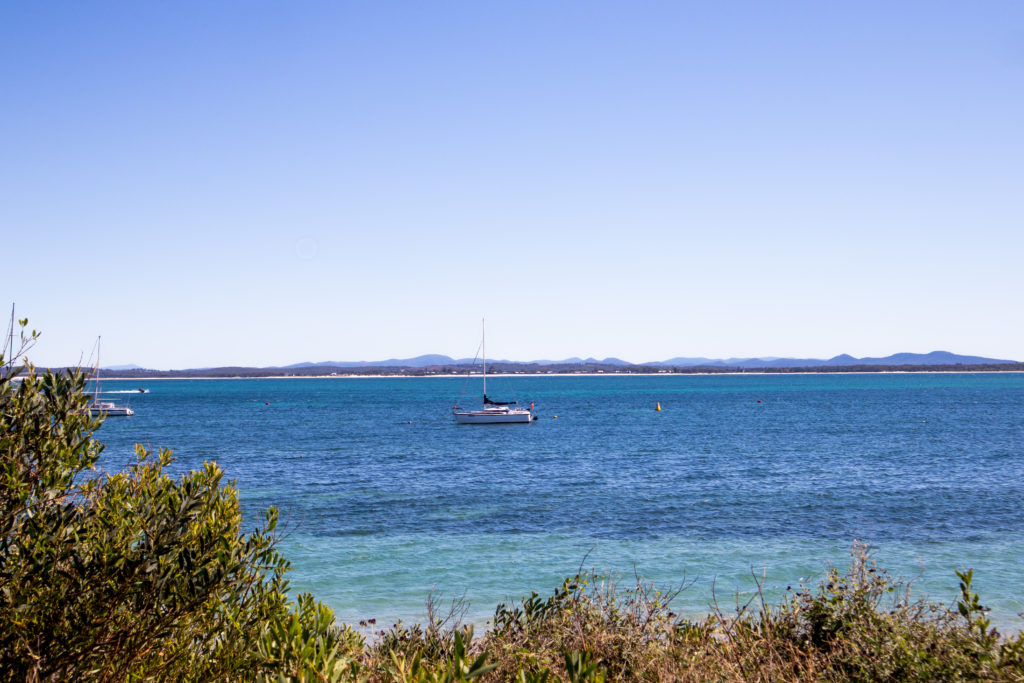 Things to Do in Port Stephens
Port Stephens is the absolute paradise for all beach goers and everyone who loves to explore the nature. There are so many things to do in Port Stephens that shouldn't be missed. At the end of this Port Stephens travel guide you will get a 2 day itinerary with the best things to do in Port Stephens.
Mt Tomaree Summit Walk
The Mt Tomaree Summit walk is one of the most famous things to do in Port Stephens. You can reach this walk either by bus or by car. If you take the bus get off in Shoal Bay and walk to the car park were the walk starts. Arriving by car you drive straight to the car park where you also have access to Zenith Beach. Starting in Shoal Bay you make your way up the steep hill to climb Tomaree Head. There are some really steep parts and a lot of stairs involved. It shouldn't be a problem for most people as it's only a quite short walk and the views make up for it.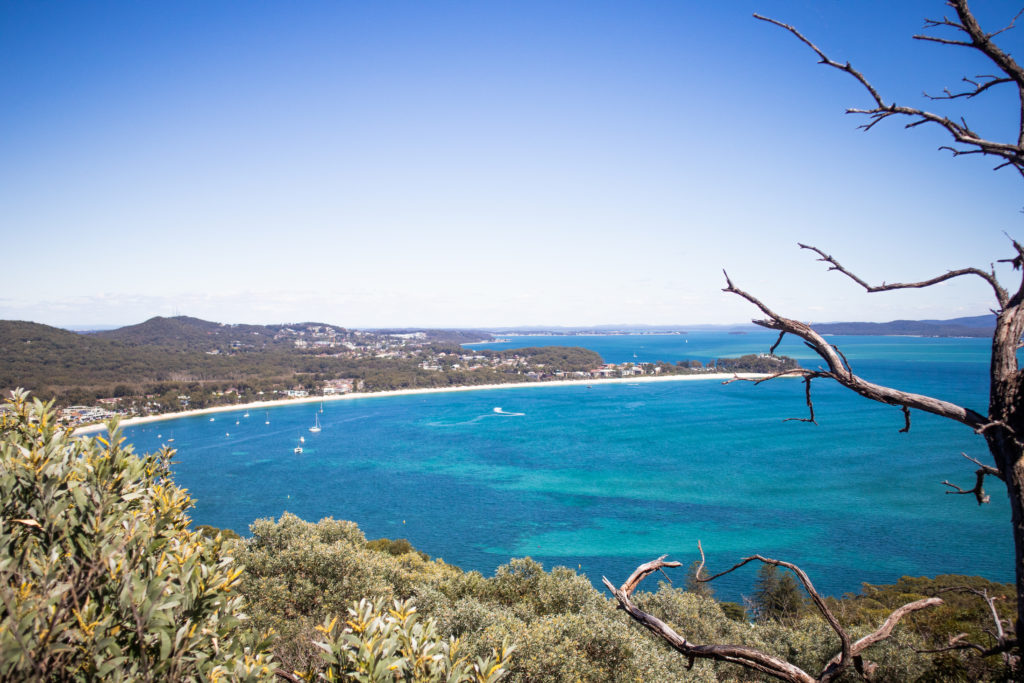 On the way you come along beautiful nature and stunning views over the ocean and National Park. It's honestly one of the best lookouts on the east-coast of Australia. Spot out for wildlife and native plants. On the way up you already get some mesmerizing views but on top, there is a 360 degrees lookout that will blow your mind. All the effort it took will be forgotten when you see the view. Getting up takes about 45 minutes, so getting up and down you'll probably need about 1.5 hours.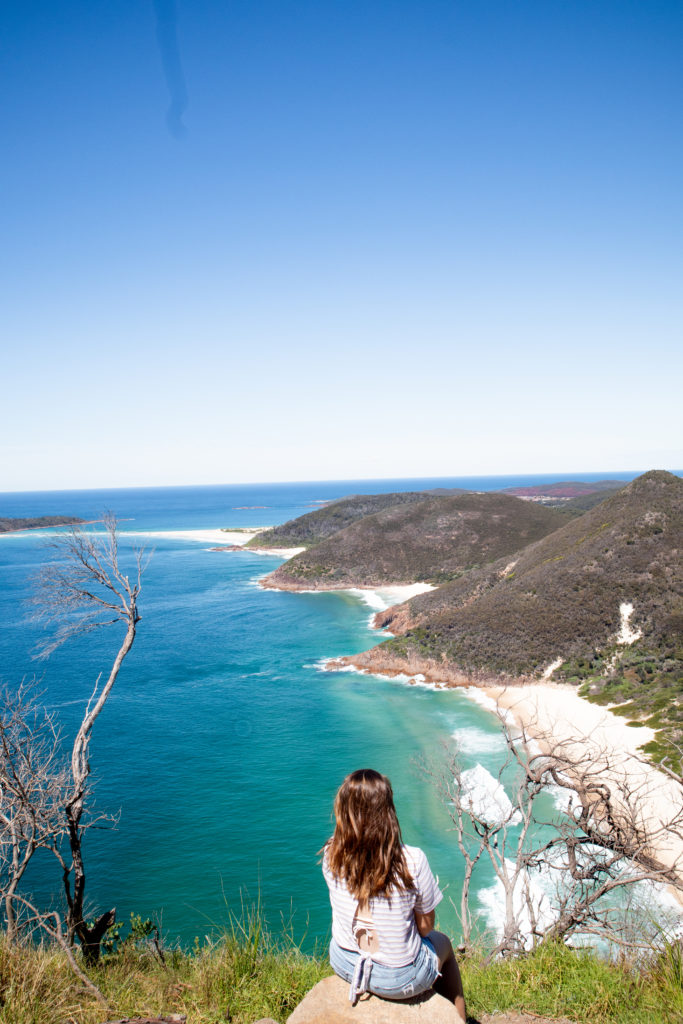 After your hike head to the Shoal Bay Country Club for lunch. It's such a nice place with beautiful views. Have some seafood and a cocktail before you continue your journey on the Shoal Bay East Trail 😉
Hiking on the Shoal Bay East Trail
Another thing not that shouldn't miss on any Port Stephens travel guide is a hike on the Shoal Bay East track. This track starts at the bottom of Mt Tomaree in Shoal Bay, so it's perfect to do it after the summit walk. The walk is about 5 km and leads you to the beaches that you can see from the summit walk to Fingal Spit where, at the right time, you can cross the sand bridge to Shark Island. At the car park you can start the trail to Zenith Beach.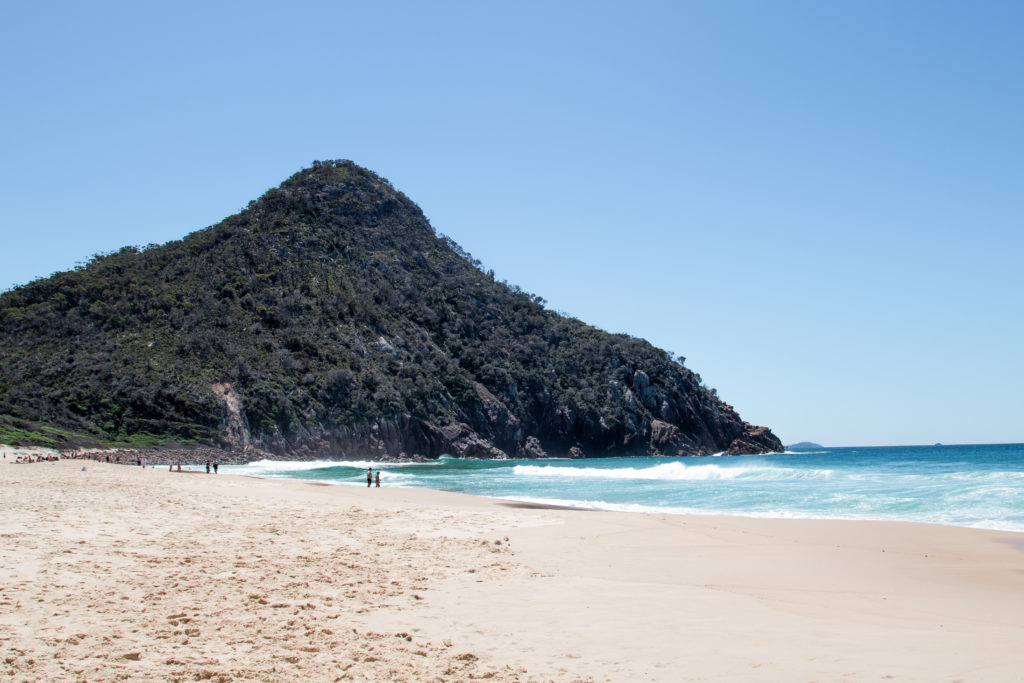 From Zenith Beach you can continue on the Shoal bay East Trail until you come to an intersection that on your left leads you to Wreck Beach. Then you return to the trail and follow it until you get to Box Beach Road where you have access to Box Beach. Go back on the Shoal Bay East Trail and follow it to the end where to the left the Ocean Beach Trail starts. You can then follow the Ocean Beach Trail until you come to a very steep sand hill. It seems like that's the end of the trail but when you climb the hill, you are on top of Fingal Spit. The hill is very steep so be careful. A reasonable level of fitness is required for this. From there you can see Fingal spit and you can see the condition of the sand bridge.
During high tide you can't see it and therefore not access Shark Island. Walk your way to the Spit, it's very beautiful. However, it does take a while to get to the Spit on the sand.
Instead of walking back the way you came from, walk along Fingal Beach. There is a bus stop right at the end where you can catch a bus that will bring you back to your car or to another destination such as the Stockton Sand dunes. You can also walk along the road to get back to the car park which should be quicker than the trail.
Stockton Sand Dunes
The Stockton Sand Dunes are located in the Worimi Conservation Lands at Anna Bay and are the largest moving sand dunes in the southern hemisphere. They are truly stunning and it was a magical experience to walk through the dunes during sunset. The dunes are up to 30m high which makes them a great place for many activities. I loved to just walk around and experience this beautiful landscape by myself. It would also be such a nice place for a picnic.
By Foot
This place is out of this world and I cannot recommend enough to spend some time there. The dunes are right at Birubi beach, so you can also spend some time at the beach first before heading to the dunes. You can see the dunes from the beach so just make your way through the sand until you reach the first dunes. Climb them and you will be stunned by what you see behind.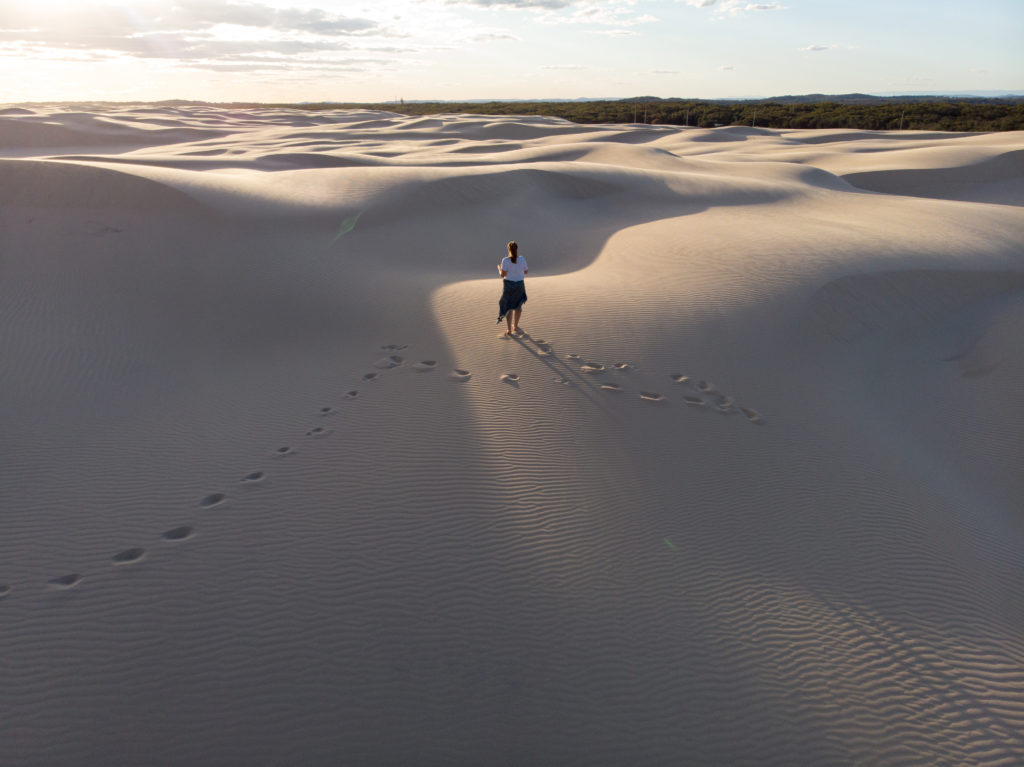 There are many things to do in Port Stephen's Stockton Sand dunes such as driving a Quad bike, doing a camel ride or sandboarding. With a permit you can also take your 4WD and drive along the longest beach of NSW.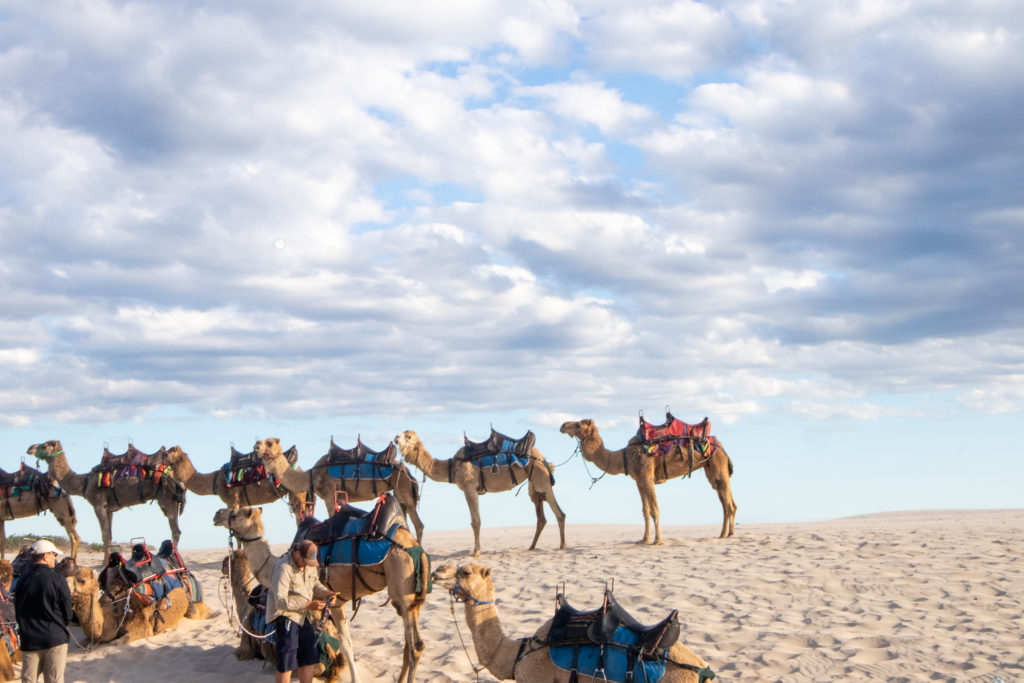 My favourite however is still to just walk into the dunes during the magical sunset.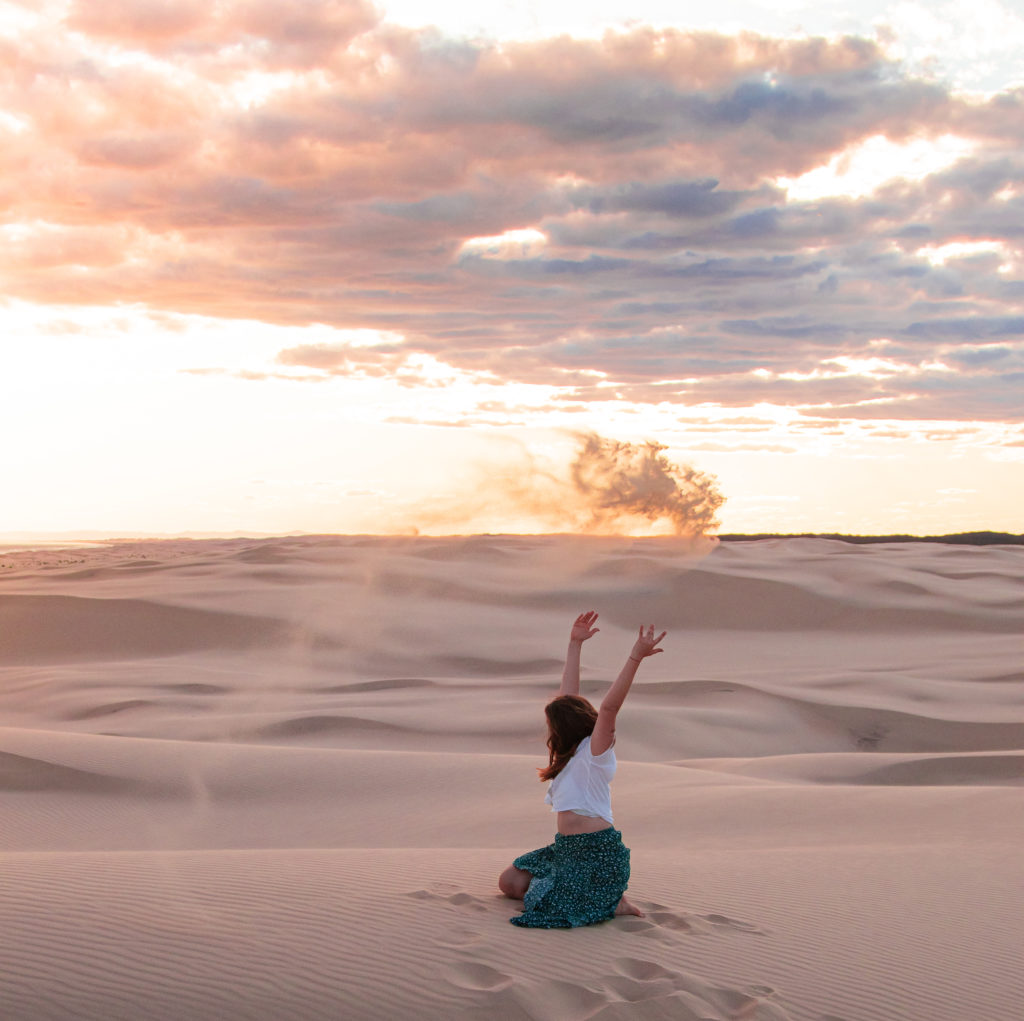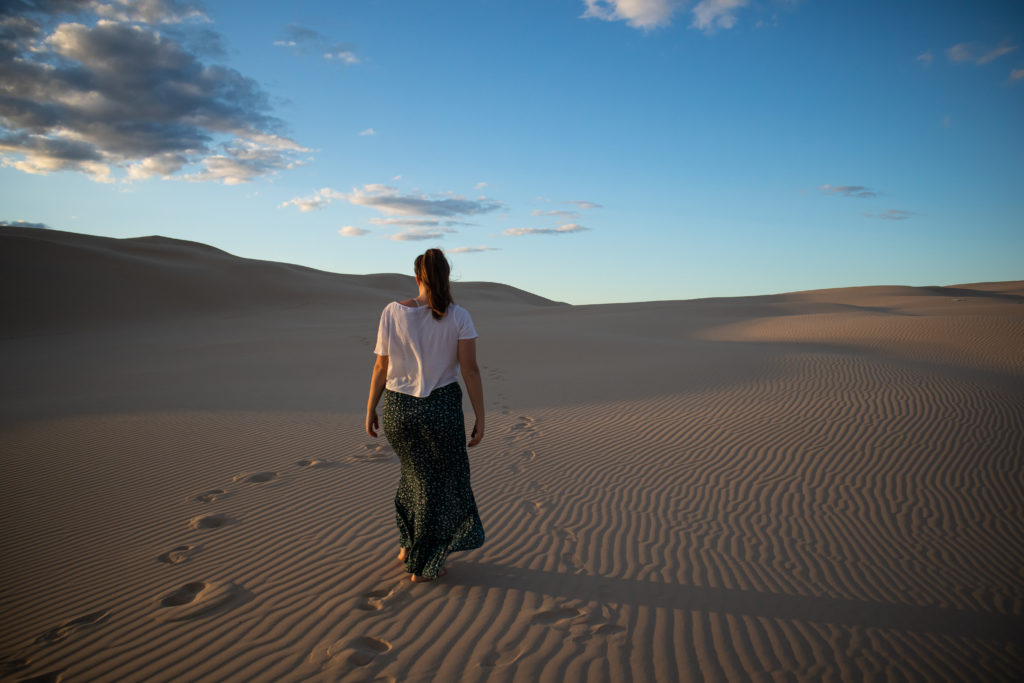 Dolphin Cruises and Whale Watching in Port Stephens
You will find dolphin cruises and whale watching in every Port Stephens travel guide, and for a good reason because Port Stephens is one of the best places to see these awesome animals. There are more than 200 dolphins living in the area which brings a high chance to encounter the beautiful animals. From May to November you can also spot some humpback whales during their migration. If you are lucky you can see both from land and from viewpoints. However, if you want to get closer you should do one of the dolphin cruises and whale watching tours (they are also really fun!). You can find dolphin and whale cruises here , here, and here.
Outdoor Water Activities in Port Stephens
Another great thing to do in Port Stephens is water sports. You can find SUP and Kayak hire at Shoal Bay or you can book in advance. There are basically all kinds of water activities you can imagine… SUP, water bikes, kayaks, kayak picnic tours, kayak sunset tours. Especially in high season you might have to book beforehand, which you can do here.
Koala Sanctuary Port Stephens
In the Port Stephens Koala Sanctuary you can visit some new friends. The Sanctuary takes care of ill, injured or orphaned Koalas and supports their rehabilitation, preservation and conservation in the wild. You can also visit the Koala Hospital and the Koalas' natural habitat. More information and tickets are available here.
And this is my Port Stephens travel guide with all the tips you need for a great holiday, the best things to do in Port Stephens and much more. You can download your printable 2 day Itinerary below.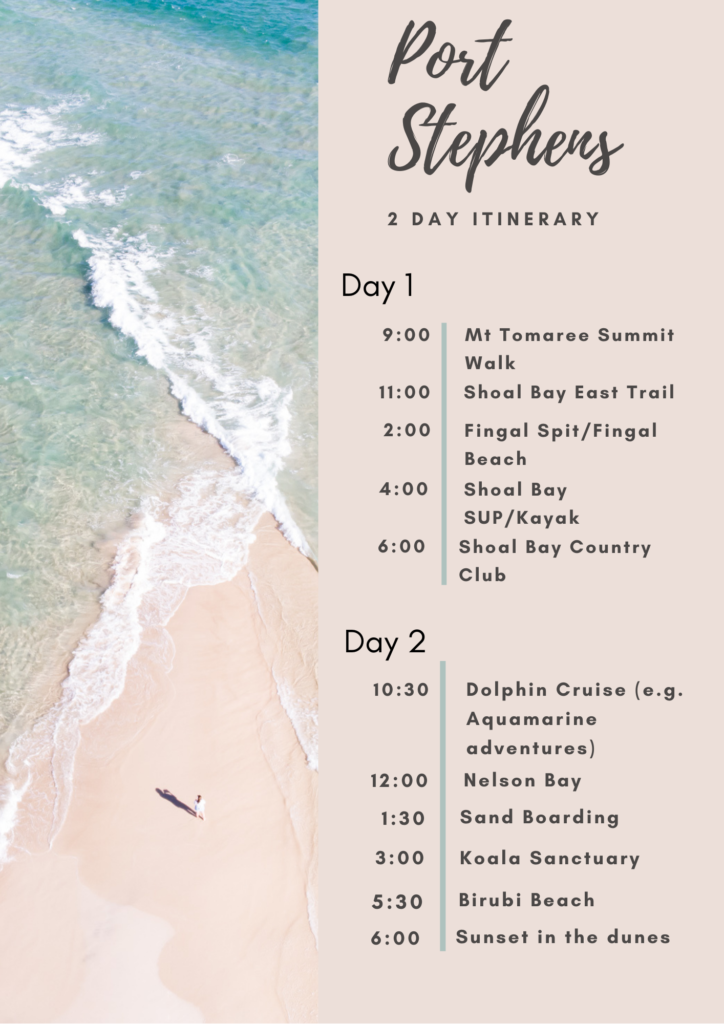 If you have any questions or tips please leave a comment 🙂
Pin it!