Santorini is one of the most famous European Islands and attracts MILLIONS of visitors each year. It´s a greek island in the Cyclades, a Greek Island group in the Aegean Sea. Santorini Greece is a popular destination for Honeymooners and people who fancy a luxury holiday on one of the most beautiful islands in the world. Volcanic events created Santorini as we know it today. The caldera is a cauldron-like basin caused by a volcanic eruption. When the central part of the island sank, it left the rim which is the Island of Thira (Santorini). Today, you get a beautiful view of the caldera on the western side of the island.
*This post may contain unpaid advertisement
Visitors come to see the charming whitewashed villages dotted with blue roofs, perched on the volcanic cliffs that offer beautiful views of the caldera during sunset. I would say Santorini is one of the most instagrammable places with cute buildings, views and photo spots at every corner. However, it is full of people and I mean the packed like sardines kind of full! BUT it has a vibe that the other islands in the Cyclades don't have and it offers a fun and beautiful holiday if you come prepared with some information and a list of the best things to do in Santorini. With this Santorini travel guide, you'll fall in love with Santorini and learn when to go, how to get around, where to stay and the best things to do in Santorini.
Quick Tips Santorini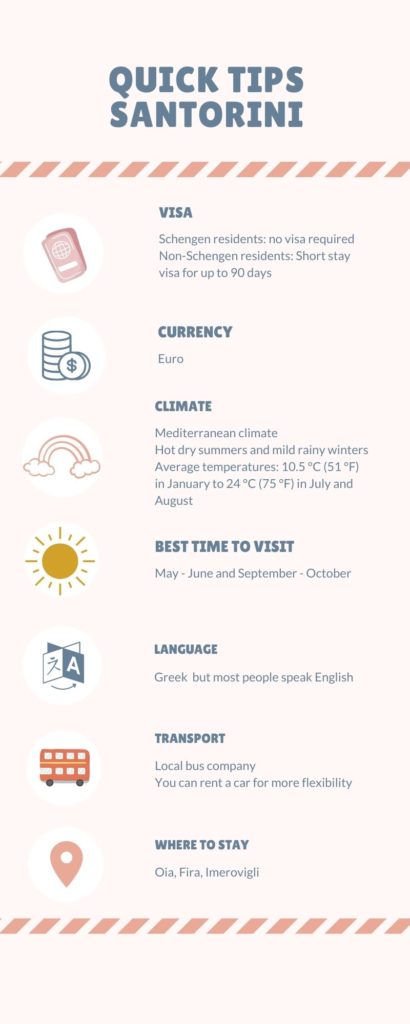 How to get to Santorini Greece
Santorini is located in the Cyclades and easily accessible via ferry from Athens or most other Greek islands. There is also an airport in Santorini Greece with flights to and from many European airports. From Athens, you can catch fast ferries that take about 5 hours and cost 65 to 70 Euros or slower ferries that are a bit cheaper. There are also connecting flights from Athens.
Finding a ferry or flight to Santorini Greece
Due to the popularity of Santorini, there are many flights from a lot of airports, so chances are good that there is one close to you. If your international flight lands in Athens, you can decide if you rather want to catch a ferry or take a plane.
You can find cheap flights on Skyscanner and search for ferries on Ferryhopper. Just play around with options to see if it's best to depart from Athens or maybe even another island. If you take the ferry and get seasick easily, make sure you take some medication with you. There are also different ferry companies, some with faster and some with slower ferries. Usually, the fast option is a smaller ferry which means it is a lot easier to get sick. They are also more expensive. Normally, I would recommend the slow ferries, however from Athens to Santorini you need 10 hours on a slow ferry which might not be worth it if you only stay for a few nights.
Where to stay in Santorini
There are a few towns in Santorini where you can stay, the most popular being Oia, Fira and Imerovigli. Santorini is known for its expensive prices, even though I found there are options for every type of traveller, from budget to luxury. The range goes from a bed and breakfast to a private hot tub with caldera views. Santorini in general is quite pricey but staying in Imerovigli and especially Fira will save you a lot.
Oia is the place for luxury caldera view accommodation which is really pricey. A lot of people like Oia because it's famous for the sunset views and there are a lot of beautiful spots in this cute town. I personally think that Oia isn't the best choice for most travelers as it's very very busy and packed with tourists. We were walking past the hotels through the small alleys and you could watch people in their pools. The lack of privacy would really bother me. Keep that in mind when you choose your place to stay in Santorini. There are pros that come with Oia though, such as the dining options, the beautiful views and the charme.
We chose Fira as you can find really affordable accommodation, there are lots of dining options, a good bus connection and it is a beautiful town as well. From Fira you can easily reach all the towns by bus or you could rent a car. It doesn't have as much charme as Oia or Imerovigli but is perfect on a budget if you want to use public transport.
We stayed at Petini"s Place in Fira which was affordable when we stayed there in October. It was located close to restaurants and bars and in walking distance to the bus stop.
Imerovigli is similar to Oia but a lot less touristy. You can watch the beautiful sunset and enjoy a quiet, romantic holiday in Imerovigli.
How to get around Santorini Greece
Santorini has a local bus company that will take you around the island to the major towns and some popular beaches. If you are travelling on a budget, this is a good way to get around. Here you can find a timetable. However, the bus gets very crowded, especially in the morning and in the evening when people stream into Oia to watch the sunset. Alternatively, you can rent a car to get to smaller towns and some of the beaches. I wouldn't recommend a scooter as the streets can get very steep and dangerous.
To drive in Greece you need an international drivers license which you should get at home before you depart!
When to visit Santorini Greece
In Greece, summers are hot and dry, while winters are mild and rainy. The peak season is over the summer months which are the hottest and sunniest. I would avoid these times if you can as it gets insanely crowded with tourists and it also gets super hot. In the summer months, there are a lot of tourists from cruise ships that visit for the day.
I would suggest going from May to June, as this is before the peak season but temperatures are already warm and the weather is sunny. Likewise, September and October are good times to travel as the peak season is over, it's less crowded and the temperatures are a lot more bearable. We visited Santorini at the beginning of October and it was just perfect.
Things to do in Santorini Greece
Explore Oia
The most obvious thing to do in Santorini is exploring the streets of Oia. Oia is the most visited and most photographed town in Santorini Greece. White washed houses on the dark cliffs, windmills and blue-domed churches make Oia a special place full of photo spots. Whether you are looking for a romantic stroll, some shopping, cafes or amazing views, Oia has it all.
If you want to avoid tourist crowds, I would recommend to come as early as 6am. Later in the morning around 9, the first cruise ship passengers arrive in Oia. That way you could even watch a sunsrise and have a more quiet stroll around the town. The best way to explore Oia is to just walk around and discover the small alleys and sights. You can spot the beautiful places and churches from far and walk towards them. We tried to visit the typical photo spots early and explored more later when it wasn't as important if there are crowds.
Be prepared for the crowds!
Even though you can spend an amazing time in Oia, keep in mind that it´s very crowded and in reality it's not quite like the instagram pictures. If you come later and want a photo you often have to wait in a line. People come at sunrise to get some shots until the streets start to bustle with life. A lot of the alleys and places where people want to take pictures are closed because they are private property. The only option is to climb fences or to stay in one of the expensive hotels. Don't get me wrong. I loved Santorini and think it's a beautiful destination but I think it's good to have the right expectations.
Photospots in Oia
The blue domes
There are several blue-domed churches in Oia, however, everyone knows the three blue domes that you find on every postcard. Getting there can be a little tricky and you can't actually visit the church or get real close. The surrounding area is private property and closed off by signs and fences. There are a few spots from which you can get a good view and some nice photos though.
You find a lot of photos with people on the stairs on the left of the churches. This is actually a private road. When we arrived early in the morning there were other people taking pictures. We decided to take some really quick as well but technically you shouldn't do that. Besides photographers offering photo tours, no one complained but in hindsight maybe I wouldn't do it again. Later during the day we saw a line at the door for people wanting to take photos. I guess it was somehow tolerated back then, I don't know how it is now.
It's very controversial and maybe rather stay out of private property. And please do not climb on the roof! There are people doing that but it's explicitely forbidden. I've also heard that on the other side there are private houses so you're basically walking on someones roof. Please don't do that.
How to get to the blue domes
Even though I wouldn't recommend entering that private area, you can take pictures over the fence without a person in it.
To get to this spot, walk to the main square from the bus stop in Oia and turn right. Walk until you get to an alley on your left in which the Pelekanos restaurant is located. You find a map below.
The Church Bells
Another stunning photo spot are some cute church bells where you can see the ocean and the white-washed town in the background. This spot is easily accessible and not far from the bus stop and the blue domes. It is also a great spot to watch the sunset from. Come early if you want to get a spot for sunset. I've also seen pictures of people on this church even though there are signs not to climb on the roof. So please be respectful.
Close to this spot there is another spot from which you can take a picture with the blue domes in the background. Just go where you see the people in the picture below 🙂
Kastro Houses
The pink Kastro Houses are another famous spot in Santorini Greece. They are pink/orange and look really pretty. It's super easy to get there and it's close to Oia castle where you will most likely be heading for sunset. The spot wasn't crowded in the evening, so this would be great to do before sunset.
Oia castle
The byzantine castle ruins is one of the best spot to watch the sunset in Santorini. It's also the most popular spot. However, you can also take beautiful pictures of the town during the day. From there you have the typical Santorini view with the windmill on top.
Watch the sunset in Oia
Oia is THE place to watch the sunset. Experiencing the sunset on the castle ruins is quite a funny experience to be honest. While I truly loved the view over the town while the sky was turning pink, I didn't find the sunset itself too impressive. You have to be there early, like 2 hours early. Absolutely crazy! It feels like the entire island comes to watch and it's not fun to wait for 2 hours just to save a spot.
My advice is to bring a coffee and something to eat so you have something to do. While I think everyone should experience a sunset at least once from this spot while on Santorini Greece, I would recommend to check out other spots as well. You may not want to be in these crowds every night.
I don't know why but after the sun has set, everybody starts clapping which I found really funny.
When it gets dark, the whole town starts to glow and sparkle, it's truly magical!
Maybe try to find some quiet spots during golden hour instead of going where everyone else goes.
Explore Fira
Another great thing to do is exploring Fira, the main town in Santorini. There are a lot of things to do, such as shopping, going out and immersing yourself with panoramic views. Fira is also a great place to eat, as it's a bit less crowded than in Oia and prices are lower.
The sunset in Fira is beautiful as well. Just go to the ocean and walk up to the little church you can see on the map. There aren't too many people and you have beautiful ocean views.
Explore Imerovigli
Imerovigli is a beautiful town and in walking distance to Fira. It's much quieter than Oia, even though it offers similar views and has great accommodation. Imerovigli is super cute and romantic and feels a bit more authentic than Oia. On top of that, the coastal views are incredible. If you are walking around in Imerovigli, make sure to walk past Anastasi church, another blue domed church in Santorini Greece.
In Imerovigli, there is Skaros Rock, a tall rock in the ocean connected by land. You can climb up and have a great view from up there. We didn't walk up Skaros Rock, as we passed it on a hike and were a little tired from the sun.
Watch the sunset in Imerovigli
Imerovigli is a lot quieter durning sunset and a beautiful place to watch the sun go down. One evening we were walking from Fira to Imerovigli and we found a beautiful spot. If you want something a little less adventurous, you can sit in an oceanview restaurant or just sit down somewhere in the streets.
The viewpoint we found was a little hidden and there was only one couple with a photographer doing a wedding shoot. So i guess, it's more like a local spot. When you walk into Imerovigli you can see the Saint Nikolaos Church on your left. You can either watch the sunset there or you can find a way to walk around it to the rocks at the cliff.
We asked in a shop how we can get there and they weren't sure. Eventually we figured out that just before the Pegasus clothing store there was a little alley leading up to a hotel. When hen you reach the top of the stairs, you have to walk left. There was a fence where a part was missing, so we were able to walk through. I've also read that people just walked around the church, so maybe that's even easier 😀
Hike from Oia to Fira
One of the best things to do in Santorini Greece is the coastal hike from Oia to Fira. You can also do it the other way around. The hike isn't hard and offers incredible views of the caldera. It was one of my favourite things and I would definitely recommend it if you are spending a few days in Santorini. Unfortunately we didn't have the best weather but it was a really good experience to see the landscape of Santorini.
Visit the beaches
To be honest, Santorini's beaches are not great compared to other Greek islands but Red Beach was beautiful. I didn't go swimming but it looked quite impressive. Even though other island might have better beaches to swim, I think it's still worth a visit if you're on Santorini.
Visit Amoudi Bay
Amoudi Bay is a little harbour in Oia and accessible via 280 steps. I personally haven't been there but I've heard it's quite charming. If you decide to visit Amoudi Bay, please don't ride the donkeys. They are carrying heavy tourists up and down the steps and stand in the hot sun all day. I've also heard that they don't get treated very well. Maybe it's better to think if you really need the ride and walk the 280 steps yourself.
And this is my travel guide to Santorini Greece with all the best things to do in Santorini Greece and much more! You can read more about Greece in my other travel guides on Island hopping in Greece, Mykonos, Milos and Paros!
If you have any questions or tips please let me know in the comments 🙂
Pin it!
Want to read more about Greece