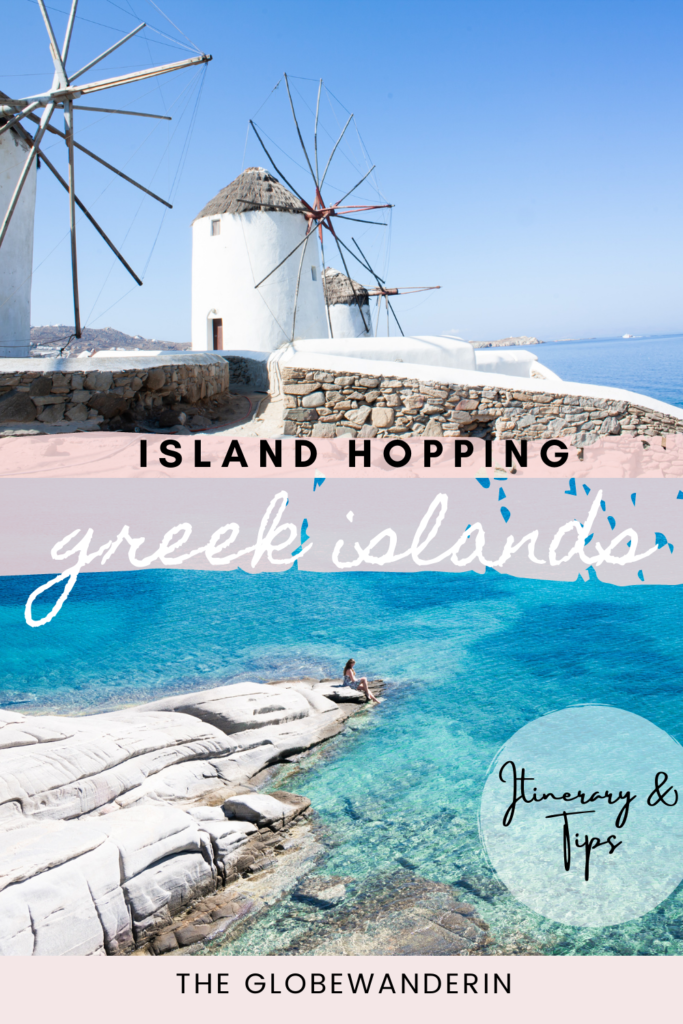 After coming back from the most amazing trip to the Greek Islands, I want to share all my tips on how to plan an island hopping in Greece adventure!
There´s an itinerary included plus some options to modify the route according to your wishes. On the Greek Islands, you find everything from beautiful beaches to amazing food, hiking trails, breathtaking views, charming villages, parties, relaxation…everything you need for the perfect holiday. Traveling on a budget is very easy but there are endless options to spend a luxury holiday on the Greek Islands as well.
How to plan Island Hopping in Greece:
First, you should know that Greece has more than 3000!!! islands of which only 120 to 150 are inhabited. Due to their distance, it does make sense to stick to one group of the Greek Islands. If you have time though or take a plane, you can also combine them. When planning your island hopping in Greece, you first need to choose which places are most suitable to your wishes.
Overall, there are six major clusters which are all a bit different from each other: The Sporades, the Ionian Islands, the North Aegean Islands, the Dodecanese Islands, the Cyclades and Crete.
I will describe the Cyclades in more detail and provide a full itinerary with everything you need to know to have the best time in Greece!
Certainly, the Cyclades are the ultimate destination for first-timers and ideal for island hopping in Greece. Most Islands are very close to each other, so you don´t need to spend a lot of time on a ferry.
Island hopping in the Cyclades:
The Cyclades consist of some lesser-known, as well as well known islands, such as Santorini and Mykonos. When thinking about Greece, the famous pictures of Santorini pop up in our minds. On Social Media Mykonos and Santorini are known as the most instagrammable places in Greece, which somehow is true but more about this is coming soon 😉 Let´s not forget about some lesser-known islands, such as Paros, Ios, Milos, Sifnos, Folegandros, Koufonisi or Serifos. Some of them should definitely be included in your Greek Island hopping plans.
The Cyclades are characterized by a rocky or volcanic landscape covered with little vegetation. You always find the pretty white houses and lots of super cute churches. It turned out to be one of my favourite travel destinations on earth very soon after arriving and indeed, you get what you expect when thinking about Greece. Certainly, it´s one of those places that are just as beautiful as on pictures and trust me, you won´t be disappointed!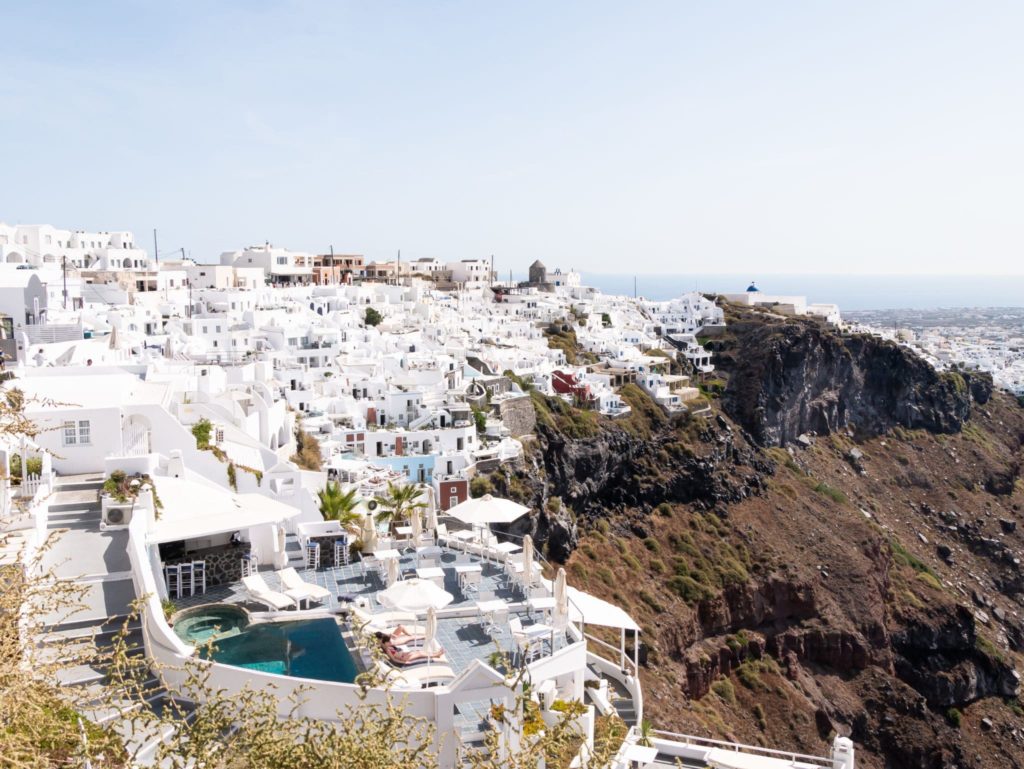 When to do island hopping in the Greek Islands:
The Greek Islands are a great destination almost all year round, depending on what you want to do. But the months from June to October might be the best if you wish to go to the beach. With the sea being warm enough to swim and only little rain, this is a great time to visit.
We visited September/October and it was perfect. Being able to enjoy the great weather (about 25 degrees), almost no rain or clouds and the warm sea, great to swim, I would say we visited at the perfect time.

July and August are peak season and it can get super hot. As there are not a lot of trees in the Cyclades, there is little to no shadow and it can be uncomfortably hot and crowded during the summer months. If you can avoid them, I would recommend that, as it was hard to hike even in October.

In April and November, it gets colder but there are fewer tourists, which is great if you want to hike or have a peaceful holiday. But mind that during the winter months a lot of restaurants and accommodation close. However, you still get somewhere to sleep and eat. If you don´t mind that and prefer to visit especially the famous islands as Santorini or Mykonos with little tourists, this might be a good time for you!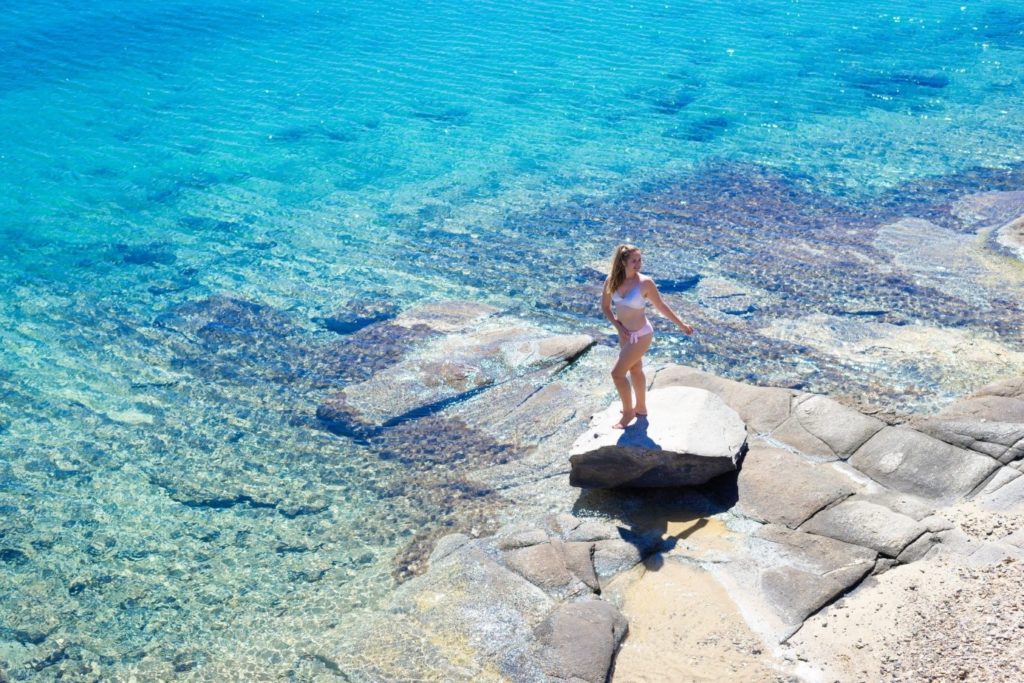 How much does island hopping in Greece cost:
The following is without flights because they vary so much depending on where you come from. From Germany, I paid about 200 euros for the flights. For an International flight, it´s usually 500 to 1000 euros. Overall, the cost varies a lot depending on your travel style. Usually, we stayed at quite nice apartments and they were really affordable but you can easily spend a lot more if you wish to stay at a luxury accommodation. We also made our own breakfast and only ate snacks for lunch, so this also depends on how often you eat out. Also consider that prices vary depending on the season but the Greek Islands are really affordable compared to other European destinations.
If you want to know more about how to travel to Greece on a budget, stay tuned! There will be a post coming soon.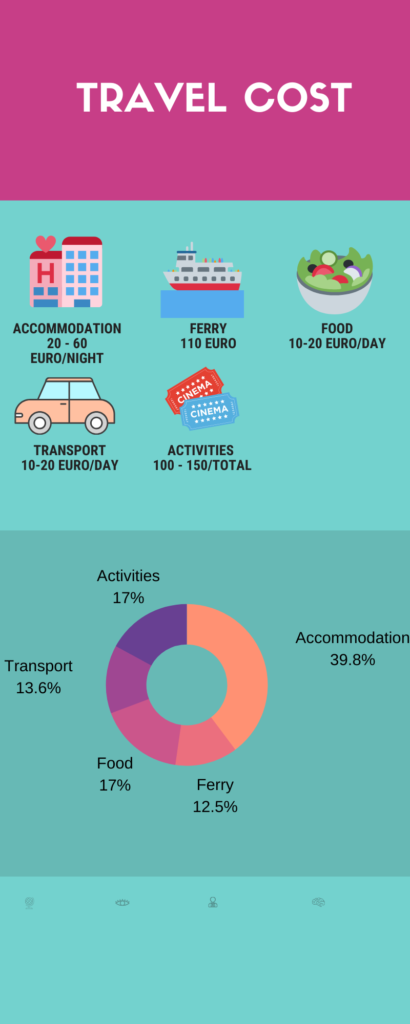 How to travel the Greek Islands:
Getting to the Cyclades:
There are different options on how to get to the Cyclades. You can either take a plane or a ferry.
Plane:
If you are on an international flight, the best way is to fly to Athens. Then you can catch a flight to the Islands. Not every greek island has an airport, especially the less famous ones. In Mykonos, Santorini and Paros can be reached by air quite inexpensive.
If you travel on an intercontinental flight, most airlines fly directly to the islands and you can save the time on the stopover in Athens.
Ferry:
My preferred way to get to the Greek Islands is the ferry. Being more environmentally friendly and being fast and reliable the ferry is my favourite way of transport. You can catch a ferry from Piraeus (Athens) to get to the islands and travel between the islands. The ferry network is great and you can reach all islands quite fast. Moreover, it is great that you can take your car on the ferry and get around on the Islands. There are different companies that vary in speed and prices.
Blue Star Ferries and Hellenic Seaways are big companies and cover the most famous routes. Also, the ferries are big and I recommend it for people that get seasick, as you don´t feel the waves as much. Fares are considerably less expensive as Seajets dor example.
Fast Option:
Seajets is another famous company that offers routes to almost all islands. However, they are a bit more expensive but usually faster and the boats are smaller. Not all routes are operated every day, you need to take that into consideration when planning your itinerary. Sometimes, they only operate once a week, so you need to plan in advance. Additionally, from October, the ferries don´t run as often as in the summer months.
You can usually buy ferry tickets at the harbour but especially in summer, I would recommend buying them in advance. You can book for example on direct ferries.
Getting around in the Greek Islands:
The best way to get around is a car. There are a lot of rental companies and it´s really affordable to rent a car, especially if you aren´t traveling by yourself. We paid around 25 euros with full insurance, which I find important because the streets can be bad and curvy. You can either rent a car at your departure point and take it with you on the ferries and then bring it back at the end. Hence, this might be a good option when your arrival and departure airport is the same.
When you can drive to a port in mainland Greece with your own car it's also a great option. Otherwise, you can also rent a car on every island on which you wish to have a car. This is what we did because we didn´t need a car everywhere. It really depends however, on which Island you go but more on this later.

Quads and scooters are famous vehicles on the islands but if it´s your first time driving, I would not recommend it. It can be quite dangerous because the streets are bad and the roads are steep and curvy. Please never drive without a helmet, even if it´s hot!
Another option is taking the bus as it is cheap and on some Islands even better than a car but you have to plan a little more because they only drive to the major sights. Also on some islands the buses don´t drive on a regular basis. As most of you want to explore the secret spots and nature, buses aren´t the best decision for you.
Taking taxis can be a good option if you´re travelling in a group, as it can be quite expensive.
Itinerary for the Greek Islands:
Day 1-2: Mykonos
Mykonos is a famous and well-visited island, which means that it can get quite crowded in summer. When you´re planning an island hopping in Greece you should definitely include Mykonos. It´s also the most expensive island but if you want to visit, which I strongly recommend, you can definitely do it on a budget though. From white-washed houses and cobbled streets to beautiful beaches, insane sunsets, and wild parties it has everything you need for a great holiday. Mykonos is very famous for honeymooners and wealthy people because of its many luxurious resorts and the whole atmosphere. What it definitely has is the most beautiful town and it´s one of those destinations that won´t disappoint in real life; you get what you expect from social media!
I would strongly recommend to visit Mykonos town early in the morning when you have the streets for yourself due to the large crowds later in the day. It´s the best time to take pictures too. From there you can then walk to the famous windmills, little Venice and much more. Mykonos town also has some nice restaurants but if you want to stay on a budget, there are some good Pita shops (they will be your lifesaver for the next weeks)!
The nightlife is also great on the island and there are clubs everywhere. We stayed at Paradise beach, where you can party as well and the beach is nice in the daytime.
Actually, we didn´t visit the beaches because the time on the island was limited due to our late flight and the ferry timetable. From what I heard, the beaches on the other islands are more beautiful anyway so we thought we'd concentrate on the town, as we would see so many beaches on the other islands.
Here is a complete guide to Mykonos, so check it out if you're interested in where to stay, what to do, and everything else you need to know for a perfect stay in Mykonos. 
Day 3-5: Paros
Mykonos was a great start, while Paros was one of my highlights. It has everything: cute towns and villages, perfect beaches, great food, it´s super quiet and you have it all to yourself. You could easily spend two weeks there and it wouldn´t be boring. There are endless coves to be discovered, hundreds of churches, and even more, my highlight was Paros Park with its hiking trails and beautiful bays. It´s a very small island so it doesn´t really matter where you stay, but I would recommend Parikia or Naoussa.
Prices on Paros are also very affordable. I cannot recommend enough visiting this beautiful island. Trust me, the best is just to go and discover all the little spots that make the island so special, like the streets in Naoussa and the villages that seem like time has stopped, and definitely Paros Park. On Paros I would recommend a car if you want to fully discover the island. The bus is okay if you want to visit the touristy places and towns but for hidden beaches a car is necessary.
In this travel guide to Paros you find all the tips you need to discover the most beautiful Places.
Day 6-9: Milos
Milos was a dream!!! Stunning, unique beaches like nowhere else, and the best place to do a boat trip. It's one of those places you fall in love with and come back to every year. There are famous beaches such as Sarakiniko, which reminds of a moonscape and a huge part of the island is not accessible by car, so you need a boat. Luckily, there are a lot of companies offering tours and it´s great fun! You get to see a lot, you can snorkel, visit the caves and get the most amazing food of your whole trip. There are also some super cute fishing villages and incredible sunsets. 
One of my favourite places was the church on top of the Plaka and we came back there every day because it offers amazing views. I think Milos was where we took most photos because there´s just so much to discover. Adventure lovers won´t be disappointed. Sometimes also just getting to the beaches is great fun and includes climbing down narrow gaps between rocks, using ropes, and ladders like at Tsigrado beach. With its stunning cliffs and really cool pools and rock formations it offers a different experience and in my opinion it´s totally worth the 5-hour ferry ride!  
You can read more about Milos in this Milos travel guide!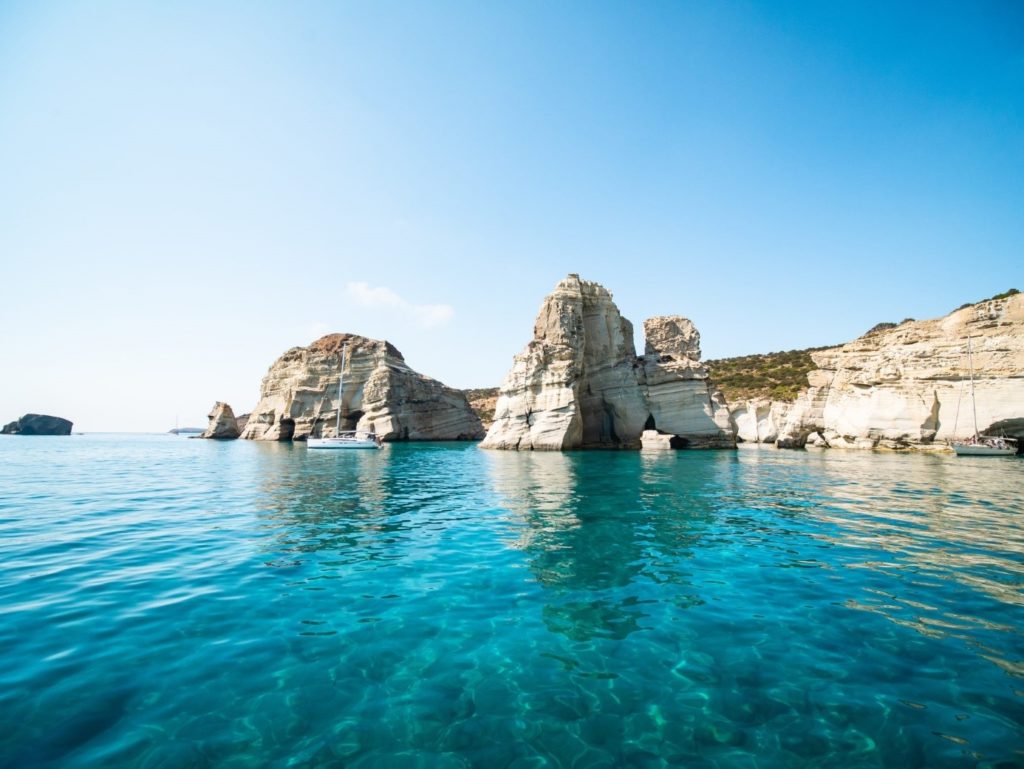 Day 10-14: Ios
Ios was the biggest surprise and let me tell you it´s totally underrated. Usually known for its party culture during the summer months when a lot of young people come to visit the Island, Ios proved to be the quietest of all after summer. We still had beautiful weather and so much fun on Ios. Being literally the only tourists on the ferry, it felt like there was no one else on the Island. Depending on what you´re looking for, this can be both good and bad. For the party lovers among you, there would be more fun in summer but for everyone who loves to relax and take pictures or be at the beach without the crowds Ios is amazing.
There are so many beautiful beaches and bays, churches and windmills and the most beautiful views while driving. The Chora is stunning as well, as it´s a hill with whitewashed houses and pretty shops. There are three churches on top where you can watch the sunrise. Moreover, you can visit the famous instagrammable Neverbay, which is stunning indeed. It´s a hidden bay, which can only be accessed by boat or foot and there are no directions to be found on the Internet. However, I will soon provide photos of the location and help you find the way in a post about Ios. Another cool thing is the Theatre where you can watch shows during the summer months.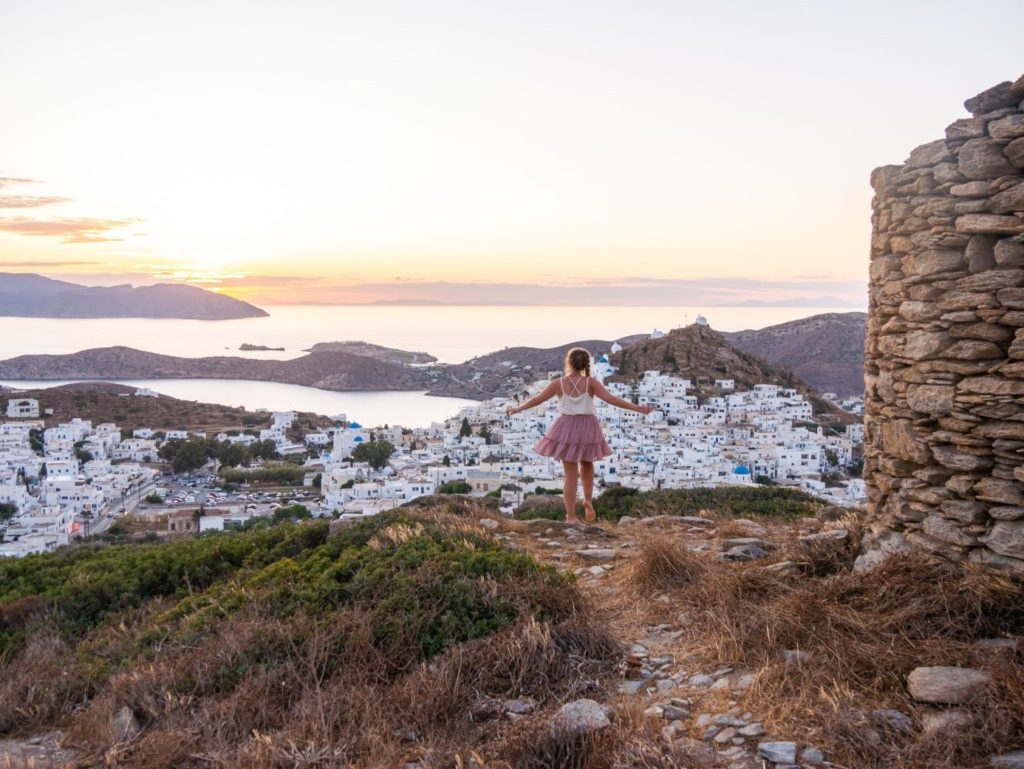 Day 15-18: Santorini
What would Island hopping in the Cyclades be without Santorini? It´s the insta-famous island with its volcanic cliffs and whitewashed luxury hotels. Truly a beautiful place with the most incredible views but also the most crowded Island we have encountered. There are the famous towns where you can stay: Fira, Imerovigli and most importantly Oia. Oia is the most famous one and the place where the cruise ship passengers all go for the day which means that it´s super busy and not the experience you imagine when looking at pictures.
Don´t get me wrong, I loved the views and early in the morning or late in the evening it´s really nice. There´s also a great walk you can do which was one of my favourites but don´t expect it to look like on Instagram 😉 Santorini is a great place to watch sunsets and we experienced the most beautiful one in Imerovigli. Fira is a good place to stay on a budget and there are many bars, shops and eateries as well.
To get some tips on where to go, what to do and how to get most of your holiday, read this travel guide to Santorini!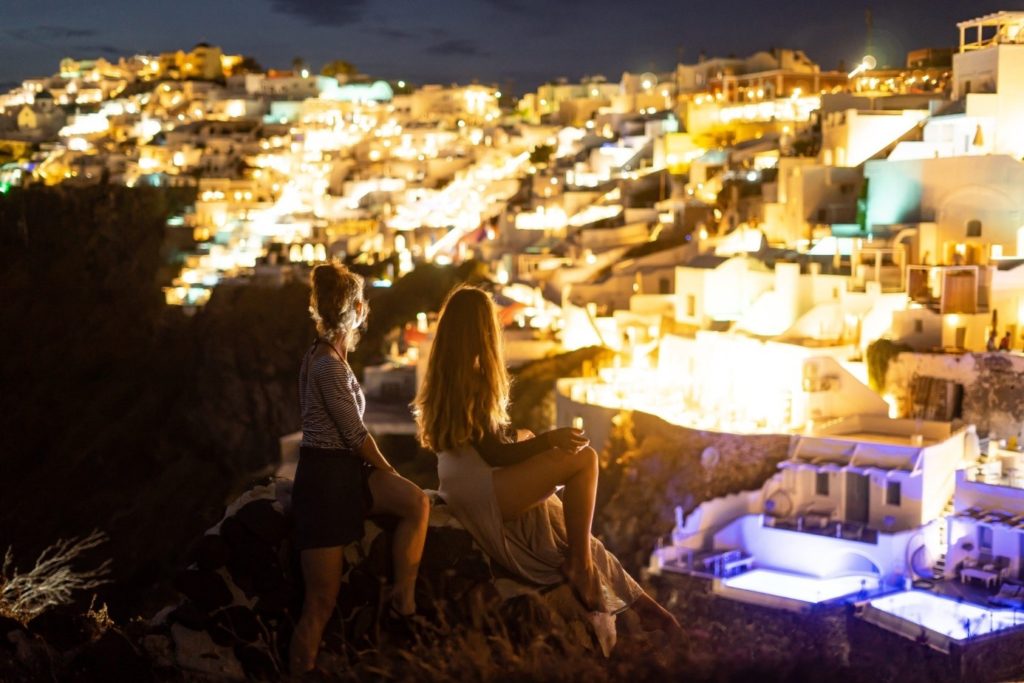 These were my tips for the Greek Islands. I hope it was helpful and you will have as much fun as I did. If you have any advice, let us know in the comments!
Pin it!
Want to read more about Greece?