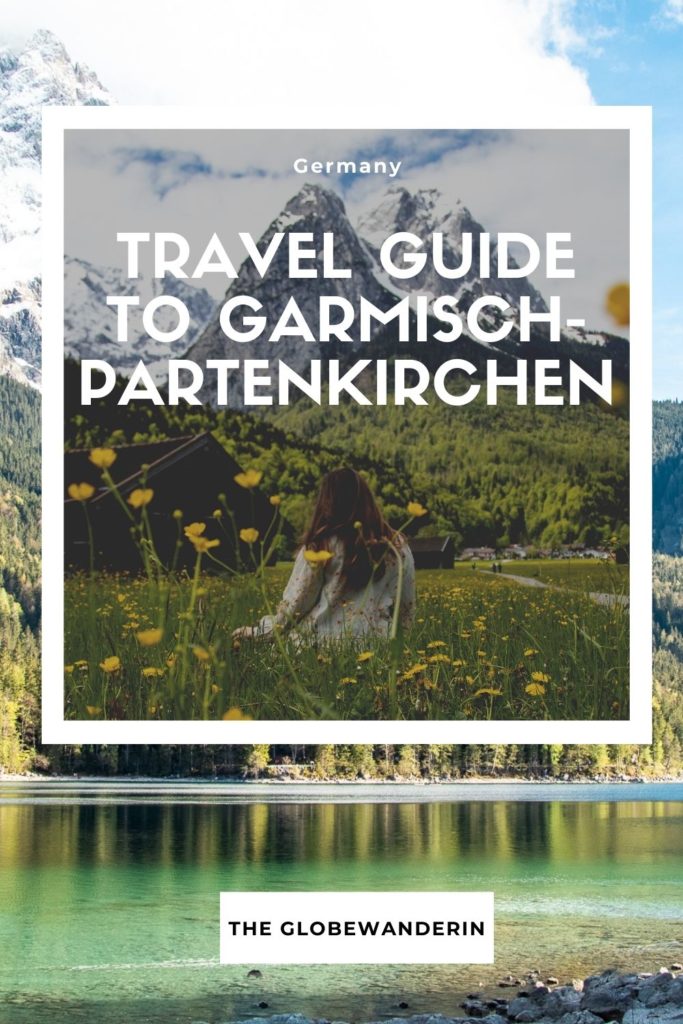 This post may contain unpaid advertisement
Bavaria is probably the best-known region in Germany overseas. When people think about Germany, they think of everything typical to Bavaria – Lederhosen, Pretzels, beer, the Octoberfest and traditional old towns. You can find all of this in Bavaria and so much more. It's hands down one of the most beautiful regions in Germany and offers something for everyone. It is no wonder that everyone seems to love Bavaria with its many lakes, the mountains and a lot of outdoor adventures. Garmisch-Partenkirchen is the perfect base to explore the region and experience some of the best things to do in Bavaria Germany. In this travel guide to Garmisch-Partenkirchen, you'll find the best things to do in Bavaria Germany from lakes to castles, hikes, lookouts and picturesque towns.
The region never ceased to amaze me, there was a new favourite moment around every corner. I think in Bavaria it's the little things that make it a feel-good holiday such as the bells of the cows you come across on walks, the blooming meadows, the amazing beer, the glowing mountains during sunset, the cafe with a view and so much more.
Bavaria was the first region to allow tourism after Covid, so my friends and I decided to go on a spontaneous trip to Garmisch-Partenkirchen. We loved it so much that we decided to go there every year from now on (let's see if we actually will…) but in this post, I will show you why. If you love the outdoors, picturesque castles and towns, crystal clear alpine lakes in all shades of blue and hiking on top of the mountains, keep reading! In this travel guide to Garmisch-Partenkirchen, you'll learn how to get there, where to stay in Garmisch-Partenkirchen, when to visit Garmisch-Partenkirchen, how to get around and the best things to do.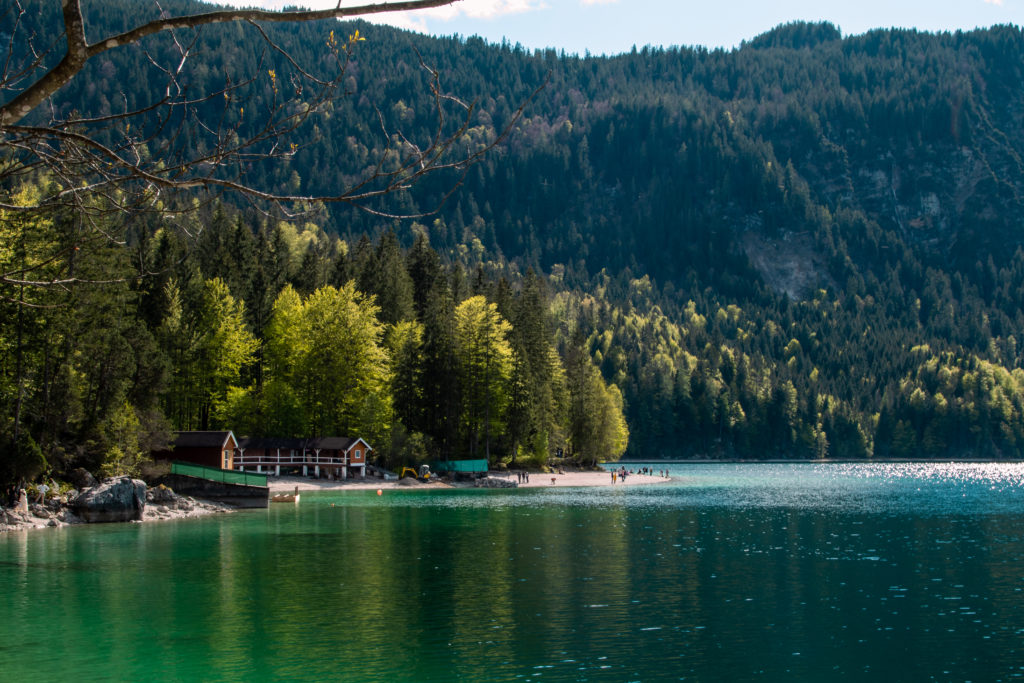 Quick Tips Garmisch-Partenkirchen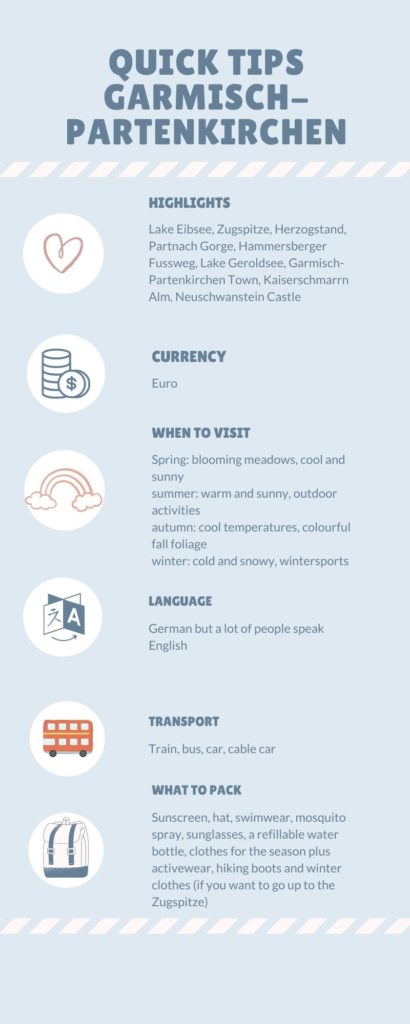 How to get to Garmisch-Partenkirchen Bavaria
Garmisch Partenkirchen is located in Southern Germany at the border to Austria. There are many ways to travel to Garmisch-Partenkirchen, depending on where you come from. Most people from Germany would probably take their car, which is a good idea because having your car in Garmisch-Partenkirchen makes your stay really flexible. Alternatively, you can take a train. Trains in Germany are fast and frequent. Even from other European countries, the train might be the best option, especially if you look into the most environmentally friendly way of transport. If you are flying from overseas, the best arrival airport is Munich, as it's only one hour by car and two hours by train. You can find train tickets on the homepage of Deutsche Bahn.
How to get around in Garmisch-Partenkirchen Bavaria
Garmisch-Partenkirchen is located in a rural area surrounded by lots of nature. I personally loved having a car and being able to go wherever we want, whenever we want. A car also gives you the opportunity to visit places that are less accessible or further away. You can either take your own car or rent a car at the airport or a local rental company if you travel by train. I usually look on check24 to book rental cars.
If you don't want to rent a car you can use public transport which connects all places in this Garmisch-Partenkirchen travel guide. The local bus company offers 5 lines that connect the local towns. If you want to visit the Eibsee and Zugspitze, you need to catch the Eibseebus. The Oberbayernbus connects Garmisch-Partenkirchen with lakes and nice hiking areas. Unfortunately, the websites are in German but it's quite easy to find buses when you get there. I will also include directions with the places so you can plan ahead. In summer when it gets really crowded, you might have the advantage of not having to find parking when using the buses.
There is no Uber in Germany, so if you want to use a taxi service, you need to call the local taxi company. They are usually a bit expensive and you can get almost everywhere by bus but you might need a taxi at night or if you want to get to a more inaccessible place.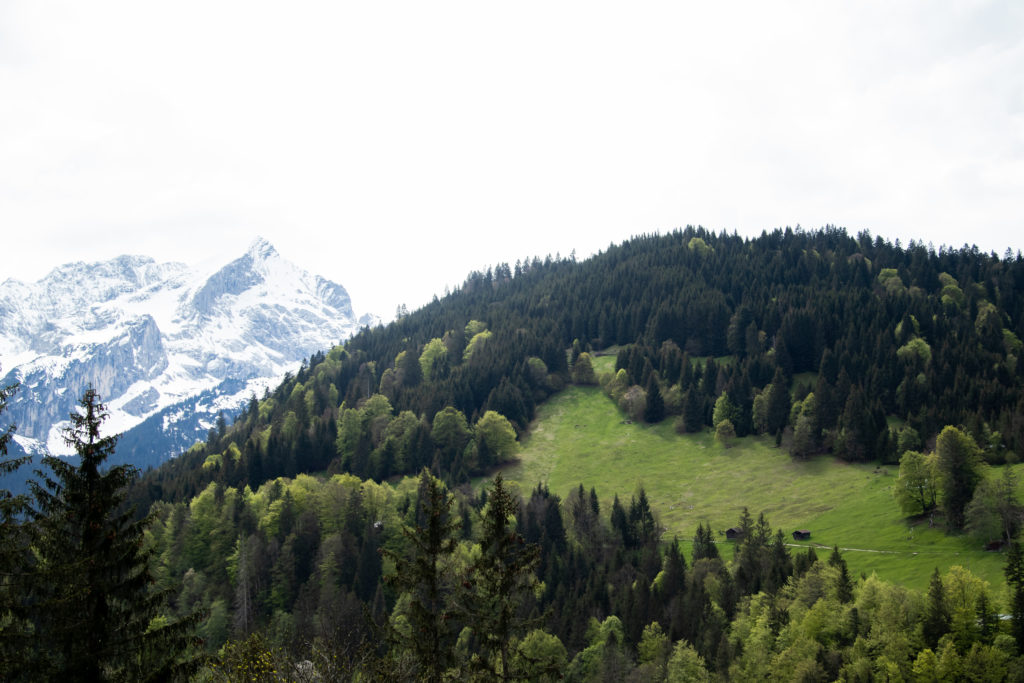 Where to stay in Garmisch-Partenkirchen
Garmisch-Partenkirchen is actually composed of two towns – Garmisch and Partenkirchen. Partenkirchen is a more traditional town with old houses and has a lot of charm while Garmisch is a bit more modern. However, I don't think there is a big difference. Staying in Garmisch-Partenkirchen, in general, is great as you are never far from sights. We stayed in Kaltenbrunn which is very close by. There are some hotels and a lot of holiday homes and Airbnbs.
I think the best tip of this whole travel guide to Garmisch-Partenkirchen is to look for accommodation on the official Gapa website. I usually look on Airbnb or on the big websites but there was nothing left as we booked very spontaneously. We found a great and affordable flat on the website and absolutely loved it! We were allowed to bring a dog and they were so friendly and easy-going. I would absolutely recommend staying there, especially if you have a car as it's not in the centre. The area around Garmisch-Partenkirchen is very idyllic so most accommodations have great views of the mountains. This photo was taken from the garden of our accommodation.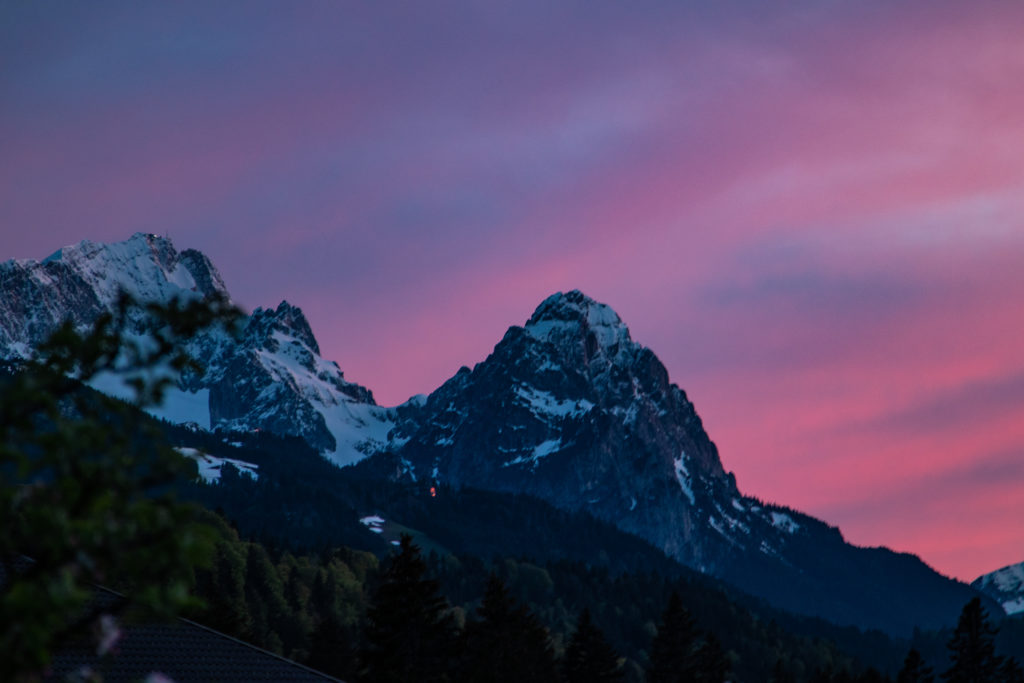 When to visit Garmisch-Partenkirchen
I believe the best time to visit Garmisch-Partenkirchen is all year. It really depends on what you are looking for but in general, there are a lot of things you can do in Garmisch-Partenkirchen all year round. The area is famous for its beautiful lakes and winter sport. As we visited in May, this travel guide to Garmisch-Partenkirchen only contains things to do in spring/summer/autumn. I guess I'll have to go back in winter to discover the best things to do in Bavaria in winter!
In the mountains, it usually gets a bit colder than in the rest of Germany but in general spring (April to May) is a great time to see the flowers blooming in the meadows. Temperatures are good for hiking but it's too cold to swim in the lakes.
In summer (June to August) it gets warm and sunny but crowds stream into the popular region. Summer to me is the time for the best things to do in Bavaria Germany. If you enjoy hiking and swimming in lakes this might be the best time for you to visit. However, keep in mind that it can get very busy.
Autumn (September to November) is much quieter but also colder. If you're lucky you still get warmish weather in September but after that, it gets quite cold. However, you can see the leaves changing their colour which is very beautiful.
In winter (November to March), the region turns into a paradise for winter sports. There are lots of ski slopes, winter hiking routes and you can do tobogganing. You'll definitely get snow, so if you've always wanted to see snow, head to Garmisch-Partenkirchen!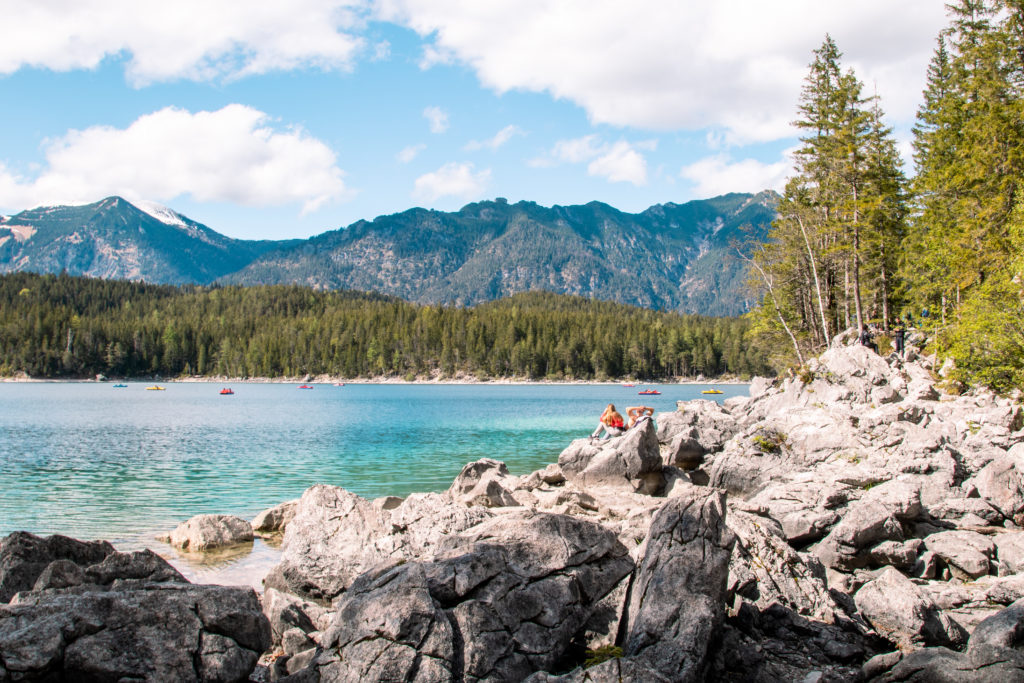 How long to stay in Garmisch-Partenkirchen
A lot of people come to Garmisch-Partenkirchen for a few days but you could easily spend 2 weeks there. To see everything in this travel guide to Garmisch-Partenkirchen, you should at least plan 5 days, as in 5 days packed with activities. I would recommend staying 7 days and longer if you want to do additional stuff or relax.
The best things to do in Bavaria Germany, Garmisch-Partenkirchen
Garmisch-Partenkirchen has a lot to offer! As mentioned above, there are no particular winter activities in this guide to Garmisch-Partenkirchen but there's heaps to do during all seasons.
Visit Lake Eibsee
Lake Eibsee is probably the most famous lake in Bavaria and definitely one of the best things to do in Bavaria. It's all over Instagram and should be on everyone's bucket list. This alpine lake is the most beautiful lake I've ever been to. The water is crystal clear and shimmers in every shade of green and blue you can imagine. In summer the lake is perfect for a swim or some water sports and in winter it becomes a magical landscape surrounded by snow and ice.
Lake Eibsee is private property and belongs to the Eibsee Hotel even though it's accessible for everyone. Therefore, if you want to fly a drone you need to ask the Eibsee Hotel for permission. The lake has a length of 2450 m and a width of 850m with a depth up to 32,5 m. In summer the water temperature is about 20 to 22 degrees Celsius but in spring and autumn, it's much colder.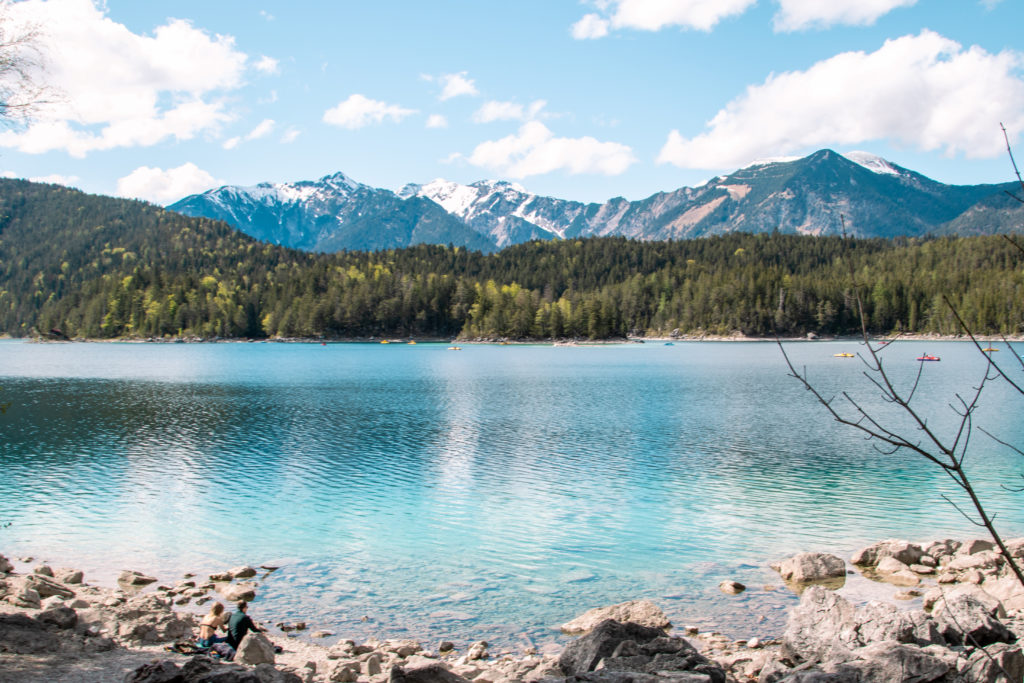 You can rent a boat bring a canoe, book a tour with the tour boat "Reserl" or rent a SUP at the Eibsee Hotel. There is also a 7.5 km hike around the lake which should take about 2 hours. It's very easy and you get amazing views.
Lake Eibsee is also a famous place for photographers as you can see the reflections of the Zugspitze – the tallest mountain in Germany – if you come at the right time. The whole lake is instagrammable and you can take beautiful pictures walking just walking around the lake. I personally find the side on which you can see the islands very close and the mountains in the background the prettiest.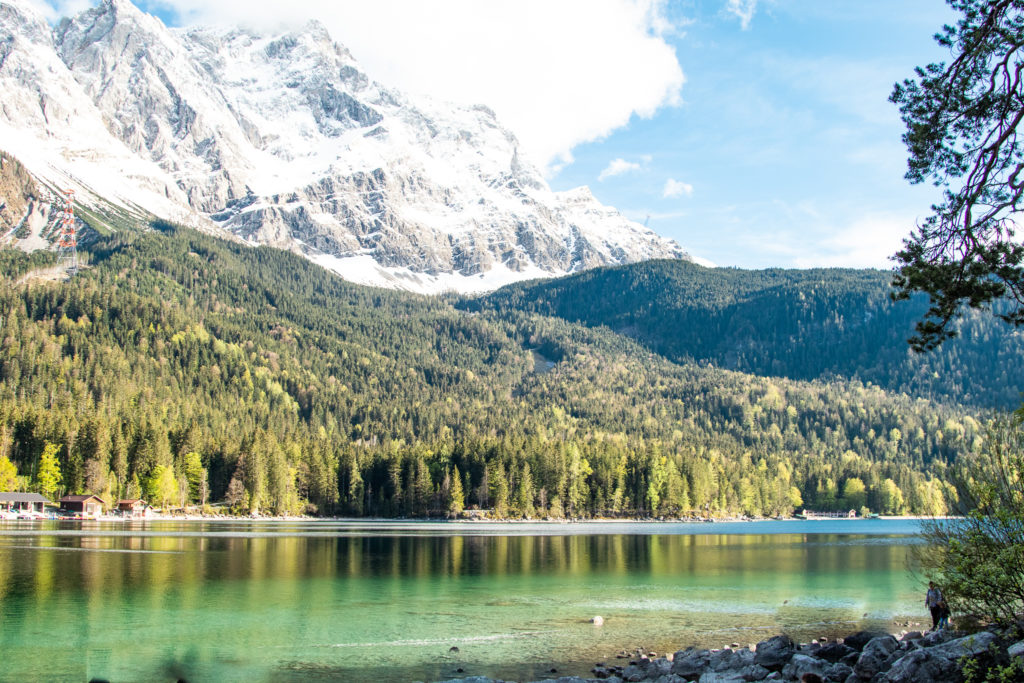 The Zugspitze – Germany's highest peak
Lake Eibsee is located right at the foot of the Zugspitze. There is a cable car that brings you to the top of the mountain.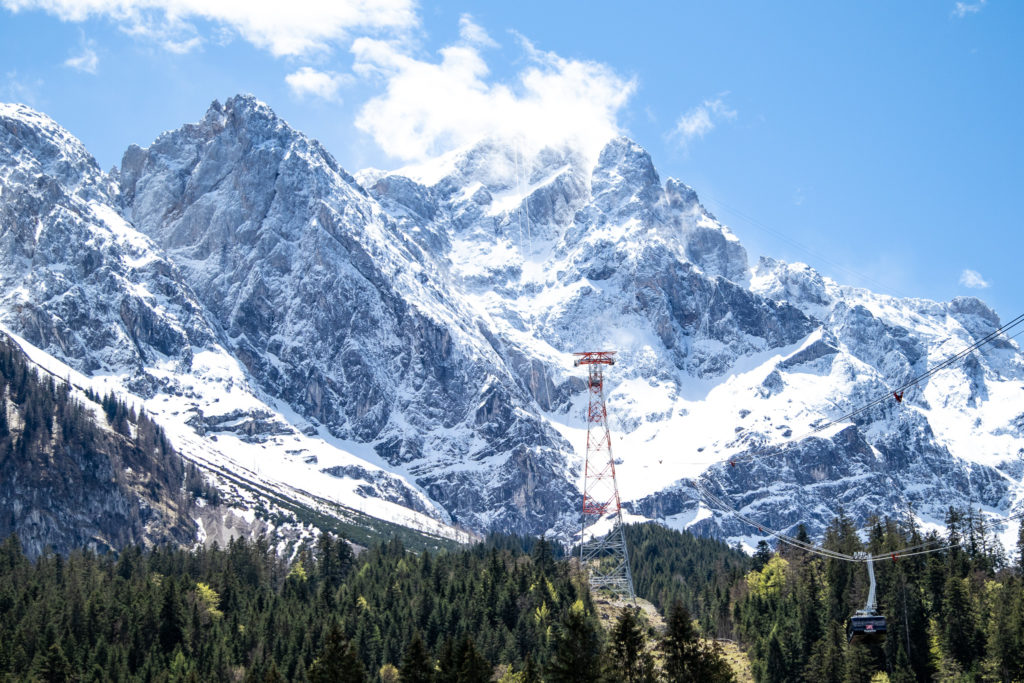 It's a bit pricey but I absolutely recommend! The top of the Zugspitze is very impressive and you can look very far if the weather is good.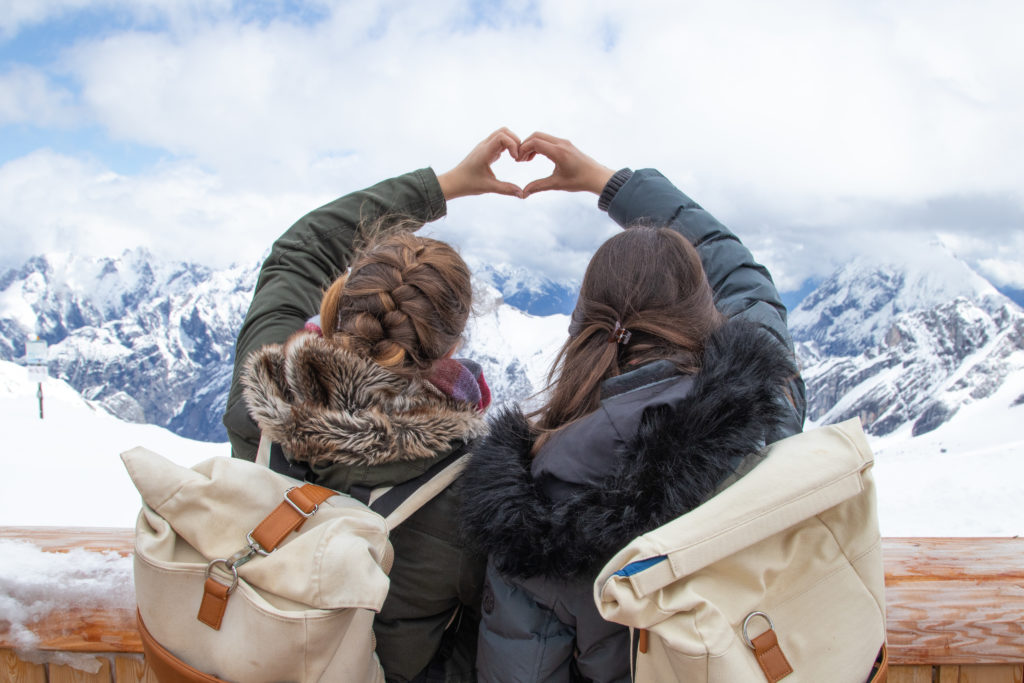 There is a live webcam on the website and you can check the visibility. It might not be worth it if the visibility is really bad but it said the view would be bad on the day we visited and even though we didn't see a lot from the top, we had an amazing view from the Glacier and the cablecar itself.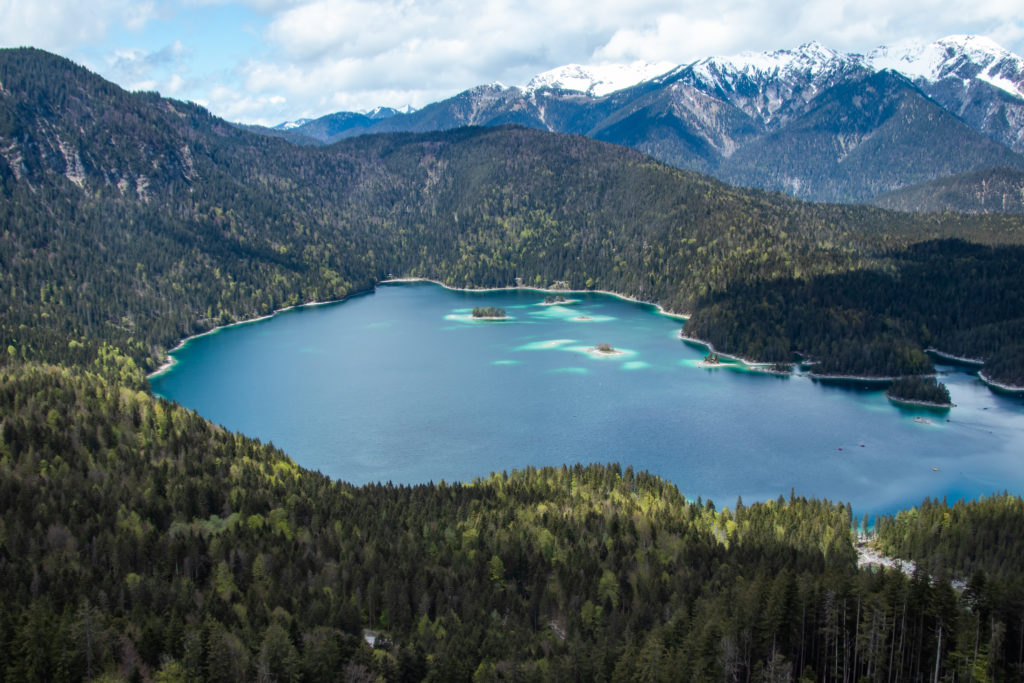 The ticket is 61 Euro for adults and for a round trip. You take the cable car up to the peak. From there you can get on the Gletscherbahn to see the Glacier with snow all year round. There is also a cafe and Germany's highest church. On the Glacier, you can borrow sledges for free. In winter the cable car runs as well and it's a bit cheaper, there are also skiing rates that you can look up on the website.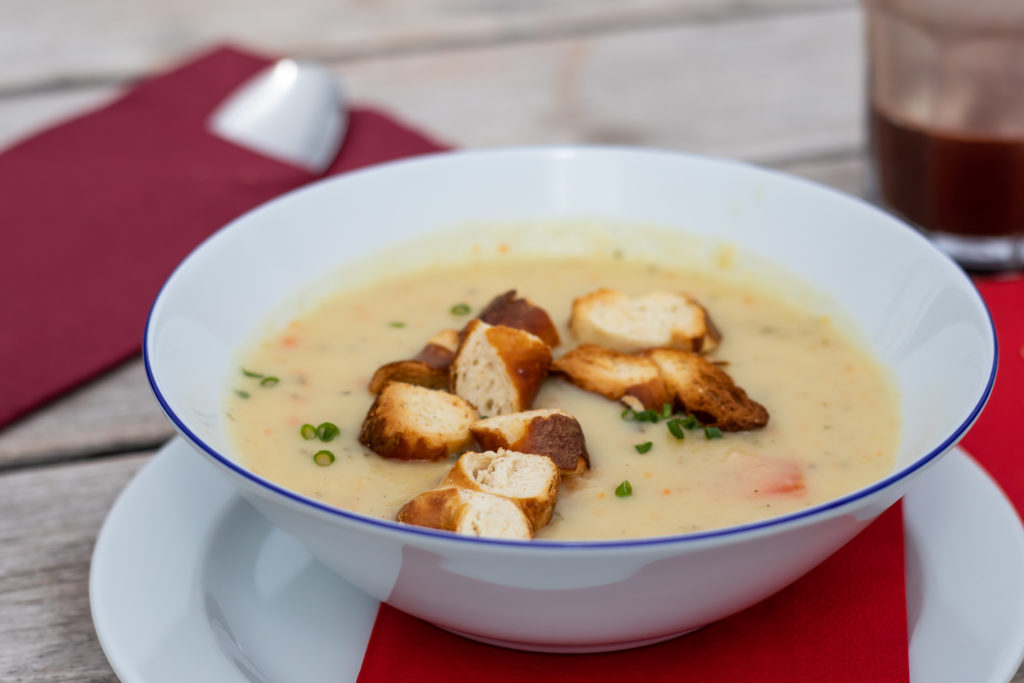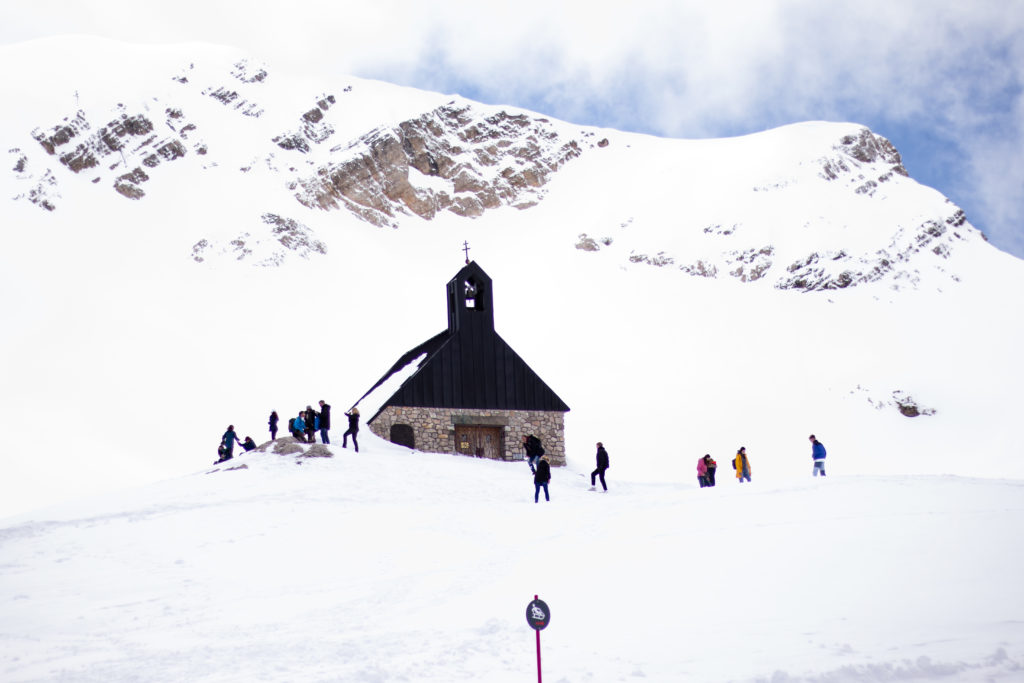 Herzogstand – Panoramic views of Lake Walchensee
One of the best things to do in Bavaria Germany is hiking and you can do a lot of it around Garmisch-Partenkirchen. Herzogstand is one of the highlights in this travel guide to Garmisch-Partenkirchen and one of the best things to do in Bavaria Germany. It's not located in Garmisch-Partenkirchen but only a 30-minute car ride away. Herzogstand is also accessible by public transport. We almost missed this beauty as we were short in time and weren't sure if we should actually do it but believe me you simply cannot miss this. You can either hike from the bottom or you can take the cable car up and hike the rest up to the peak. On the way to the top, you get stunning and very picturesque views of Lake Walchensee and Lake Kochelsee. The colour of the water is out of this world!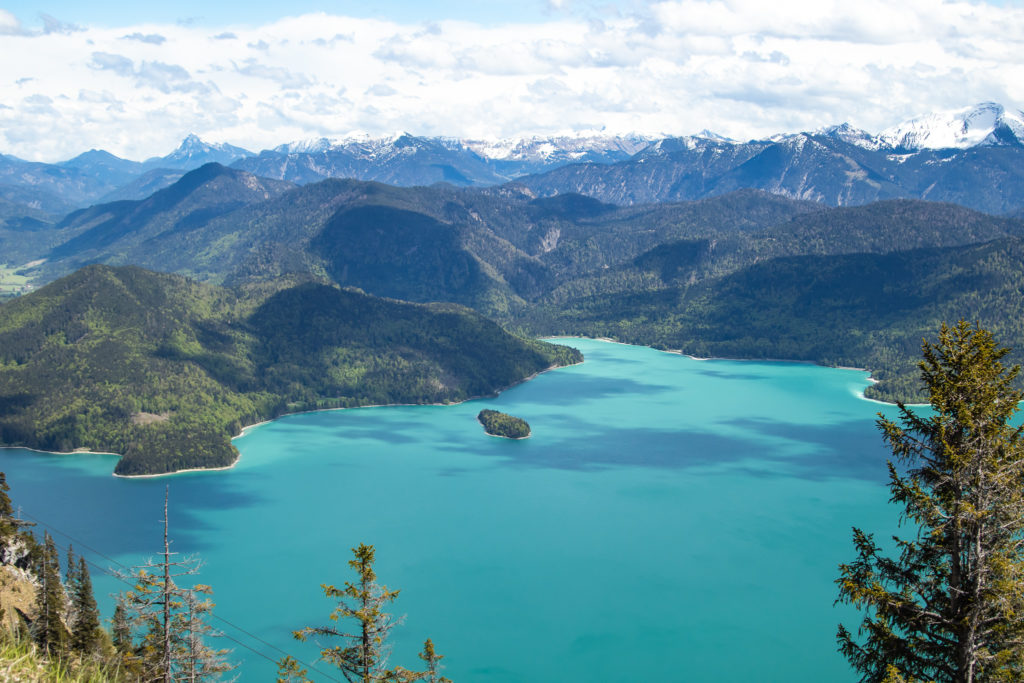 We took the cable car as we were late but it was already a little hard to walk the 45 minutes to the peak 😀 Due to the cable car, there are a lot of tourists in summer. We were lucky because we visited right after the lockdown. If you want to avoid crowds, take the first cable car. A round trip is 16 Euro and you can purchase the ticket at the station. Not far from the mountain station there is a Berggasthof where you can have a drink and something to eat. From there you can follow the top. You can visit the summit cross first and then make your way to the Herzogstand peak.
You can find more on the website of the Herzogstandbahn, such as prices, hiking routes and transport etc, however, the website is in German. If you have any questions, leave a comment and I'll try to help! The area is so picturesque and there are heaps of photo opportunities. A great spot is not far from the cable car station. Just before the first corner after walking straight from the station, there is Lake Walchensee on your left. This whole area is beautiful for pictures. The peak itself is a beautiful photo spot of course. Apparently, in summer, there are a lot of people though.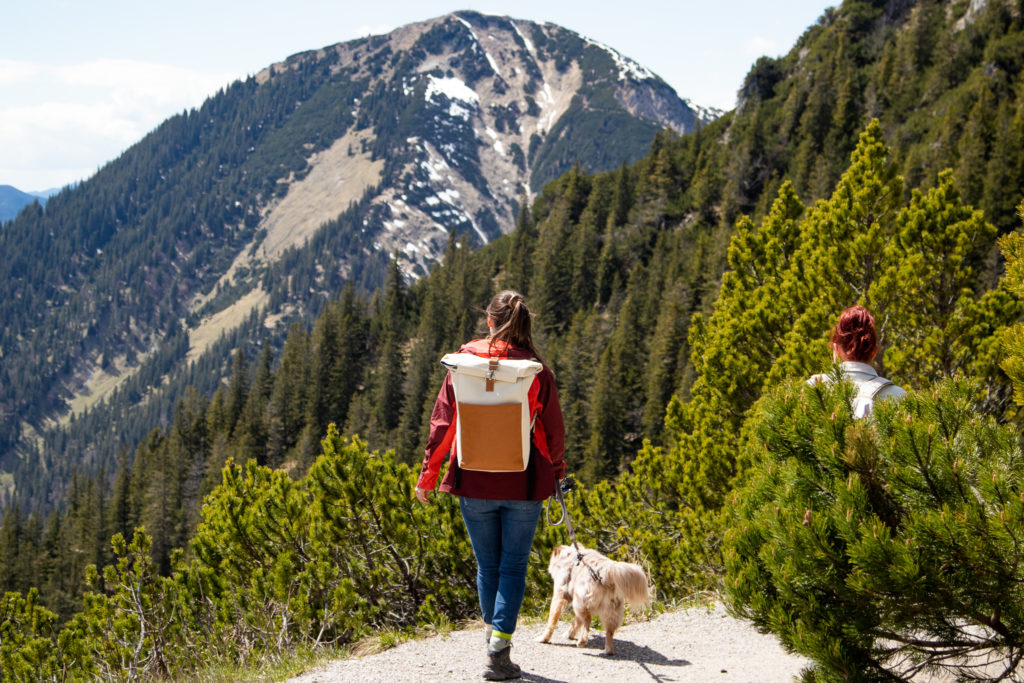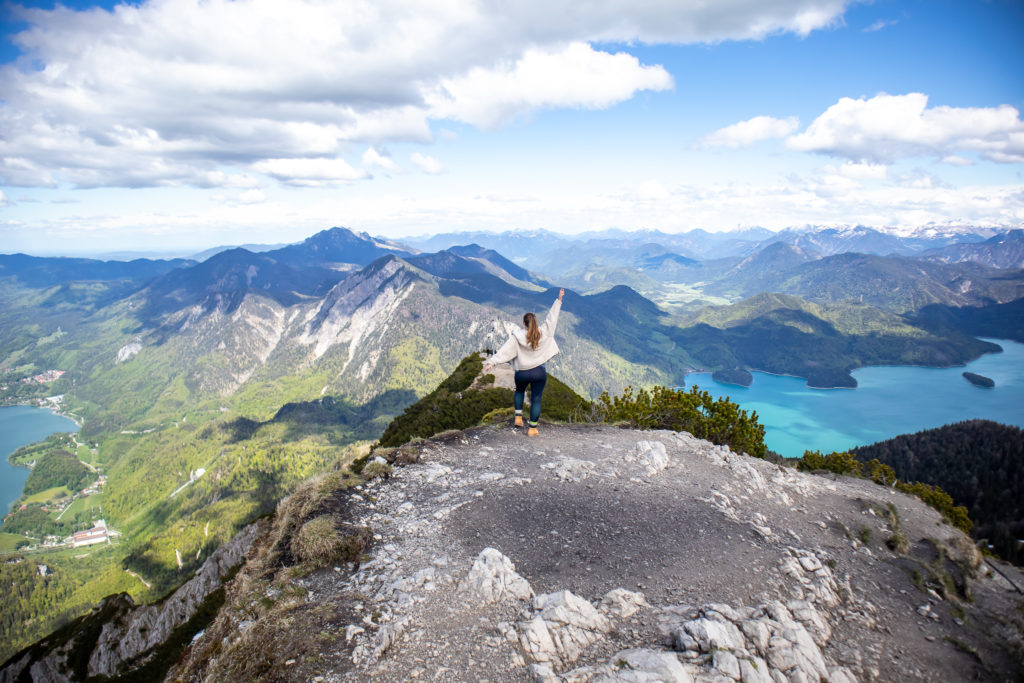 Lake Walchensee
Lake Walchensee is one of the deepest and biggest alpine lakes in Germany (up to 190m deep!) From the Herzogstand I already looked for the best spots to go for a swim and cool down after the hike. The water just looked too beautiful to not go for a swim. You can walk or drive around the lake and there are some cafes where you can stop for a Bavarian beer.
If this is not one of the best things to do in Bavaria, I don't know what is. It was stunning and gorgeous to sit by the water and cool down with a Radler. This is a beer with lemonade and the perfect refreshing drink after a hike. I know in some cultures it's weird to drink alcohol for lunch but it's very common in Germany. Unfortunately, it had gotten late, so I had to hurry up for my swim and we just went to the closest spot. The water was freezing but super clear. I'm sure if you walk around the lake, you'll find great spots to go for a swim. There are also boat rentals so you can paddle across Lake Walchensee.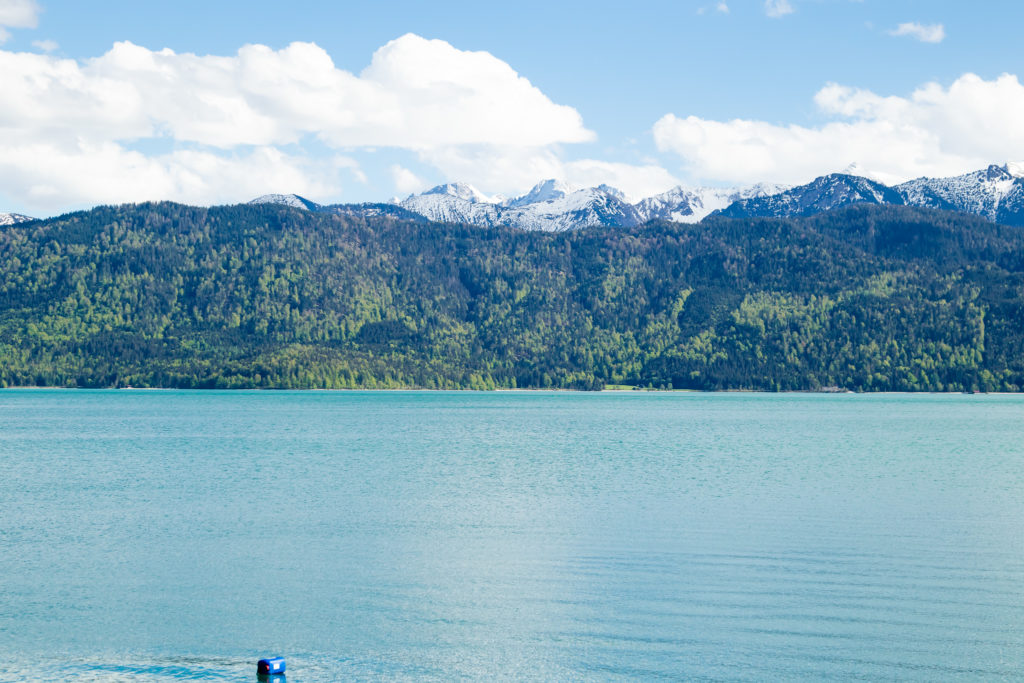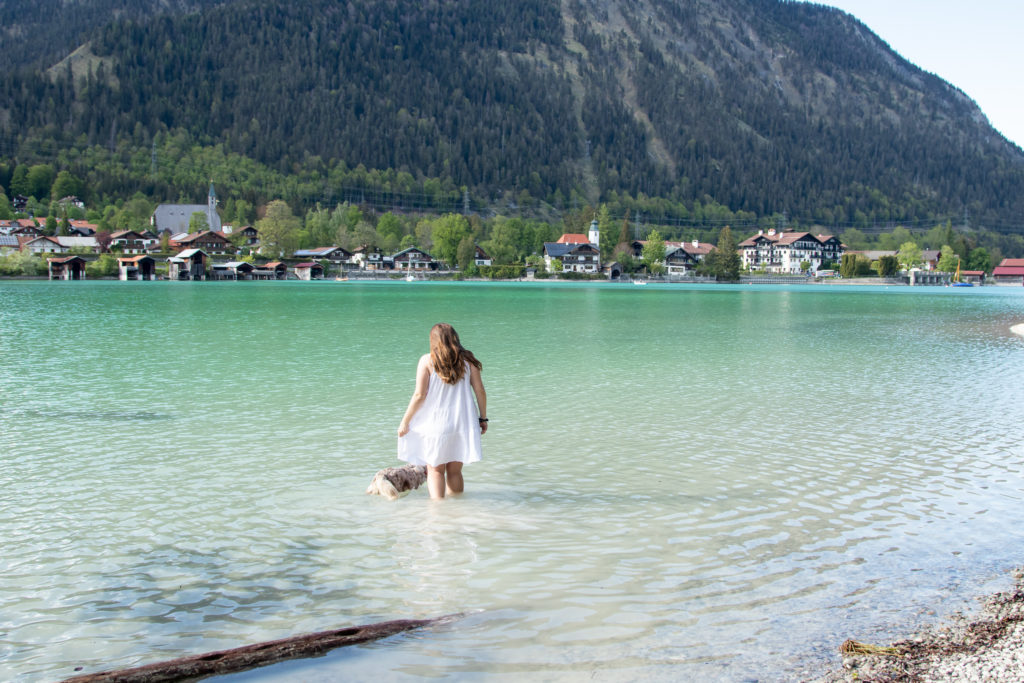 Visit Partnach Gorge
Partnach Gorge is something I've been hearing all my life but I never got to visit. On this trip, I finally had the chance to see this incredible gorge. A stream built a gorge in the rock and you can walk on ways carved into the rocks along the rushing stream. If it was rainy, there are little waterfalls coming from the edges of the rocks and the water has a beautiful colour. The gorge is 700m long and 80m high. It's a fairytale landscape and I can not recommend enough to check it out.
It is very popular though so I can imagine the crowds in summer. Especially if they come from both sides! Due to Covid, we could only walk one way and it wasn't crowded at all. The Partnachgeorge is open all year, even in winter which is probably even more stunning. The price is 6 Euro for adults and it can get cold, so take some warm clothes. You can find more information here.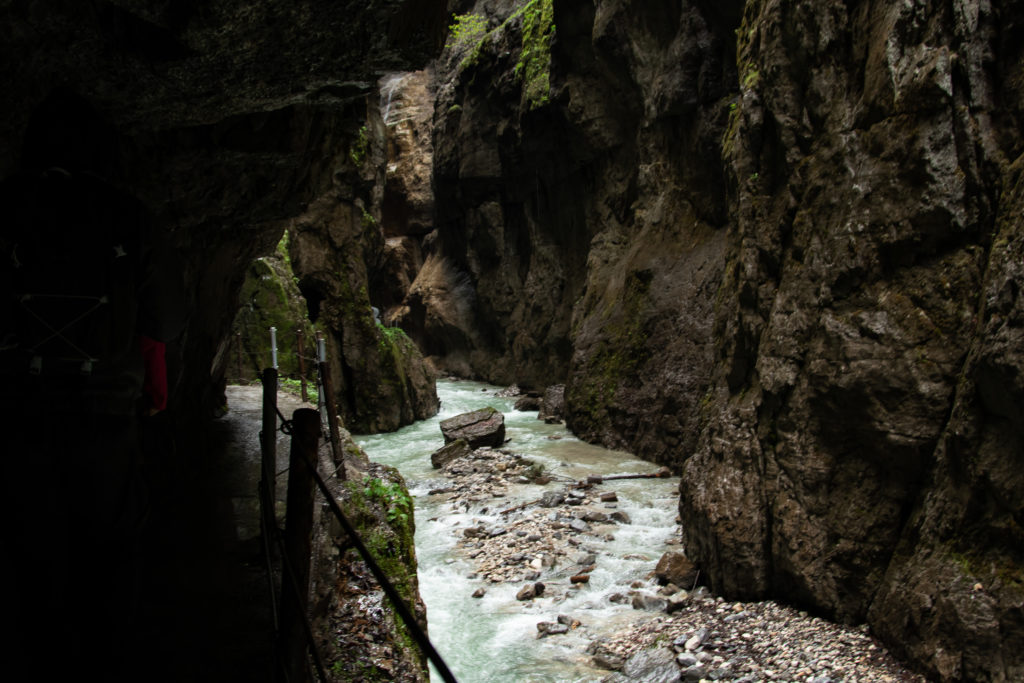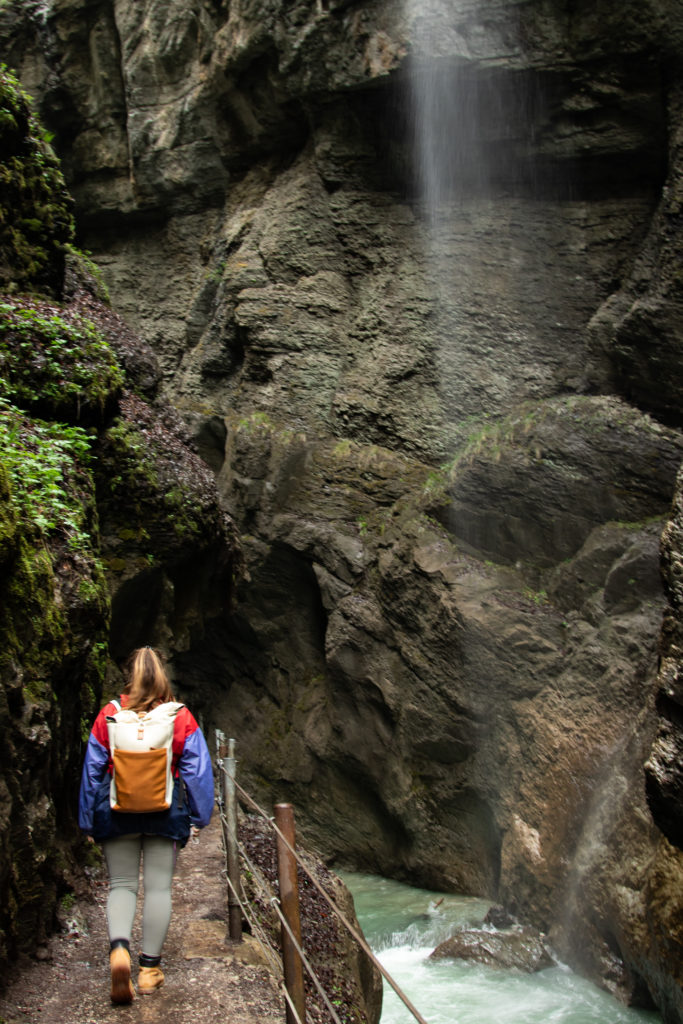 Visit the Olympic Ski Jump
The Olympic Games were held in Garmisch-Partenkirchen in 1936. The Ski Stadium is a popular sight in Garmisch-Partenkirchen. There is a traditional New Year's Ski jumping every year. In 2007 the original Ski Jump was torn down and replaced with a huge Ski Jump. It doesn't look that big in pictures but if you stand in front of it and imagine people are flying through the air, it's quite impressive. You can access the stadium and the grounds for free. This is also where the walk to the Partnach Gorge starts, so you might want to visit the Olympic Ski Jump and the Partnach Gorge on the same day.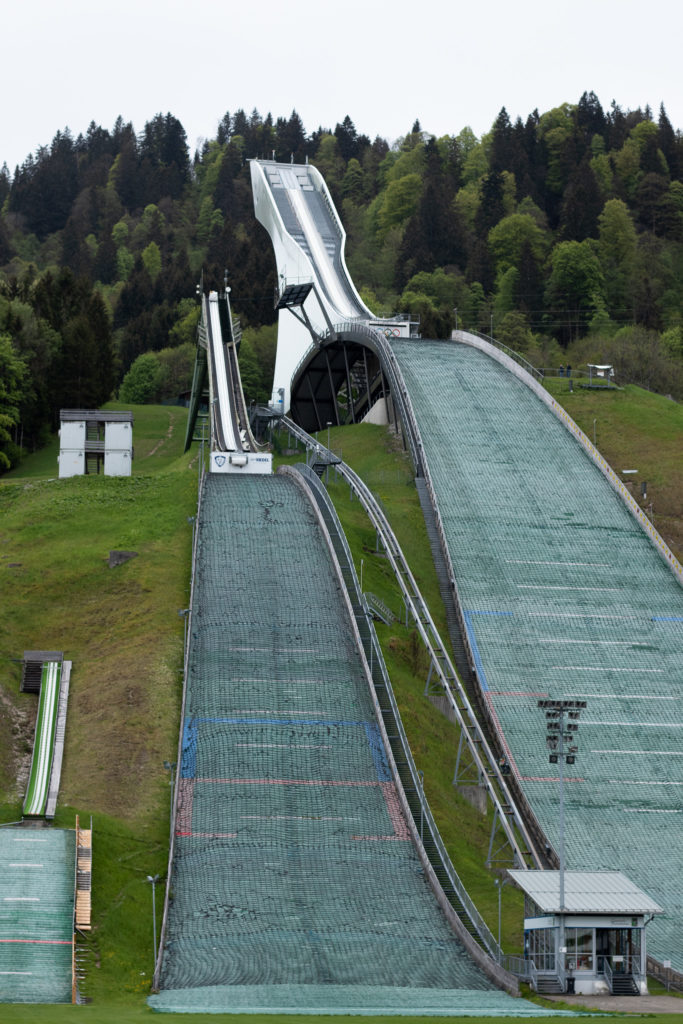 Visit the Kaiserschmarrn Alm
When visiting the Partnach Gorge, you should definitely visit the Kaiserschmarrn Alm to eat the most delicious Kaiserschmarrn ever. Kaiserschmerrn is a typical food you'll find everywhere around Bavaria and Austria. This might even be one of my favourites in this travel guide to Garmisch-Partenkirchen. The hike is not far from the end of the Partnach Gorge and you'll see signs leading to the Alm. We wanted to hike to Eckbauer and Wamberg from there but we had to turn around as it got too late. If you decide to visit the Kaiserschmarrn Alm please indulge in the Kaiserschmarrn, at least as a dessert. We all ordered the large portion and it was so much but also so delicious. It's served with applesauce and with or without rum raisins.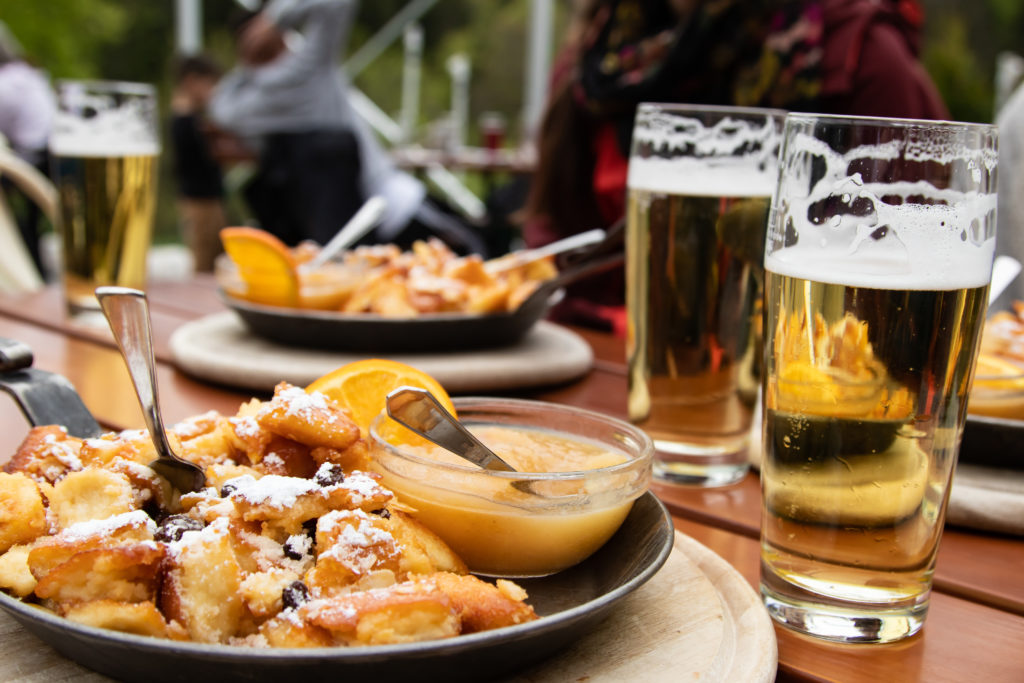 The landscape around the Kaiserschmarrn Alm is very beautiful with lots of blooming meadows and mountain views.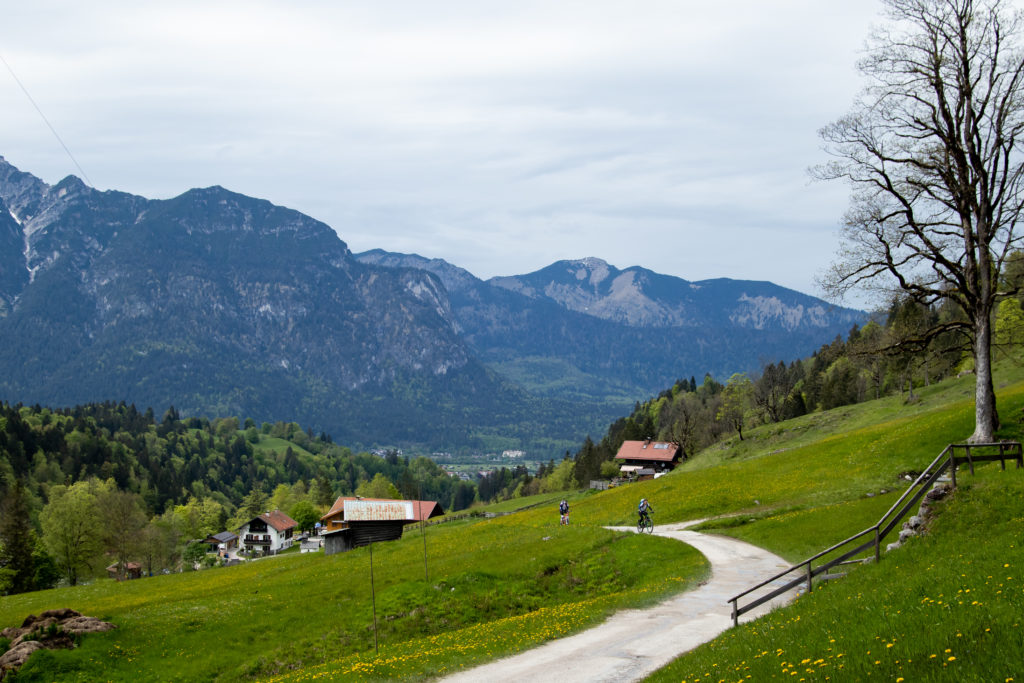 Day trip to Neuschwanstein Castle – One of the most popular things to do in Bavaria Germany
Neuschwanstein Castle is located in Füssen which is about 1 hour by car. King Ludwig II had started to build the castle in 1868. In 1886, seven weeks after his death, it was opened to the public. The castle is extremely popular and visited by about 1.4 million people annually. Thus, in summer it can get really crowded. Neuschwanstein castle is a real fairytale castle and was the inspiration for Disney's sleeping beauty castle. You can do guided tours to see the interior but you can also visit the outside area without a ticket. The best viewpoints and photo spots are a little hike away, however, due to construction on the bridge, some are not accessible until fall 2022. On a list of the best things to do in Bavaria Germany, Neuschwanstein Castle simply cannot be missed.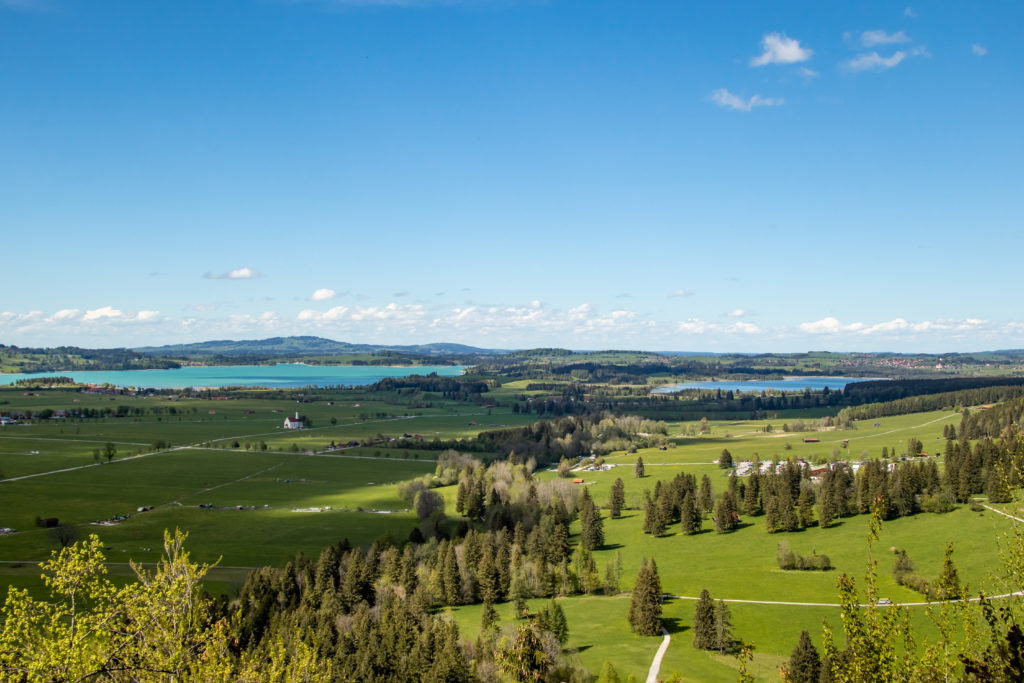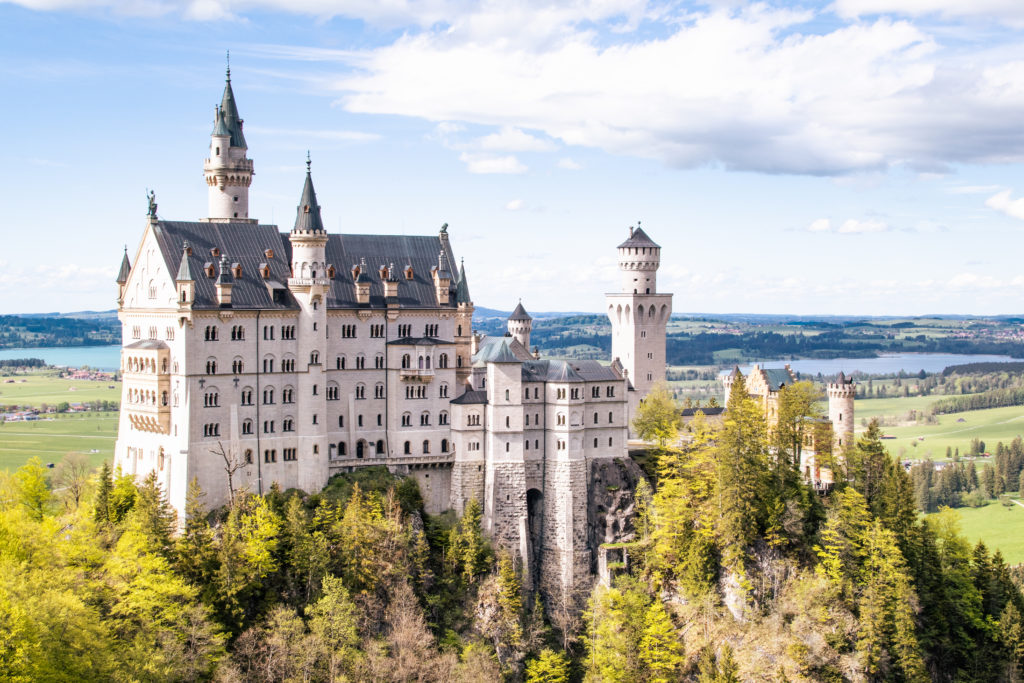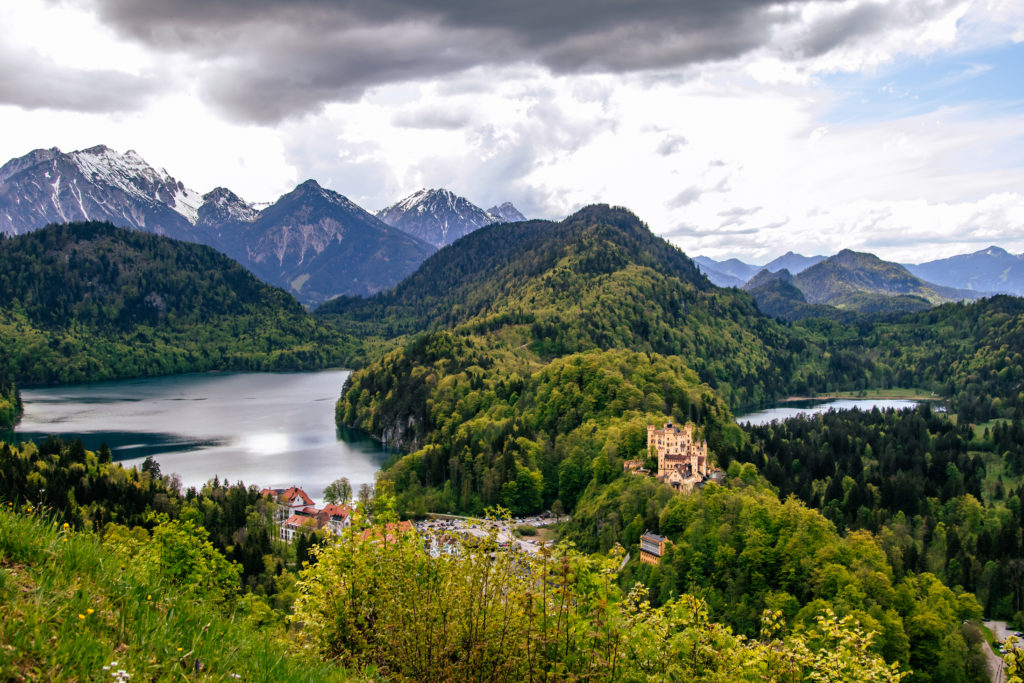 Go shopping in Garmisch-Partenkirchen Town
What cannot be missed in a travel guide to Garmisch-Partenkirchen is a visit to Garmisch-Partenkirchen of course. Garmisch-Partenkirchen is a beautiful town with a very pretty old town. You can stroll along the main street and find some beautiful cafes and shops that sell the cutest things.
You should definitely visit Cafe Krönner which has a beautiful view from the rooftop and very delicious cakes and drinks. Even though we just had breakfast before, I couldn't resist the cake. Trust me, you won't regret it! I also had an Eierlikör Macchiato. Eierlikör is egg-liqueur and I know I said it's absolutely normal to drink alcohol for lunch but you can also drink alcohol for breakfast. The old towns and cafes should definitely be on the list of the best things to do in Bavaria Germany, they still have so many traditional ones compared to the rest of the country.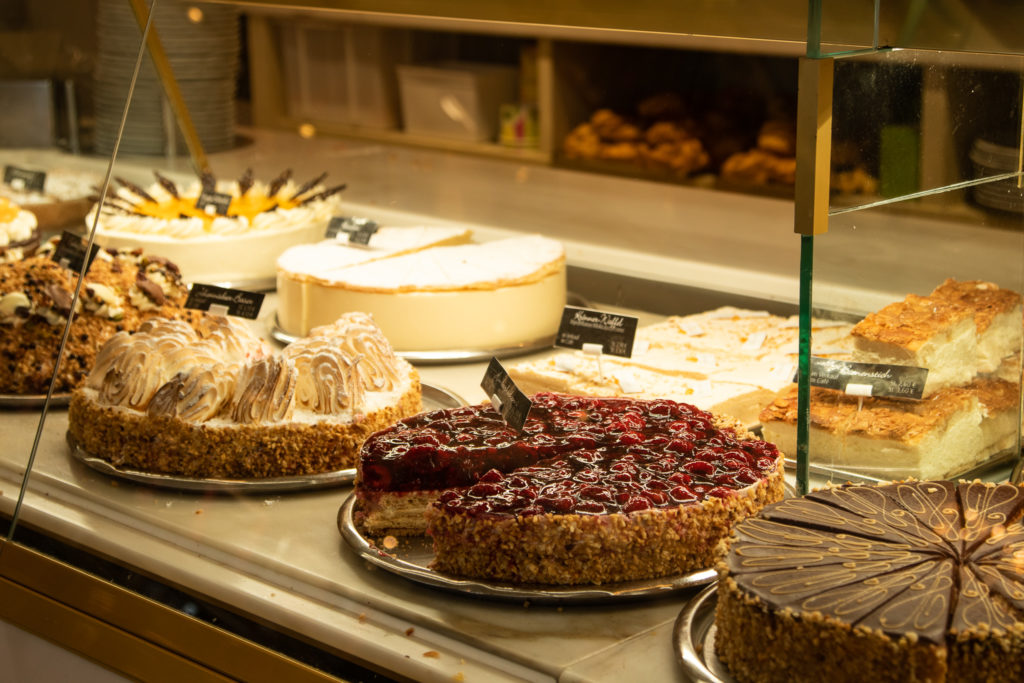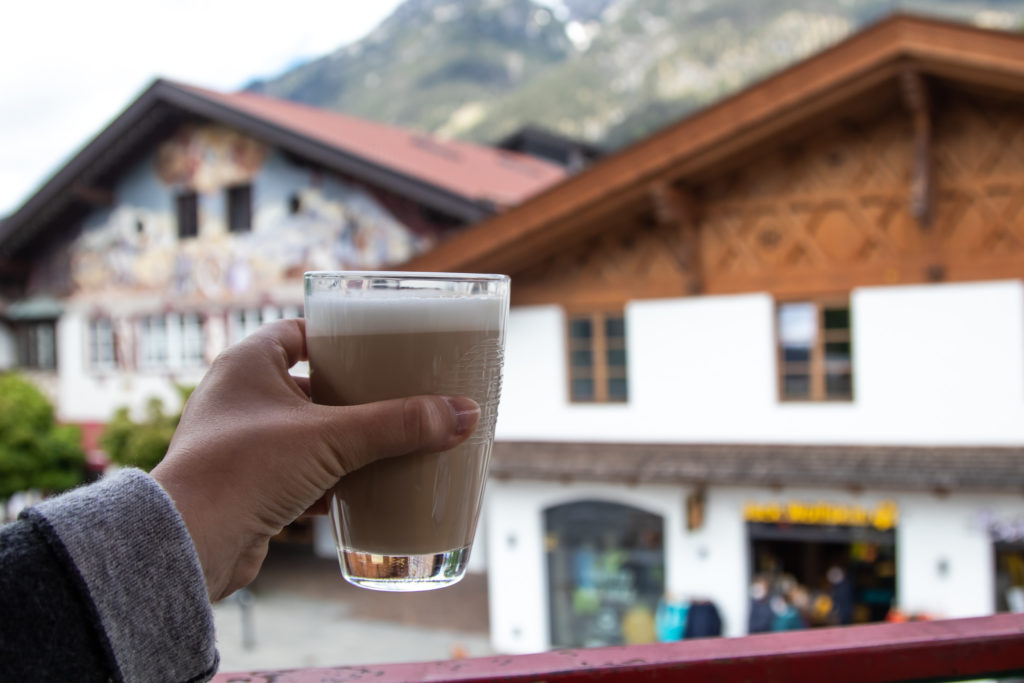 Hammersbacher Fussweg
The Hammersbacher Fussweg is an easy trail starting in Hammersbach. You can take public transport or park your car in an official car park. The trail is 9,3 km, flat and easy. You walk through meadows dotted with wooden huts and a view on the Waxenstein mountain if you walk towards Hammersbach. At the car park, you can already see cows and a stunning mountain view. There are a lot of photo spots along the way but I recommend stopping at the wooden huts and taking pictures in the direction of town so you get the mountains in the background.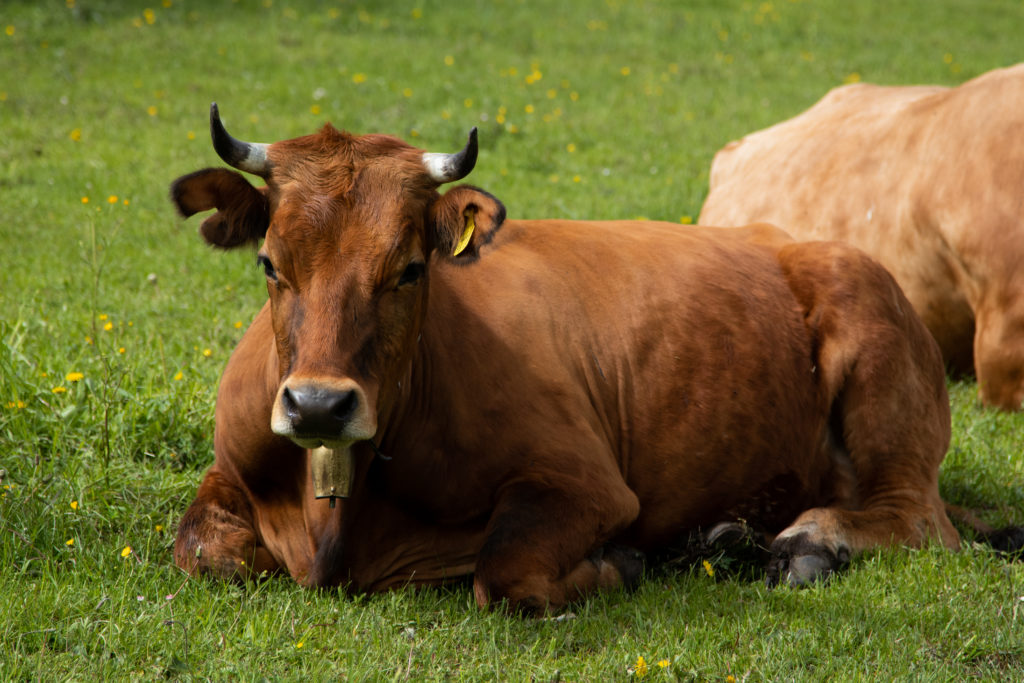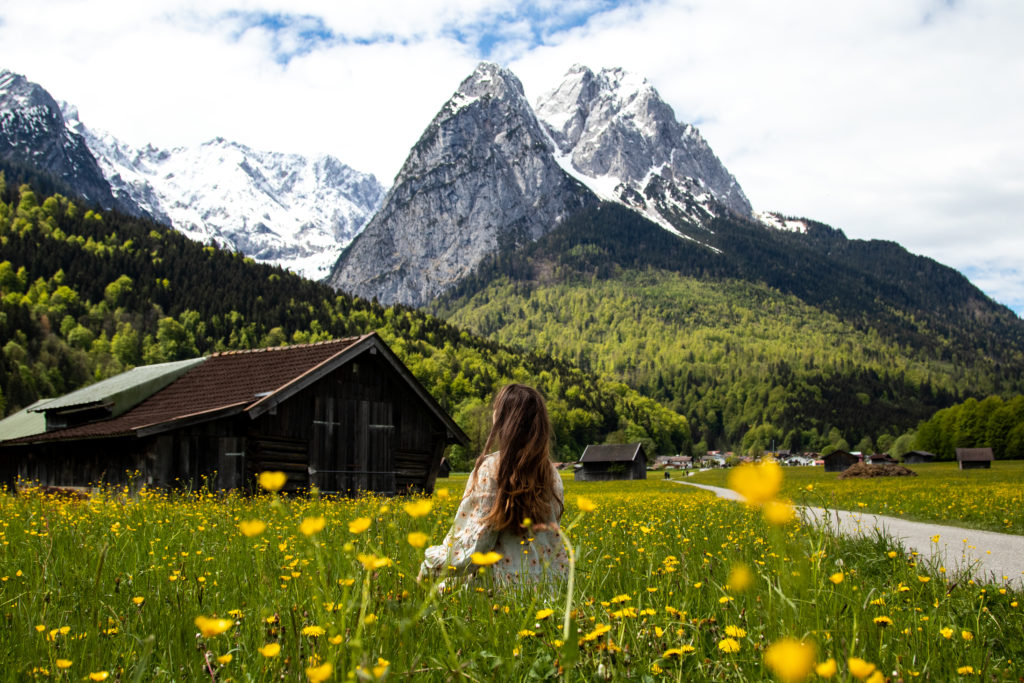 Lake Geroldsee
Lake Geroldsee is a small lake also known as Wagenbrüchsee not far from Garmisch-Partenkirchen. It's really nice during sunset as the mountains glow up and you can go for a walk. Walking from the village to the lake, I felt like walking through the Shire in Lord of the Rings. Geroldsee has become Insta-famous so it can get crowded in summer. The lake makes a great photo spot but please be mindful of nature if you visit.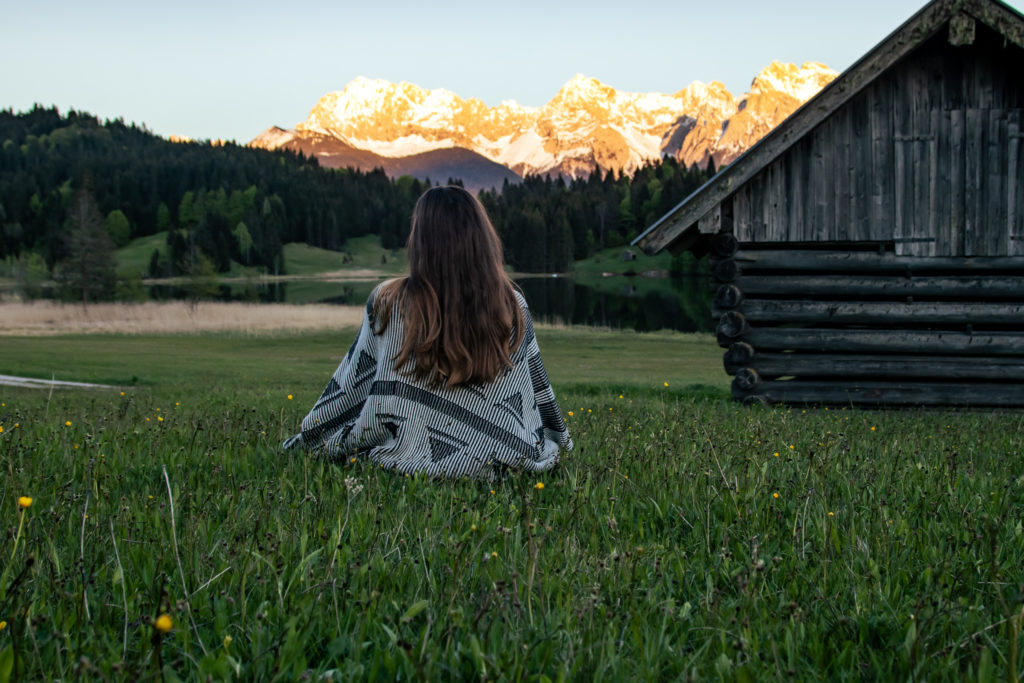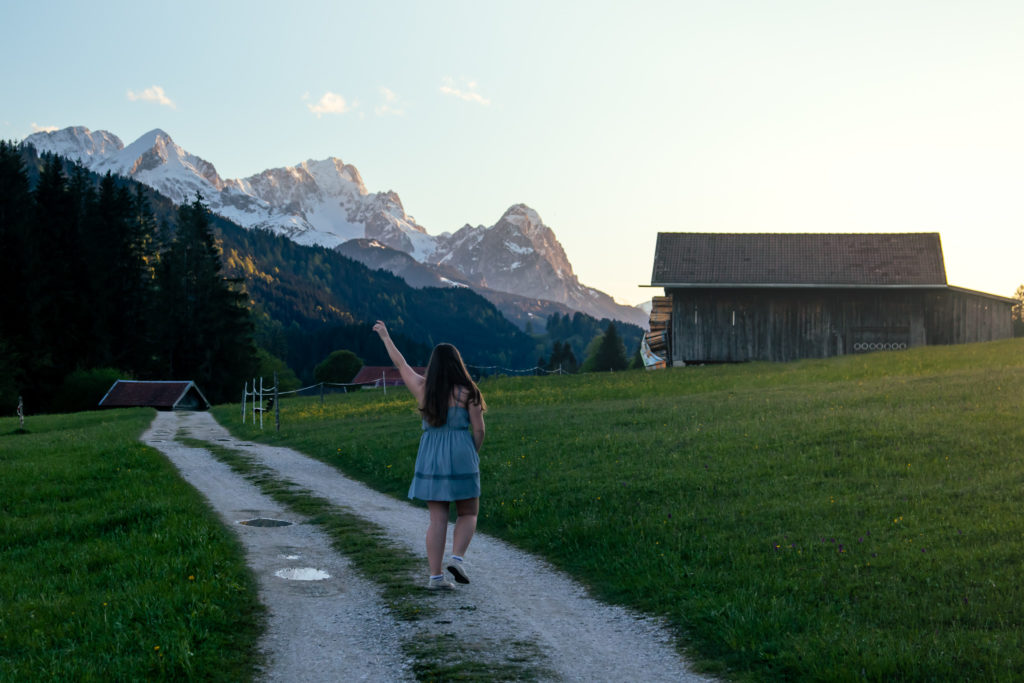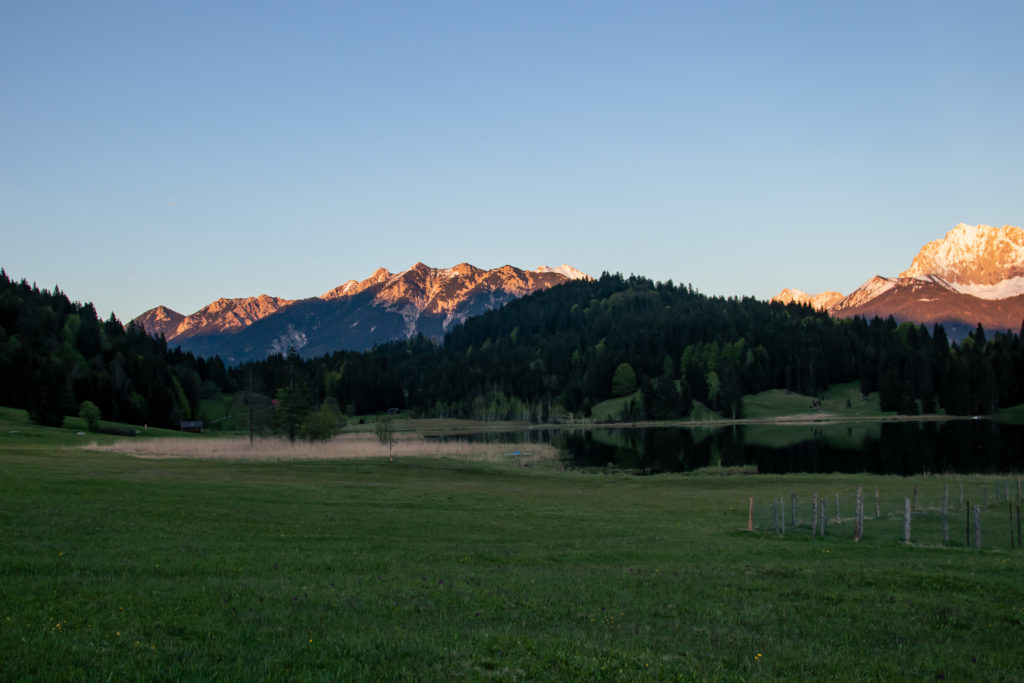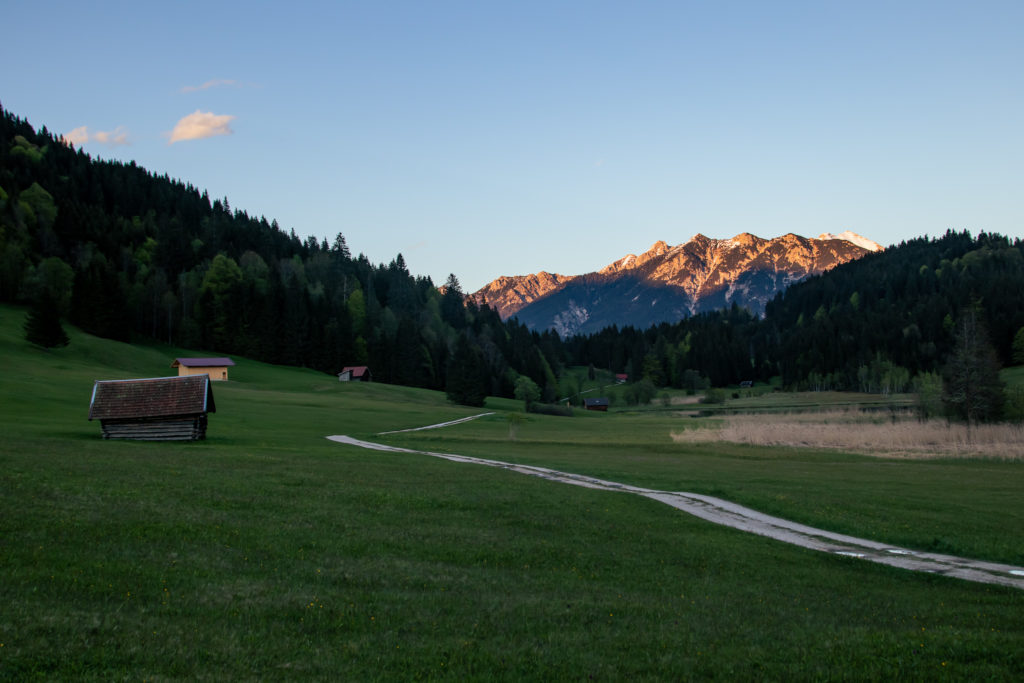 And this is my travel guide to Garmisch-Partenkirchen where you can find some of the best things to do in Bavaria Germany. If you have any questions or you want to share some tips, please leave a comment 🙂
You can download a printable 5 day itinerary here:
Travel Map to Garmisch-Partenkirchen
Pin it!
and remember all the things to do in Bavaria Germany, Garmisch-Partenkirchen