This post contains unpaid advertisement
Cascate del Mulino, the hot springs of Saturnia have made it to the discovery page of my Instagram so many times in the last years. This place looks like a dream, light blue water cascading down the little white natural pools. The water has a constant temperature of 37 degrees all year round. I've wanted to visit for so long and I finally got the chance on a trip to Tuscany earlier this year. In this guide to Cascate del Mulino, you can find everything you need to know to visit the Saturnia Hot Springs in Tuscany.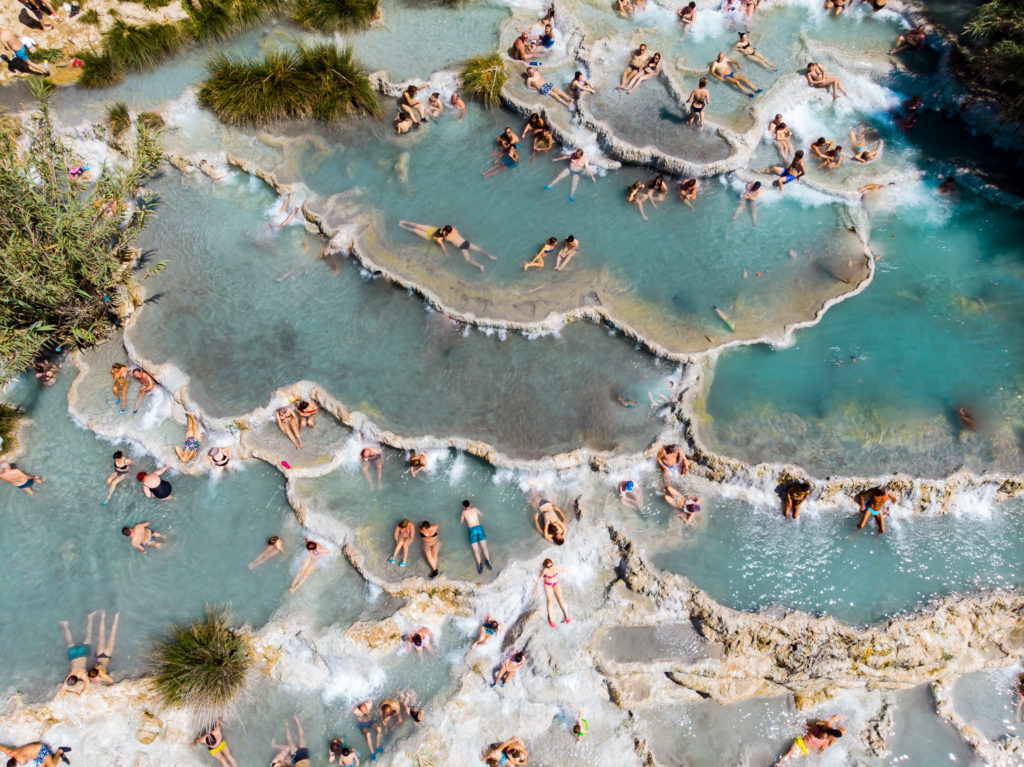 Quick Tips Hot Springs Saturnia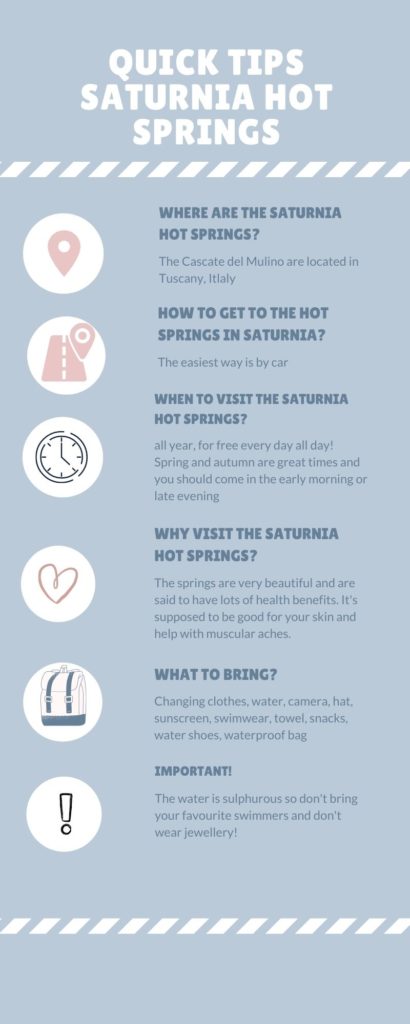 What are the Saturnia Hot Springs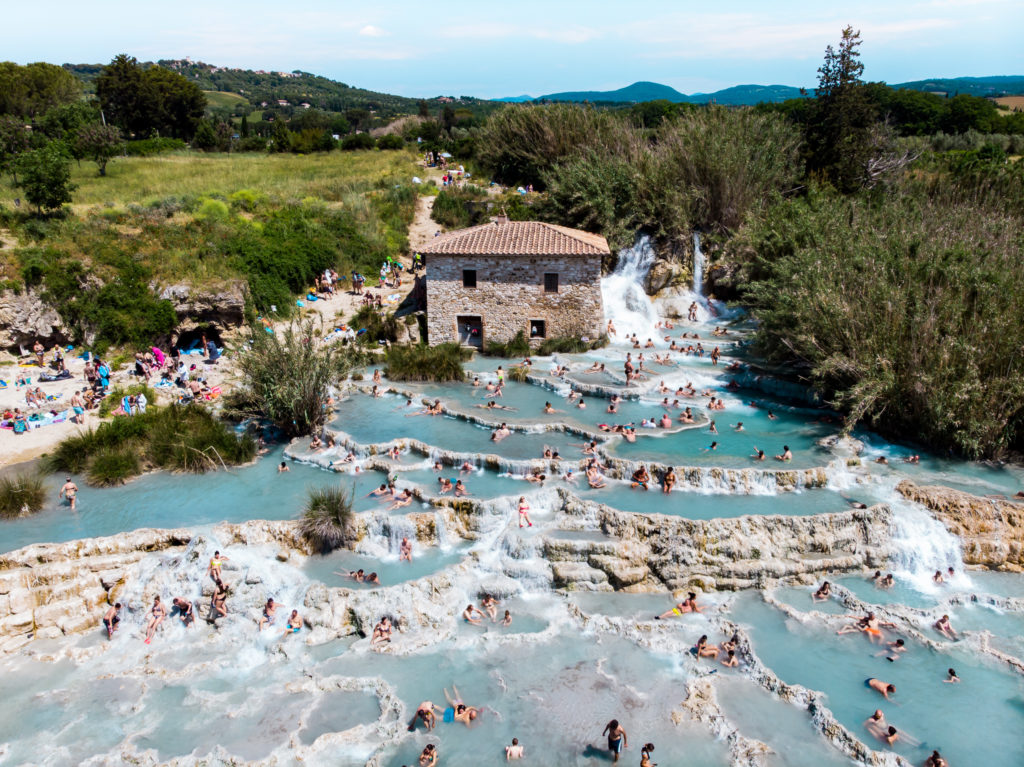 Saturnia is a Spa town in Tuscany, in the province of Grossetto. The Saturnia Hot Springs, not far from the village made it famous and attract many visitors to the area. It´s important to know that the Cascate del Mulino with its warm sulphorous water is not part of the nearby Spa resort and is completely FREE to enter and open 24 hours a day, 7 days a week. Each second there are 800 litres of water gushing over a waterfall into natural pools formed by calcerous rock. The water keeps a constant temperature of 37 degrees due to the heat from the earth's crust and is rich in minerals. Therefore the springs are said to have relaxing and therapeutic properties.
Saturnia has its name from the Roman god Saturn and according to a legend he sent a thunderbolt to earth, creating a magic spring of sulphorous water to stop humans from fighting and having wars. The Etruscans and Romans used the water for its healing powers.
It is an enchanting, relaxing place indeed but due to the popularity its gained through social media, you won't have the place for yourself.
How to get to the Saturnia Hot Springs, Cascate del Mulino
Getting to the Cascate del Mulino is fairly easy, however you need a car. Saturnia is only a small village and there aren't many public transport connections.
From Rome or Siena you need about 2 hours by car. I would recommend to stay closer to Satunia overnight as you might want to visit early in the morning. We stayed in Argentario, at the coast and it was only a 40 minute drive. I can highly recommend staying at the coast and visiting Saturnia on a day trip.
You can read more about the best places to see in Tuscany here.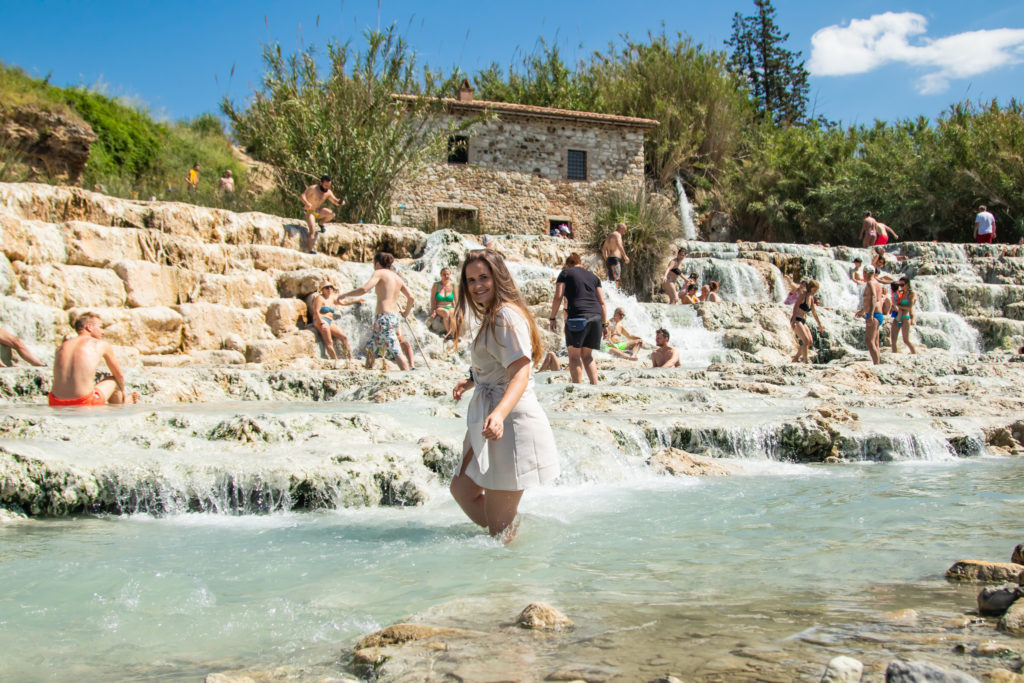 Depending on what direction you come from, you will see a sign to Cascate del Mulino either on your right or your left. Coming from Saturnia it'll be on the right hand side. There are also signs for parking so you cannot miss the parking space. However, when we visited to parking was closed but there were signs leading to a camping place where we were able to park. I'm not sure if parking is still closed but there was enough space at the camping and it was only a few Euro. The walk from there was about 15 to 20 minutes. Usually, the parking at the Saturnia Hot Springs is free.
Coming from the car park, you will be on top of the springs. You can either climb down to get into the water or go on a dirt track on the right and walk through the little stream to get to the other side where it's easier to put down your towel.
When to visit the Saturnia Hot Springs
Cascate del Mulino is open all year and it's always free to access. In terms of seasons, I would say spring and autumn are the best as temperatures are nice and it's super relaxing to enjoy the warm springs. We visited in early summer and it was already very hot. There is no shade, so it's really hard to stay for a long time plus it's very crowded in the summer months. In winter you might have a better chance to experience this magical place by yourself but outside temperatures are not very pleasant and there are no facilities so you'll be wet when getting into your car. I think if you prepare well and take lots of sunscreen, a hat and lots of water in summer or warm clothes and towels in winter, the springs are awesome at any time in the year.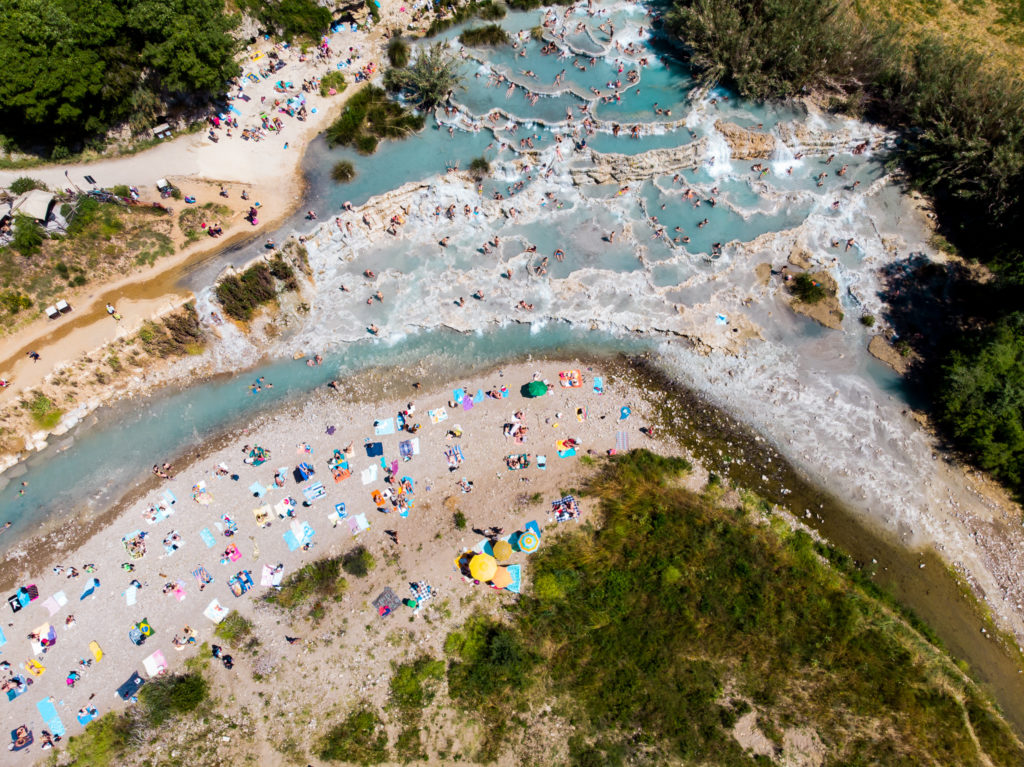 When it comes to the time of the day, earrly morning before 7am or late evening are less crowded than during the day. Especially in summer it might be nice not to be at the springs in the afternoon heat. Early mornings are also a great time if temperatures are low and the warm water creates enchanting steam over the pools.
Tips for visiting Cascate del Mulino
Visit the hot springs in Saturnia at sunrise or sunset to avoid the crowds, you'll have a much more relaxing atmosphere
Be prepared for the egg-like smell due to the sulphurous water
Don't wear your favourite swimsuit, the smell might be hard to get out
Wear water shoes as there are lots of stones on the bottom of the pools
Don't wear jewellery, it can get tarnished from the minerals and sulphur in the water
Don't bring valuables or bring a waterproof bag. It's hard to watch your stuff when in the pools
Avoid midday and weekends, there is limited parking
You might encounter lots of tiny red worms in the water. Even though some people might find it a little gross, they are really tiny and harmless. However, they can get stuck in your swimmers, so definitely bring changing clothes
Arrive in your swimwear. There are no facilities so you should either get changed in your accommodation or in your car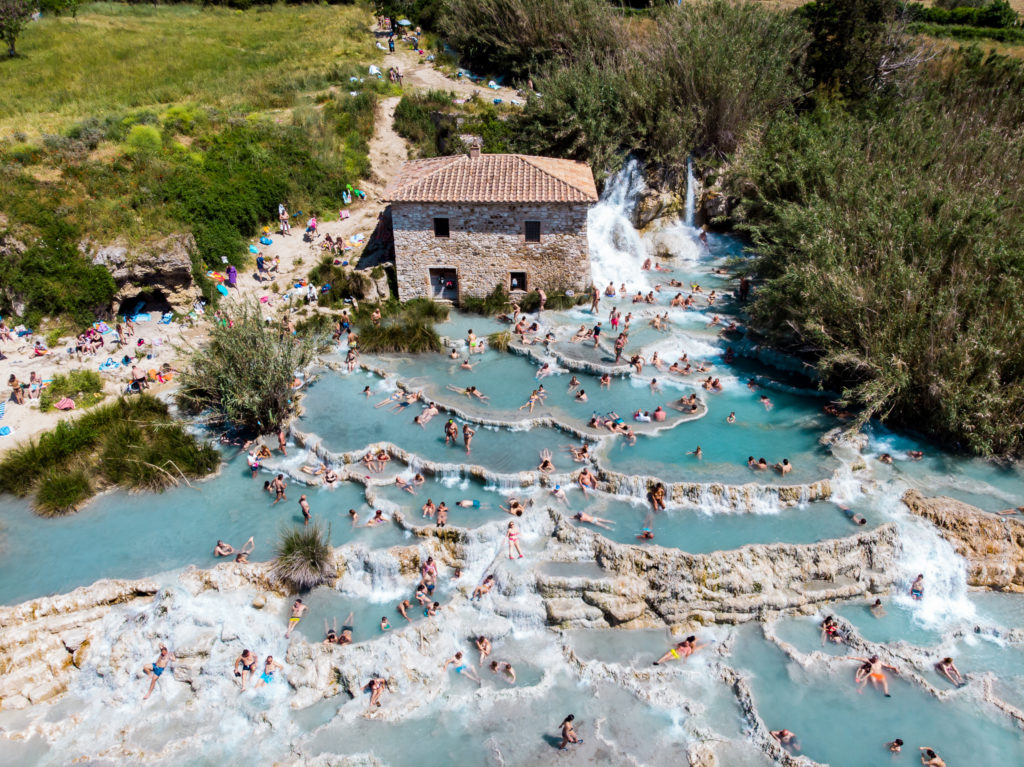 What to bring to the Cascate del Mulino
As mentioned above, it can get really hot at the Cascate del Mulino, why you should bring sunscreen, a hat and water. If you have water shoes you should bring them too, it's not necessary but it makes it a lot easier to walk on the little rocks in the river and in the pools.
If you want to spend a few hours at the Saturnia Hot Springs, bring some snacks with you. There is a Pizza vending machine (yes, there really is) but I haven't tried it, maybe just bring some to be safe.
I would also suggest bringing changing clothes, including underwear. The egg smell of the water stays in your swimwear, so you probably want to change to different clothes if you're planning to go anywhere after your visit to the Saturnia Hot Springs.
A waterproof bag would be beneficial too so you can take your valuables with you.
Important: Please take your rubbish with you. It's important that visitors keep the area clean so that everyone else can enjoy the beauty of the Cadcate del Mulino.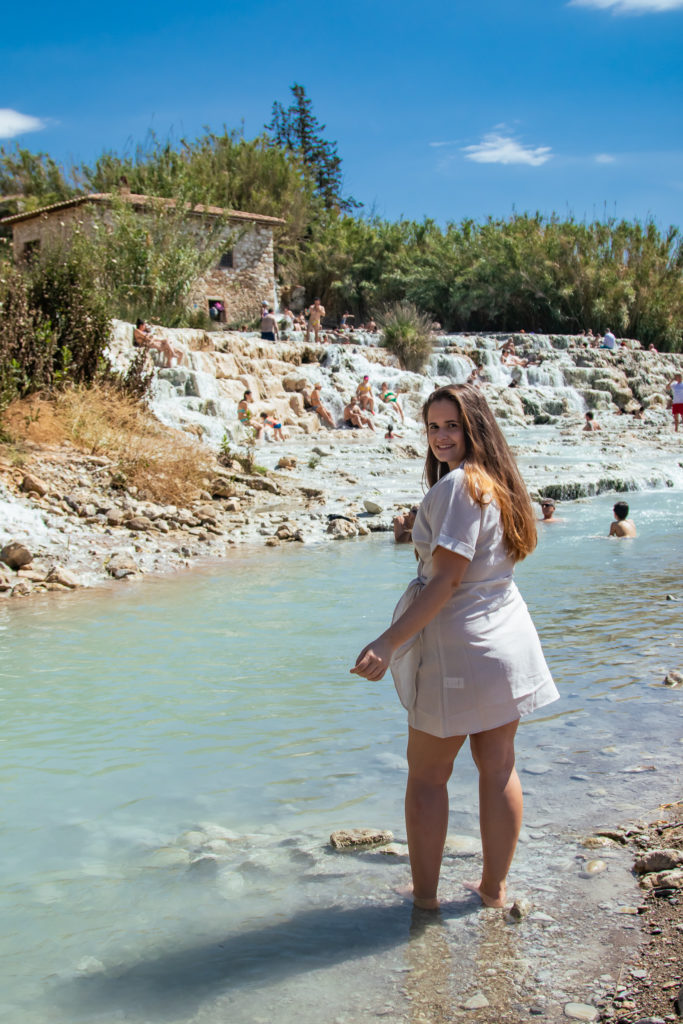 Where to stay for the Saturnia Hot Springs
There are some options for accommodation for your visit to the Saturnia Hot Springs. I stayed at a camping place in Argentario, which was only 40 minutes away and right at the beach. In this area, there are a lot of campsites. There are a few agriturismos or B&Bs around which you can find easily on google. I personally liked not staying right at the springs and accommodation is cheaper in other areas. If you want to visit during sunrise though, you'll have to leave earlier if you stay somewhere else.
Other things around Saturnia
There are a lot of things to do in Tuscany that are not too far away from Saturnia. One of my favourites was the charming village of Pitigliano. It's only a 30 minute drive.
You can also visit the coast of Tuscany with Monte Argentario and visit the small fishing town, Porto Santo Stefano.
This was my guide to Cascate del Mulino in Tuscany. I hope you enjoy it as much as I did and have a great time in Tuscany! If you have any questions or tips, please leave them in the comments 🙂
Pin it!