Milos Greece is one of the best islands in Greece and one of my favourite places in the world. Unlike Santorini and Mykonos, Milos is not flooded with tourists and a real gem! Even in summer it feels so remote and exclusive with so many things to see and explore almost by yourself. In Milos Greece you can find some of the most unique beaches (speaking the moonscape-like Sarakiniko beach which you've probably seen on Instagram). The nature, cute fishing viillages, the clear turquoise water, underwater caves and stunning views make me wanna go back so badly… not to forget about the delicious food! Milos Greece is great o explore from the water as a big part of the island is not accessible by car. If you are looking for an adventurous and quiet vacation with lots of picturesque beaches and landscapes, Milos Greece is the island for you.
*This post contains unpaid advertisement
As there are many islands around, Milos is great to discover on an island hopping trip in Greece. You can find an itinerary to experience the best of the Greek islands here. So if you want to know how to spend the best time in Milos Greece keep reading.
Quick Tips Milos
How to get to Milos Greece
Milos is located in the Cyclades and easily accessible via ferry from Athens or most other Greek islands. The island is a bit further away from major ports and therefore you'll need to spend a bit more time on the ferry. You could also take a flight to Milos Greece. Catching a ferry from Athens which takes about 7 hours costs approx. 35 to 40 Euro. Alternatively, you could take a ferry from other islands such as Mykonos and Santorini. There are always faster ferries which cost more and slower ferries which are more of a bargain.
Finding the right ferry or flight
There is an airport in Milos Greece that connects to Athens. Usually there are daily flights from Athens to Milos, so if your international flight lands in Athens, you can decide if you rather want to catch a ferry or take a plane.
You can find cheap flights on Skyscanner and search for ferries on Ferryhopper. Just play around with options to see if it's best to depart from Athens or another island. If you take the ferry and you get seasick easily, make sure you take some medication with you. There are also different ferry companies, some with faster and some with slower ferries. Usually, the fast option is a smaller ferry which means it is a lot easier to get sick. They are also more expensive. That's why I would recommend to choose the bigger and slower ferry, they usually have multiple levels and you can walk around and buy something to eat or drink.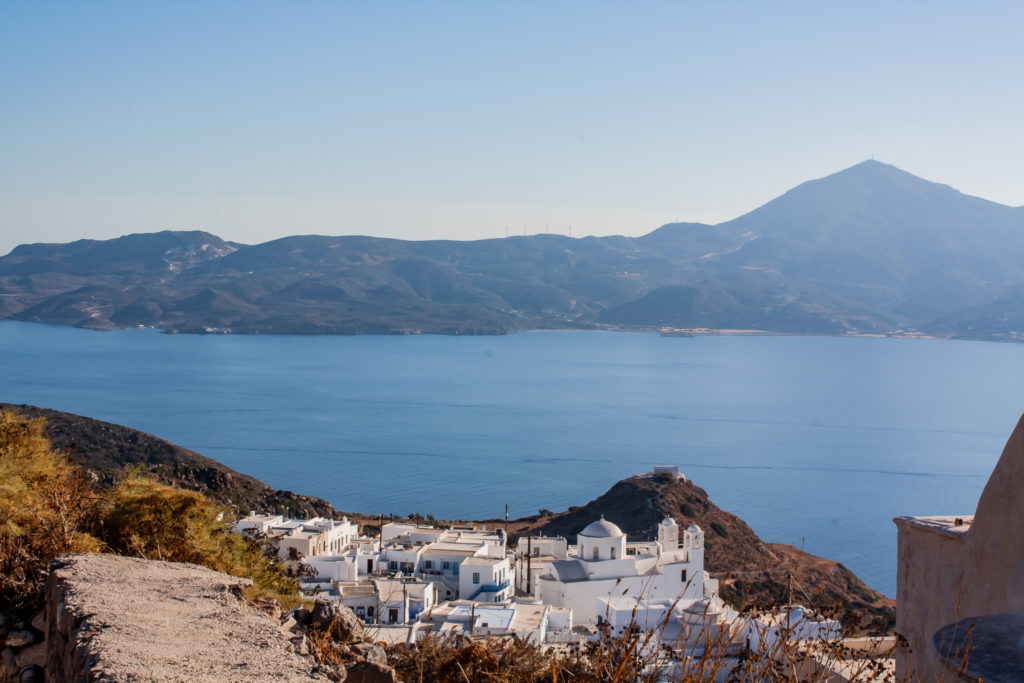 Where to stay in Milos Greece
Adamas is the port town and therefore great to stay at. You won't have a long way to your accommodation after your arrival and you won't need a car all the time as there are buses to the main tourist spots on the island. At the port you can also book tours departing from Adamas. A great accommodation where we stayed is Veletas Apartments which was lovely and only a short walk from the port.
Pollonia is also a good place to stay. There is a beach, coffee shops and restaurants. Buses drive to Pollonia and connect the town to some spots you would want to visit.
How to get around in Milos Greece
Milos has a local bus company that will take you around the island to some towns and beaches. If you are travelling on a budget, this is a good way to get around the island. Here you can find a timetable. However, the bus doens't depart often and many places are not accessible by public transport why I recommend to rent a car. Staying in Adamas saved us some money for the car rental as we didn't have to rent it for the whole stay and visited some places by bus or did a day trip on a boat.
As I love to explore and find undiscovered spots away from tourists, a car was necessary to get to some of the more secluded places.There are car rental companies in town. However, a lot of places don't offer a full insurance, that's why (if you are scared like me) I would recommend to book via a booking website that offers an additional insurance. We payed about 25 Euros per day.
To drive in Greece you need an international drivers license which you should get at home before you depart!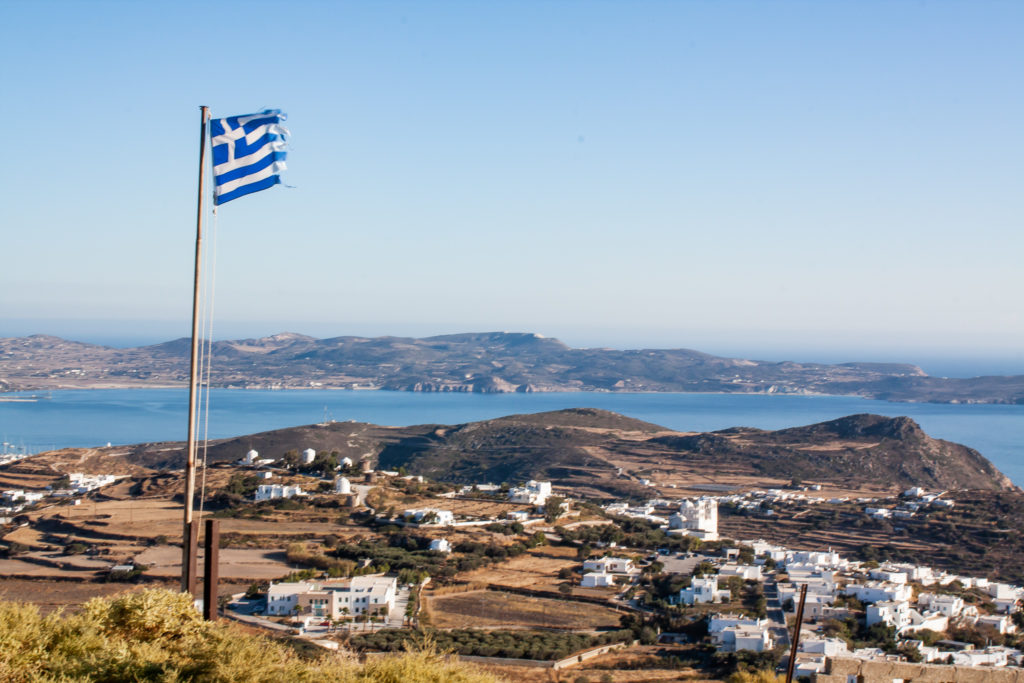 When to visit Milos Greece
In Greece summers are hot and dry summers winters are mild and rainy. The peak season is over the summer months which are the hottest and sunniest. However, it can get a bit more crowded and very hot during the months of July and August. As Milos isn't very touristy, it is not as crowded Mykonos and Santorini. If you can though, maybe try to avoid these times.
I would suggest going from May to June, as this is before the peak season but temperatures are already very nice and the weather is sunny. Likewise, September and October are good times to travel as the peak season is over, it's less crowded and the temperatures are a lot more bearable. Moreover, the ocean is warmer than in May and June which makes it great for swimming. I went to Milos at the beginning of October and it was just perfect. Just be aware that towards the end of the year some ferry services, bus services, as well as tourist accommodation, restaurants and attractions start to close over winter.
What to do in Milos Greece
Explore Plaka
Plaka is a little old town on a hill and is beautiful during sunset. There are cute shops, restaurants and of course beautiful cobblestone streets and picturesque houses.
One of the most beautiful spots in Plaka is the old church that you will find on the way to the Plaka Castle (The Venetian Castle of Milos). This is one of my favourite photo spots in Greece. The sunset is beautiful from up there as you have a 360 degrees view and can watch the sun setting behing the hills of the island. It's quite hard because the hill is steep but it's not very far and the view is absolutely worth it!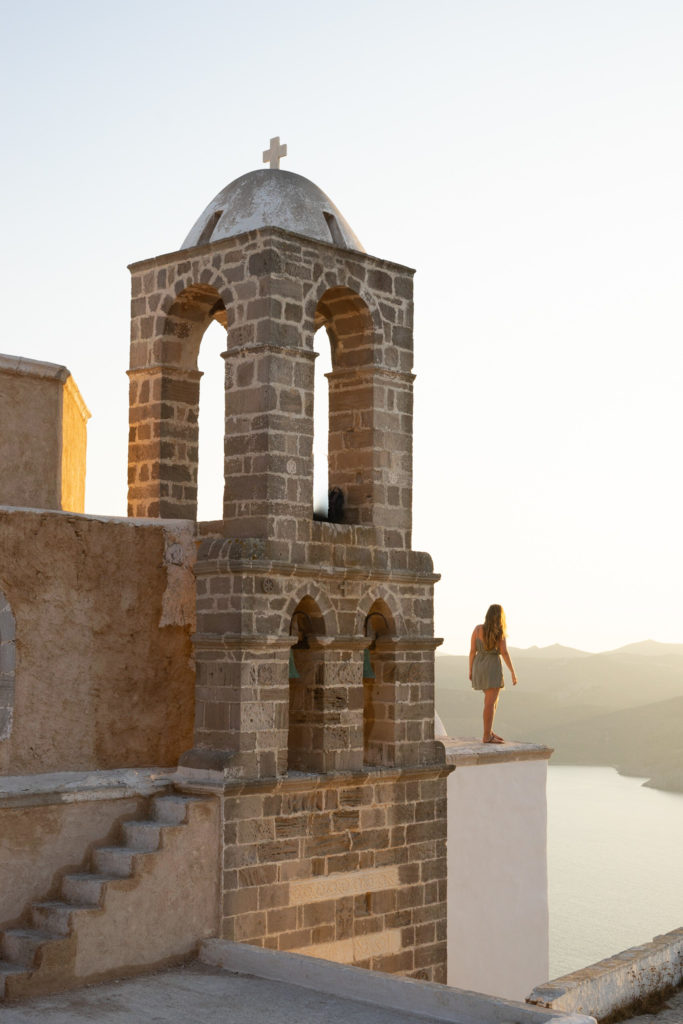 Visit the fishing villages
Klima
Klima is a popular spot in Milos and almost on every bucketlist. The white-washed houses with colourful doors and windows were originally inhabited by fishermen and are now a famous tourist attraction. Nowadays the town is only inhabited by few people and welcomes many tourists in their souvenir shops and restaurant. Klima is beautoful during sunset and a gorgeous photo spot.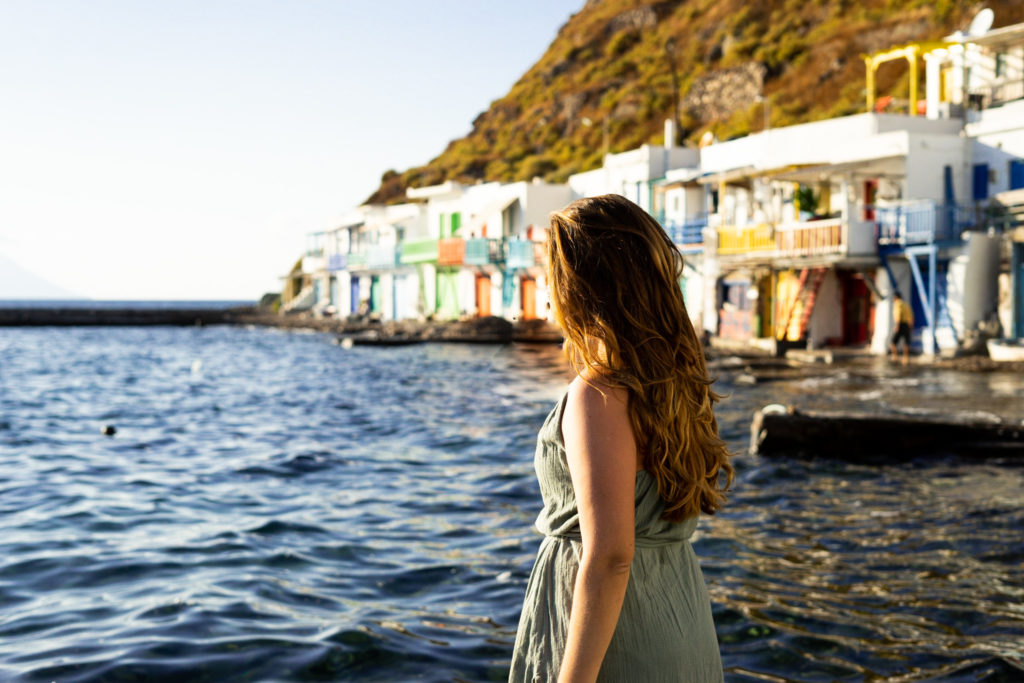 Mandrakia
Mandrakia is a small, picturesque fishing village and absolutely charming. The colourful houses and boats are situated in a bay and beautiful to watch. Mandrakia isn't far from Sarakiniko and worth a stop. Not only the bay is beautiful but also the village itself, so take a stroll through the village and stop by at the restaurant.
Firopotamos
Not far from Mandrakia you can find Firopotamos, another bay with cute, colourful fishing houses. Besides the boat houses (Syrmata) you can find a pretty church. The place is really small so in summer it can get quite busy.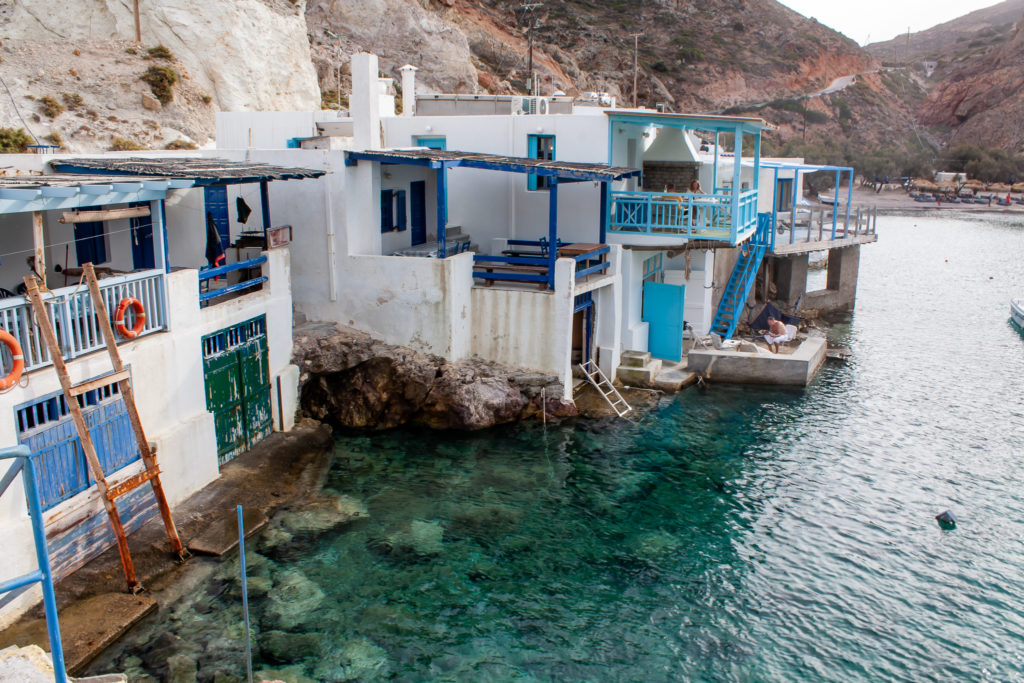 Take a tour to Kleftiko
Kleftiko is one of the most unique places in the world. The turquoise cristal clear water and the white rock formations and underwater caves make this place so special. Lots of people come to Milos greece to do a tour to Kleftiko and see the spectacular coves and caves in which pirates once hid. A boat tour to Kleftiko is the perfect way to explore this beautiful coastline and experience the best of Greece. The water is so clear that you can see the bottom of the ocean from the boat. On a boat tour you can expect to snorkel, swim, visit caves and eat delicious greek food.
To book a tour you can look online or look at Adamas port to find a company that offers boat tours to kleftiko. I would recommend to book a full day tour and one with less people as the experience is more private than on a touristy ship. After September a lot of companies stop tours so if you are planning to visit later in during the year you should do some research in advance. You will soon find a post about Kleftiko where i will write in more detail about what to expect from a boat trip to Kleftiko.
Beaches in Milos Greece
Sarakiniko Beach
Sarakiniko beach is probably the most famous beach in Milos Greece. The moonscape-like landscape is stunning and really fun to explore. You can also jump off the cliffs, however be careful and only jump in where the water is deep enough. The cliffs consist of volcanic ash and look spectacular. Sarakiniko beach is also a great place to watch the sunset.
It's incredible how clear the water is! Wander around a little bit and explore the cliffs. There are always places where you are completely by yourself.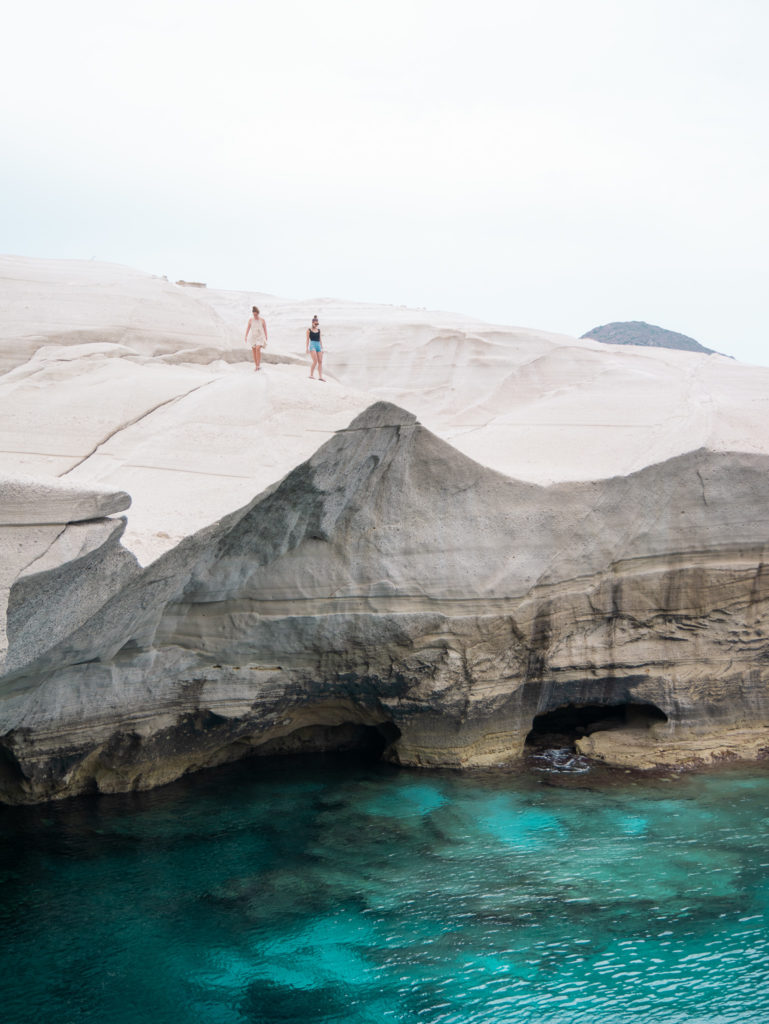 Papafragas Beach
Papafragas Beach is a beautiful little stretch of sand in between cliffs and an absolute must-see. As soon as you get down to the beach you'll also see small caves at the beach. In the morning the beach is quite empty while it gets busier during the day. There is a car park and the bus stops at papafragas beach as well. You have to access the beach over some really steep stairs that are carved in the rocks. There is a danger sign at the stairs, so go down at your own risk and be very careful!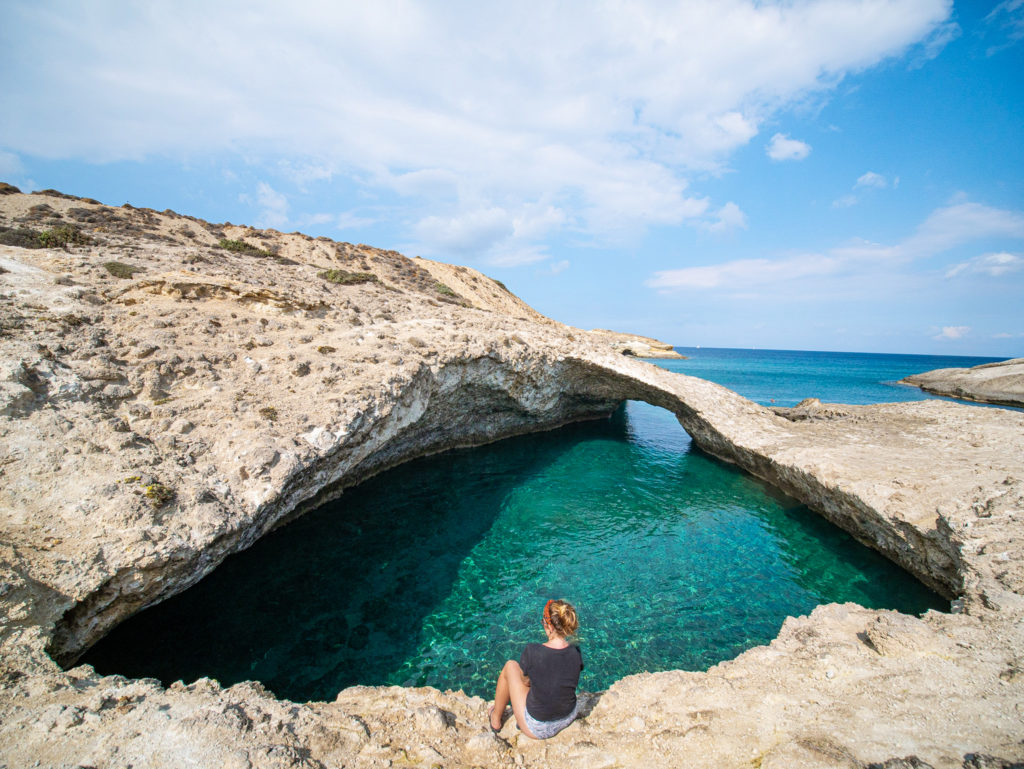 Right next to Papafragas there are more rocky beaches and cliffs from where you can access the water. Plan some time to spend in the area as there are so many pretty places to discover. You can find this cute spot just a few hundred metres along the road and on the left of Papafragas on the map below.
Tsigrado Beach
Tsigrado Beach is a small stretch of sand on the south of Milos Greece. It's only accessible by boat or by walking through a gap between the rocks and down a ledder. Getting there is really fun and adventurous. As the beach is not very accessible, there aren't too many people. However, the gap is really narrow and you will have to climb between the rocks so I would only recommend for people who are fit.
You can find the way down at a red metal rod that holds a rope. You will need to hold on to the rope and climb through the gap. It´s sandy and slippery and you have to be careful.
The beach is the right thing for everyone who loves adventure. There are many caves to explore as well, so you can swim around and explre the area. Not far from Tsigrado is Fyriplaka Beach, a bigger more touristy beach. You won't find any cafes or restaurants around Tsigrado and will have to go to Fyriplaka.
Fyriplaka Beach
Fyriplaka is located at the southcoast of Milos Greece and not far from Tsigrado Beach. It's a more touristy but still amazingly beautiful beach. During the summer months it's lined with umbarellas while it's a more remote experience after the peak season. The beach has a colourful cliffside and a big rock in the middle of the beach. From the carpark you have a great view of the whole beach.
And this is my ultimate travel guide to Milos Greece with all the tips you need to have a great time, the best things to do in Milos Greece and much more! If you would like to know more about Greece, make sure to check out the other travel guides on Island hopping in Greece, Mykonos and Paros!
If you have any questions or tips please let me know in the comments 🙂
Here is a map with all the important places:
Pin it!
Want to read more about Greece?