Mykonos Greece is one of the most famous travel destinations in the world. It is known for its parties, beaches and the beautiful Mykonos town. It is also the most expensive of the Greek islands. Therefore, I put together a guide on how to have a great time and things to do in Mykonos without breaking the bank. But first of all, my most important advice is to visit Mykonos as part of an island hopping adventure in Greece if you have more time. I have put together a guide here which can help you to plan a route, or you can just follow the itinerary I have put together. I promise you'll have the best time!
*This post contains unpaid advertisement
Mykonos is one of the most well-known islands in the Cyclades. A destination for celebrities, party-goers, backpackers and families – Mykonos has it all. With its whitewashed houses and cobblestone streets, and the pink Bougainvillea flowers, Mykonos town became famous on social media. Mykonos Greece is a destination you don't want to miss.
Due to its popularity and beauty, thousands of visitors come to the island each day and fill the streets of Mykonos town. Cruise ships dock at the harbour of Mykonos every morning most of the year. Therefore, it can be a little disappointing for everyone who expected to have the idyllic picturesque streets we know from instagram for themselves.
However, do not worry! There are a lot of things to do in Mykonos Greece and with a few tips you can have an amazing time (and even some beautiful pictures of the idyllic streets in Mykonos town).
Quick Tips Mykonos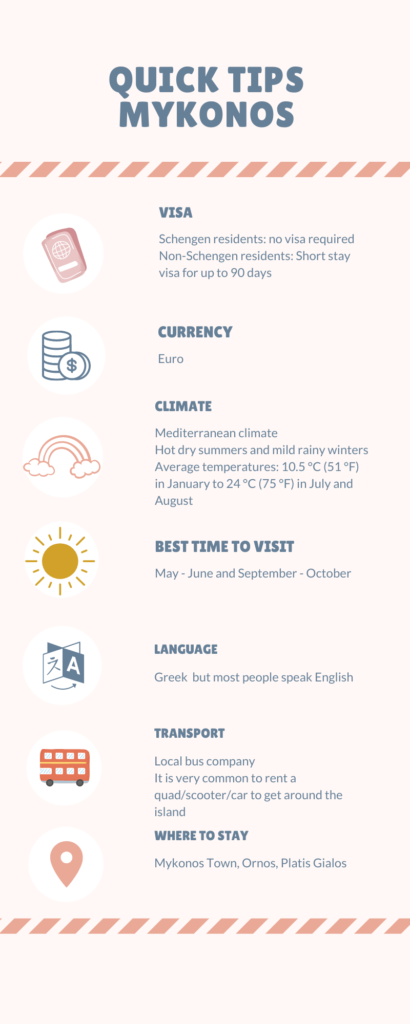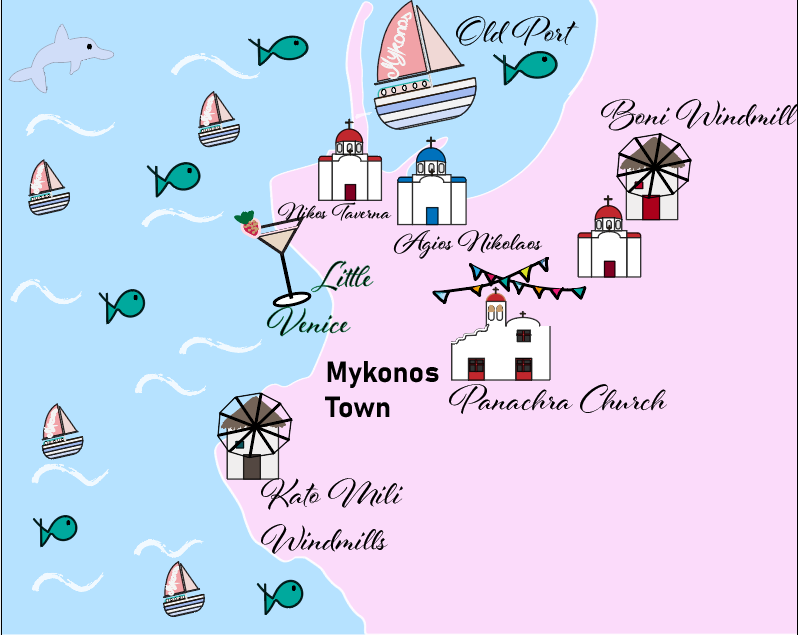 How to get to Mykonos Greece
Mykonos is an island in the Cyclades and is accessible via ferry or plane. The island has its own airport which makes it very easy for international travellers. If there is no direct flight from your departure airport to Mykonos, there is most likely a stopover in Athens. From Athens, you can either take a ferry, or a connecting flight.
For European travellers, the plane is the easiest and fastest option. Most airlines offer direct flights to Mykonos. However, which option is the best depends if you want to take your own car to the island or if you wish to rent a car, scooter or Quad in Mykonos. If you wish to drive to Athens you can easily catch the ferry from the port to Mykonos.
Where to stay in Mykonos Greece
The best place to Stay in Mykonos depends on where you would like to spend most of your time. If you would like to spend your time at the beach on most days, I would recommend staying in Ornos, Platis Gialos, or Paradise Beach.
In many travel guides Paradise Beach is not considered the best place to stay but I stayed there and really liked it. For the budget travellers and party lovers Paradise beach is a great location. We stayed at the Paradise Beach Resort where you can stay in little huts and bungalows. Even though it isn't luxerious, it's super affordable compared to most accommodation on the island.
There are parties at the resort so it can get a bit loud at night if your hut is close to the beach, so make sure to bring earplugs. The bus stop for the local bus that goes to Mykonos Town is right in front of the resort.
As Mykonos Town is the place where most people would go and where a lot of the sights are located, the best option is staying there. However, this can be a bit more expensive.
How to get around in Mykonos Greece
In order to see some hidden gems and explore most of the island, it is best to rent either a car, Quad or scooter. In Mykonos you'll find a lot of Quads which is very popular amongst travellers. It's better suited to the roads than a scooter and a great way to explore the island. Especially in summer when it's very hot, a Quad, as well as a scooter can be a lot of fun. However, the roads aren't great and if you are inexperienced and have never driven a scooter or a Quad, it might be better to rent a car.
Remember that you need a motorcycle license if you want to rent a scooter and an international drivers license if you want to drive!
However, it is also possible to travel Mykonos with public transport. There is a local bus that drives to the major areas on the island. It's the cheapest option but the least flexible. So if you would only like to visit the major places such as Mykonos town then you can easily take the bus. Here you can find the timetables for the buses.
When to travel to Mykonos Greece
Greece has hot dry summers and mild rainy winters. The peak season is over the summer months which are the hottest and sunniest as this is the European holiday season. However, it can get very crowded and very hot during the months of July and August. Thus, if you can, try to avoid these times. The island is full of tourists from cruise ships, prices are more expensive and the sun will be very intense during the day making it hard to explore.
I would suggest visiting Mykonos from May to June, as this is before the peak season but temperatures are already very nice and the weather is sunny. Likewise, September and October are good times to travel as the peak season is over, it's less crowded and the temperatures are a lot more bearable. Moreover, the ocean is warmer than in May and June which makes it great for swimming. When I went to Mykonos at the end of September, there were still a lot of visitors but I think it was the perfect time of the year. Just be aware that towards the end of the year ferry services, bus services, as well as tourist accommodation, restaurants and attractions start to decline over winter.
Things to do in Mykonos Greece
1. Discover the streets of Mykonos town
Mykonos town is one of those places that actually look like we know them from social media. The white washed houses and the beautiful streets with cute shops and bougainvillea flowers everywhere really are beautiful. Stroll through the streets and discover something amazing in every corner. You will see the blue doors and find cute shops everywhere. This also makes Mykonos to a great place for shopping. My tip is to come early if you would like to stroll through the streets by yourself and if you wish to take pictures. Usually crowds start to arrive by 9 am so make sure to come a bit earlier.
You will also find a lot of cute cats in the streets.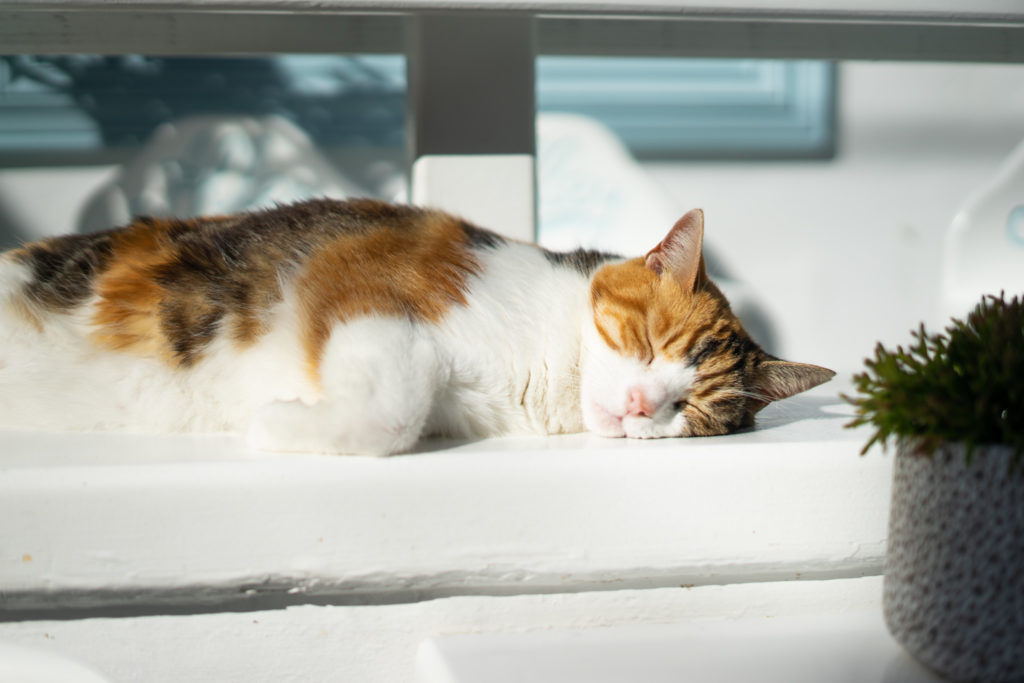 What to see in Mykonos Town
Niko's Taverna Square
Besides the beautiful streets and the cute shops there are also some churches. At Niko's Taverna Square there is a cute church with a red roof which is very picturesque. It's also a great place to grab lunch.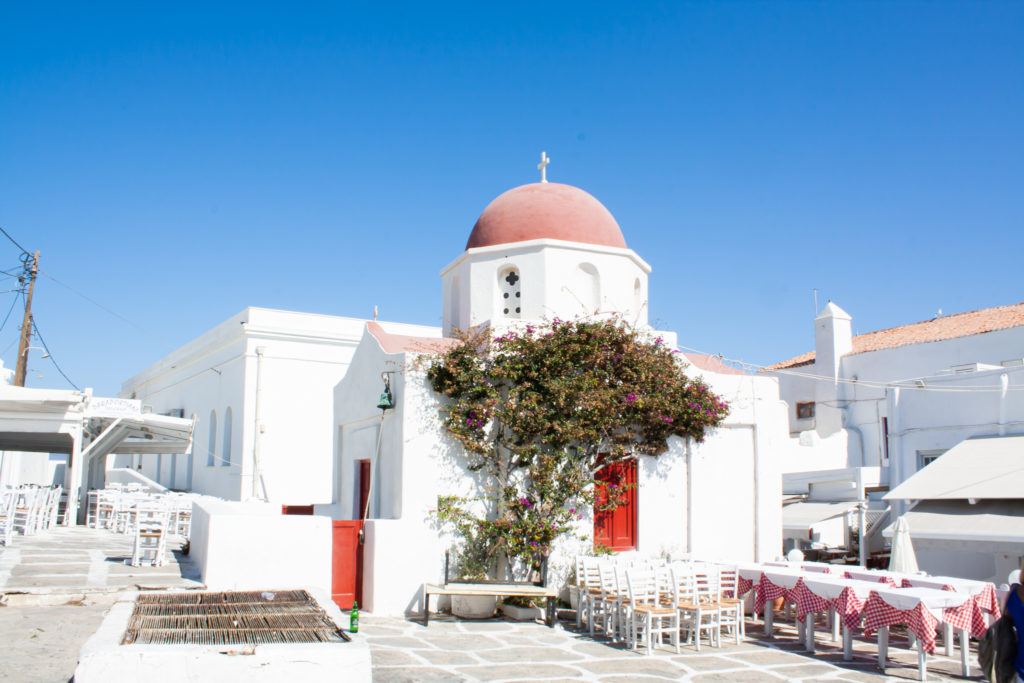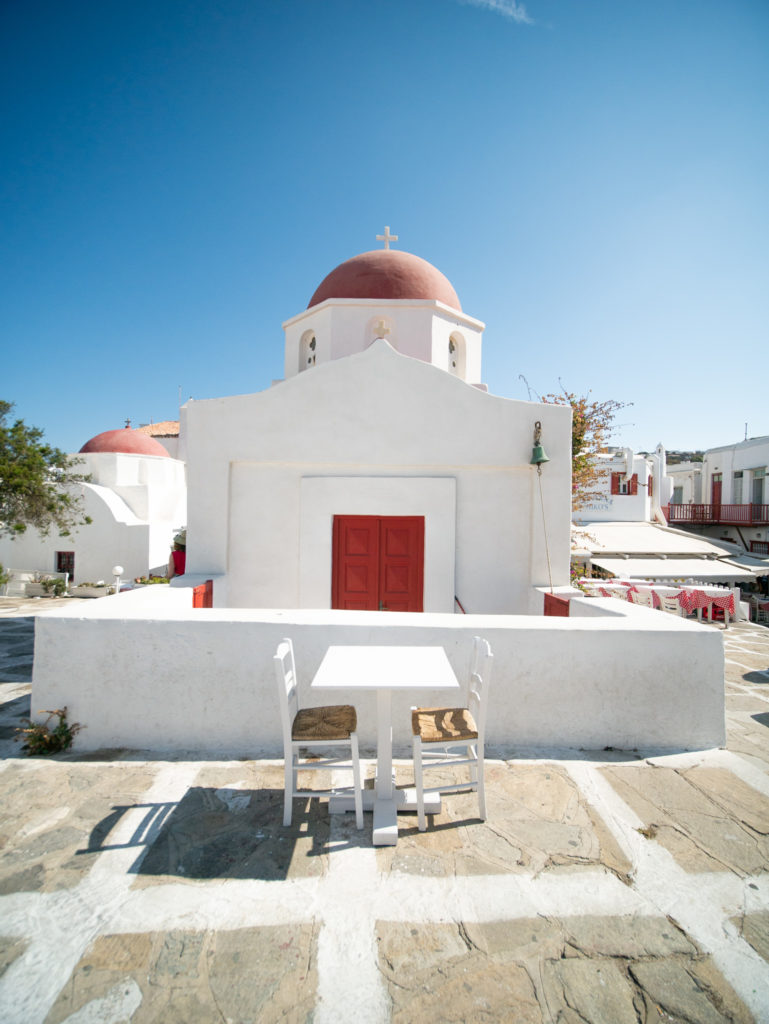 Panachra Church
I also really liked Panachra church which is a little hidden. Look on the map above to find it. In my opinion it is one of the most instagrammable spots in Mykonos town.
Paraportiani Church
Another beautiful spot is Paraportiani church.
2. Little Venice
Little Venice is very close to the Kato Mili Windmills and very easy to find. It is a waterfront area with bistros and cafes that resembles the city of Venice. A lot of people come for sunset as it offers a beautiful view on the sea. The area is very romantic and charming. After a day exploring the streets of Mykonos town you can grab a drink when the sun starts to set and then make you way to the windmills to watch the sunset from there.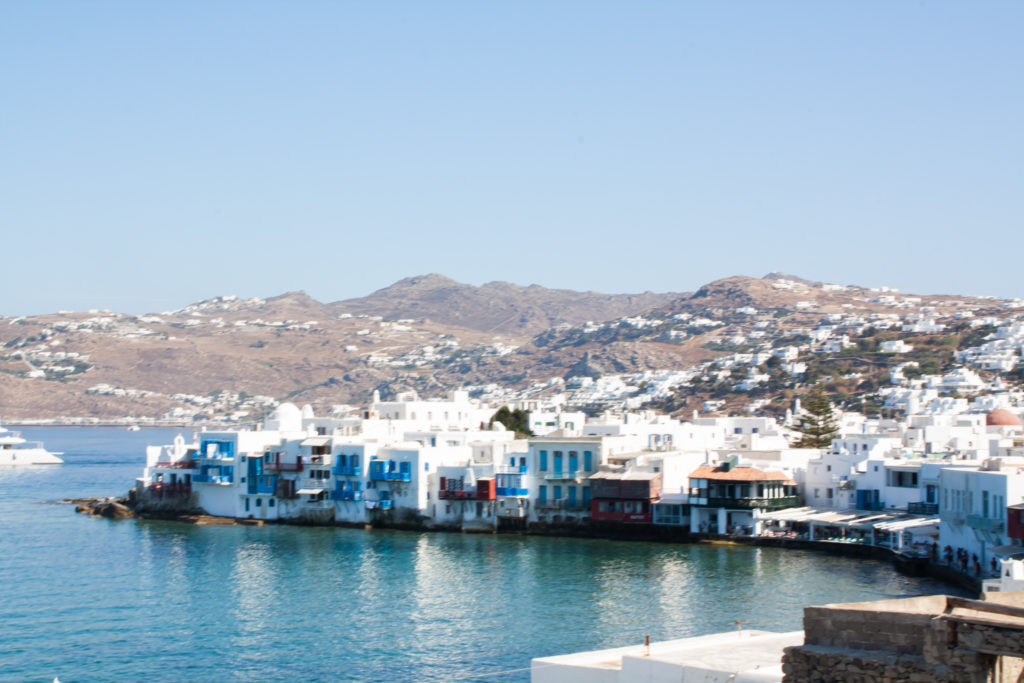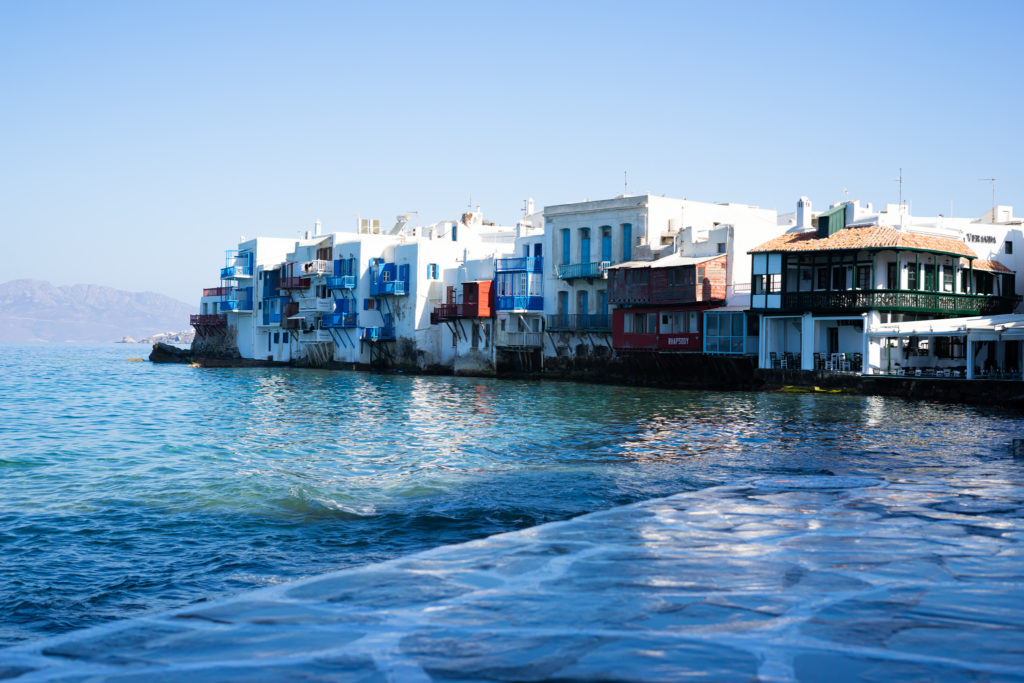 3. The Kato Mili Windmills
The windmills are the most iconic landmarks in Mykonos. They are found on most pictures and are truly beautiful. You can see them from many lookout points and from Little Venice. Look on the map above to see how to get there. The windmills are beautiful and you can watch a beautiful sunset there. However due to its popularity it can get very crowded, so if you want to take pictures I would recommend to come very early.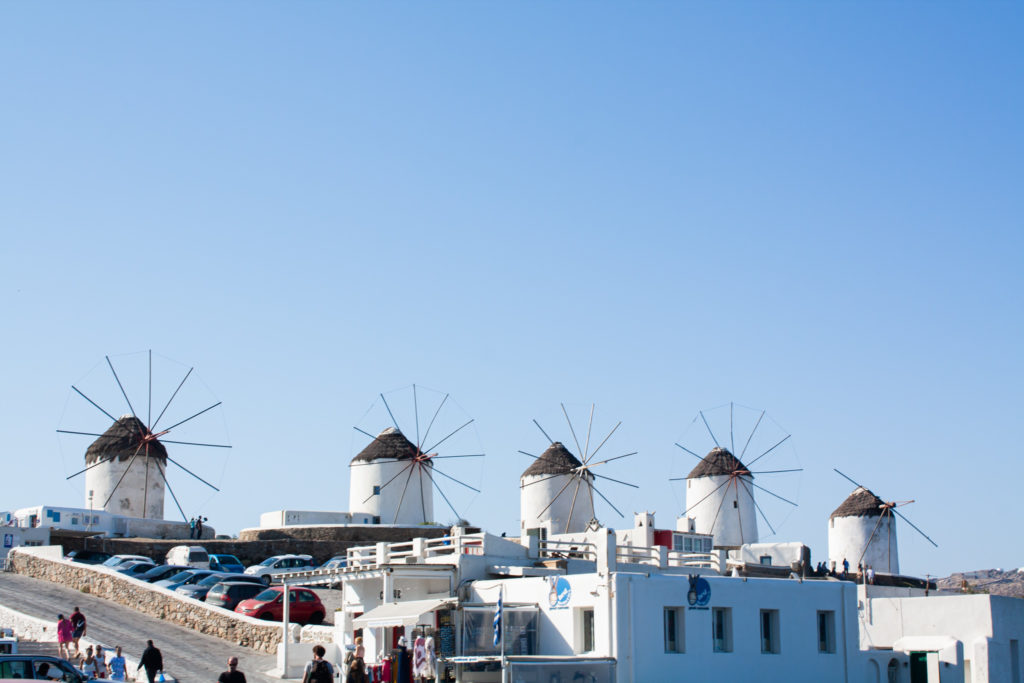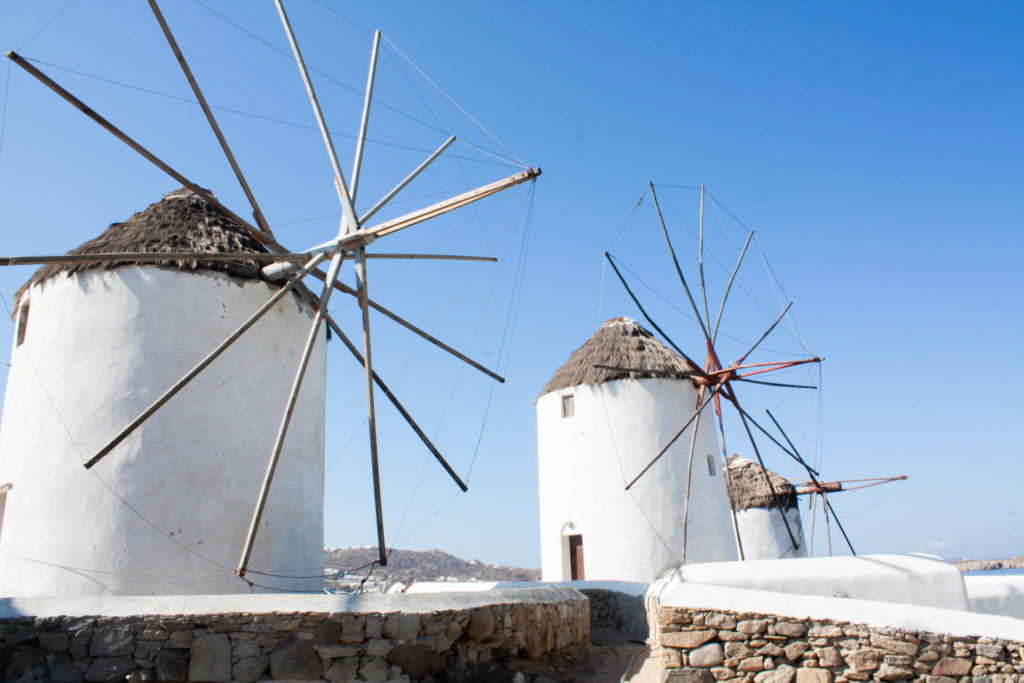 4. Mykonos Old Port
Mykonos Old Port is a very charming area close to the center of Mykonos Town. You can find nice restaurants and cafes there, as well as cute boats. You can see Boni's Windmill from the Old Port and see Agios Nikolaos church which has the typical Greek blue dome. If you walk along the port and keep walking uphill, there is a very nice viewpoint (that you can see on the map above) from which you can see the port area.
Tip: If you take the ferry from Mykonos make sure to head to the new port instead of the old port. This is where the ferries depart.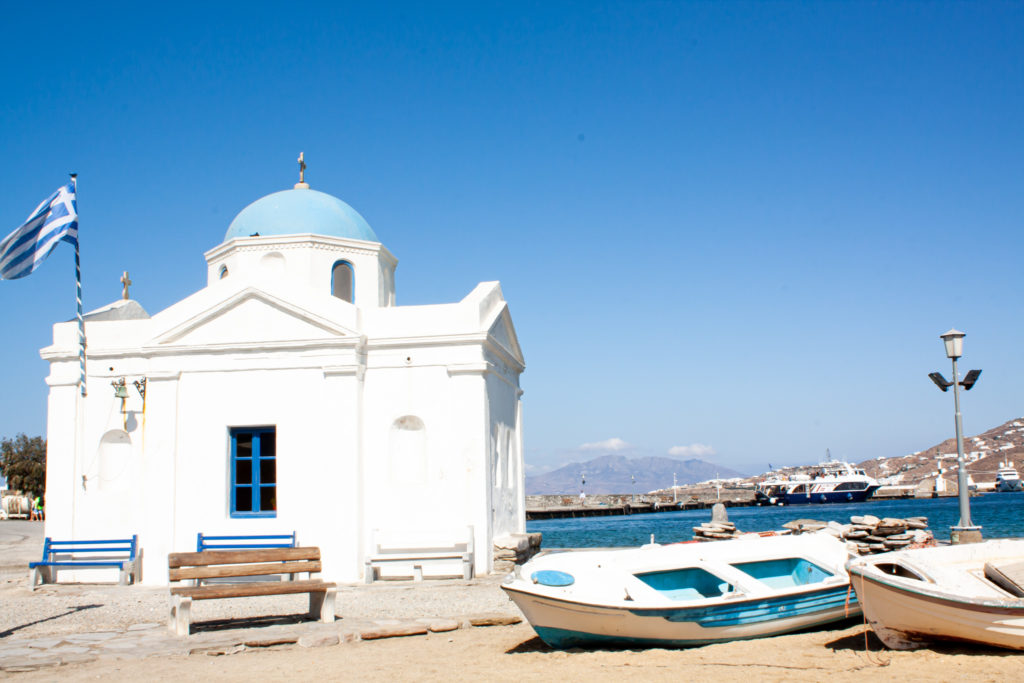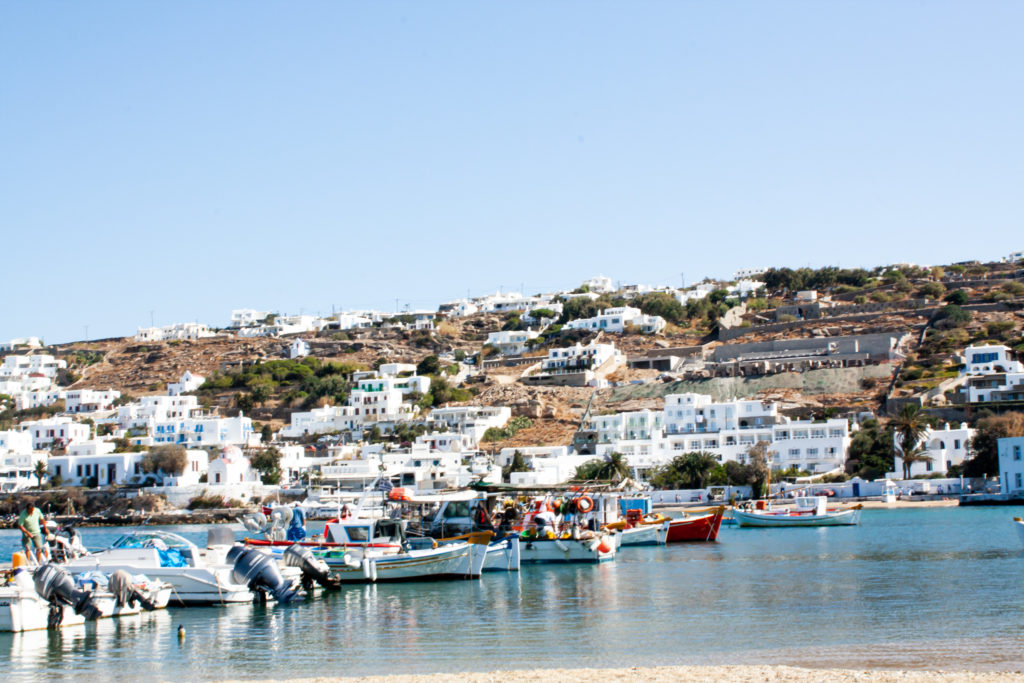 5. Boni's Windmill
Boni's Windmill offers great views over the town. You have to walk up the hill to reach it but it's worth it. There is also a very beautiful church with a red roof close by and you get stunning views from there as well.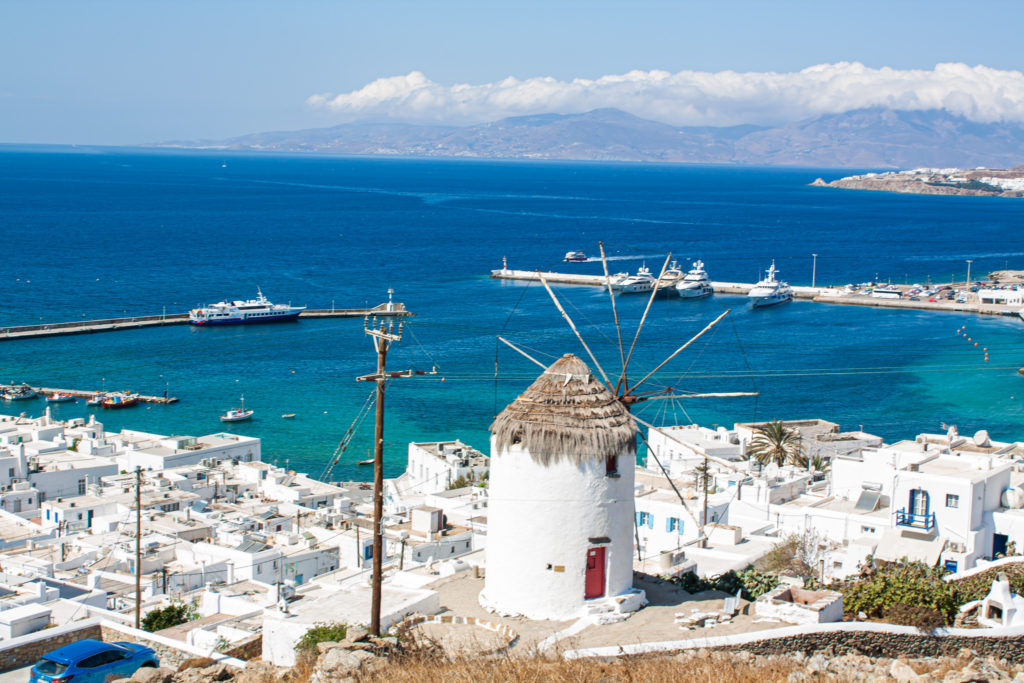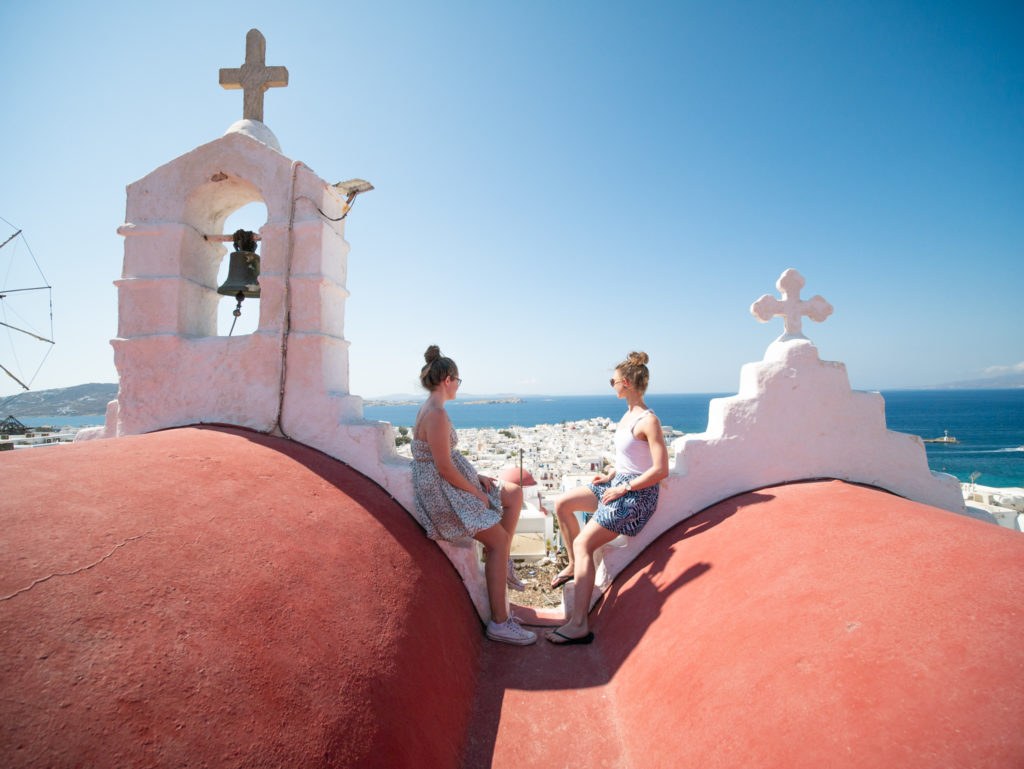 6. Party till dawn and visit Mykonos' many beaches
Mykonos is known for its party scene. Head to Mykonos Town, Super Paradise Beach or Paradise Beach to visit one of the clubs. We didn't have a lot of time in Mykonos so we skipped this. There are also a lot of beautiful beaches, from touristy to hidden you find everything. To find out more, visit The Blonde Abroad's blog. She put together an awesome list of clubs and beaches to visit.
Tips how to save money in Mykonos
Being the most expensive island in the Cyclades, it can seem hard to visit for travellers on a budget. However, there are some simple things you can do to save money. The most expensive things in Mykonos are accommodation and restaurants. If you are fine with simple huts, stay at places like the Paradise Beach Resort. It is like a camping site and has shared bathrooms. However the party is right there and you save heaps of money that you can spend otherwise. Also avoid going to expensive touristy restaurants. Most restaurants, especially in the town are overpriced. Instead go to pita shops which are only a few euros and super filling and tasty. If you go island hopping you will come across lots of amazing Greek restaurants on the other islands that are way more affordable.
I really hope this information will help you to have an amazing time in Mykonos Greece. If you have any questions or suggestions, please leave your comment below.
Pin it!
Want to read more about Greece?