Here´s my Bali travel route for 2 weeks
With this Bali travel route, you will see most of the beautiful island. Use this 2 week Bali itinerary to plan your holidays and explore stunning nature, culture and food.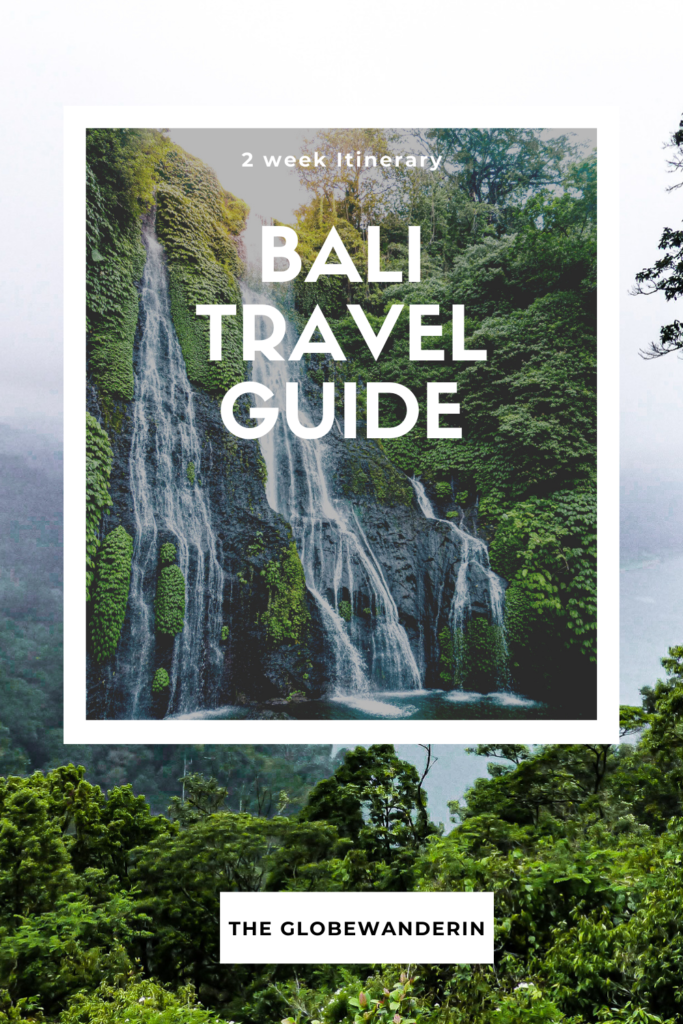 *contains unpaid advertisement/enthält unbezahlte Werbung
During my last holiday, I spent 2 weeks in Bali with friends and we had an amazing time there, so I thought I could share the Bali travel route and some ideas and trips that we´ve done. Of course you could just relax in one of the beach resorts but isn´t it much more fun to explore the island? We did this Bali 2 week iitinerary but if you want it more relaxed, plan it for 3 weeks. Our trip was in March, which still is the end of the rain season but we got sun every day with rain only in the evening/night. Certainly, you can do a lot in this time, definitely not see the whole island but I can say we´ve seen Bali from different sides. However, if you can spend some more days on this beautiful island, even better!
Good to know for the Bali travel route:
Currency: Indonesian Rupiah
Language: Balinese
Religion: Hindu
Active volcanos: Mount Batur and Mount Agung
Specialty: Kopi Luwak coffee. Made out of poop.
There are a lot of dogs!
Watch out for the monkeys!
The best time for the Bali travel route:
Bali is very close to the equator, which means tropical, humid climate the whole year. You´ll enjoy a temperature of around 30°C whenever you go but there are 2 seasons:
Dry Season from April to October
Rainy Season from November to March
The best time to visit depends on what is important to you. Even during rainy season, it mostly doesn´t rain all day and you will have sunny days too. If you want to avoid the rain, you should consider going during dry season. You don´t mind rain and prefer cheaper prices and less crowds? Go for the beginning and end of rainy season.
In the case you want to avoid tourist crowds, you should not visit Bali during July, August or Christmas and New years. So, the best time to visit Bali is April, May, June and September. We visited Bali at the end of March and we had a lot of heavy rain in the nights and sometimes during the day but there still was enough sun and we were able to do everything we wanted. In other words, don´t be too scared of the rain.
How to get around on the Bali travel route
The cheapest option to get around in Bali is renting a scooter. Scooters are everywhere and for locals it´s no problem to ride a scooter with 4 people on it. Expect to pay about 3 to 5 euro, depending on how long you rent it. Driving Scooter can be quite dangerous in Bali, especially when there is a lot of traffic. Bali is definitely not the place to learn how to drive a scooter but if you are careful, always wear a helmet and keep some things in mind, it´s a cool experience and the easiest way to get around.
Other options are taxis and apps like BlueBird, Gojek and Grab but they don´t drive everywhere, as the local drivers don´t like seeing tourists driving with them. They are way cheaper than the local taxis but sometimes you can´t avoid to use a local taxi. For longer distances, as in this itinerary, the best option is a private driver. Likewise, for day trips when you don´t want to do the whole thing by Scooter.
Bali Travel Route: 2 week Itinerary
Arrival:
When you arrive at the Airport in Denpasar, it is good to have an accommodation booked, which is not too far from the Airport. To get to our accommodation in Canggu, we took a taxi and paid about 250.000 IDR. They will charge you ridiculous prices. To get it cheaper, you can exit the Airport and order a taxi from the App Bluebird, Grab or Gojek. I would not recommend to do this if you are in Bali for the first time, even though the Airport taxis are more expensive, it´s still not as much as you would pay in most other countries and it saves you a lot of struggle and time.
Firstly, in case you didn´t change money before, change money at the Airport or use an ATM because your accommodation might not take credit cards. Secondly, you can find Sim-cards at the airport but they are more expensive than outside the airport in the cities. But if you want one immediately, there are options. After that, you will find a taxi stand with a list of the places they are driving to, at the exit of the Airport. Don´t let them charge you more than the price on the list!
Day 1-3: Canggu
Canggu was our first stop on the Bali travel route, it is about 45 minutes from the airport with the taxi. Well knownn as foodie heaven with beautiful restaurants, cafés and amazing food. There are a lot of vegetarian and vegan options but most places are western and not traditional indonesian food. My favourite were the breakfast options, as there are beautiful, tasty smoothie bowls, Porridge, Pancakes and Avo on toast in almost every café. Additionally, they have great coffee -all you need. Canggu has a nice hipster vibe but is touristy though.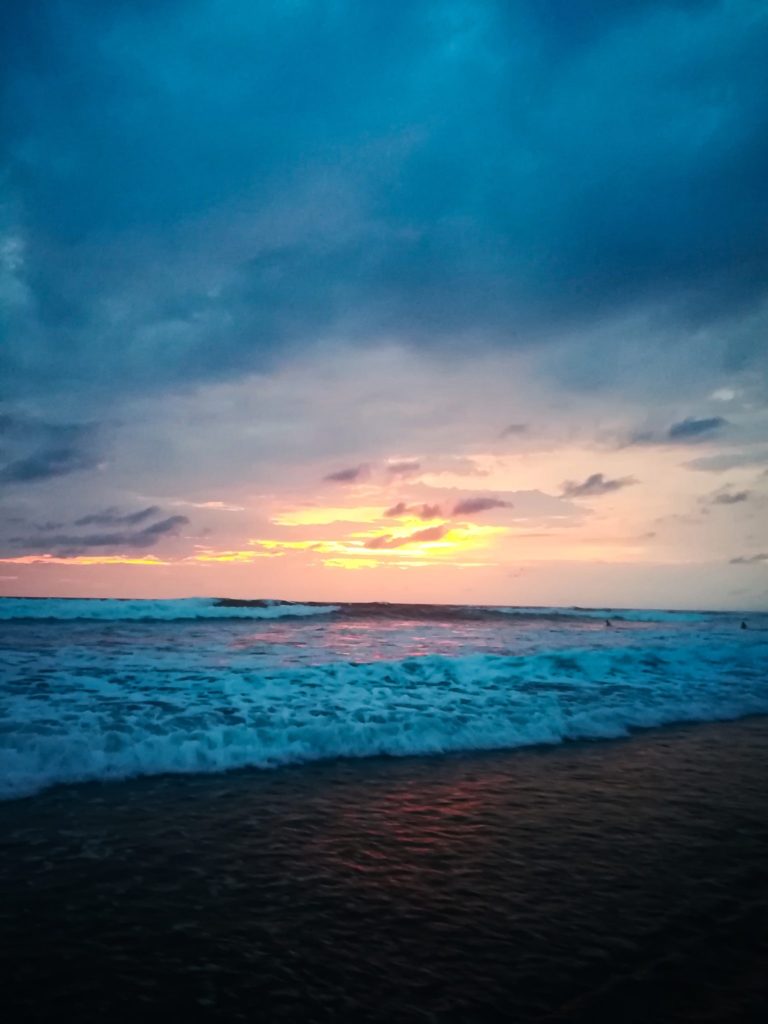 To get around I recommend getting taxis or using taxi apps but you can also ride a scooter if you feel comfortable in traffic. Canggu was the place on our Bali travel route, where using taxi apps was the easiest. It´s a quite spread out beach town with different areas, that all have a beach: The Berawa area, Batu Bolong area and the Pererenan area.
Things to do in Canggu:
1. Go to the beach
Nice beaches are Berawa Beach, Batu Bolong Beach and Echo Beach. To the surprise of some people the sand is rather dark, if you are looking for white sandy beaches, you need to go to Uluwatu. Go for a stroll and discover the different beaches. Moreover, there are a lot of beach bars too, if you feel like having a drink while watching the sunset.
2. Eat
As I already said, Canggu is famous for it´s food. They have everything you can think of, Smoothie bowls, Smoothies, Burger, Pizza, Indonesian food, you name it. The cafes have a really cool vibe and it´s fun to try new things.
3. Rice paddies
In Pererenan you can visit the rice paddies. This was probably the best day in Canggu for us, it´s really quiet, you just walk along the way and see how the people work on the fields. It´s away from the tourist crowds and you can eat some really cheap Indonesian food in one of the Warungs. Somehow it felt like experiencing the real Bali.
4. Shopping:
Canggu is a good place for shopping and there are a lot of shops in the streets. I especially loved the market at Love Anchor.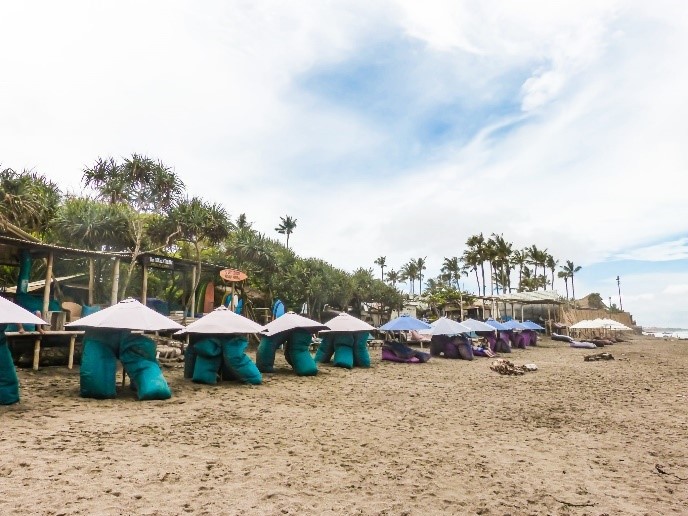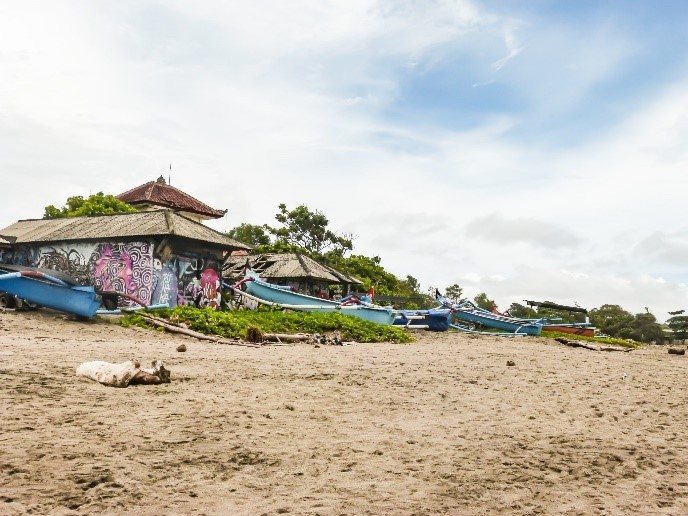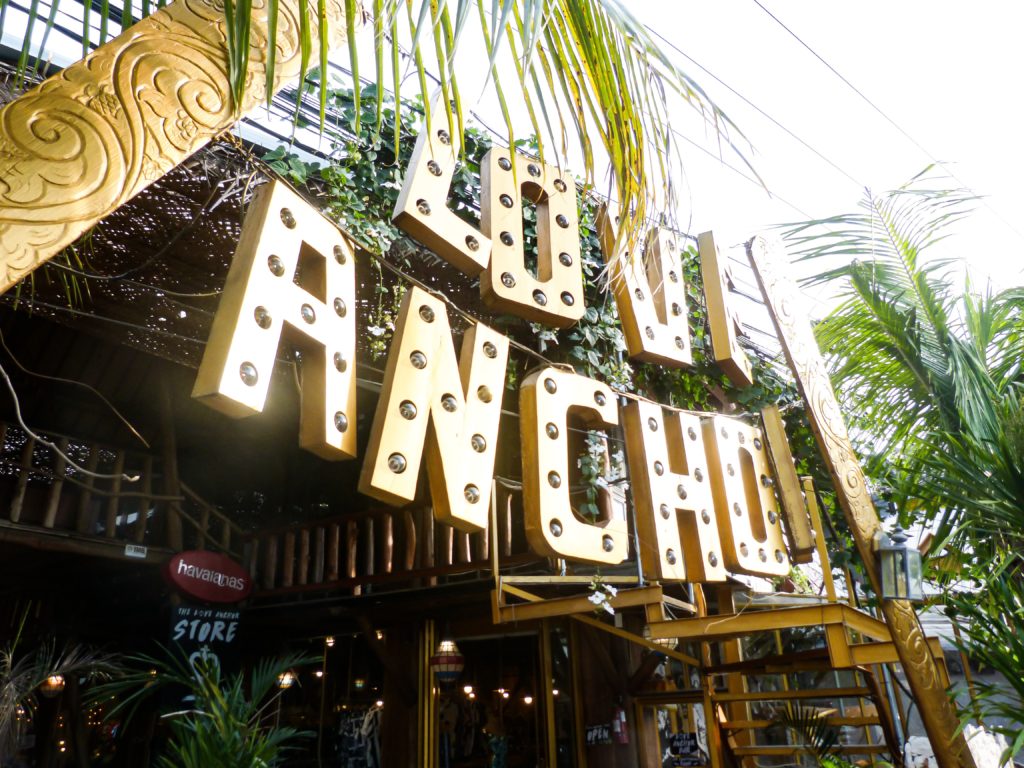 Day 4-6 Ubud
Ubud is known as the religious and cultural centre but today, there are so many tourists, I didn´t experience that. I expected more from Ubud than what it was but it´s still worth a visit.
How to get around:
In Ubud centre the traffic is bad. If you want to do everything on my Bali travel route, you should either rent a scooter or hire a private driver. Unfortunately, you will not be able to get a Grab, Gojek or Uber close to the centre as the local taxi drivers don´t like them. For me this was one of the worst experiences on the Bali travel route, because you have to pay a lot more than with a driver from an app.
Sometimes it´s really frustrating when you book a driver on the app, wait for ages and then they cancel cause they don´t want to drive in the centre. This was a thing that happened to us in Ubud all the time.
No problem to find a driver for a daytrip at all, a lot of people will ask you when walking on the street, just ask them how much they want or write down their number to get back to them when you actually need someone for a trip. We paid 350.000 IDR for a 6 hour trip, which is 20 euro and really affordable. Always set a price before you get in the car 😉
Things to do in Ubud:
1. Tegalalang rice terraces
This is an absolute must. These rice terraces are so beautiful and walking along the path offers some stunning views. However, it is touristy and you need to pay a fee to walk on the path. There are many swings, which is a lot of fun but you need to pay for this too. As always, you can try to get it cheaper, just ask for a different price.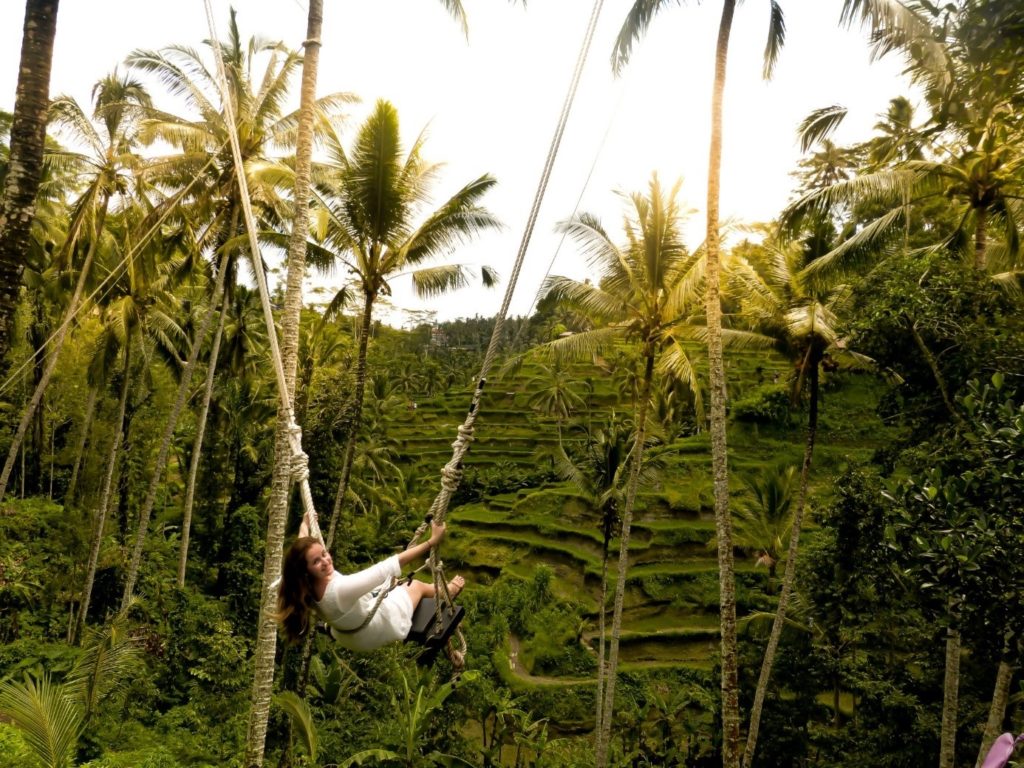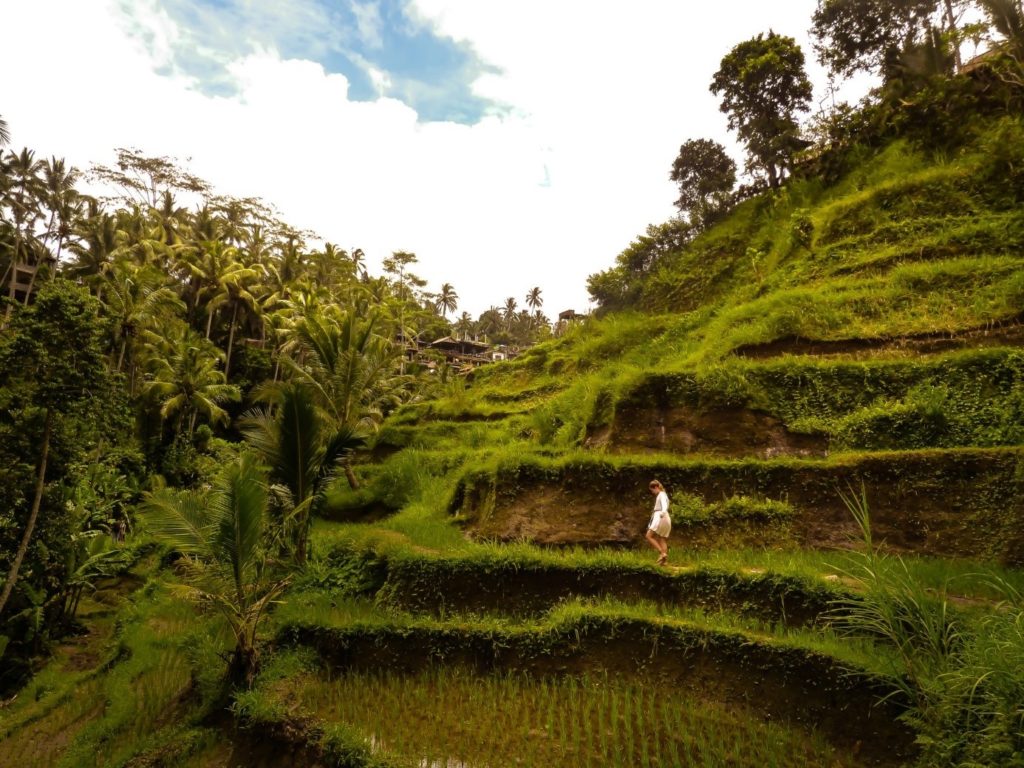 2. Campuhan Ridge Walk
On our Bali travel route, we did the Campuhan Ridge walk, which is a nice walk close to the center of Ubud but it feels like being in the middle of nowhere. There are stunning, picturesque views along the way and in the middle of it, there is a Warung with an incredible view from a terrace. It takes about 30 to 45 minutes one way, depending on how often you stop to take pictures ;D It´s not only a tourist attraction, you will also meet locals on your way. The best time to do the walk is in the morning or late afternoon but return before the dark, as there is no light on the way.
3. Waterfalls
Around Ubud you can visit some very pretty waterfalls. It´s easy to get there and there is no super long walks or anything. A thing that surprised me is that we always had to pay to go to a waterfall but usually it´s 10.000 or 20.000 IDR. Our choice was Kanto Lampo and Tibumana but there are more waterfalls around like Tegenunang.
4.Temples
Known as the spiritual centre of Bali, there are lots of cool Temples in and around Ubud. The temples in Bali are very beautiful with acient architecture. On our Bali 2 week itinerary, we visited most temples in Ubud, as there are a lot not far from each other.
The Saraswati Temple is a water temple, located close to the market and surrounded by lotus ponds.
Another archaeological site is Goa Gajah with a temple complex, a bathing pool and a stone cave.There also is a buddhist temple on the complex.
Tirta Empul is an important place for the locals, as there are multiple freshwater pools. It´s a temple complex and a holy spring, where people go for purification.
You need to pay entrance fee to get in but it´s quite cheap and you get a sarong to cover your legs and/or shoulders. We chose to go to Goa Gajah on our day trip, if you have more time you can explore more temples.. The Saraswati temple is very easy to visit, as you will walk past anyway.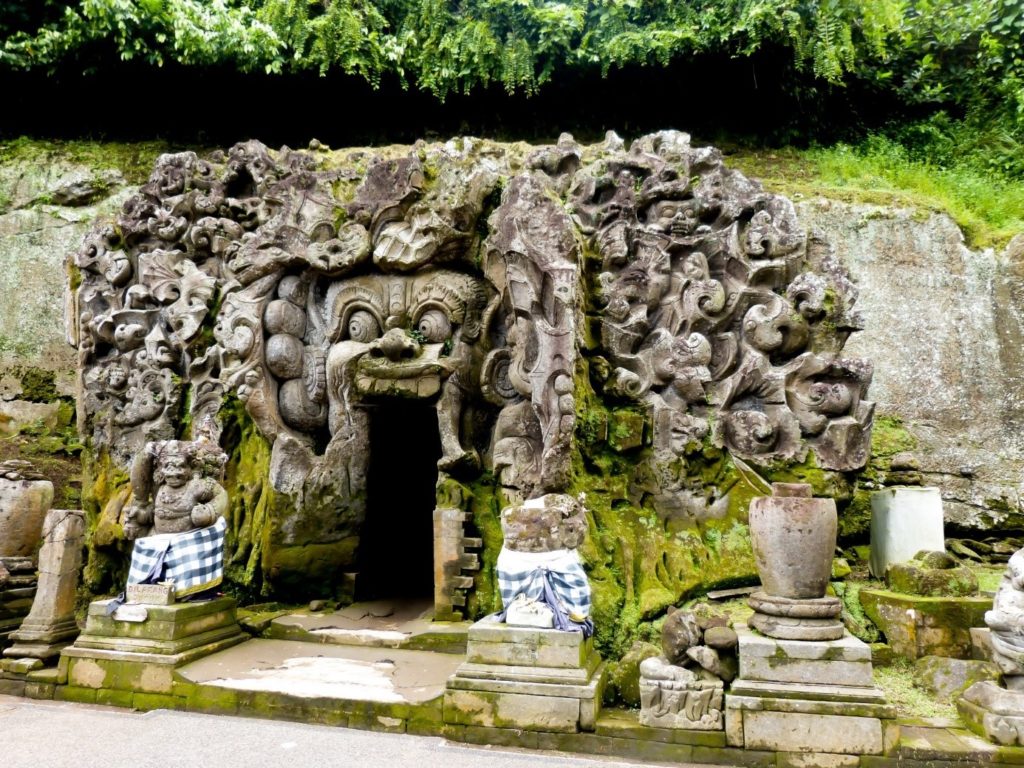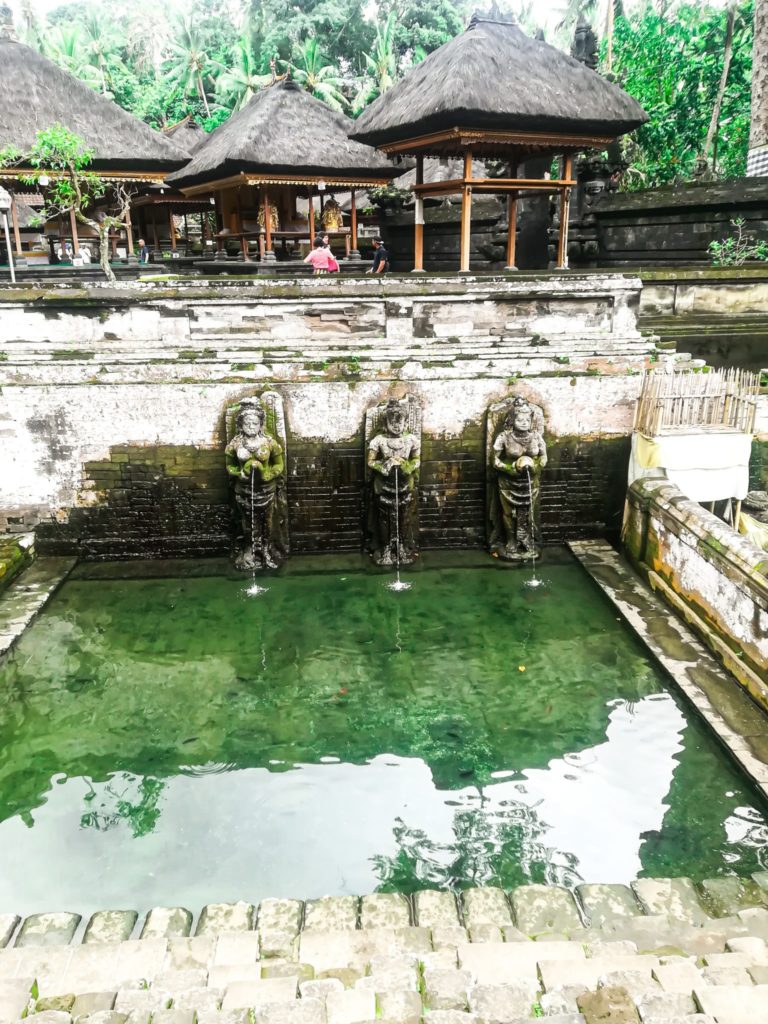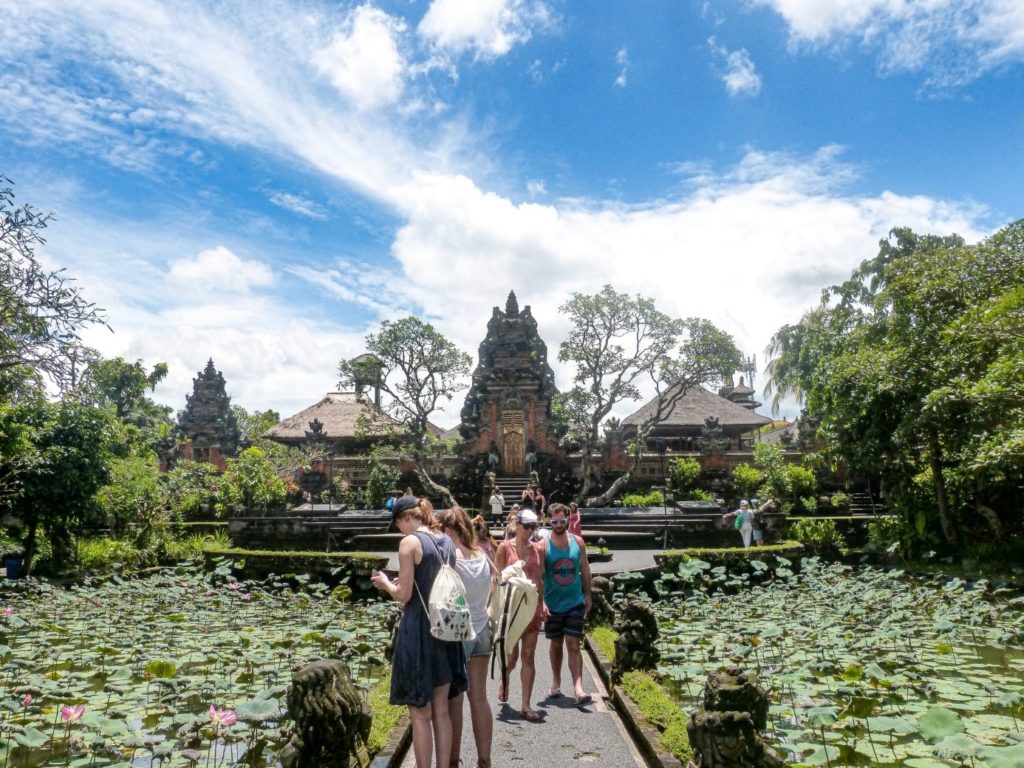 5. Monkey Forest
The Sacred Monkey Forest in Ubud is a Sanctuary for the Balinese long-tailed monkey, also known as macaque. There are about 600 monkeys living in this area and you can see them in Ubud around this area on the streets too. I am a little scared of monkeys, which made the visit hard in some moments. The monkeys are cute and playing a lot, always on the look for new toys, so watch out for sunglasses, camera, phone etc. They can open a backpack easily, so think about it before you enter the park. I saw a lot of people with phones in their hand, taking pictures and nothing happened. Just don´t let anything hang outside your bag.
Most importantly, the area is really beautiful with a river flowing through, old statues and beautiful plants. The fee was about 5 euro. If you just want to see a monkey in real life, you don´t need to visit, as you will already find them in the streets. However, if you would love to see monkeys with their babies (which is so adorable) and playing in the water it´s a really nice thing to do in Ubud. I didn´t take the best shots, as I was scared they would steal my camera.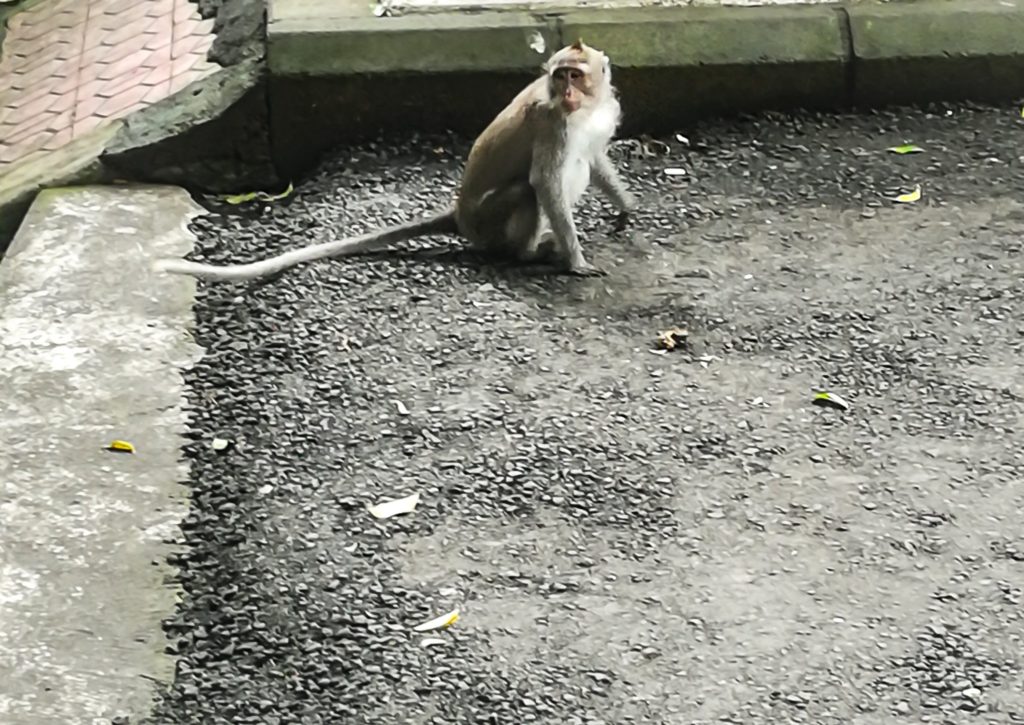 6. Market
The Ubud Market is great for shopping. This is something I would make sure to go on the Bali travel route. There are so many things, from home decor, bowls, clothes, hats, jewelry, art works, wooden boards, wooden penises…YES thousends of them, i don´t know what this is but you feel surrounded by them on the markets. It´s a tourist point though but it´s still cheap and there are some nice cafés and shops in between to buy some refreshing drinks or a coffee. For us, it was the best place to do shopping.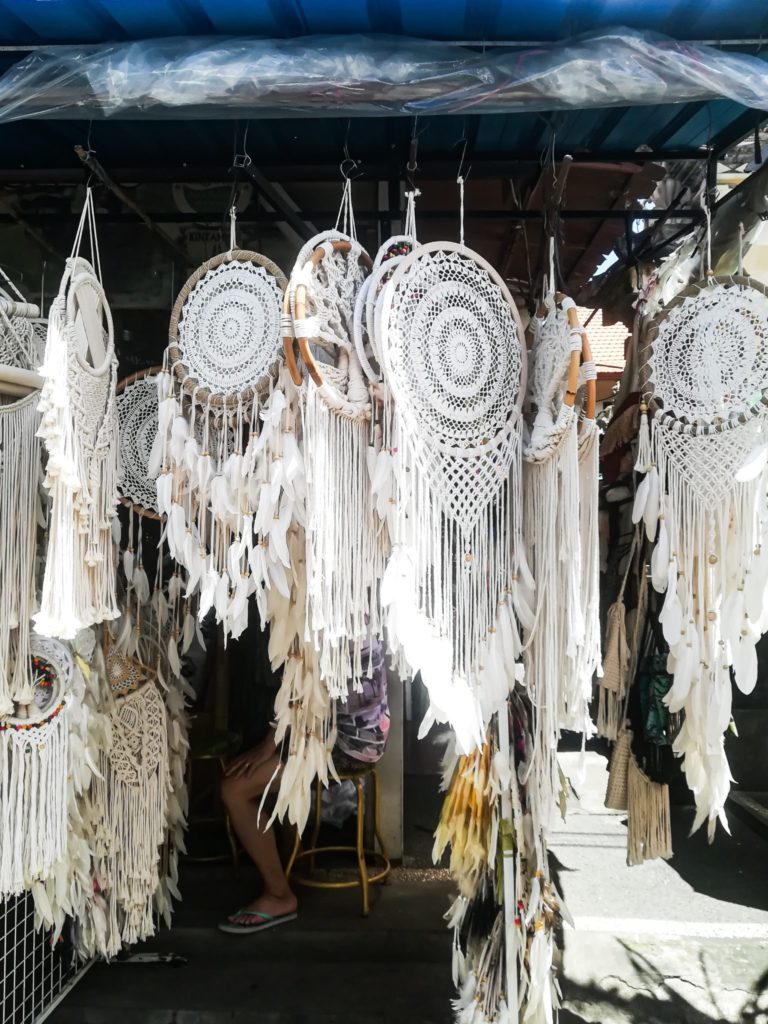 7. Mt Batur Sunrise Trekking
So this is something I wasn´t sure about. At the end i was so happy I did it but I was scared it would be too hard. It´s a trekking tour on a volcano of about 2 hours in the middle of the night (3 to 4 am). For the price there is a huge difference where you book the tour. Online there are a lot of offers, like on getyourguide etc but you can also just ask a driver, at your accommodation or at one of the tourist offices in Bali. If you book beforehand, you pay 50-60 euro, which includes pick up and drop of from your accommodation, a small breakfast and a tour guide who will bring you to the top.
Better option:
When you ask a local, you can get it for 30 euro and it´s not a large group. We weren´t able to do it in Ubud due to sickness, rain and time but you can do the tour from most other places too. However, Ubud is the best place for the trekking because it´s closest, which means you don´t have to leave at midnight as we did. The trek itself was a cool experience, our guide was nice but for me it was really hard.
The first hour was okay, the last hour gets a lot harder. Firstly, I didn´t expected it to be so steep and sometimes it was more like climbing then walking. Secondly, there are no fences and i fell a couple of times, as did others. I would not say i´m unfit but I also don´t go trekking often. Obviously, you want to reach the top before sunrise, which was pressuring me a lot, no sleep and it is exhausting but doable.
Sadly, it was cloudy that day and the sunrise wans´t as we had hoped but it was still a unique experience and i´m glad i made it. After the sunrise, one of the hardest parts is going back down. It´s so slippery, a lot of people fell. Just walk behind your guide and watch where they are going. So I would not recommend it to anyone who is very unfit, has an injury or doesn´t like walking at all. For everyone else I would recommend it if you like outdoor experiences. It will cost you lots of sweat, it will be hard but it´s a great feeling when you arrive at the top, sit down and watch the sun rising.
Day 7-8 Nusa Lembongan
Nusa Lembongan is a tiny island next to Bali. There are 3 of those smaller Islands,: Nusa Penida (best known from Instagram), Nusa Lembongan and Nusa Ceningan. From Nusa Lembongan you can drive to Nusa Ceningan over a bridge. In my opinion this is a must on the Bali travel route, it has very pretty beaches, is less touristy and has the most beautiful water i´ve ever seen.
How to get there:
To get there, you need to take a boat from Sanur port. We booked it in the Perama tour office in Ubud (also available online) and it cost us 200.000 IDR per person (12 euro) each way with a pick up in Ubud to Sanur. It was a boat from Glory, you can also buy tickets there and there are lots of other companies depending on what your looking for. This was quite cheap compared to other companies.
On the other hand, it will cost you a bit of time to travel and the Bali 2 week itinerary is packed full of things to do. Moreover is it quite expensive compared to other things and only for one full day. Anyway, I think even if it takes time to get to the Island and back, you shouldn´t miss the Nusa Islands. The boat trip takes 30 minutes, I really enjoyed it. Arriving on the Island, the boat brings you to a beach and you have to walk a bit through the water, the crew helps you with luggage but you should dress appropriately (no long pants) if you don´t want your clothes to get wet.
How to get around:
Getting around on the Island can be a problem. As it´s not so touristy, there are not a lot of taxis. Most people ride a scooter and you should really consider to do that too when visiting. There is no police on the island, which means most people drive without helmet or kids driving back from school. It can even be hard to find a scooter rental which offers helmets. The streets are bad, especially in rain but if you are careful, it shouldn´t be a problem and the traffic is not nearly as bad as in Bali.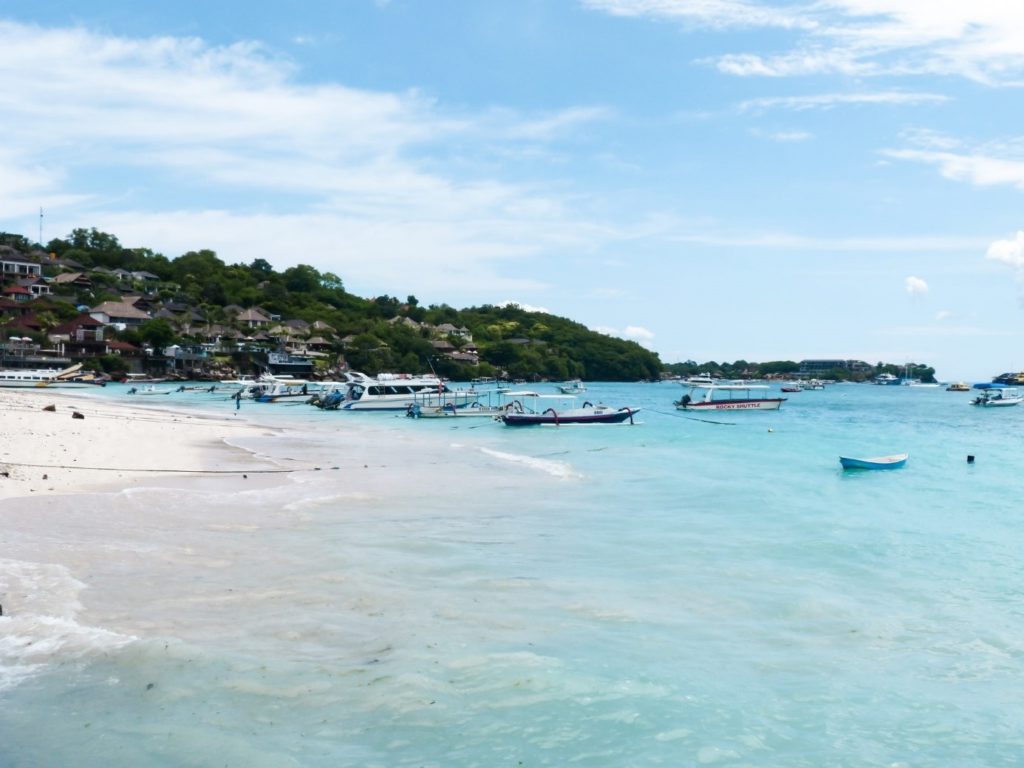 Things to do in Nusa Lembongan
Nusa Lembongan is a great place to relax, chill at the beach and enjoy the island life. Our plan was to stay one night but in the moment we arrived, we decided to stay another night. Not is it only exhausting to travel sometimes, it´s also two relaxed beach days in the 2 week Bali itinerary mixed in between the non beach days. SO here is what to do in Nusa Lembongan:
1. Take a stroll around the Island
Nusa Lembongan is small, you will be able to walk to some of the beaches along the coast. There is a path, that brings you from Jungut Batu to Mushroom beach. It´s really nice and you can find some empty beaches. There can be little to no shadow, so keep that in mind and take water and sunscreen with you.
2. Scooter tour across the Island
Riding Scooter in Nusa Lembongan is a must if you are comfortable. You can even cross the bridge and do a trip to Nusa Ceningan to visit the Blue Lagoon. When renting a scooter make sure you get helmets, eve if there is no one who seems to care, safety first!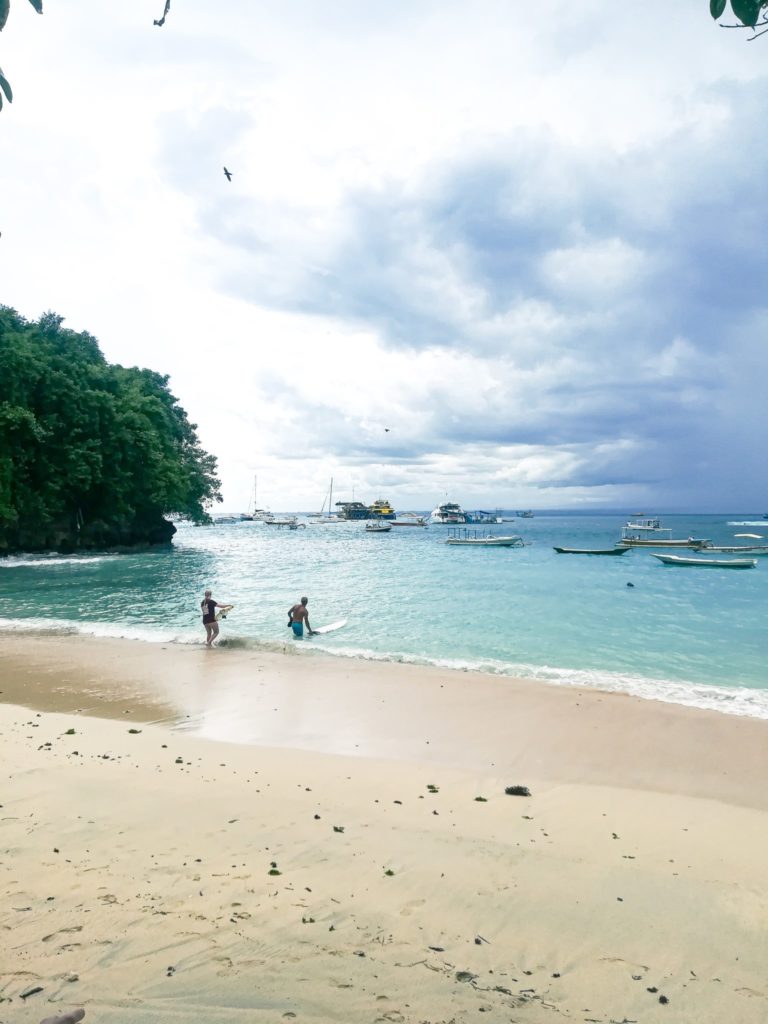 3. Beach tour:
With your scooter you can drive to different beaches and bays. The most beautiful beach was Dream Beach, Mushroom Bay is beautiful too but there are a lot of boats arriving with tourist groups. Anyway, there is a cool Beach bar and you can do lots of water sports.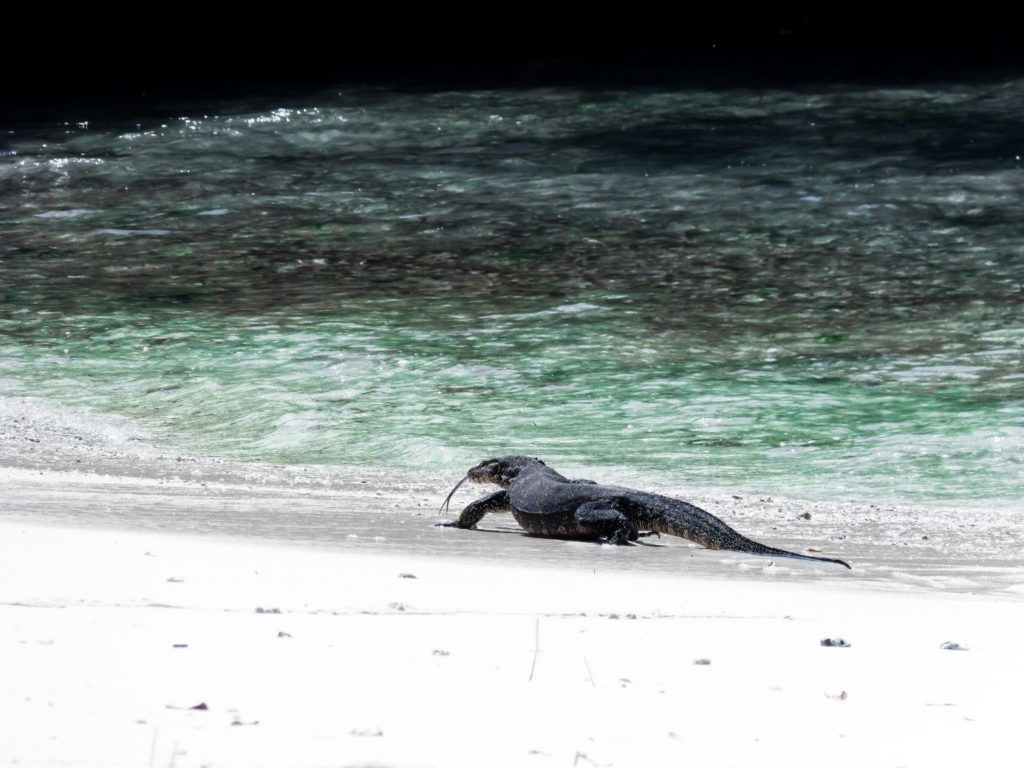 Day 9-11 Munduk
Leaving from the Sanur port, we made our way up north on the Bali travel route. Not knowing what would expect us, we experienced some adventure filled days.
How to get there:
At the port, there are a lot of drivers waiting and asking you where you want to go. To Munduk, the drive is approximately 4 hours, depending on traffic. We used one of the apps to get a taxi because the drivers were asking us for more than twice the price of the app. Luckily, in Sanur you can use them without any issue if you walk away from the port. Our driver couldn´t speak English which was not a problem but on the way the car broke down and we had to find a garage. To be honest, this was one of the best experiences, as we walked to a little store with locals, in a region where tourists usually don´t go and it was a lovely experience.
How to get around:
The north is not as touristy as the other places in Bali. You won´t find Blue Bird there. Grab and Gojek sometimes. Ask your acommodation for a driver and they know someone to do a day trip with you or rent a Scooter. It´s not a lot of traffic but the road is steep with lots of curves, so if you are not experienced, it might not be the best place to learn it.
Where to stay:
I didn´t include this in the previous parts, for the reason that we stayed in really basic hostels that I don´t want to recommend explicitely. They were not bad and really did their job but maybe not the right thing for everyone. The Hostel we stayed at in Munduk was exceptional! It´s a capsule hostel and compared to our other accommodations really modern and clean. The owner was so friendly and we met the best people there. When we arrived we got a welcome drink and he even made us a box with Balinese sweets when we left. There was a great view from the balcony and a great café/restaurant in the hostel. It is called Dong Paloh hostel, you can book here: http://www.booking.com/Share-K5H71L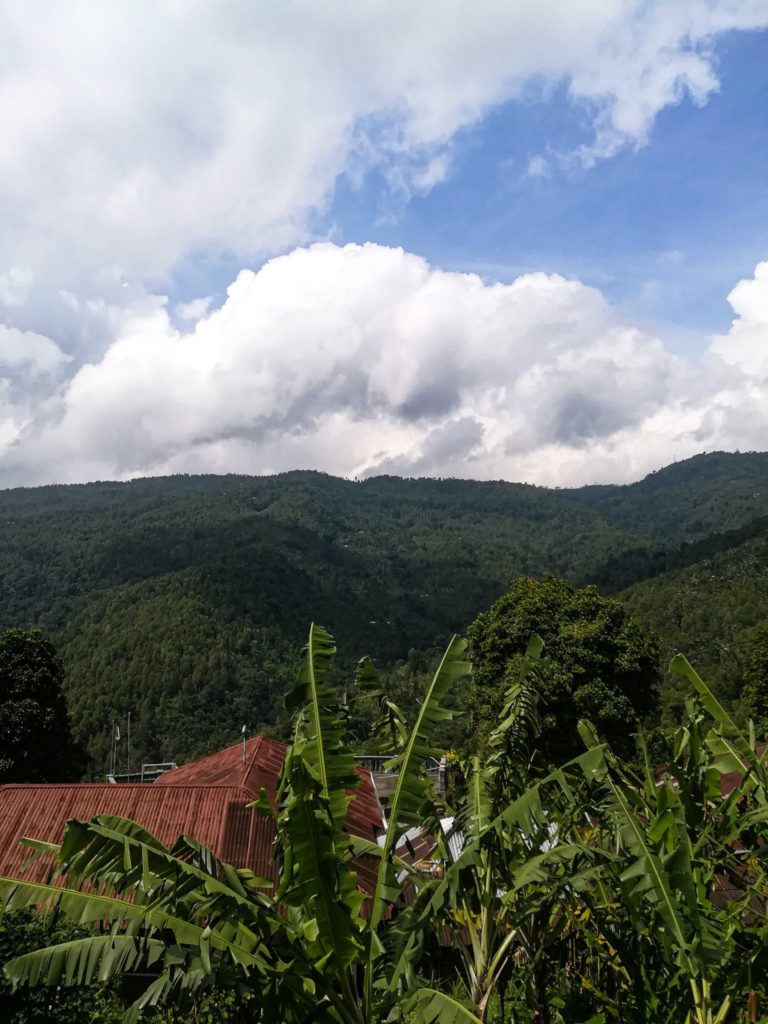 Things to do in Munduk
Munduk is very small and there is not a lot going on but if you are looking for nature, trekking and waterfalls, this is where you should go. The North of Bali offers beautiful views, nature and you will see lots of animals, like snakes, spiders and monkeys.
1. Waterfalls
The most beautiful waterfalls I´ve ever seen are close to Munduk. We decided for a daytrip with the girls in our room, so the owner of our accommodation organized a driver for us. We payed 600.000 IDR, so 100.000 each, which is 6 euro per person and really affordable. So here is a list of beautiful waterfalls in Bali that you can do in a day
1. Banyumala twin waterfalls
It´s a very cool walk through the jungle, beautiful surrounding and lots of photospots. This waterfall is great for a swim and there is lots of space to sit down and enjoy the view.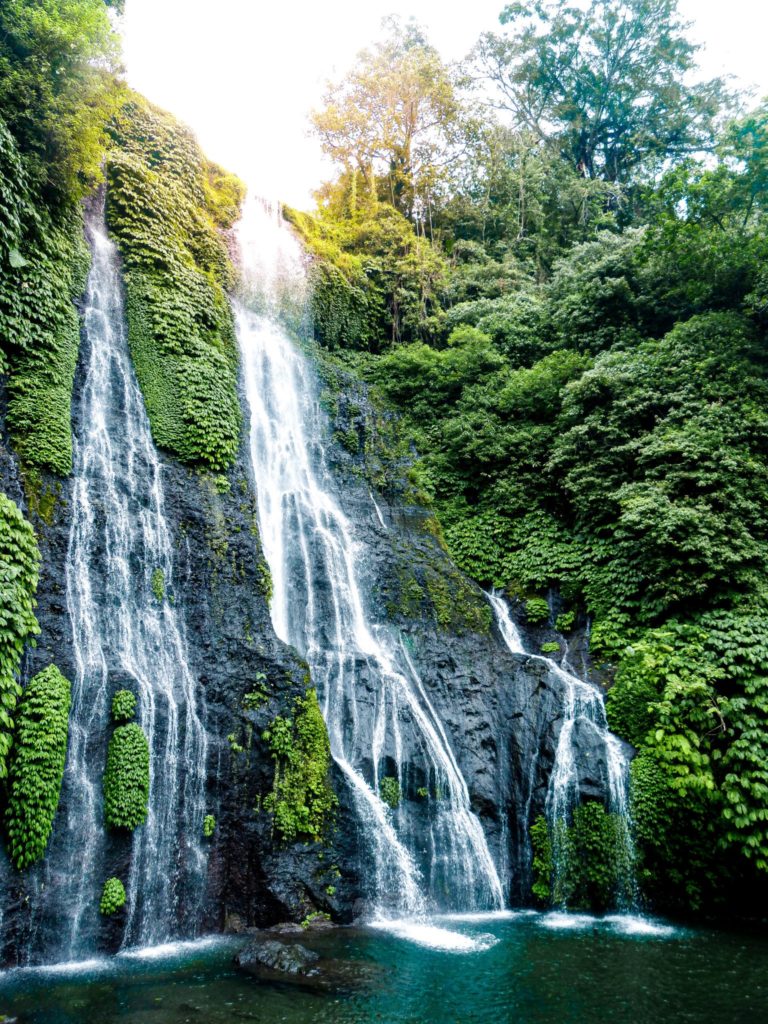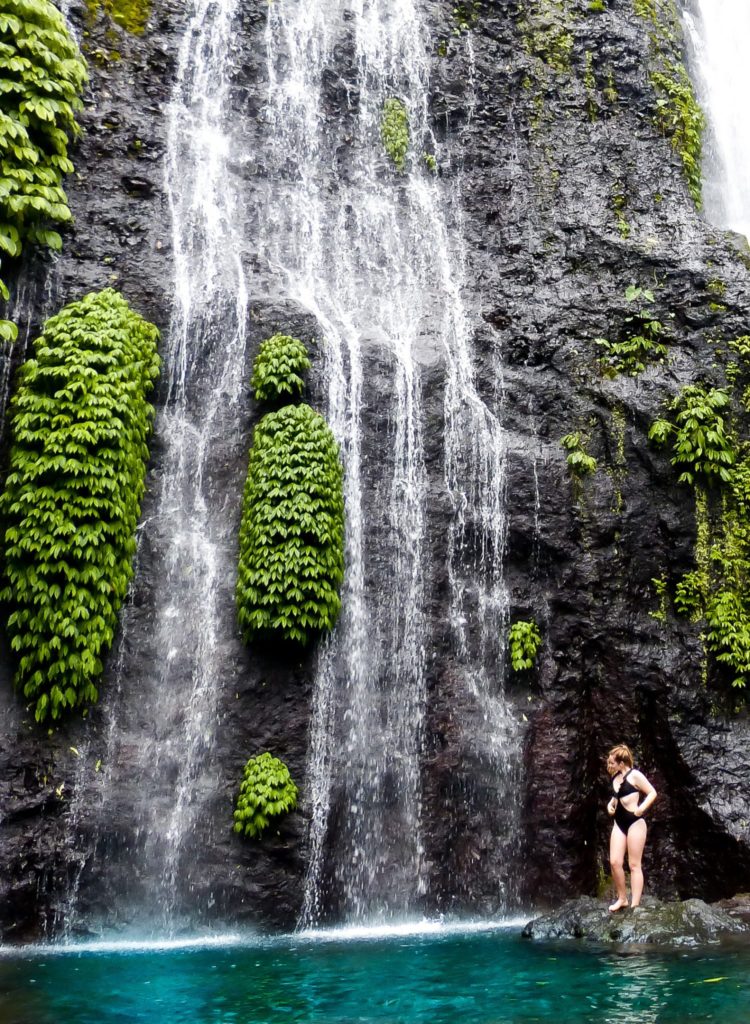 2. GitGit Waterfall
This is another beautiful gem in Balis north. The waterfall is very intense, so it´s not good for swimming. You can walk to more quiet pools and swim there. The walk leads you through markets with people selling sarongs, rings etc. and beautiful nature. It´s impressive and definitely worth a visit.
3. Secret Garden of Sambangan
This is not only one waterfall, it´s multiple waterfalls, with cliff jumping options, beautiful views and stunning nature. That was the place we´ve spent most time at. It costs a bit more than other waterfalls and you can choose between going yourself or with a guide and do cliff jumping and swimming. If you just walk, you are not allowed to swim. I wouldn´t be brave enough to jump anyway, so i´m happy that we decided to go by ourselves. The path brings you from one beautiful waterfall to the next, to bridges, through pools, to the most amazing cliffs. The instafamous Aling-Aling waterfall is located in the Secret Garden of Sambangan.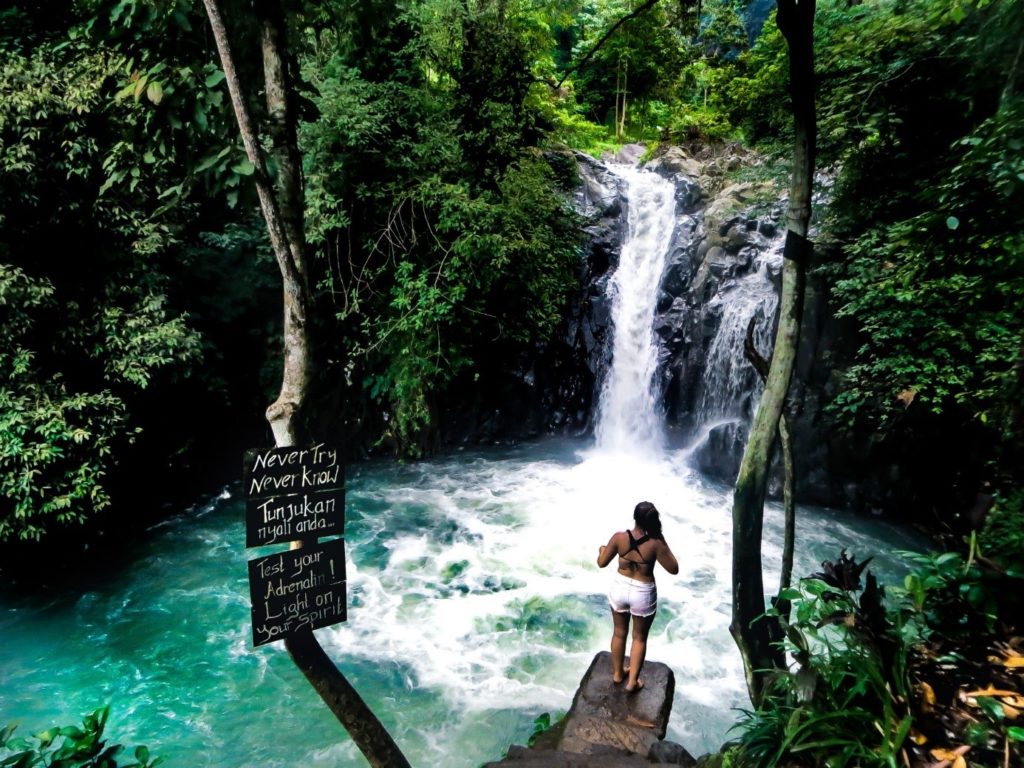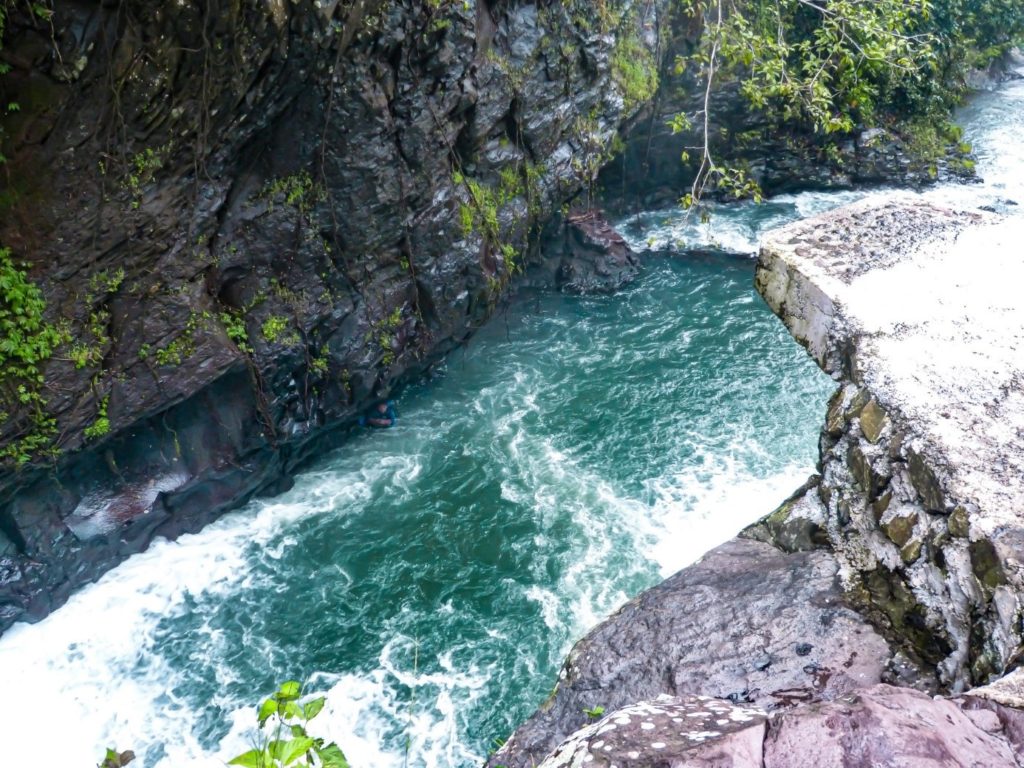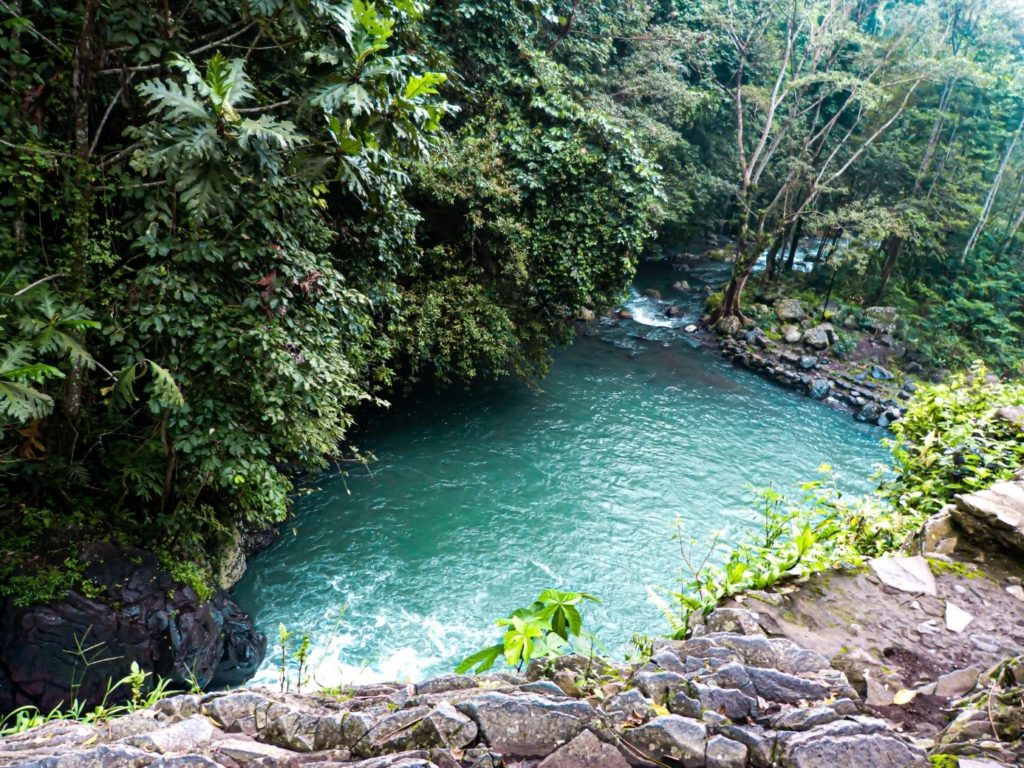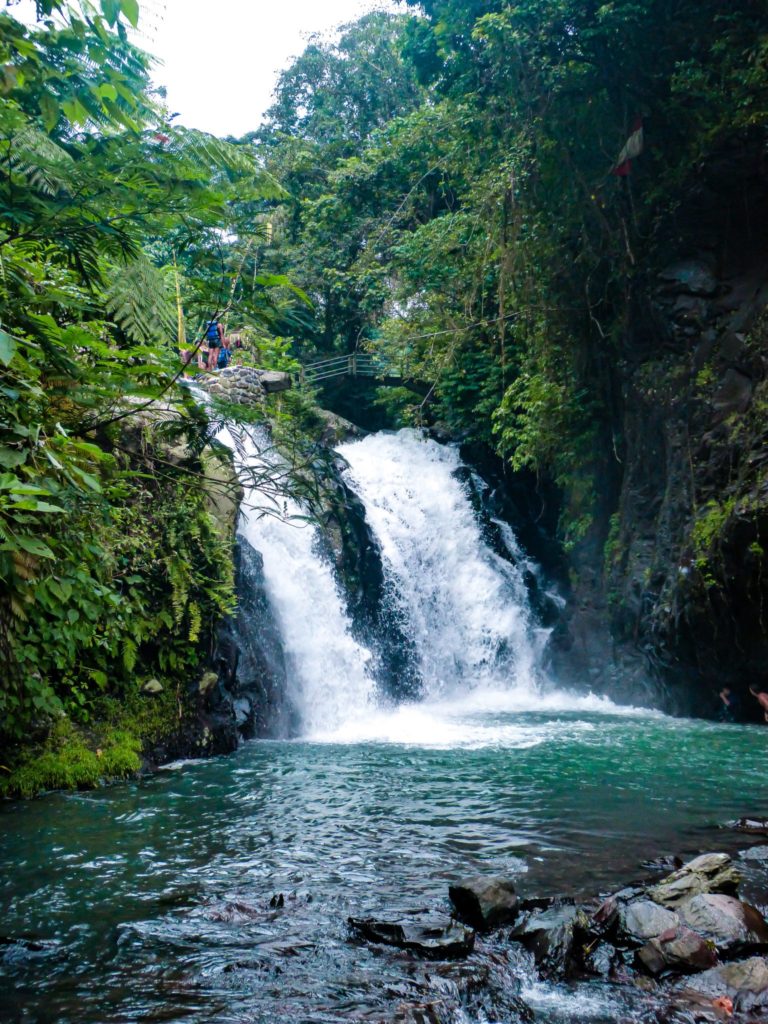 2. Lakes
Not far from Munduk, there are three lakes. Lake Tamblingan, lake Bratan and lake Buyan. From viewpoints you have a beautfiul view and there are swings on the way too, where you can take pictures with a lake in the background. Some companies offer jungle trekkings or trekking around the lake. If you arrive earlier on your first day, this would be something you can do or just ask your driver to stop on the way to Munduk. A great way to get the most out of your time is to make the drive to and from Munduk a daytrip and stop at some sigths.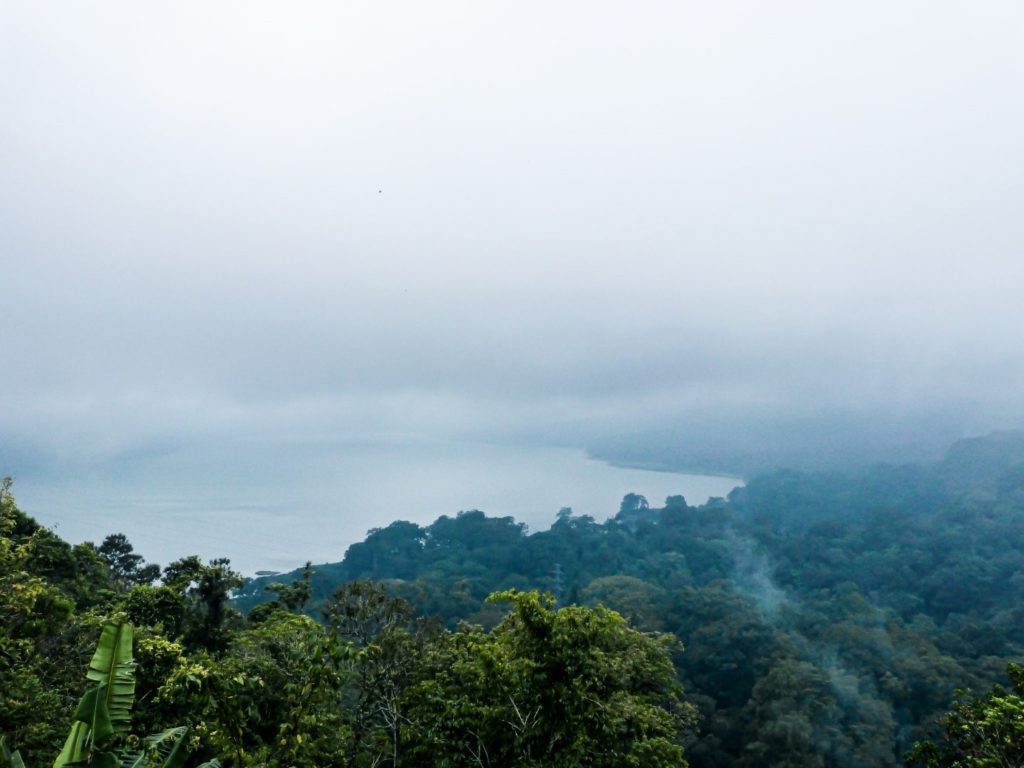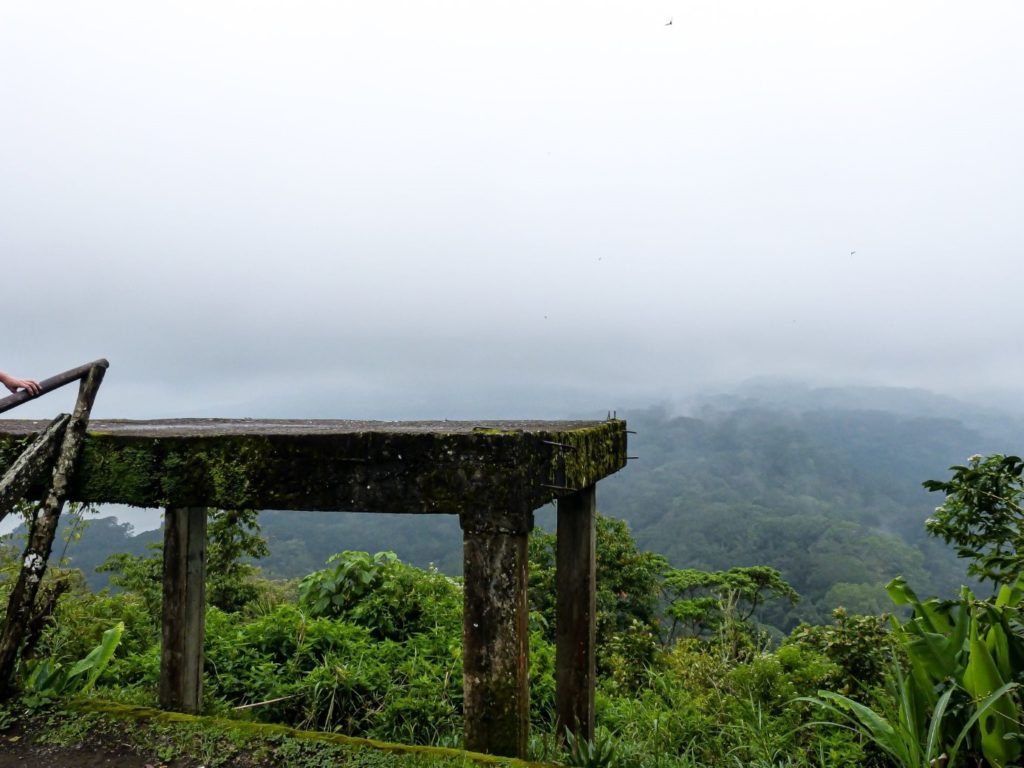 3. Temple
At lake Bratan, you can visit the Pura Ulun Danu Bratan. It´s a famous water temple. I expected something totally different from the photos I´ve seen on instagram. I thought it would be a small temple at the water, with little tourists. Actually, it´s a big temple complex with lots of tourists, almost looks like a park and the small buildings we know from instagram are just on the side. I would still recommend it for the Bali travel route, it´s on the way to and from the south. It´s beautiful though and interesting to see, as there are ceremonies and it´s location is beautifully surrounded by mountains.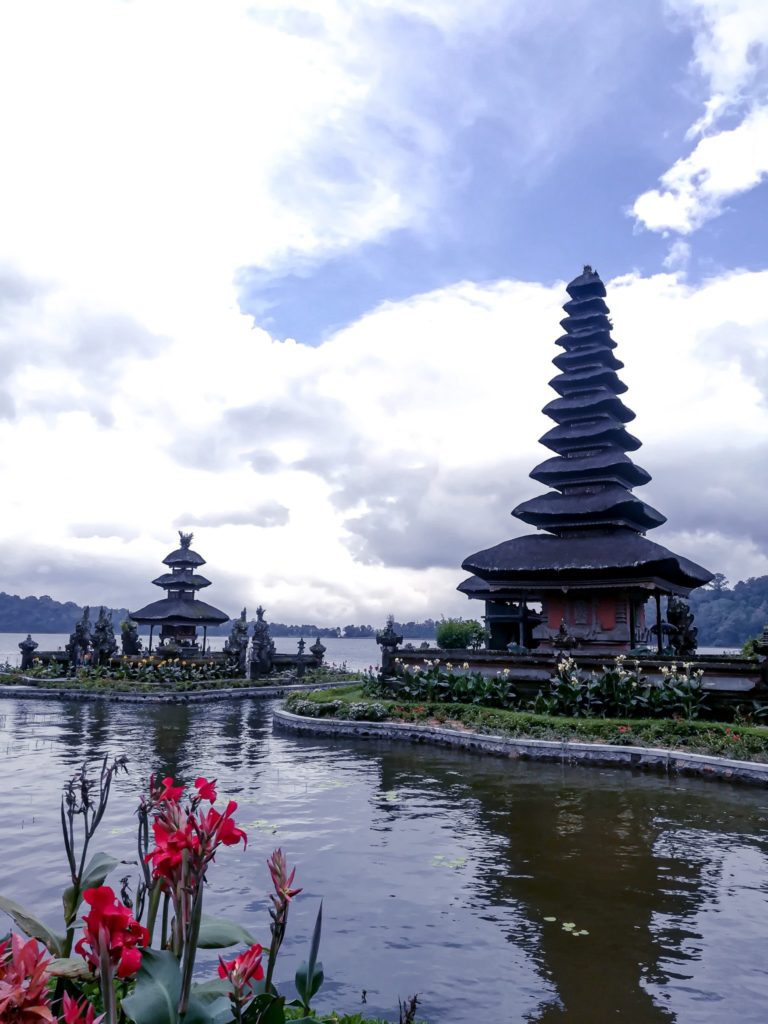 Day 12-14 Uluwatu
Uluwatu is a nice beach town with beautiful shops, restaurants, cafes and beaches. It has more cliffs and white sand and I experienced it as more quiet than Canggu. The traffic from Munduk to Uluwatu (especially the last kilometers through Kuta) was so bad that we arrived in the evening. We couldn´t do everything we planned because we lost the first day and as i mentioned earlier, we did the Mount Batur Sunrise trekking from Uluwatu, as we didn´t do it in Ubud. Anyway, here are the things we got to do:
Things to do in Uluwatu:
1. Beach:
The beaches are beautiful, white sand, blue water, just as you imagine Bali beaches. The clifftop views are breathtaking and there are beautiful bars to enjoy the sunset. We stayed close to Padang-Padang, so we stayed there for a few hours. You can chill, walk along the beach, buy a coconut or sit down in one of the cafes and enjoy a cold drink.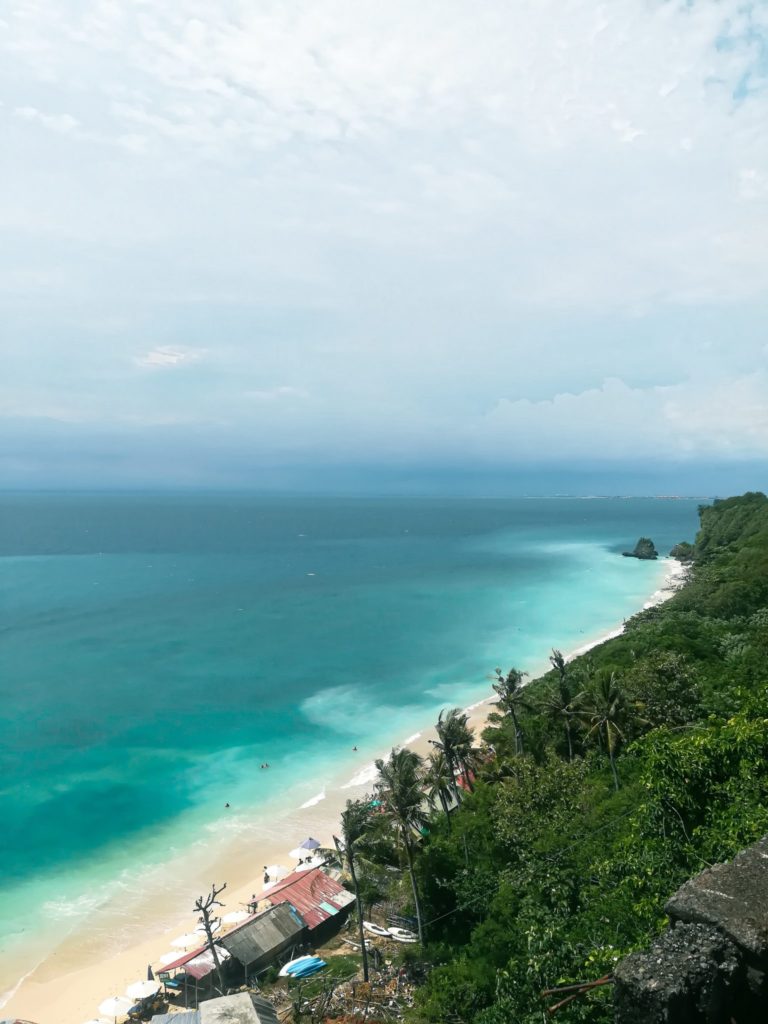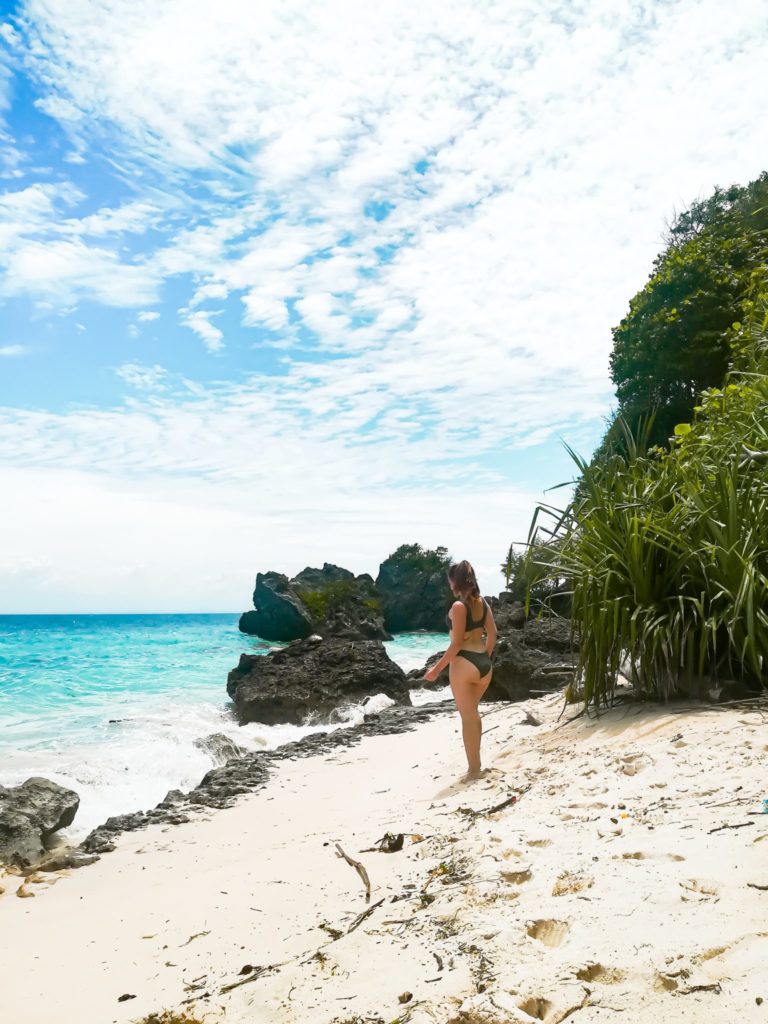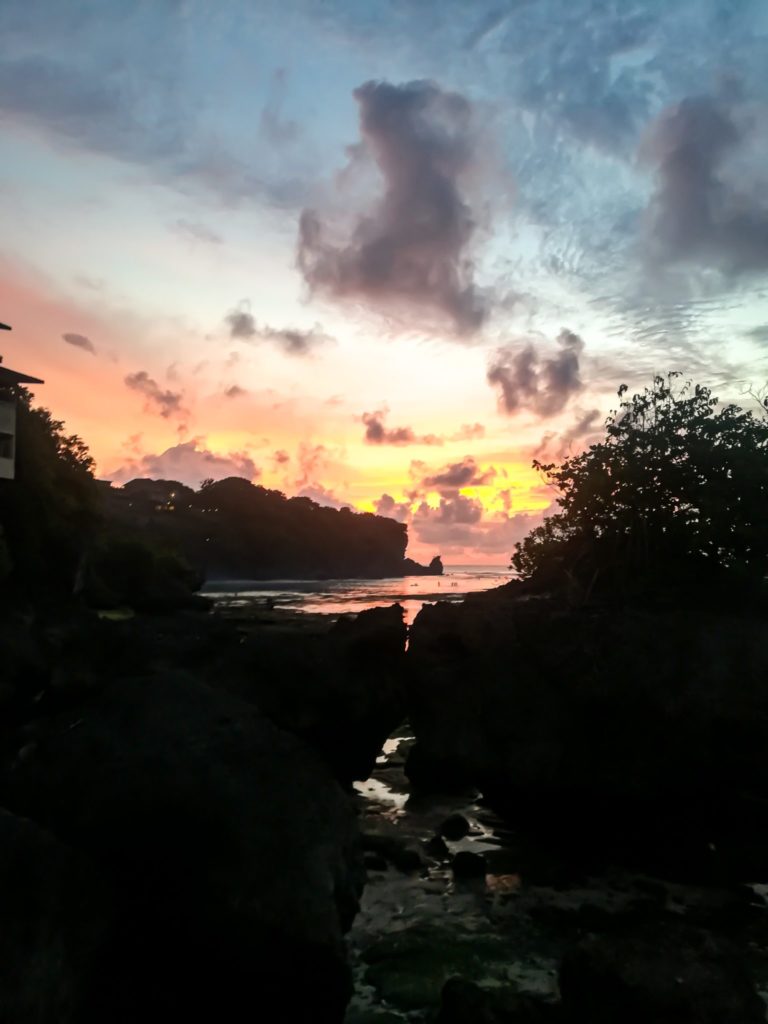 2. Food
Go and explore the food in Uluwatu. There are great places to get vegan and vegeterian food, amazing western food or authentic indonesian. The cafés look so cute and often have beautiful views.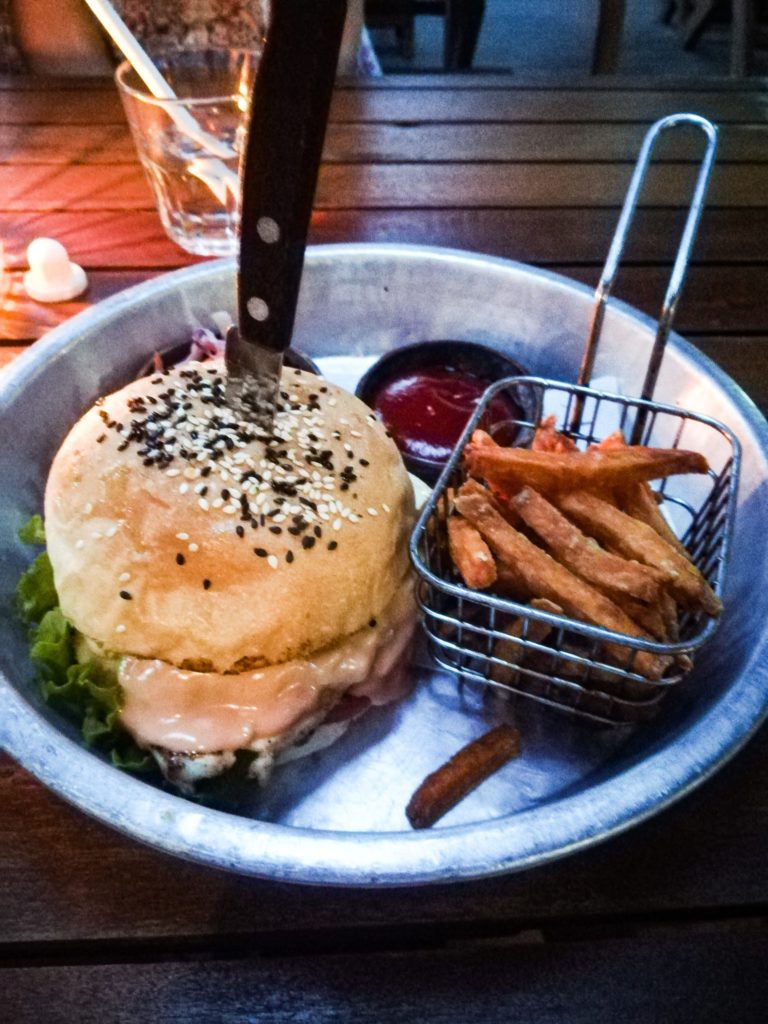 3. Get a massage
Bali is full of massage studios and they are great. You should really try it out as it´s so relaxing. Before our trekking tour, we decided to treat ourselves and chose to get a massage. Luckily we found Laniakea. It was a great experience with ginger tea, feet salt scrub and a one hour massage. There was a shower in the massage rooms, so you can take a shower after the massage. We paid 12 euro for a one hour full body massage. Compared to other places this is a bit pricey but we had a massage before on our 2 week Bali itinerary and this one was way better and totally worth it!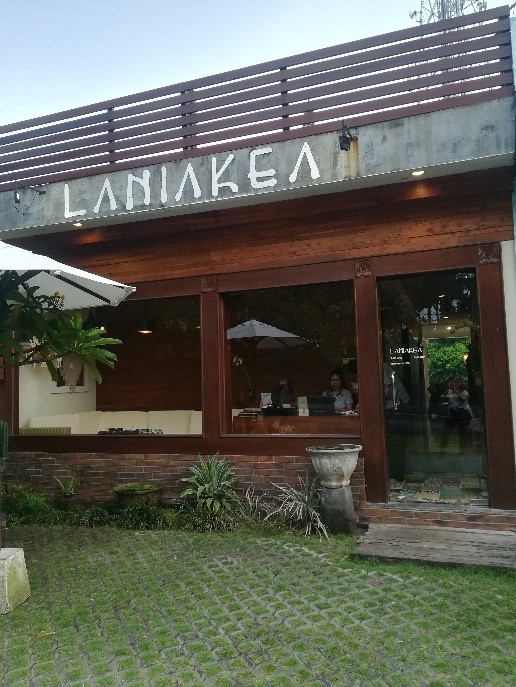 4. Uluwatu Temple
Unfortunately, we weren´t able to do this because of a lack of time. It´s a temple located on a cliff with a beautiful view. In the evenings there is a traditional dance. I can´t tell a lot about it, as I haven´t been but from what people told me, it´s a great thing to do in Uluwatu and next time i´m definitely going.
I hope this Bali travel route and 2 week itinerary will help you to plan your holidays. If you have any tipps or recommendations for a Bali travel route, let us know in the comments 🙂
Pin it!